9K Shares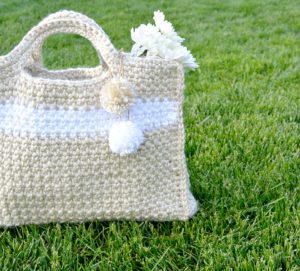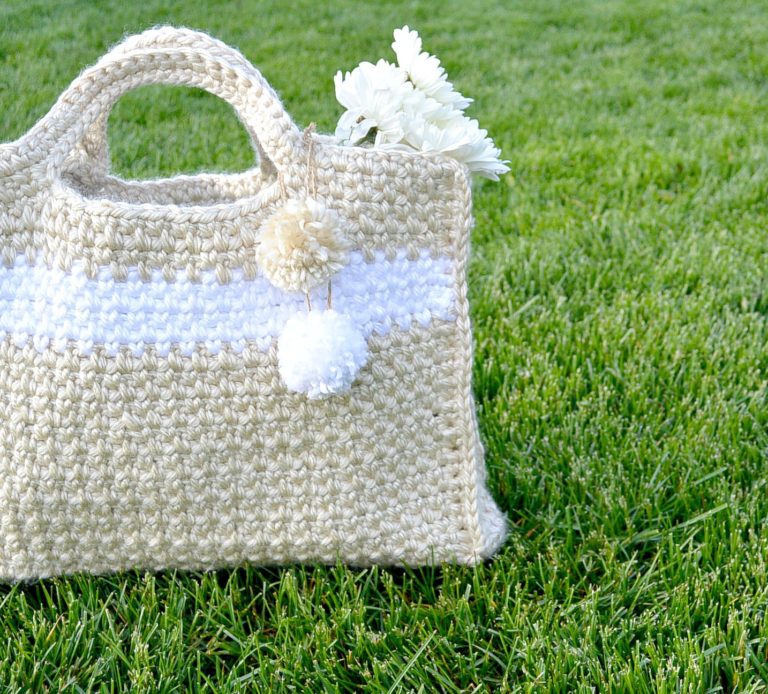 I'm calling this bag the "Big Easy".? I don't know….it is big, and it's easy, and it's perfect for one of those easy, lazy days when you're off to the pool, beach or park (but you still want to go in style – ha!).? It's a great size to fit a beach towel, books and even?your favorite wine cooler?–?I mean – beverage.My mom always seems to show up at my house with one of those re-usable grocery bags filled with one thing or another. She's usually?carrying some surprise?for myself or my daughter, or there is some sort of food inside. She's Italian, so good snacks are a must. Ha ha!?Anyway, I was trying to think of something thoughtful to make for her birthday, and I decided a nicer bag might be in the cards.? Something big enough to hold what ever surprises or necessities she may need for the day.?The fabric on this bag?is tight enough that you don't need to line?it, and it can hold pens and pencils without them slipping through the crochet holes.? You certainly could line it, and put a zipper on top, but I didn't care to do that in this case.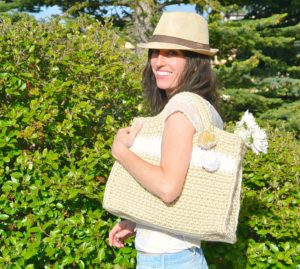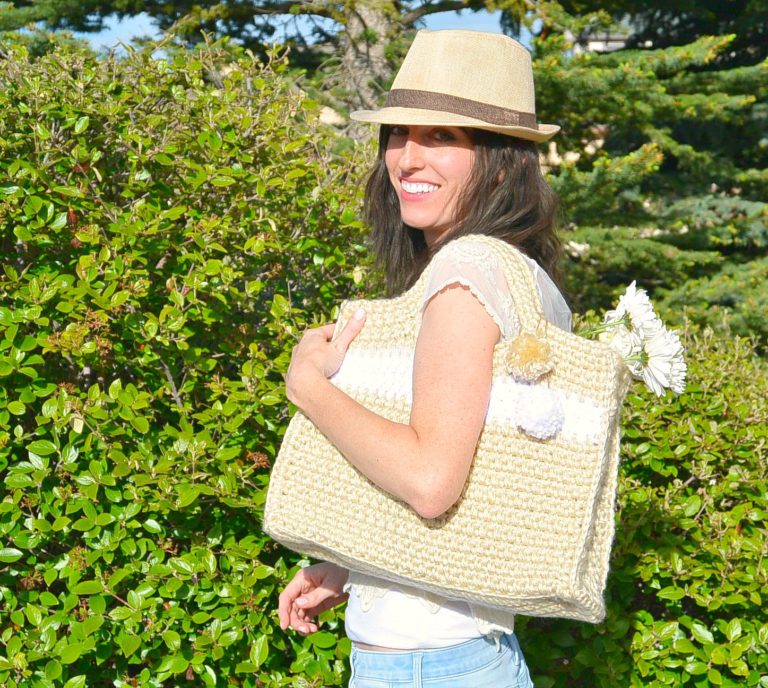 I would say this is an easy crochet bag, and it can be done in a reasonably short amount of time. You need to know how to single crochet, chain, and crochet in the back loop.?It is all done in the "seed stitch".? You single crochet, and then chain one, while skipping a stitch, and single crochet again. You put all of your single crochet stitches into the chains across the row.? It is always helpful for me to go to Youtube and look at a tutorial for any new stitches that I try. This stitch is very easy, but it may be helpful to check it out?a tutorial video?if you've never done it.You will need:Size H Crochet HookLion Brand Hometown USA Yarn in Los Angeles Tan (4 skeins) and New York White (1 skein)? (Okay, just those yarn names together make me think HIGH STYLE, BABY!) or another super bulky yarnScissorsTapestry needle to weave in endsNotes:This bag measures about 15 inches across, 11 inches tall, and 3.5 inches wide, but stretches. You can fit a nice amount of stuff in here!The pattern is forgiving. If it would be easier to single crochet the entire thing for you, then go for it!You start this bag with the base.? You will crochet a big rectangle for the bottom, and then you will start working the sides individually. The base is done entirely in single crochet. It makes it a very tight, sturdy fabric.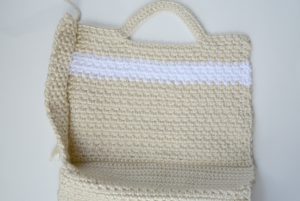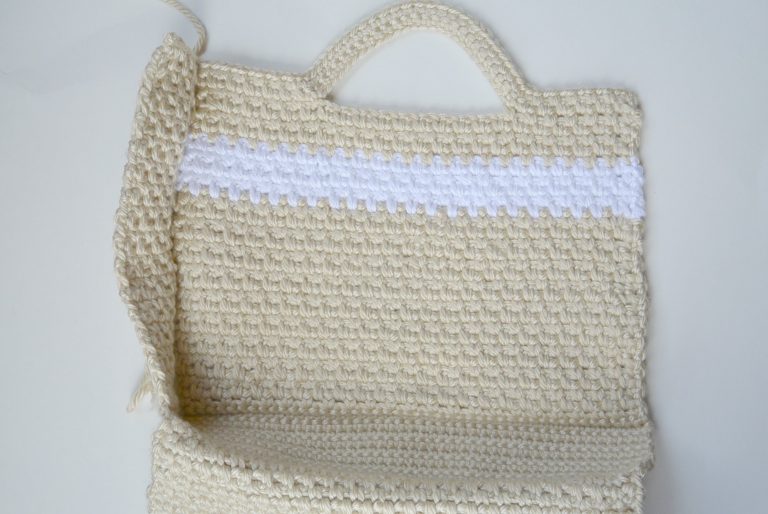 This is how the purse looks when it is coming together. You start with the rectangle bottom, and add each side one by one. Lastly, seam each side together.How I Made It "Pattern":Base of the bag:With your size H hook, and your Tan yarn, Chain 49 **CHAIN LOOSELY – you will need to get your hook into this chain in order to start the side of the bag?later.? If it is too tight you will have a?VERY hard time getting your side started.Single Crochet for a total of 10 rowsIf you'd like, single crochet around the entire base. Make two single crochet stitches in each corner. ?This border will make it easier to start your sidesYou now have the rectangle baseStarting on one large side:Row 1 Attach your yarn to a corner of the rectangular base, chain one. Single crochet in back loop only?(see picture below) along the base of the bag.? Chain one, turn.Row 2 Single crochet in?the first single crochet stitch. *Chain one, skip stitch, single crochet in next stitch.* You are now working a seed stitch across the row. Repeat from * to * until you reach the end. At the end, you will see there is an extra stitch. Do not chain and simple single crochet into this stitch (in other words, single crochet in the final stitch).? Chain one, turn.Row 3 – 20 Repeat Row 2 (put your single crochet stitches, in the chain stitches – it may be hard to see at first, but after a few rows you can really see the pattern showing up, and it gets easier)At the end of Row 20, Beginning of Row 21, Change Color to WhiteRow 21-25 With white, repeat Row 2At the end of row 25, beginning of row 26, Change color to tanRow 26-29 Repeat Row 2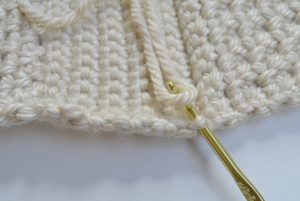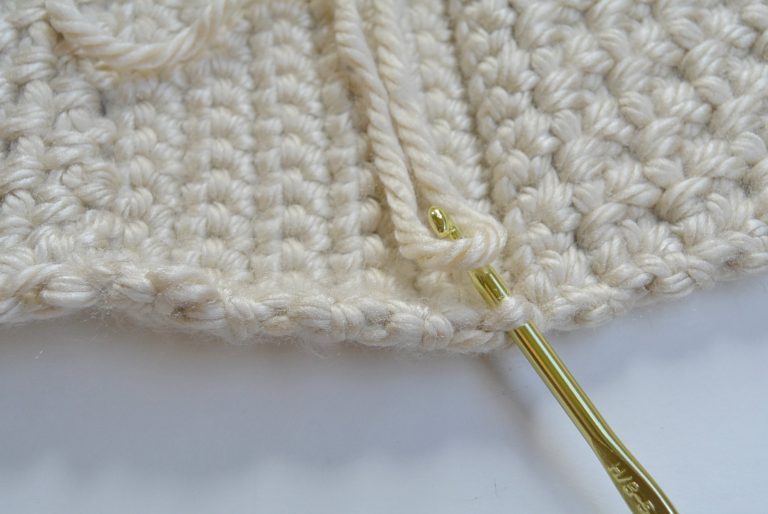 This is crocheting in the back loop, on the short side of the bag. The short sides are kind of funky, and I crocheted in a back loop if I could get my hook in it, and made just a regular single crochet stitch when I couldn't get in a back loop. It worked fine. **If you single crocheted AROUND the entire base, you won't have this issue. Simply single crochet in the back loop only all the way around.

MY LATEST VIDEOSThe?Handle:Row 30 Repeat Row 2, until you reach a third of the way into the row.? Then you will chain 28. Attach the chain 2/3 of the way across the row. Continue the pattern from Row 2. Chain one, turn.Row 31 Repeat the pattern from Row 2 until you get to the chain. Single crochet along the length of the chain. When you reach the other side, repeat the pattern from Row 2. Chain one, turn.Row 32 Repeat the pattern from Row 31. Tie off, weave in ends.**Repeat this on the opposite side of the bag to make your second side.Small Sides of the bag:Row 1 Attach tan yarn to corner of bag, chain one, single crochet in back loop across row.Row 2 until?end?? Use the same pattern from Row 2 above. *Single crochet, chain one, sk stitch, single crochet in next stitch*. Repeat this across row, until final stitch which you will single crochet. Chain one, turn.? Make this side the height to match the completed sides.Do this pattern for both sides of bag.Seaming the sides together:You will seam each side with a single crochet seam.? Using your tan yarn, attach to bottom corner, hold your sides together. Working through both fabrics, and lining up the stitches, you will single crochet up to the top of the bag. Tie off and weave in ends. Do this for all four seams.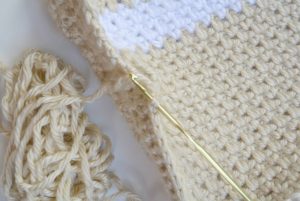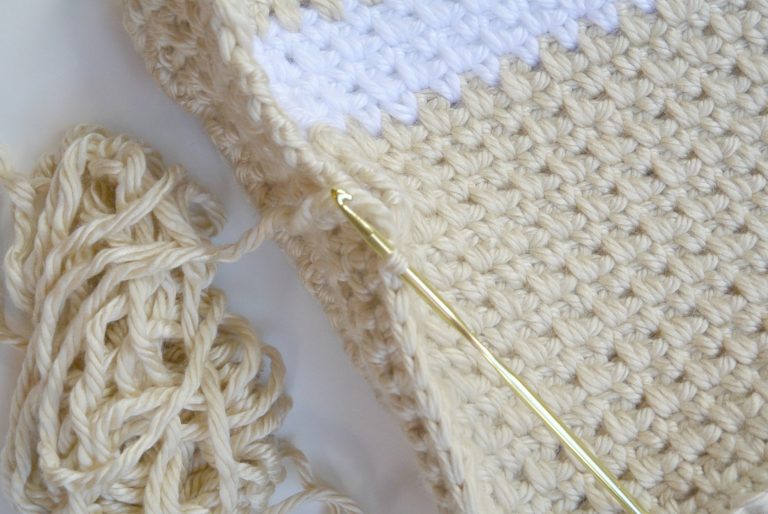 Here I am making the single crochet seamYou can add pom-poms if you'd like. It would be cute to even have some bright colored poms. If you aren't sure how to make them, you can look at my tutorial here.And that's all there is to it!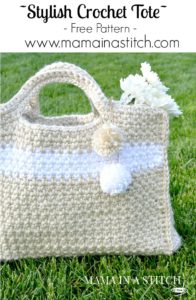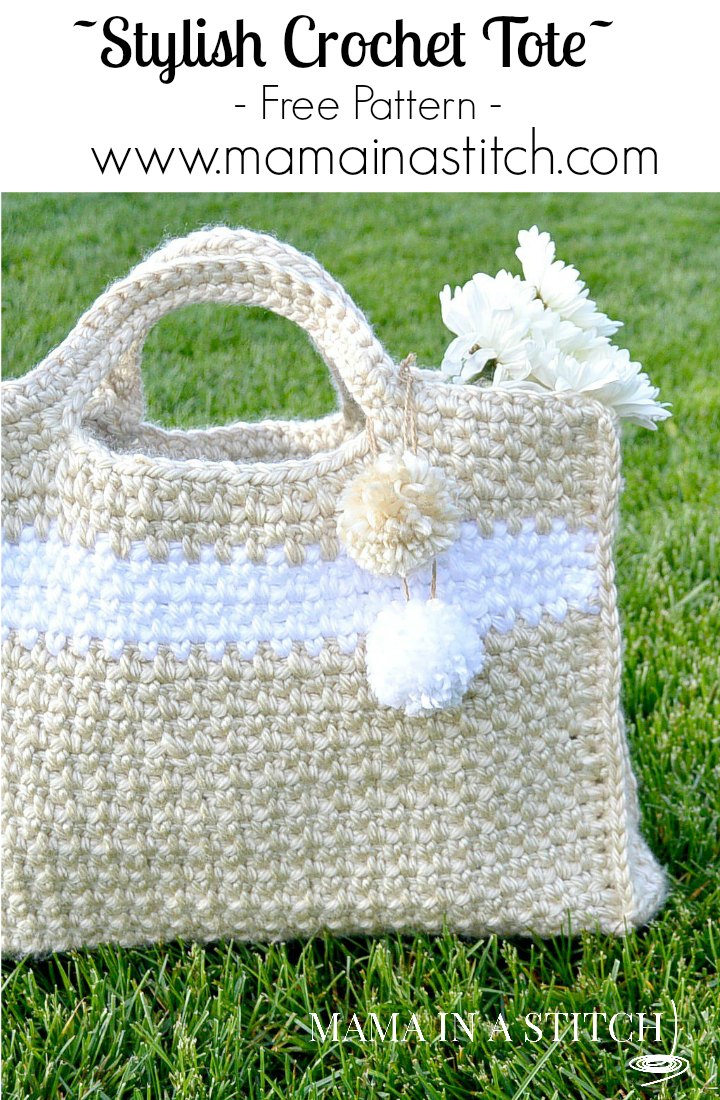 Seriously, have you seen all of the crochet in the cool stores these days? I sure hope my Mama likes this bag.As always, let me know if there is something?I can do to improve the pattern. I am no pro, I just write it as it makes sense to me, and hopefully others. __If you enjoyed this pattern, feel free to check out all of my other (always free) patterns or?you can?sign up?for the newsletter! You?may find me on Facebook and Pinterest as well. Thank you so much for stopping in :).SharePinTweetShare