102K Shares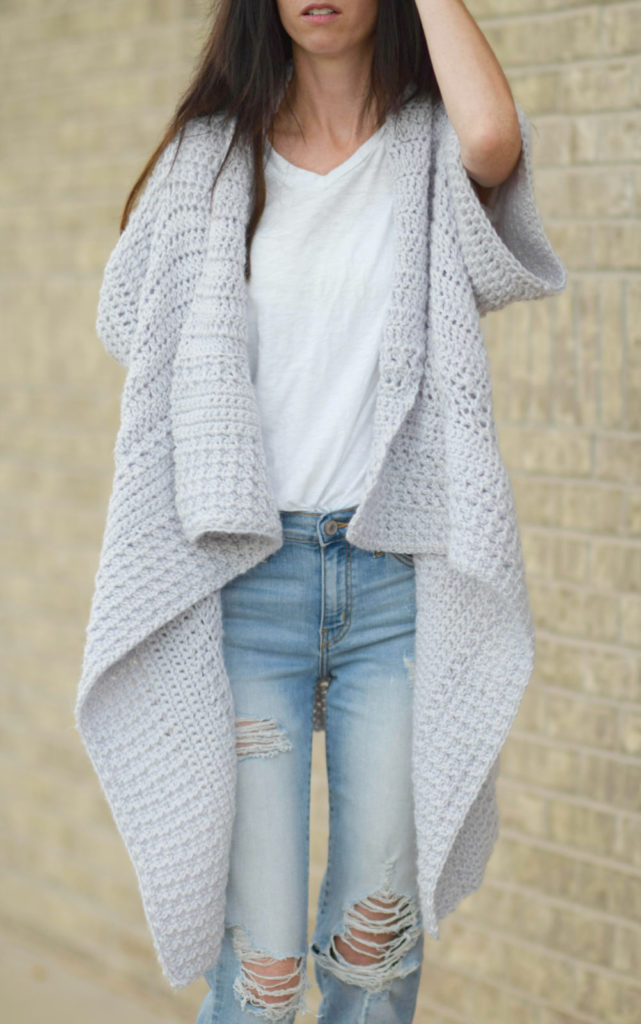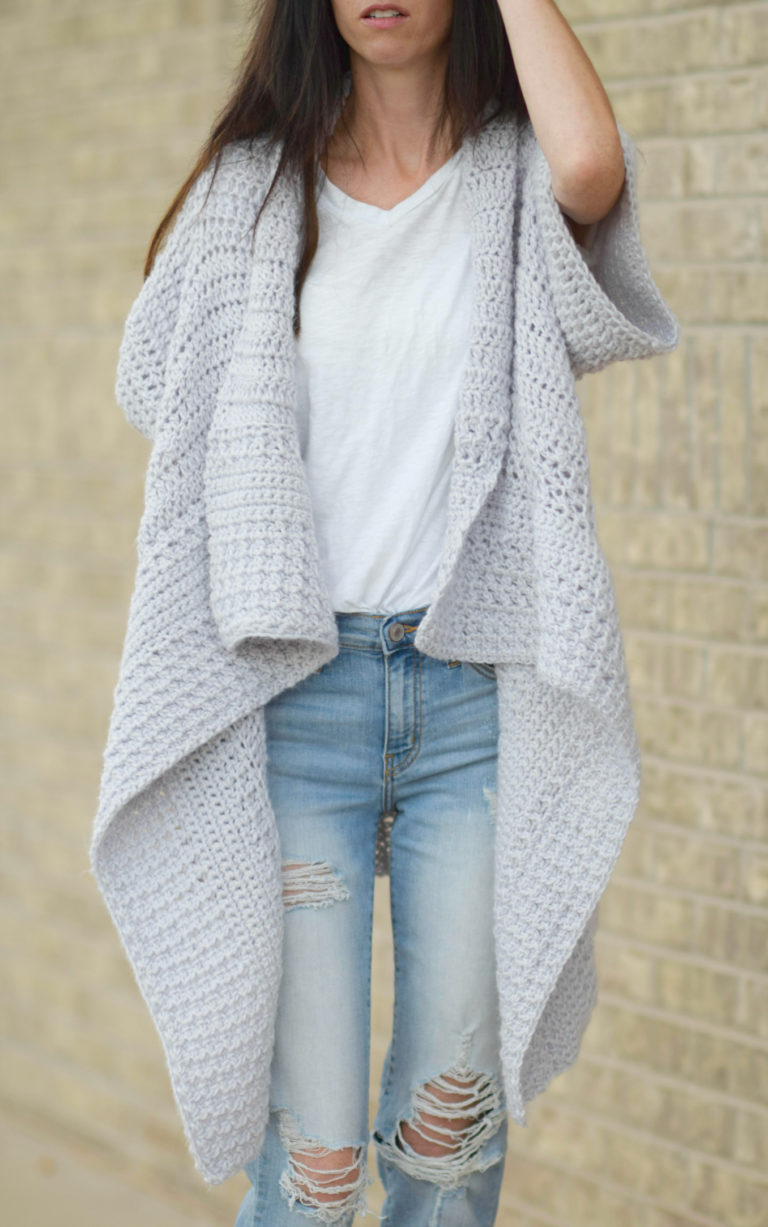 Some of you may have seen that Lion Brand recently created a full?crochet kit for this Cascading Kimono Cardigan Crochet Pattern and I'm happy to now share the pattern for free here on the blog as well!? I LOVE how this crocheted kimono turned out.? It's easy, breezy, flowy (is that a word?) and a lot of fun to crochet.? As with most of my projects and patterns, this has a super simple construction but the look is flattering and relaxed.? If you follow my blog, you know I've made a trillion blanket sweaters by now (hehe), so it was fun to change things up and make something a little different and with a little more shape to it.? But don't be scared of the word "shape" – there's no difficult shaping or crazy stitches here.? And like I said, this particular cardigan crochet pattern is super easy.??Be sure to scroll all the way down to see the picture tutorial on how simple this thang is put together! __It was a ton of fun to play around with different stitches as well in order to make the oversized collar really pop.? I'm pleased with how the texture turned out and don't you love this color?! Lion Brand's New Basic yarn comes in a variety of beautiful shades, and this one in particular is called "Whisper".? It's a pale silver – grey color, with almost a hint of lavender it seems if the light hits it just right.? The yarn appears to be homespun too which gives it a lofty texture and I think it really made the stitchwork on the collar "pop".? ?What do you think of this kimono cardigan???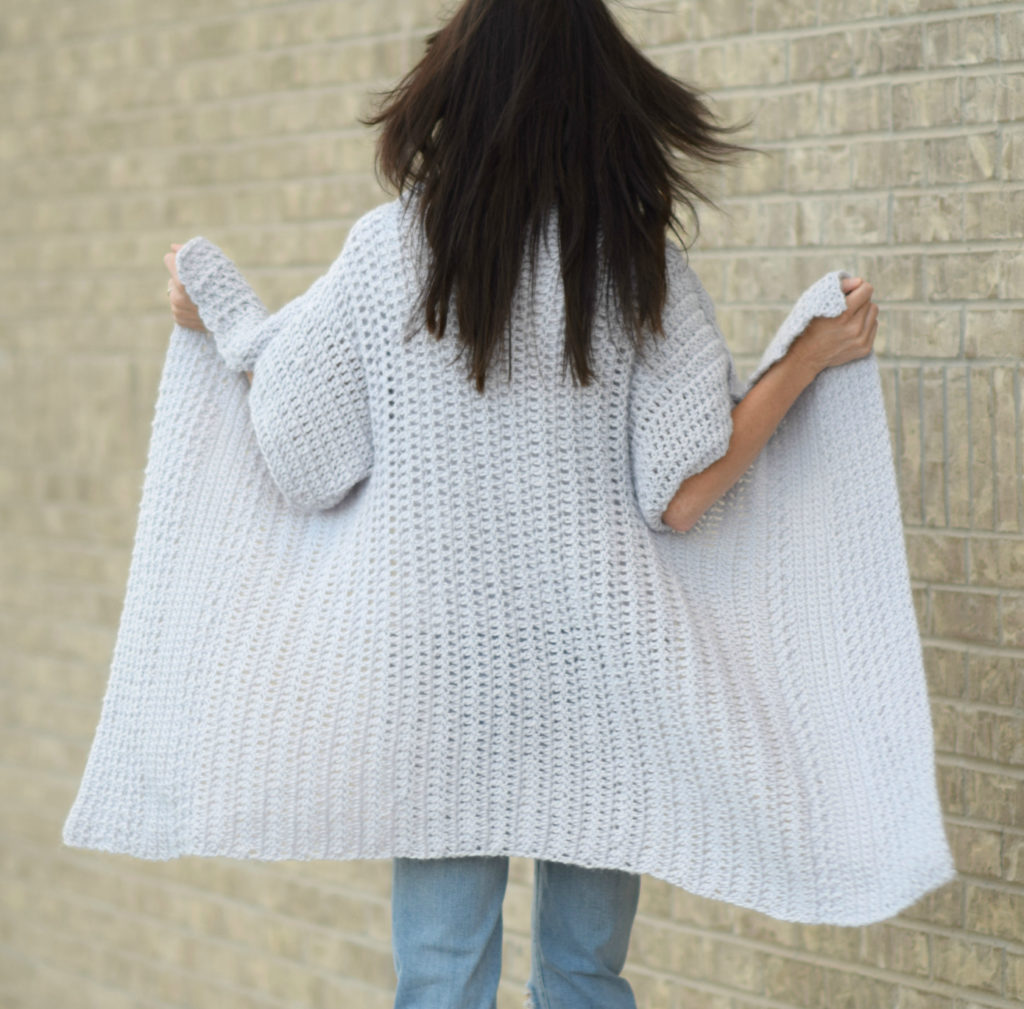 MY LATEST VIDEOS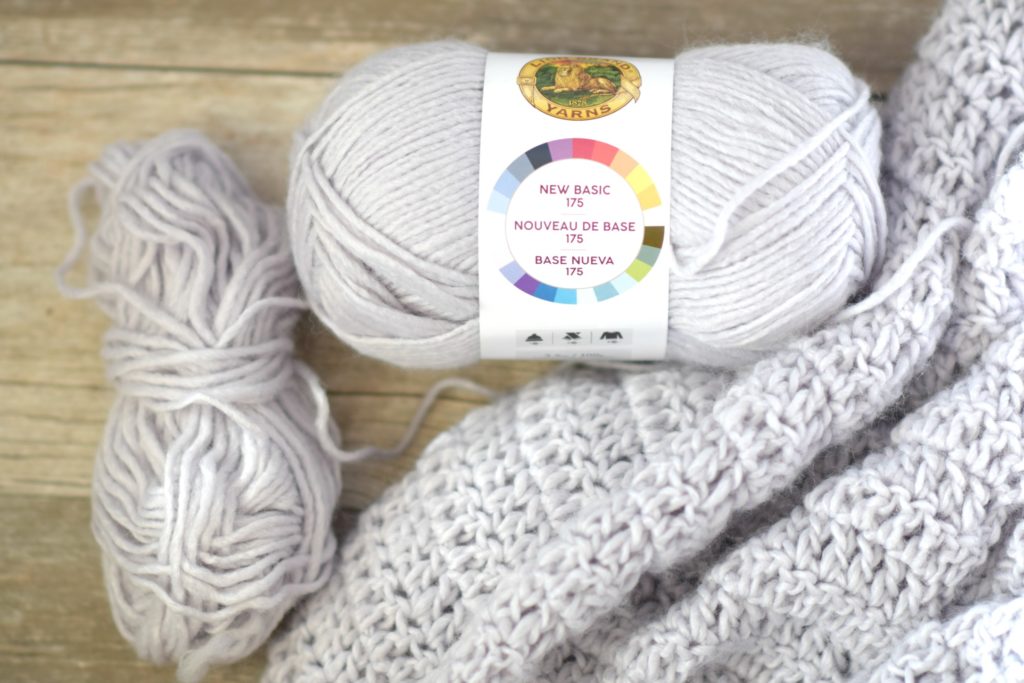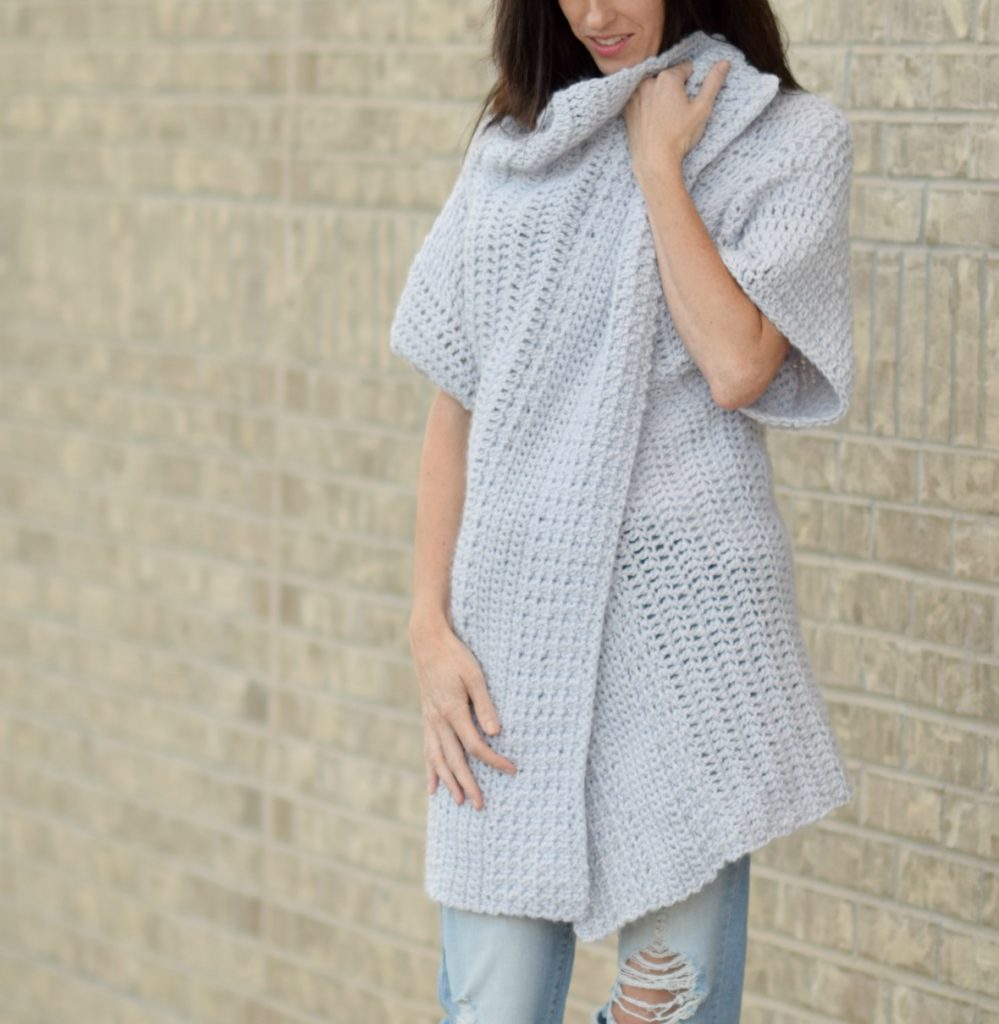 Scroll down to find the free pattern below, or you may choose to purchase the?ad-free, printable PDF version of this kimono cardigan crochet pattern from my Etsy Shop here.?The printable version includes all of the picture tutorial photos that you will find below as well. __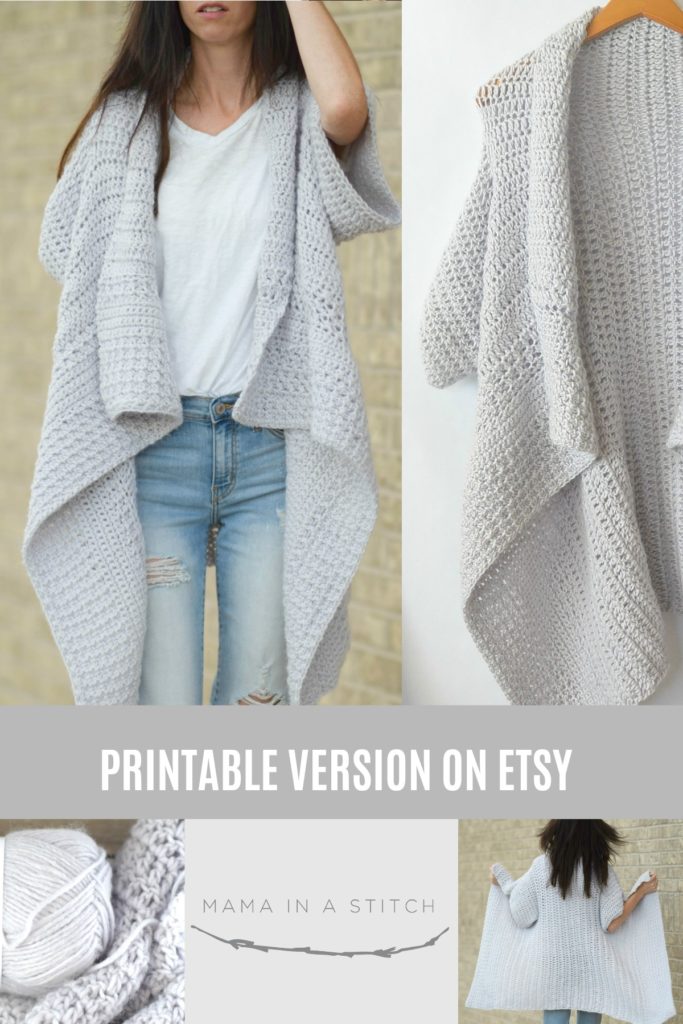 Scroll down to see the free pattern or here's the printable Etsy version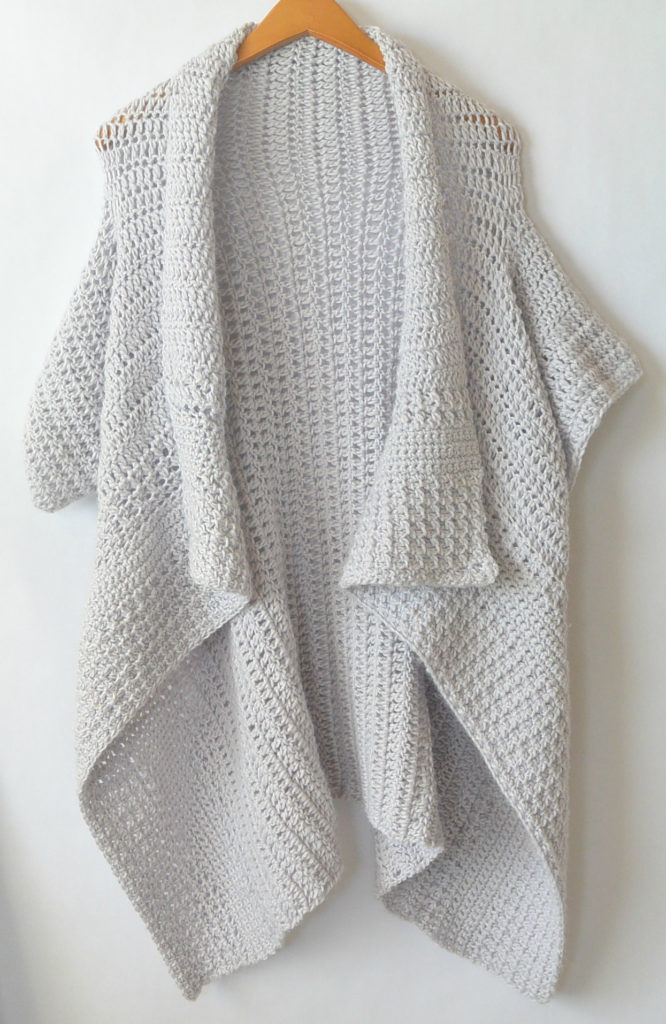 Explanation: A beautiful, comfortable kimono cardigan with a generous sized collar that??s perfect to throw on during cool days.? The various textures created with simple crochet stitches make a cozy and practical sweater.? Pair it with jeans or leggings for a fun relaxed look. Please enjoy this easy, breezy kimono cardigan crochet pattern!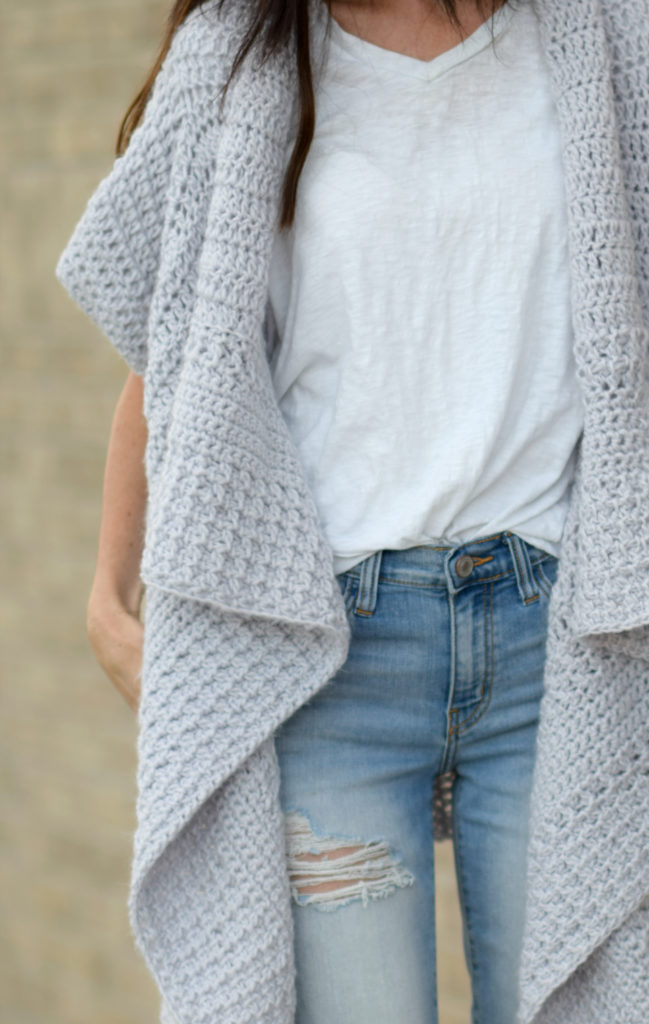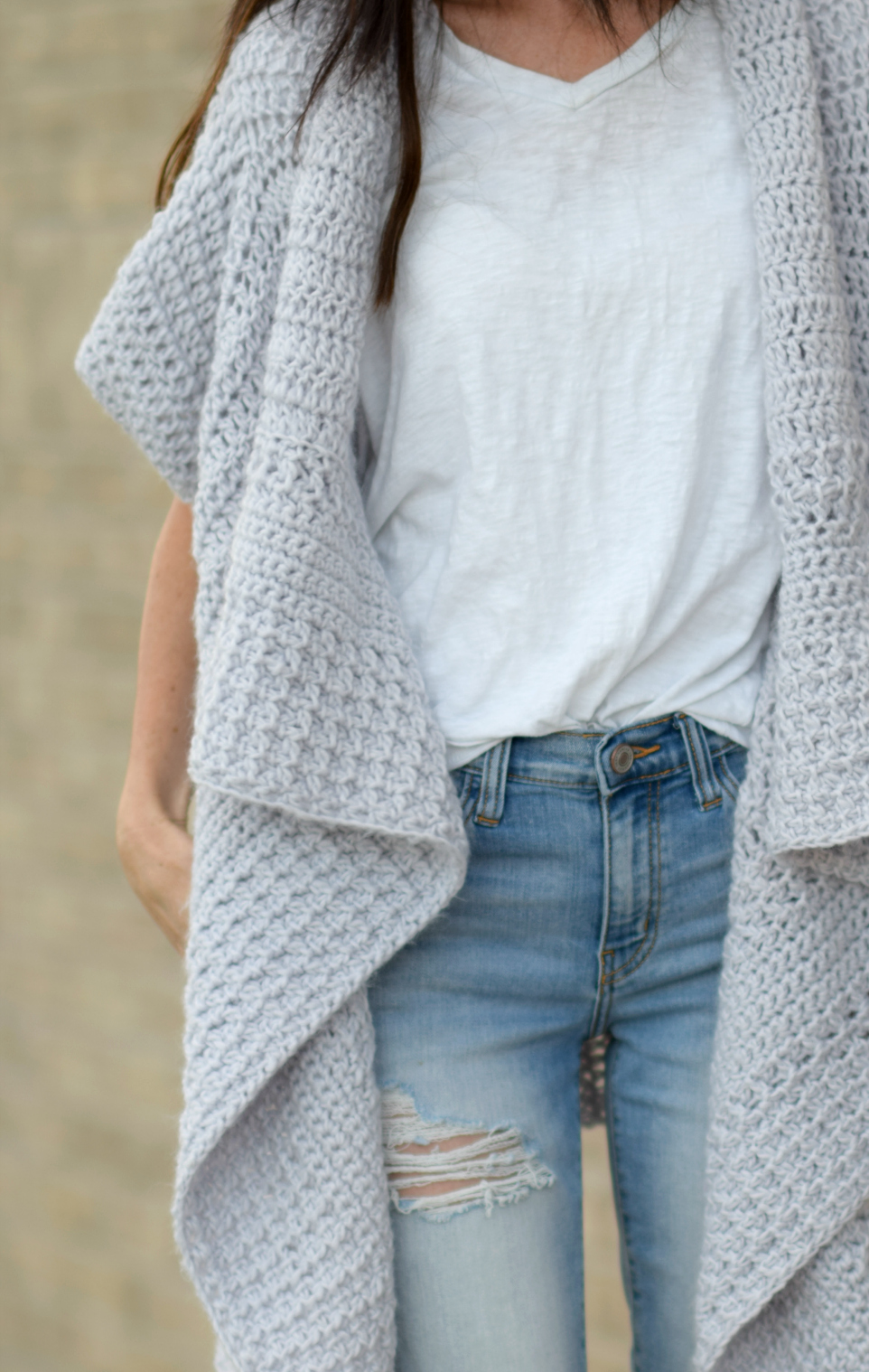 Level:? Easy +SizesFollow Key Throughout Pattern(S/M, L)You will need:Size K 6.5mm Crochet HookLion Brand New Basic 175 Medium Weight Yarn in Whisper (6,7) (Kit for purchase here from Lion Brand)(NOTE If you are substituting yarns, this is a "chunky like" worsted weight. As you know, not all yarns are equal – you may find that your size turns out different if the yarn you choose is thinner or chunkier)Pattern uses approximately 600 grams (S/M) ?or 661 grams (L)ScissorsTapestry Needle to weave in endsMeasurements:S/MCross Back Measurement is approximately 14 acrossFinished Chest is approximately 39.5 inchesLength is approximately 31LCross Back Measurement is approximately 17 acrossFinished Chest is approximately 42.5 inchesLength is approximately 31See Notes section below for suggestions on making this in a larger sizeAbbreviations and Skills needed:sc2tog insert hook, draw up a loop, insert hook in next stitch, draw up a loop, yarn over, draw through all three loops on hooksc- single crochetdc double crochetst stitchch – chainGauge:Approximate just over 3 stitches per inchNotes:This piece is worked as a large rectangle, with the arm openings created as you crochet (see photos below). You will find a few different stitch pattern sections as you work across the rectangle.? Sleeves are then added at the end.It might be helpful to practice the Textured Section stitch pattern (below) on a small swatch before beginning the cardigan. Simply chain an even number of stitches and work the pattern.? Its imperative to make the chain stitch between each sc2tog, or your piece will begin to shrink as you crochet.Pattern for both sizes is worked the same until you reach the first arm opening portion.If youre experienced: To make this kimono larger than the sizes indicated throughout the pattern, simply start with a slightly longer chain (couple of inches), with an even number of stitches. Follow the stitch patterns as indicated, however, make the arm openings larger by placing stitch markers further apart and add more rows of double crochet in the portion between the arm openings to make the back wider.I am a loose crocheter!? Please check your measurements as you work to ensure your sizing will be correct! If you crochet tighter than I do, it will turn out small.? Here is the size that it should be:? S/M rectangle measures approximately 39.5?? X 31?? and L measures approximately 42.5?? X 31
Cascading Kimono Cardigan Crochet PatternCh 98 (both sizes)Textured SectionRow 1 Sc2tog in 2nd and 3rd ch from hook, *ch 1, sc2tog over next 2 chains; repeat from * to last ch, ch1, sc in last ch. (97 stitches)Row 2 Ch 1, turn, sc2tog over 1st st and ch-1 sp, *ch1, sc2tog over next st and ch-1 sp; repeat from * to last st, ch 1, sc in last st.Repeat row 2 until entire piece measures approximately 4?? inches.UPDATE: I've now shared a tutorial and video on how to do this stitch! Check it out HERE:

How To Crochet Textured Stitch & Hostess Washcloth
Single Crochet SectionRow 1 Ch 1, turn, sc in each st across row (97)Repeat row 1 for approximately 2(note: entire piece should measure approximately 6 at this point)Textured Section IIRepeat row 2 from Textured Section above for approximately 1(entire piece measures approximately 7)Double Crochet SectionRow 1 Ch 3 (counts as 1st dc), turn, dc in 2nd st of row and each stitch across (97 stitches)Rows 2 9 Repeat row 1 Note that final dc of rows will be worked into top of turning ch 31st Arm OpeningRow 10 Place stitch markers at 22nd and 43rd stitch from end of piece- this end will also now be referred to as the top of your piece. Ch 3, turn, dc in 2nd st of row and in each stitch across to stitch marker. Next, loosely ch 22 stitches, then dc into 44th stitch from beginning and dc in each stitch across to end of row. (97 stitches) See photo tutorial below for extra helpRow 11 Ch3, turn, dc in 2nd st of row and in each stitch across row to end (including into each ch stitch made at arm opening) (97 stitches)Next repeat row 1, making dc stitches across each row until piece measures approximately (14??, 17??) from arm opening2nd Arm OpeningNextPlace stitch markers at 22nd and 43rd stitch from the top of your piece.? The arm openings should line up evenly. (see photos) Work dc stitches across to stitch marker, ch 22 stitches loosely, attach to stitch following stitch marker with a dc stitch. Dc in each stitch across to end of row. (97 stitches)Repeat row 1 for 9 rowsNextRepeat Textured Section IINextRepeat Single Crochet SectionNextRepeat row 2 of Textured Section for approximately 4??Tie off and weave in ends.SleevesAttach yarn to sleeve openingRound 1 Ch 3, counts as dc stitch, dc evenly around sleeve opening, sl st to join at end of round.Repeat round one for nine more rounds or until sleeve is as long or short as you like. ?Tie off and weave in ends.Extra Help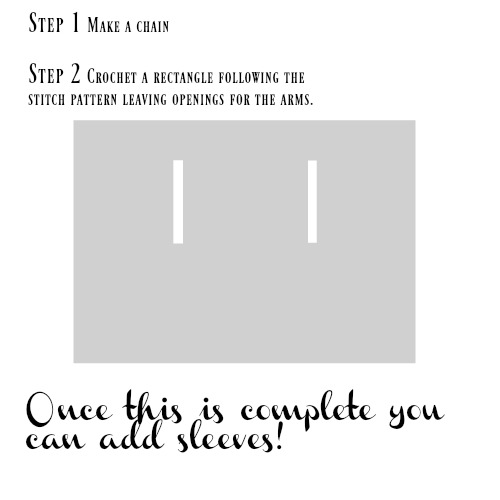 Above – diagram of cardigan, your beginning chain is one of the short edges.? S/M rectangle measures approximately 39.5?? X 31?? and L measures approximately 42.5?? X 31Arm Opening Photo Tutorial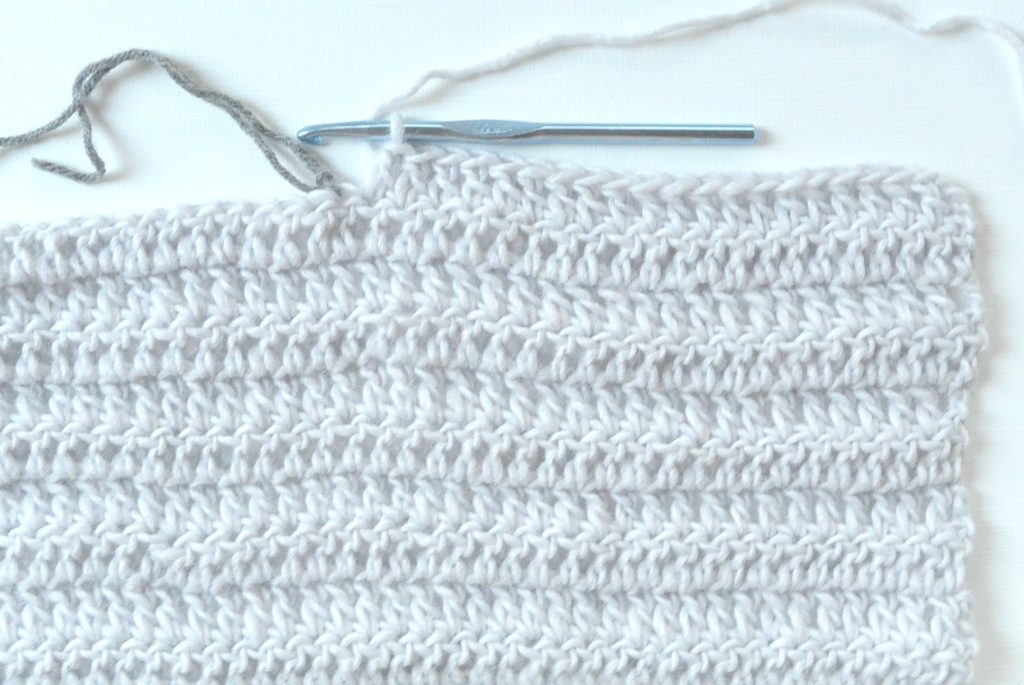 Double crochet across to stitch marker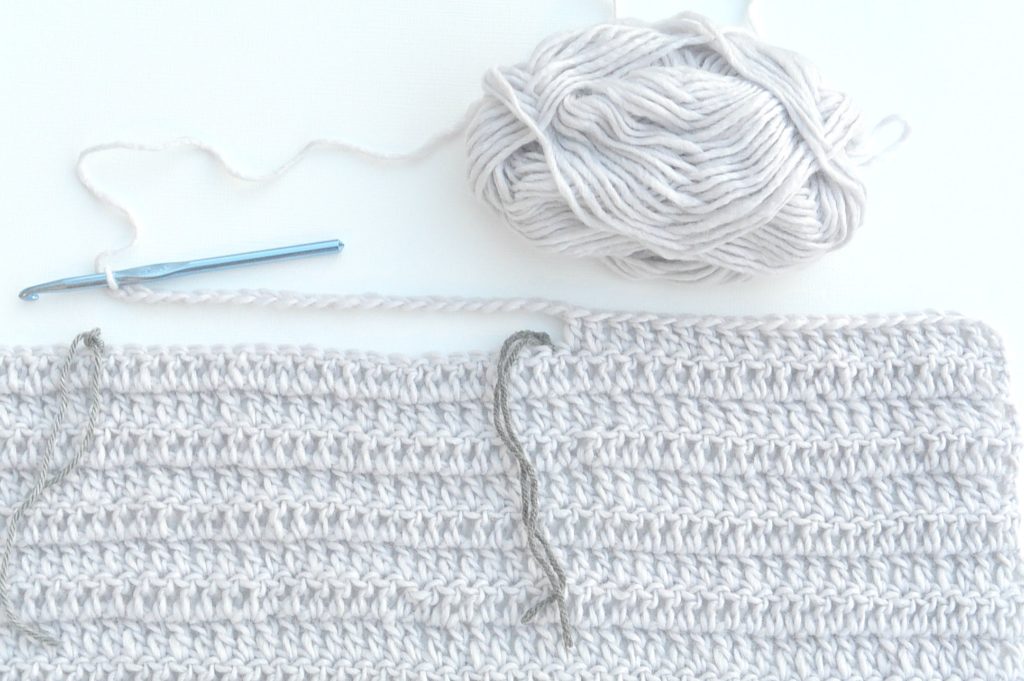 Loosely chain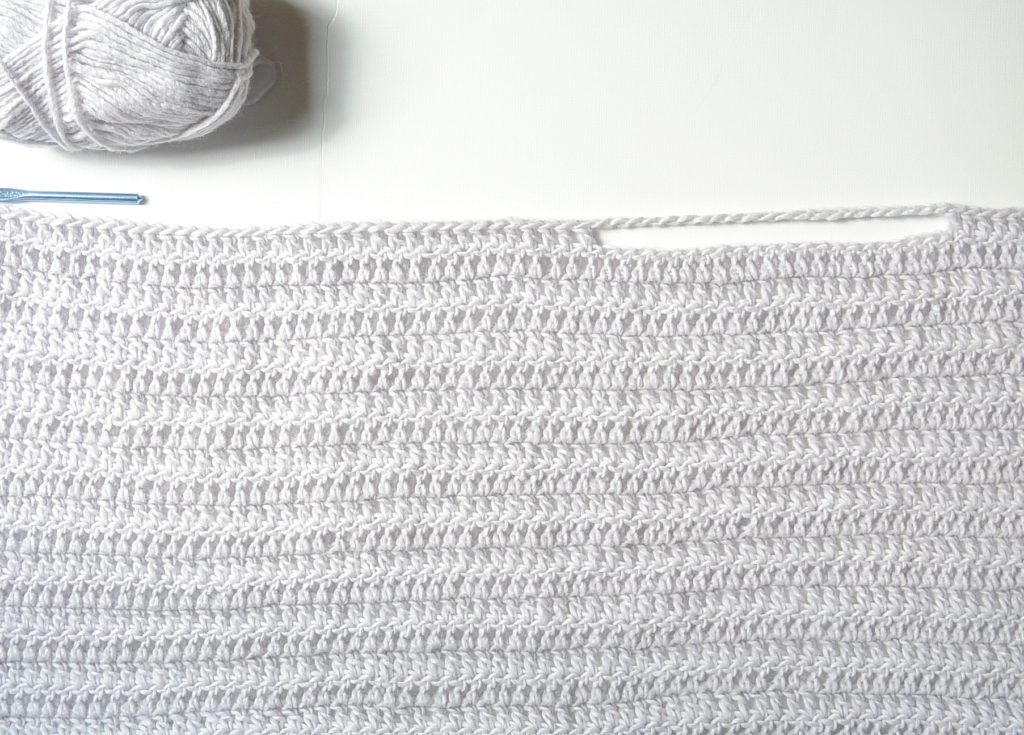 Attach and dc across, then you will dc across each row until you make the next opening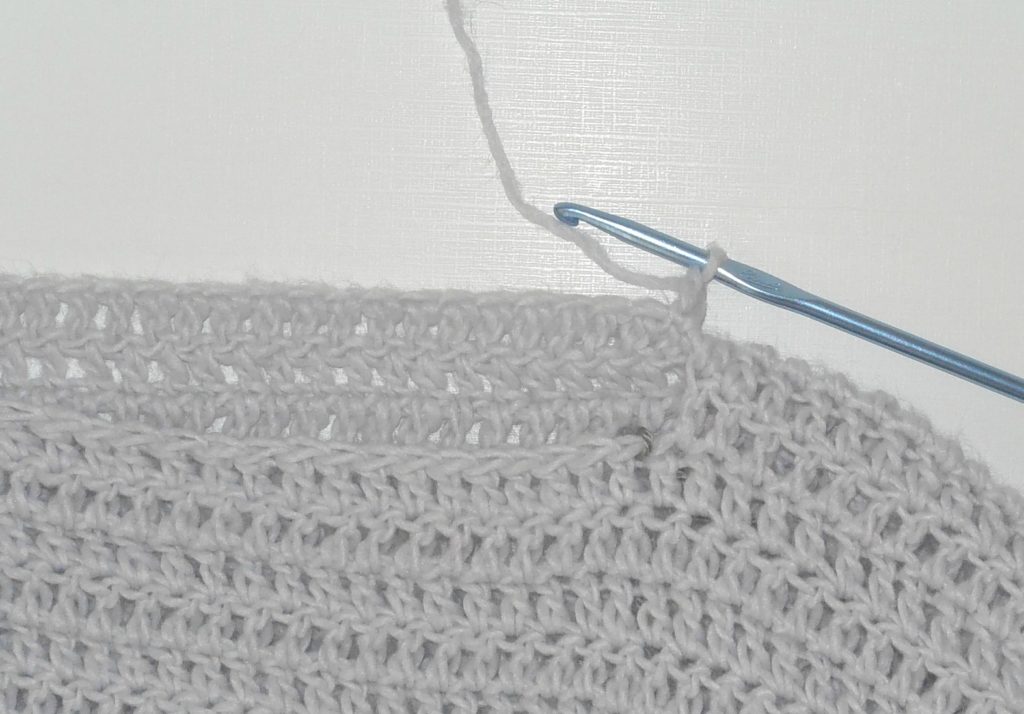 After the rectangle is complete, sleeves are attached to the arm openings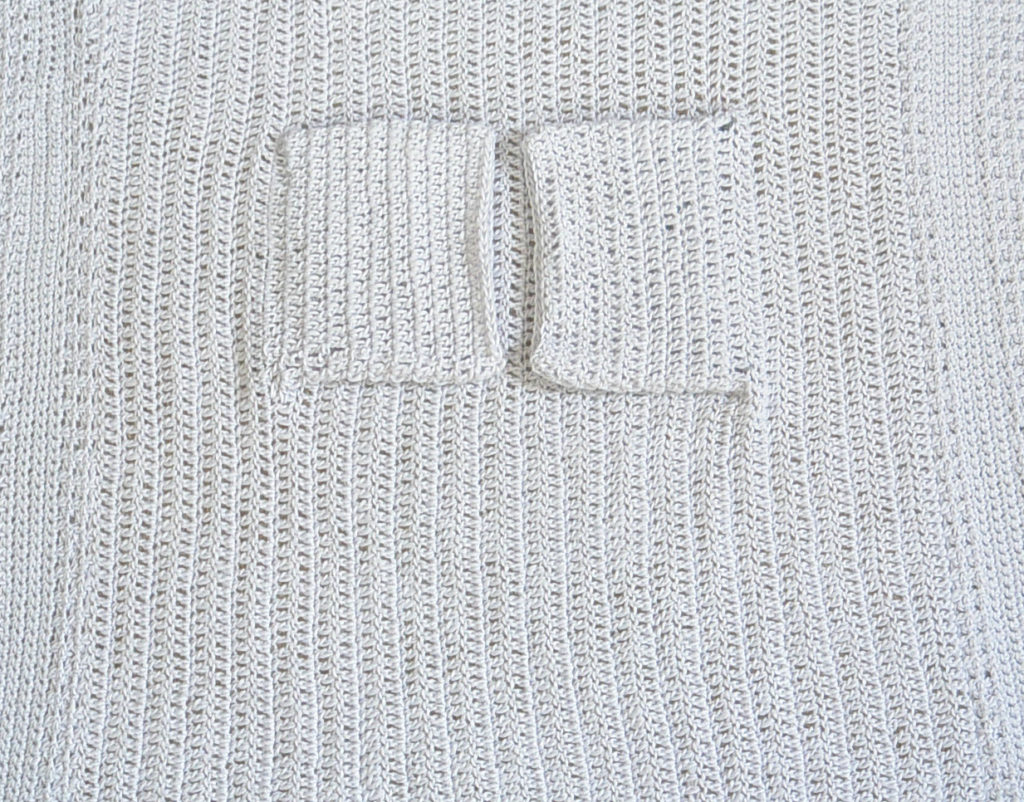 I hope you love your new, cascading kimono!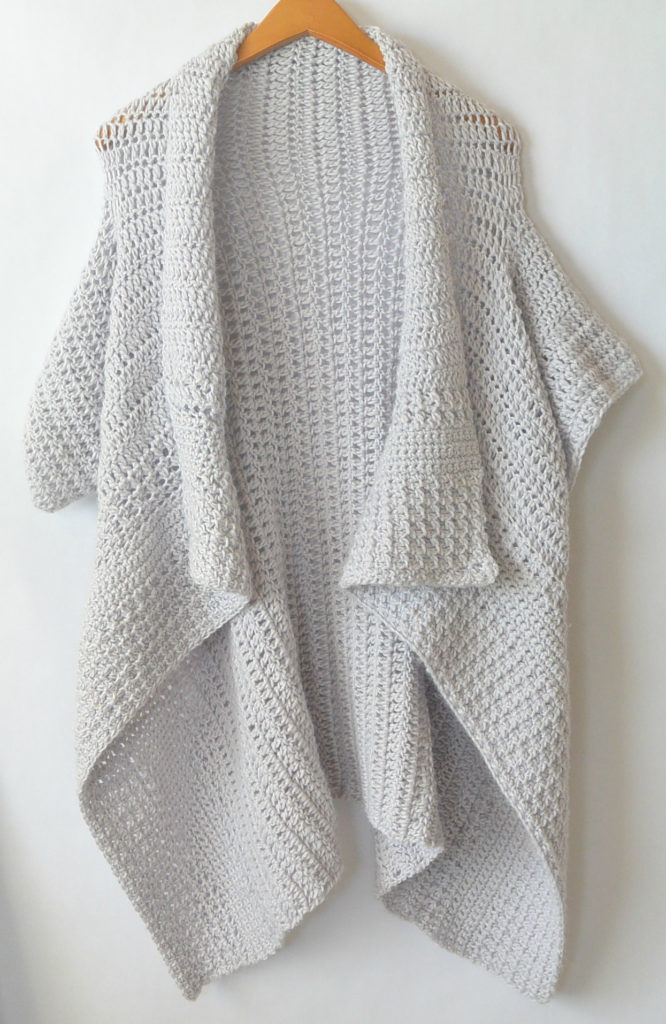 -Jessica

I am so grateful to have the opportunity to collaborate with Lion Brand on projects. This blog post was sponsored by Lion Brand.? All opinions are 100% my own.SharePinTweetShare