74K Shares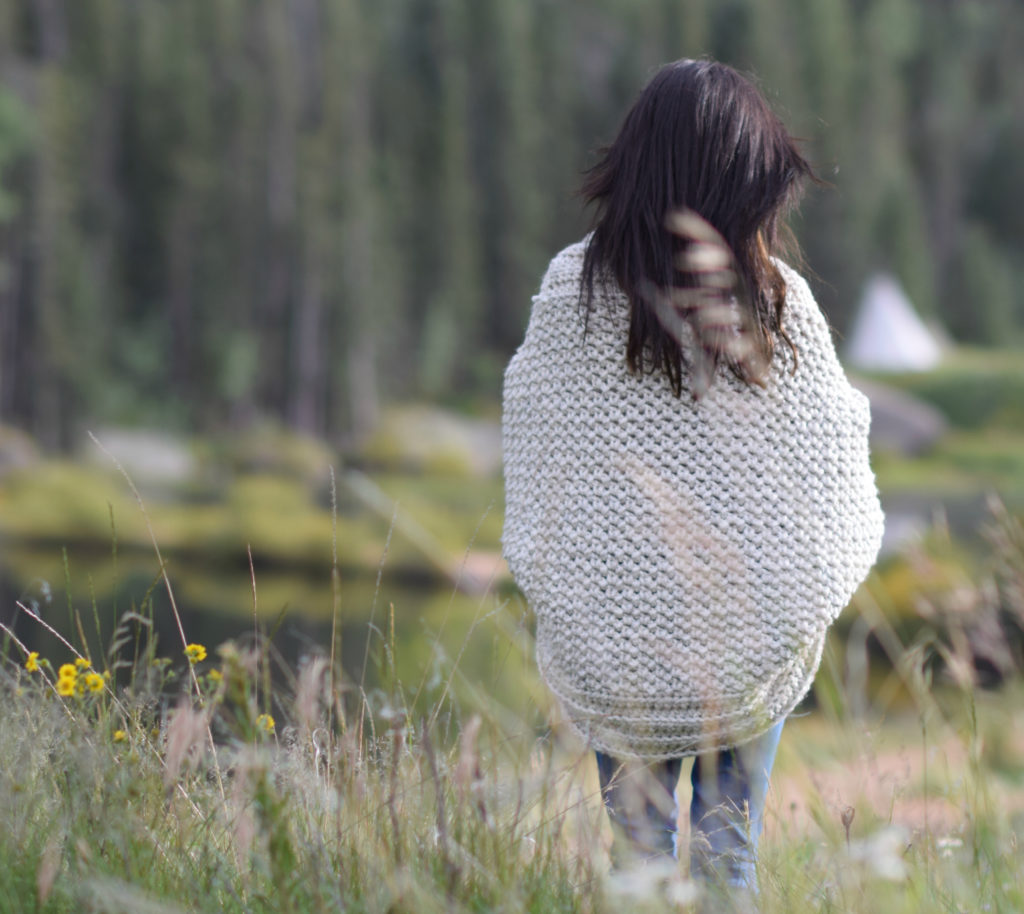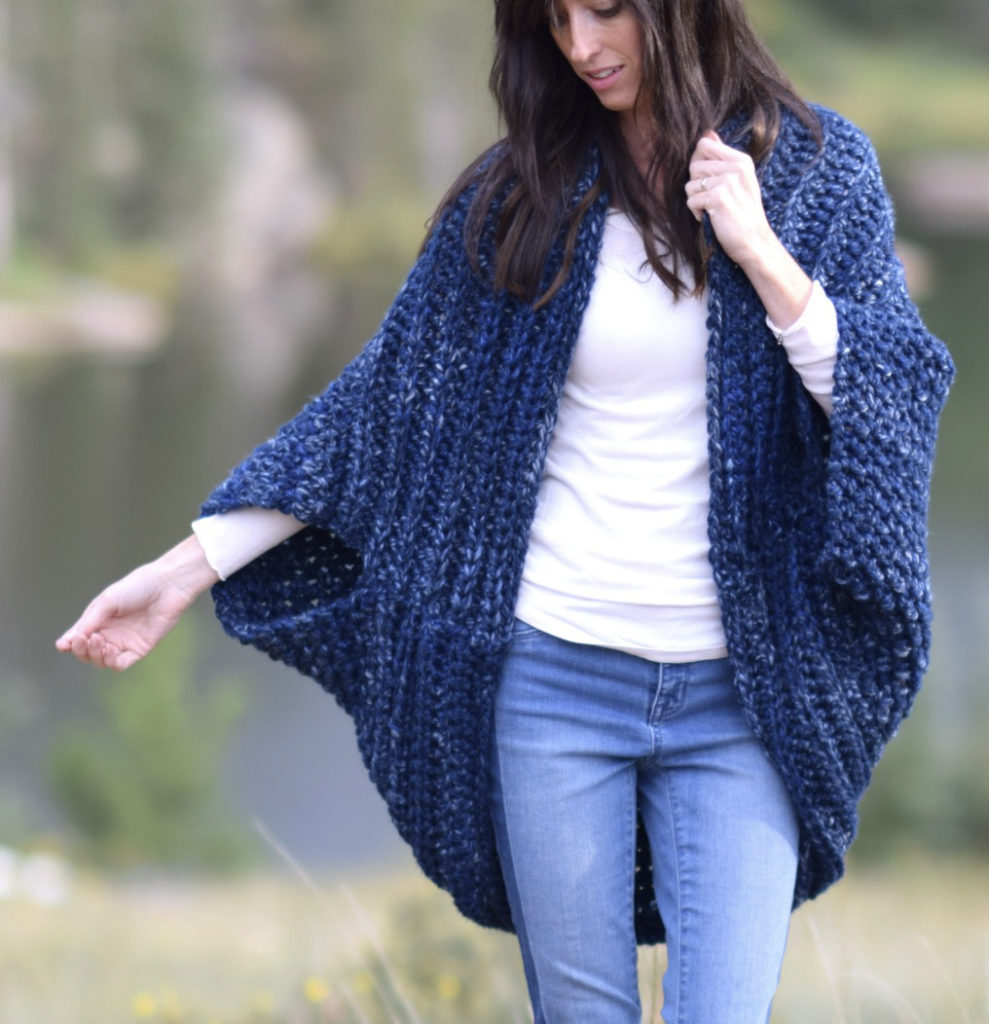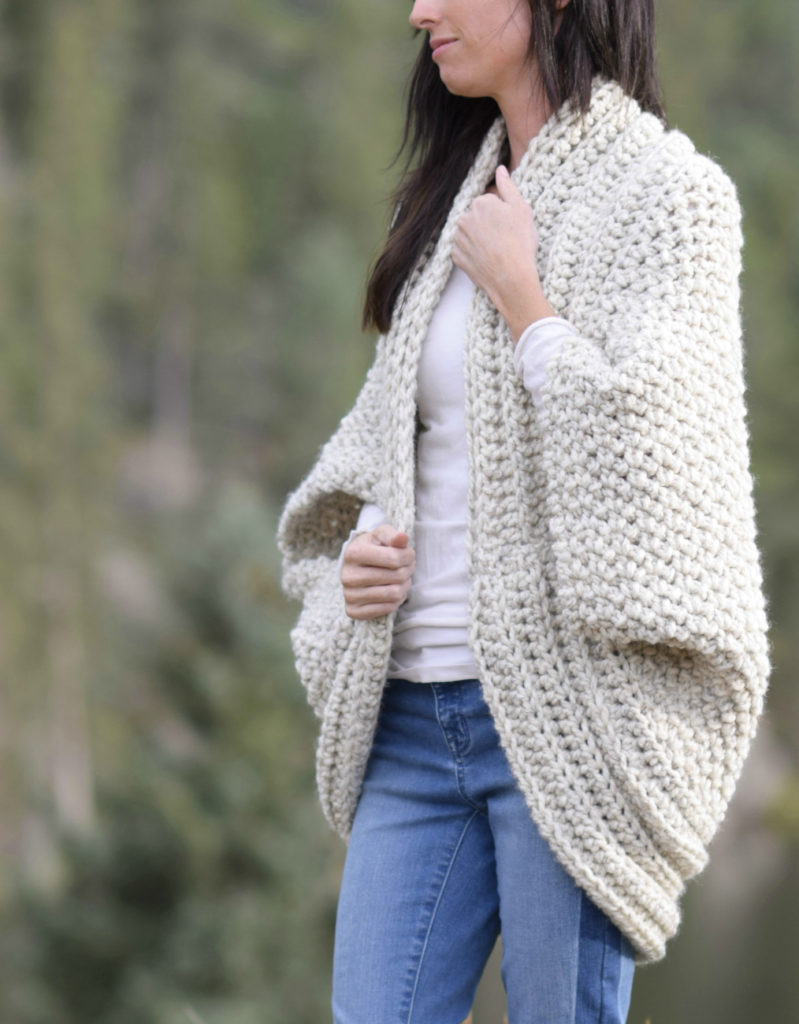 Oh my – I am SO excited to share this new crocheted blanket cardigan with you today! ?Of all of the blanket sweaters that I've made, this one is quite possibly the coziest and most comfortable EVER. ?In fact, when Lion Brand Yarn contacted me about making two projects for their 12 weeks of Christmas series, I just knew that I wanted to try and make the warmest and most wearable blanket sweater yet. ?In order to do that, I decided to use super bulky yarn (my fave!), a large hook and a textured stitch pattern.?It turned out so nicely that I crocheted a second one for my mama! ?The one that you see pictured above reminds me a lot of my knit version (here) that has been a reader favorite. The stitch works up fairly quickly and it creates a knit-like lofty, light fabric. And by light fabric, I mean it isn't weighed down or hard to wear. ?It's warm and cozy, but lofty and light. ? It's just ultra comfortable. ?Can you tell I like this one? ?Hehe! ?You can find the full, free pattern at the bottom of this blog post or you may choose to purchase the Lion Brand kit or the ad-free printable version from my Etsy shop HERE. So many options. __

MY LATEST VIDEOSHave you found that sometimes the cocoons and blanket sweaters want to slide right off the shoulders? This is why in most of my blanket sweater designs you'll find the option to add a button so the darn thing stays in place. ?I've added the optional button with this sweater too, but YOU GUYS, this one doesn't want to slide off my shoulders. ?Something about the drape of the fabric, or maybe the texture of the yarn, but it stays put without the button. Win win.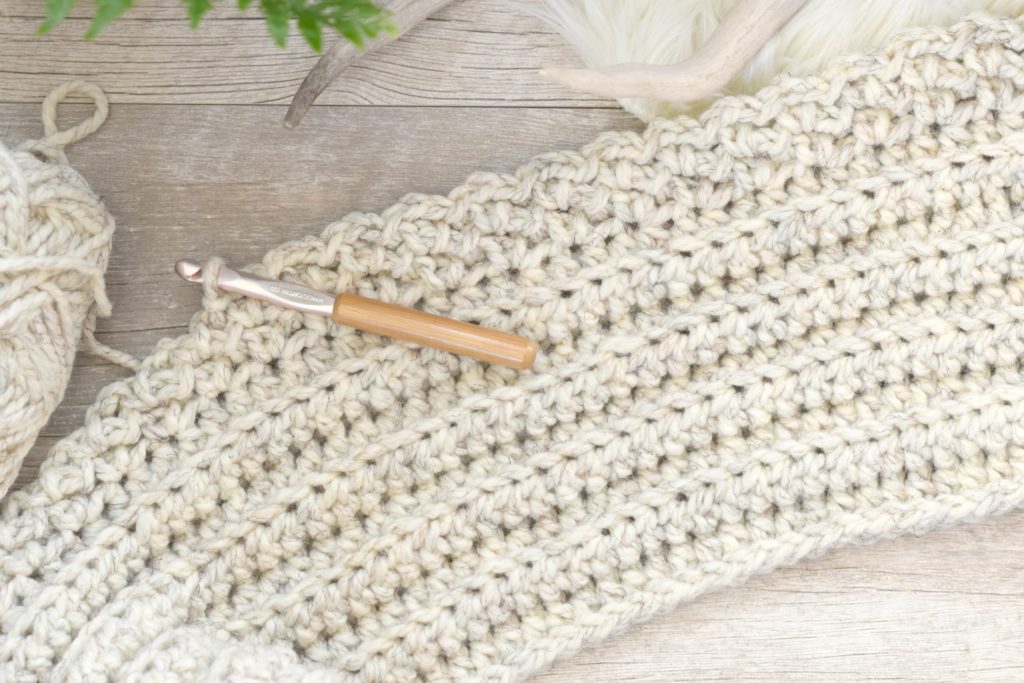 As usual, this blanket sweater works up just like a blanket. You will crochet a basic rectangle following a simple stitch pattern, then fold in the corners and seam to create the arms. ?It doesn't get easier or more mindless than this. The pattern is also written in a size that will fit most of you. ?I've slapped this sweater on friends of all sizes to test it out and it works!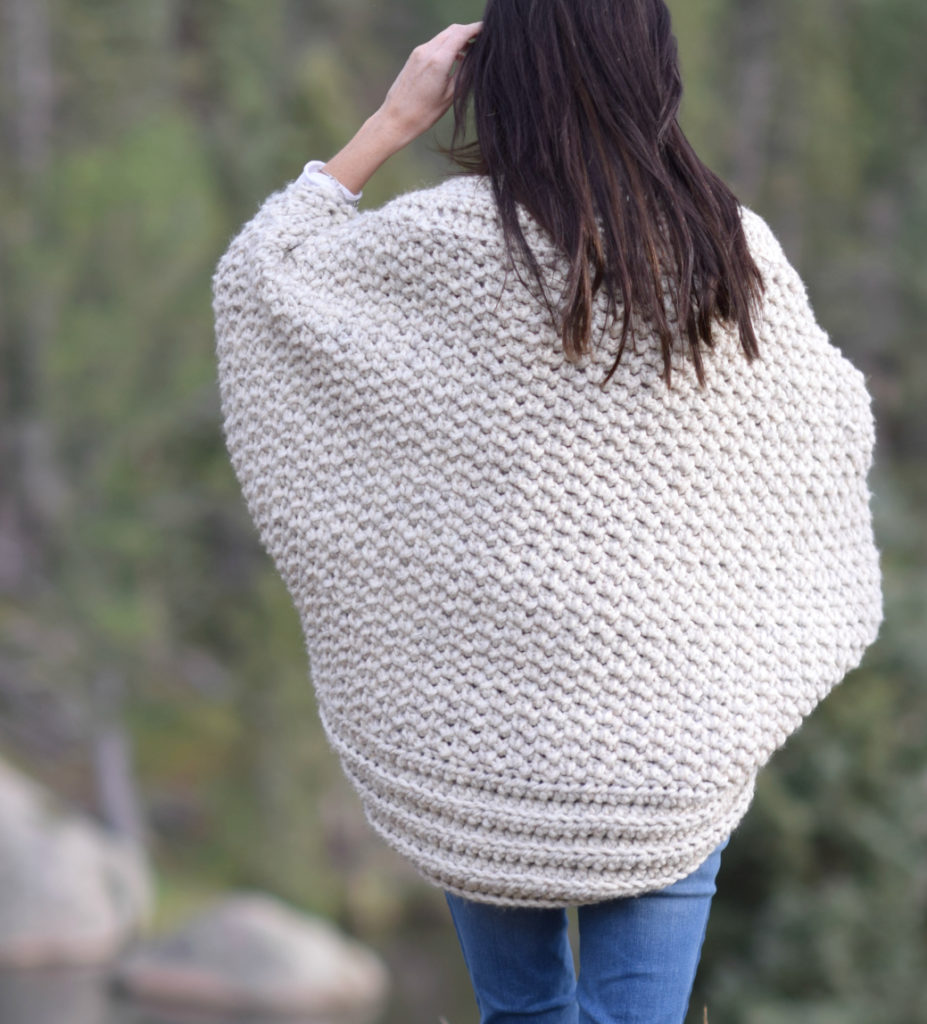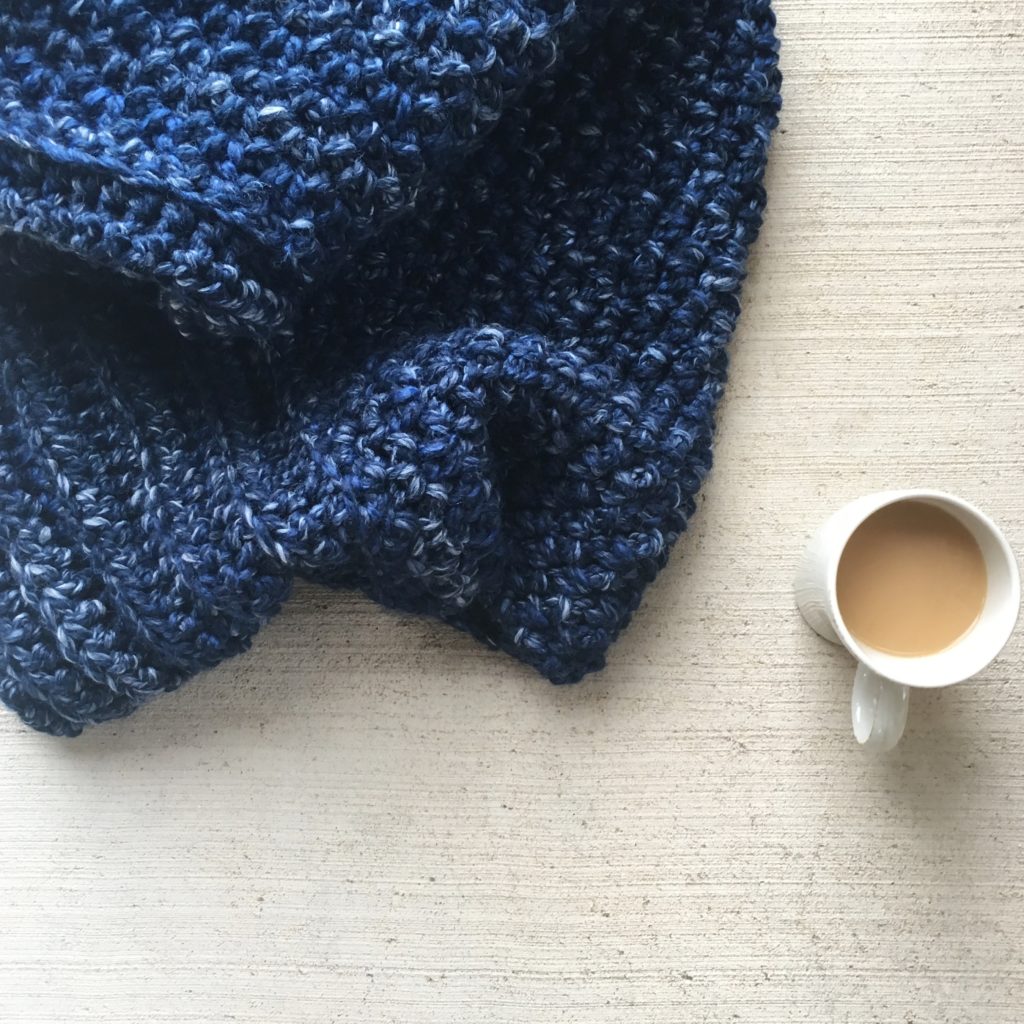 Above: Just crocheting on the front porch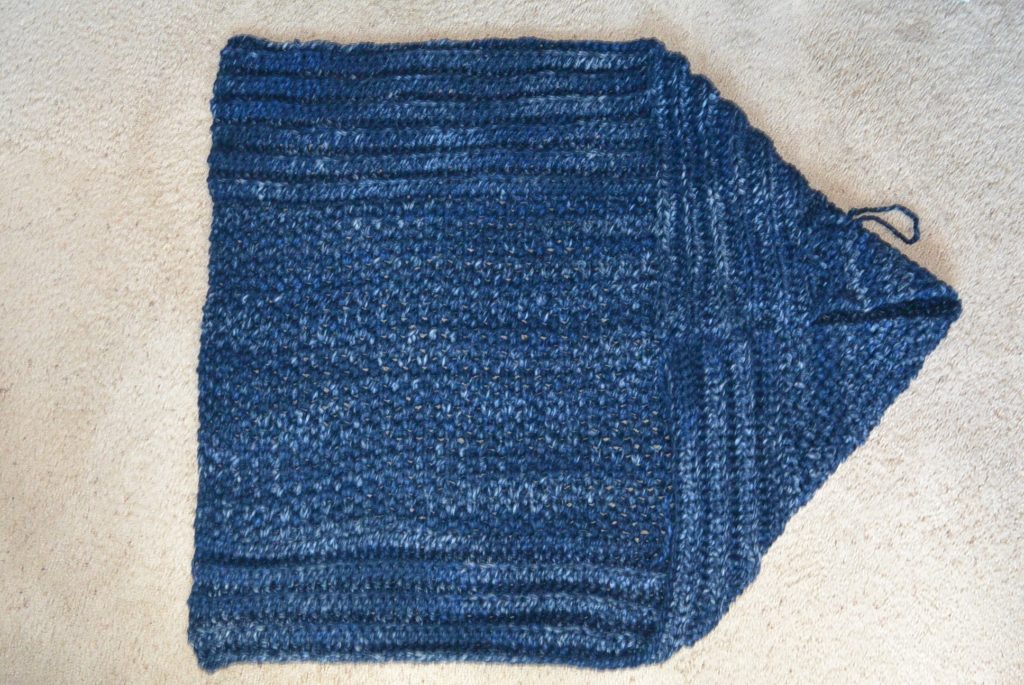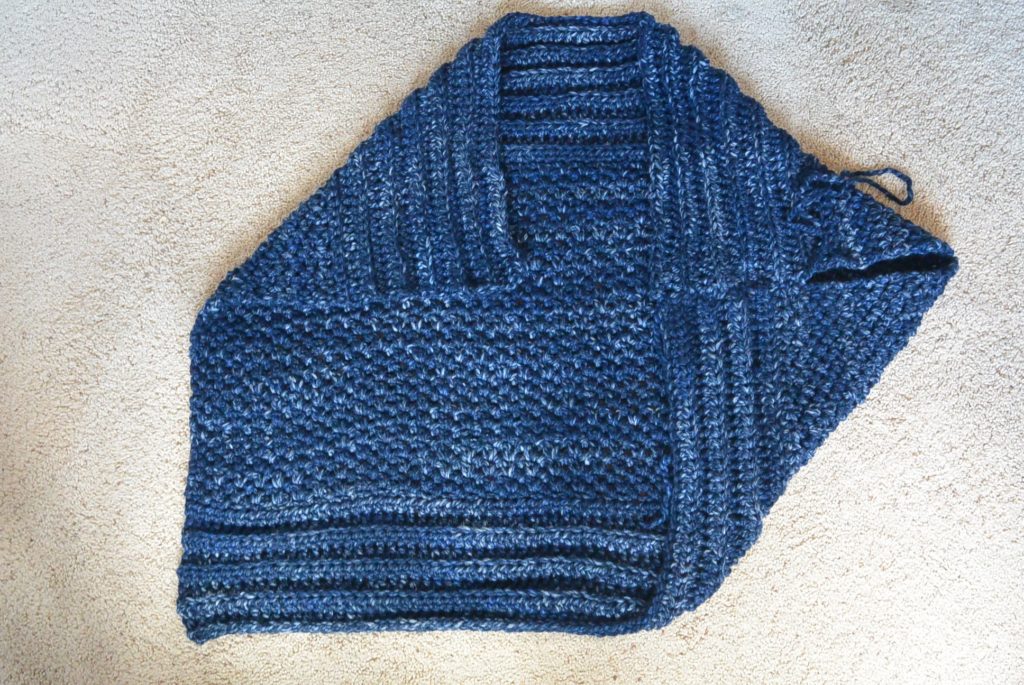 Above: So easy to assemble and create arm openings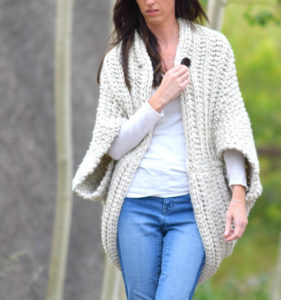 Above you can see that I added a button in order to keep it on the shoulders even better. ?There's no need to make a complicated button hole as it will fit right through the fabric. ?I found that I don't need the button, but if you'd like that extra security to keep the cardigan in place, it's an easy and stylish option.Shall we get to the pattern? Here goes…The Cozy Blanket Cardi?The most comfortable, warm and striking cardigan for any fall or winter wardrobe.? Luxurious chunky yarn paired with the beautiful knit-like stitch pattern is sure to impress and be a piece youll want to wear every day.You will need:US Size N 10.0 mm crochet hook7 skeins of Lion Brand Wool Ease Thick & Quick Yarn in Wheat (170 g/skein)or8 skeins Lion Brand Wool Ease Thick & Quick Yarn in River Run (140 g/skein)? (or find the kit with yarn and pattern for purchase here)(Pattern uses approximately 1032 g)ScissorsTapestry Needle to weave in ends and to seamSize:One size fits mostApproximate MeasurementsCross bust approx 26 and bust circumference 52When piece is laid flat on ground, end of arm to end of arm measurement is approximately 40.? Top of neck to bottom of piece is approximately 32. Piece stretches downward when worn.Skill Level:Easy +Gauge:Just under 2 stitches per inchIMPORTANT: Be sure to check your gauge before beginning. Also, measure after working several rows to make sure that your piece is measuring close to 40 across.? Adjust your tension or hook size if necessary.?Skills & Abbreviations:ch chainsc single crochethdc blo half double crochet through back loop onlysl st slip stitchsp spaceNotes:This comfy cardigan in worked in one piece and is essentially a rectangle which is folded and seamed to create arms.? You will work several rows of half double crochet through the back loops as well as a series of chain stitches with slip stitches.? These are all basic stitches, making this a fairly quick and easy project.? For the chain and slip stitch portion starting at row 11 of the pattern, you can see a full tutorial for this pattern on the Mama In A Stitch blog at:https://www.mamainastitch.com/how-to-crochet-an-easy-mesh-stitch/ (*please refer to the small mesh pattern)PatternChain 77Row 1 Sl st into 2nd st from hook and in each stitch across row (76 stitches)Row 2 Ch 2 (counts as 1st stitch of row), hdc blo in 2nd st of foundation row and in each stitch across row. (76 stitches)Row 3 10 Repeat row 2Row 11 *Ch 2, turn, sk st below, sl st into next st, repeat from * across. Make final sl st into ch 2 from previous row. (76 ch stitches)Row 12 Ch 2, turn, sl st into ch 2 sp below, *ch 2, sl st into next ch 2 space, repeat from * across row. (76 ch stitches)Row 13 66 Repeat row 12Row 67 Ch 1 (doesnt count as stitch), make 2 sc in each ch 2 sp across the row. (76 stitches)Row 68 Ch 2 (counts as first stitch), hdc blo in 2nd st of row below and in each stitch across the row. (76 stitches)Repeat row 68 until entire piece measures approximately 32 from top of shrug to bottom of shrugTie off and weave in ends.? Move onto seaming and assembly.Seam & Assemble (see assembly picture tutorial below):Place piece lengthwise on the floor or large table.? Fold each corner inward until they meet. With your tapestry needle and length of yarn, simply seam inward with a preferred seam (I used a whip stitch) on each side, leaving an opening for the arms that are approximately 9 long. (Note: You can adjust the seam length to your liking) You may also choose to add a 1 _?? button to the upper portion of the cardigan.? There is no need to add a button hole as it will fit through the fabric.Assembly Photo Tutorial: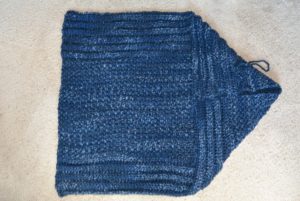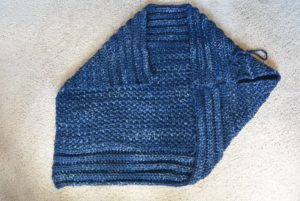 Above: Simply fold the corners inward and seam, leaving holes for the arms.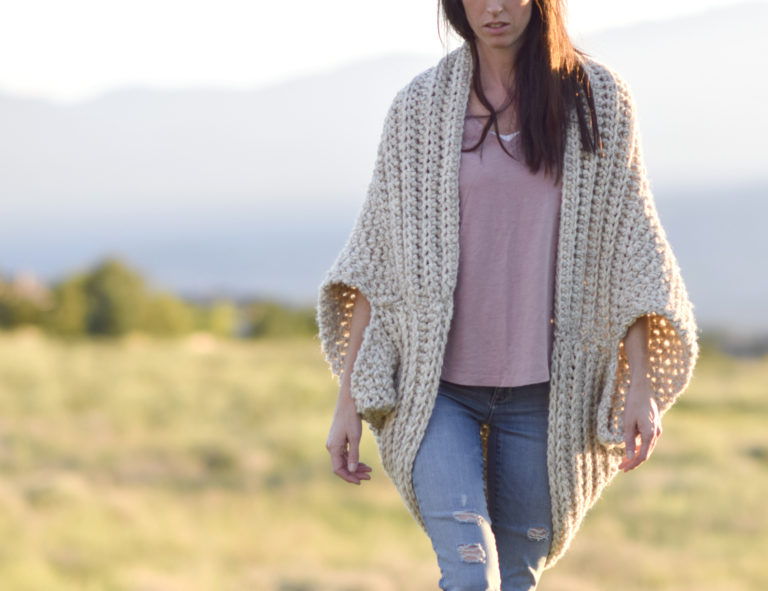 Q & AI want to make mine larger, how do I do that?Make your initial chain longer but keep an odd stitch count. You will also have to add more rows to keep the shape correct. Keep in mind that you will also use more yarn than the pattern indicates.What if mine is turning out small?Be sure to check your gauge before beginning. You can also measure after working several rows to make sure that your piece is measuring close to 40?? across.? Adjust your tension or hook size if necessary.? That's it my friends! PLEASE – I'd love to hear if you make one of these for the cool season ahead.Have a lovely day!XOJessicaIf you liked this, you might like some of the other crocheted blanket sweaters that I've made over the past year here: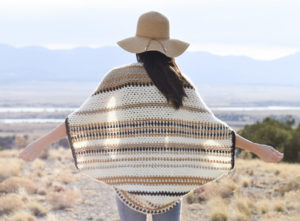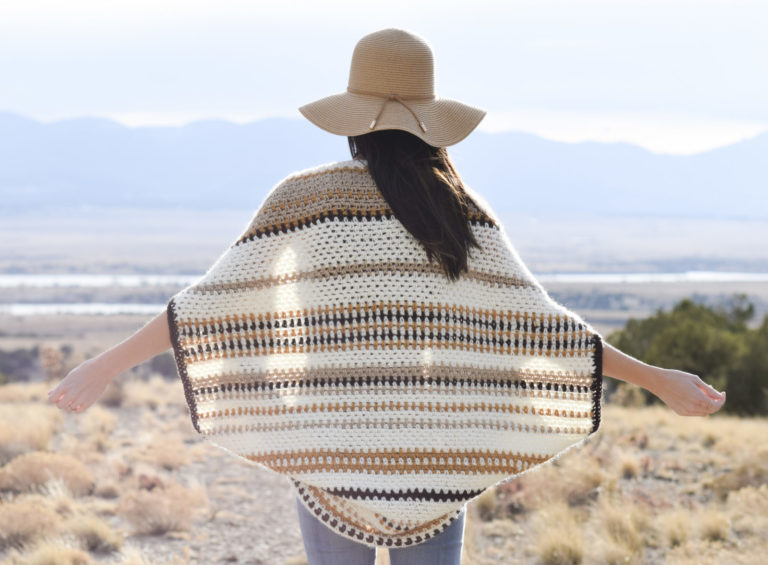 Baja Blanket Sweater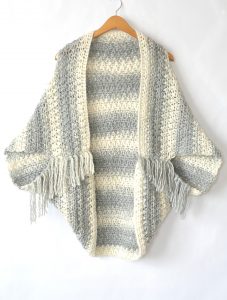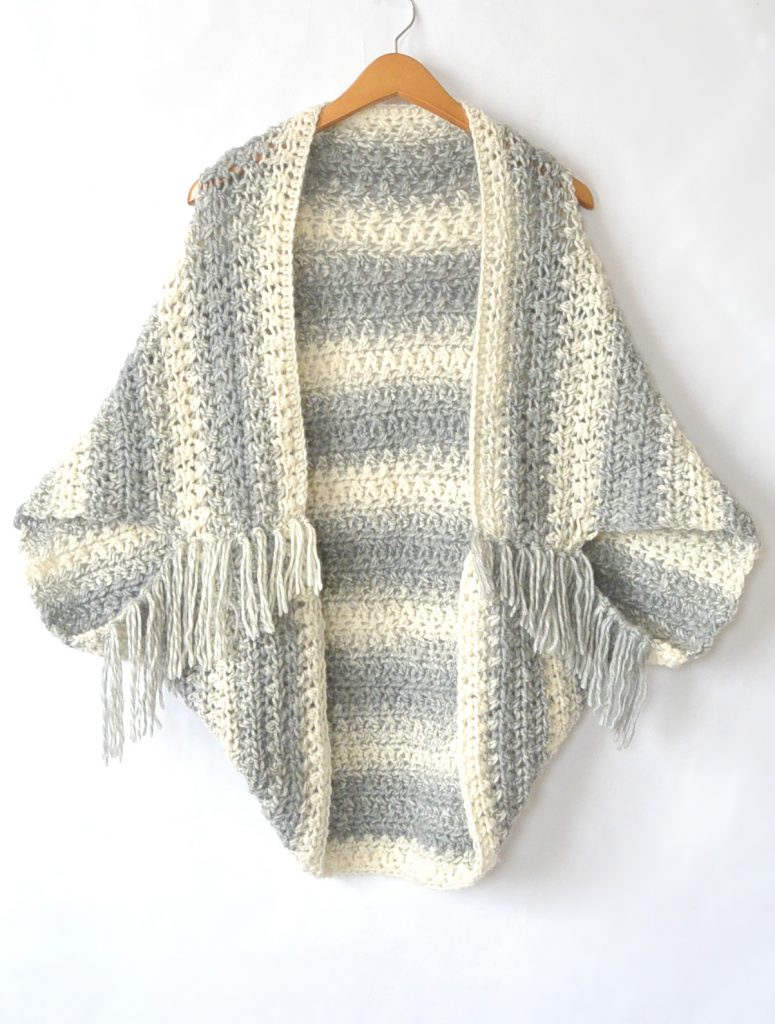 Light Frost Blanket Sweater


Have fun you guys!Thank you to Lion Brand Yarn for sponsoring this post. All opinions are 100% my own.SharePinTweetShare