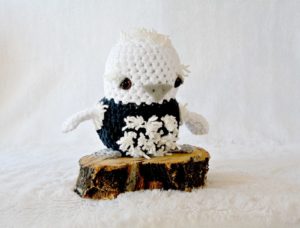 So, here's this little guy-about to take his first plunge into the icy waters!?This is my?first time creating a?pattern for a crocheted animal. I wanted something that could be done easily, but also?something with?a cute factor. His little baby feathers and wide eyes could cheer anyone up (he could be for a boy or girl, don't you think?). The hubby is not so sure that?he is a penguin, so I guess you could be creative and have him be whatever you want him to be.? My other thought was to make him yellow and turn him into a baby chick – cute too – no? My daughter wants to name him Plump Plum (yeah, no idea)…..I am thinking there could be a better name for him. Ha ha! Let me know if you have any ideas!He really is pretty easy to crochet. You will work in the round and have some increases and decreases. There is just one color change (from the white, to the black).?The little detailing is what takes some time.?Most of his details are sewn on with a tapestry needle, including his little fuzzies (it's very simple).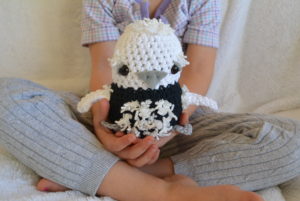 MY LATEST VIDEOSYou will need:Worsted Weight Yarn in Black, White and Grey – I used Lily Sugar N CreamBlack Crochet Thread, or any black threadPolyfill StuffingBernat Tizzy Yarn in White – **?I found out on?March 18, 2015 this yarn was recalled.??If you have any thoughts on a good substitution,?let me know!Size F Crochet HookTapestry NeedleScissorsGrey Felt – You can get it at most craft storesSafety Eyes –?I used 12 mm brown animal?eyes?( I bought these at Hobby Lobby )Hot GluePattern:His Head and Body are worked in one piece:With White, Chain 2Round 1: Make 6 sc in second chain from hook.? Place a stitch marker at beginning of round, and move each round.Round 2: 2 sc in each stitch around (12 stitches)Round 3: 2 sc in next stitch, sc in next stitch. (18 stitches)Round 4: 2 sc in next stitch, sc in next two stitches (24 stitches)Round 5: 2 sc in next stitch, sc in next three stitches (30 stitches)Round 6-12 Sc in each stitch around.Round 13 Sc 2 together, sc in next stitch. Repeat around. (20 stitches)Round 14 Change color to black – 2 sc in next stitch, sc in next stitch. Repeat around. (30 stitches)Round 15 2 sc in next stitch, sc in next two stitches. Repeat around.?(40 stitches)At any point now, you can attach the eyes, some fuzzy feathers, and beak.? See my picture tutorials and explanations below on how to make the eyes, beak and feathers. You can also begin to fill the head with the stuffing.Round 16-21 Sc in each stitch around.Round 22 Sc 2 together, sc in next two. Repeat around (30 stitches)Round 23 Sc 2 together, sc in next stitch. Repeat around?(20 stitches)Round 24 Sc in each stitch around – make sure he is stuffed as much as possible now! You can also add on his belly feathers now, or wait until the end.Round 25 Sc 2 together around. Repeat around.(10 stitches)Round 26 Sc 2 together around (5 stitches), Pull Tight, Tie Off, Weave in all endsFeetWith grey – or preferred color – Chain 5Row 1 Single Crochet across, Chain one, TurnRow 2 – 3? Repeat row oneMake two feet, and attach to bottom of the penguin with a whip stitch.WingsWith White – Chain 7Row 1 Sc across, Chain 1, Turn?( 6 stitches)Row 2 – 3 Repeat Row 1To finish, single crochet around entire wing one time.? Make two wings. Attach to sides of penguin with a whip stitch.BeakWith your scissors, cut a triangle. Mine is a bit over an inch wide and 3/4 inch long.Attach your beak with a needle and black thread.? Make two stitches (which also resemble nostrils-ha ha!)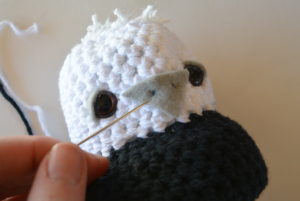 Attach with two black stitchesSafety EyesTo get the look of the eyes you will cut two small half moons from your grey felt.? Using your hot glue, attach the half moons to the outside, upper portion of the eyes.? These are the little eyelids!? Attach your eyes with the provided washers?about 4 rounds above where the black begins. My little guys eyes are about 2.5 inches apart from the center of the eyes.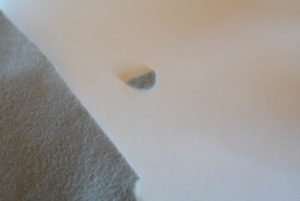 Here is the moon shape that you will glue to the eye for an eyelid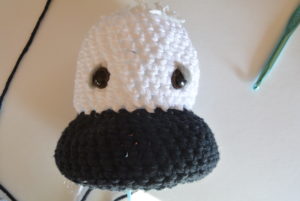 His eyelids have been attached, and the eyes are now also attached with the washer.Baby FeathersWith your tapestry needle, use the Bernat Tizzy yarn?and weave in and out where you would like baby feathers.? Simply use a straight stitch and enter one stitch, come out of the next.? Fluff up the feathers with your fingers.? I placed feathers on the top of the head, above the eyes, under the wings, and on the belly.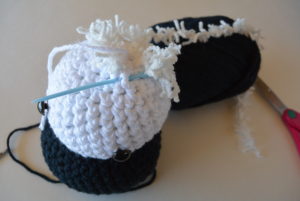 Stitching Feathers on his head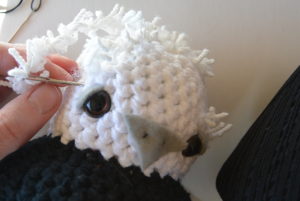 You can put some above his eyes tooLet me know if you have any questions about the pattern.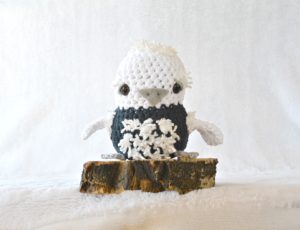 There you have your little Baby Penguin Bird! Enjoy!If you like this, please subscribe or check out my other free patterns! Check back often for new ideas and patterns!SharePinTweetShare