2K SharesAnyone else suffering from spring fever?! I was in the mood for a quick but satisfying project and I also wanted to make something that could be used this spring. My first thought was to crochet a new market tote for some warmer weather, but I've been contemplating a simple bucket crocheted bag pattern with bamboo handles for quite some time.? Once I dropped my daughter off at school yesterday, I headed over to JoAnn Fabrics and picked up some "Rust" colored yarn and little bamboo handles.? This bag was inspired by my Manhattan Market Tote and it's is so super easy and fast to make! I started and finished this bag in a day, so it's now on my short list for last minute gift making. __ The stitches are all beginner friendly and you'll find a lot of pictures to walk you through the pattern. There's even a link to my tutorial on the center single crochet stitch which is the stitch that is used most on the bag.? So as usual scroll on down to see the free pattern or you can find the printable PDF for sale in my Etsy shop here. __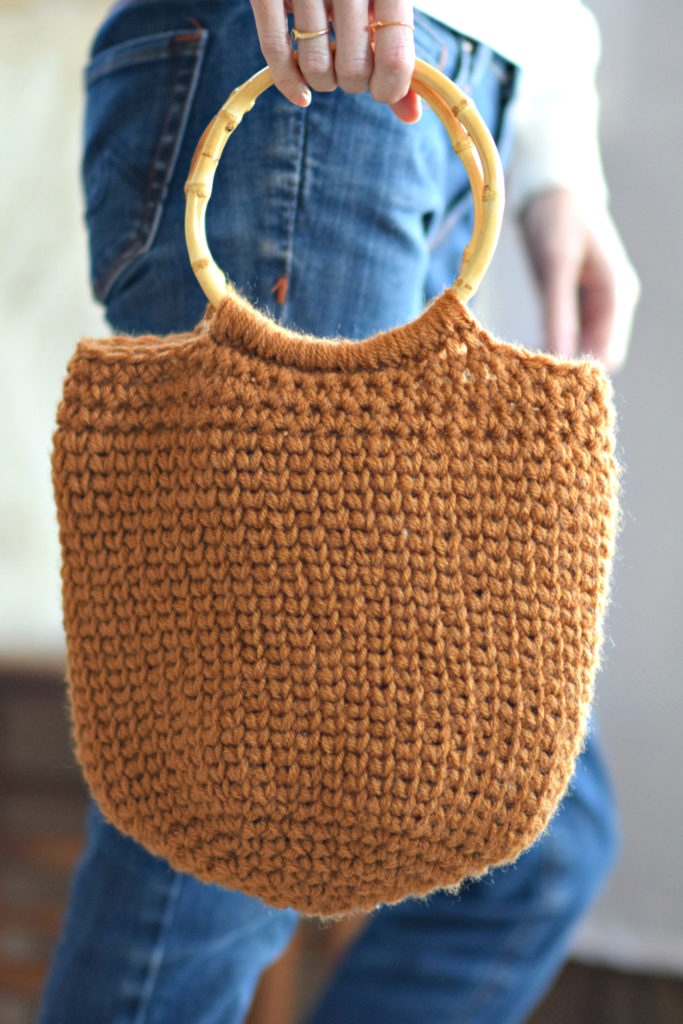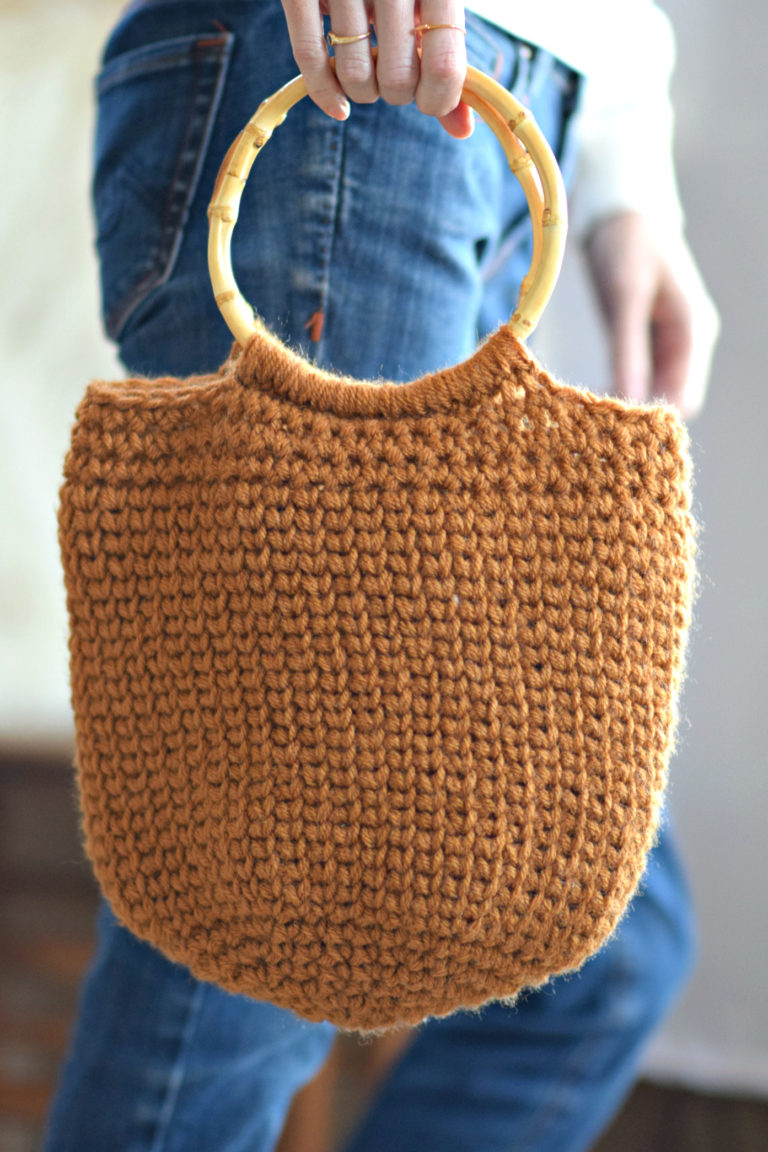 The entire bag is made while holding two strands of worsted weight yarn together. It's also budget friendly as it only takes two skeins of yarn. Most of us have some (or A LOT of) extra worsted weight yarn around the house, don't we? It's a great stash buster and I think it would even look cool to hold two different colors together.? My daughter says she wants me to make her a purple one.? Personally, I'd like to make another one in a mustard yellow colorway.? __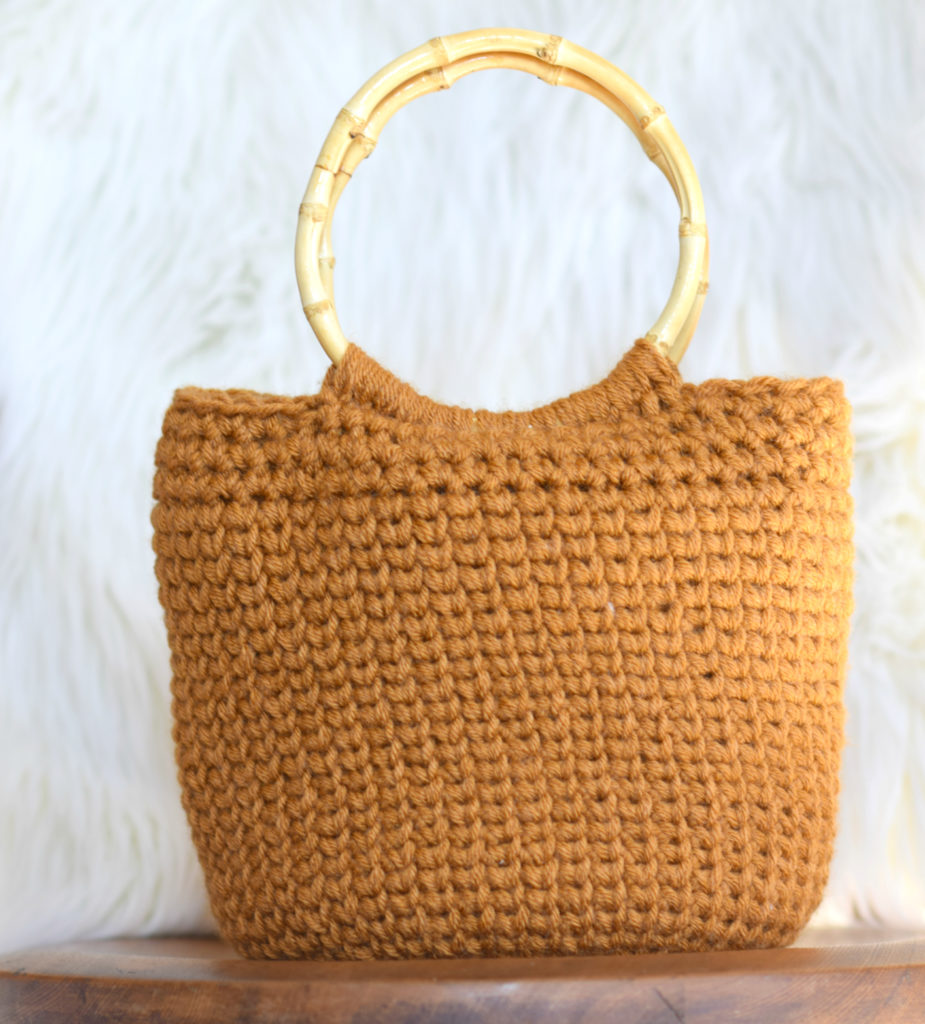 MY LATEST VIDEOS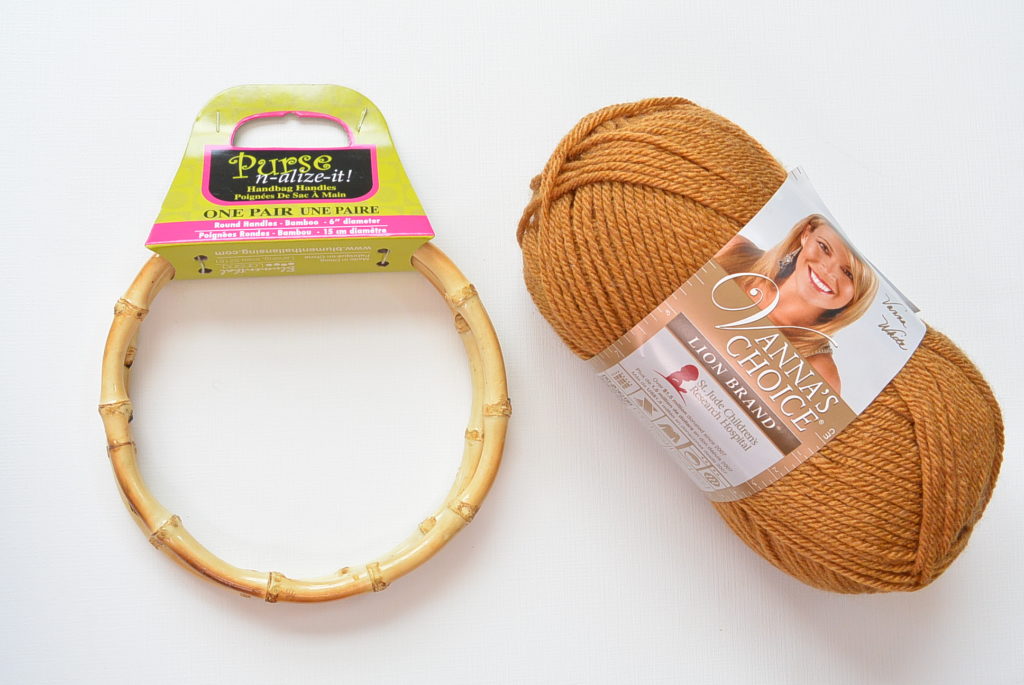 I love the color of this yarn. It's called "Rust" but it reminds me of a nice rich camel color too, right?As I mentioned earlier, this little crocheted tote was inspired by the Manhattan Market Tote that I made a while back (here).? The fun thing about that bag is that the tight stitches at the bottom keep anything from falling out and I wanted to use that same stitch for this bag today.? There's no need to line it since the stitch work is tight and I'm pretty sure there will be NO stretch happening with this purse.? This camel bucket bag is fairly small at just 11 inches wide and about 10.5 inches tall.? There was enough yarn leftover to make it a hair taller if you'd like (using the two skeins).? If you've got more than two skeins, you can make this a whole lot deeper.? Feel free to be creative with the pattern! It would even be pretty if you added some stripes. Or use natural twine to make it more of a basket look.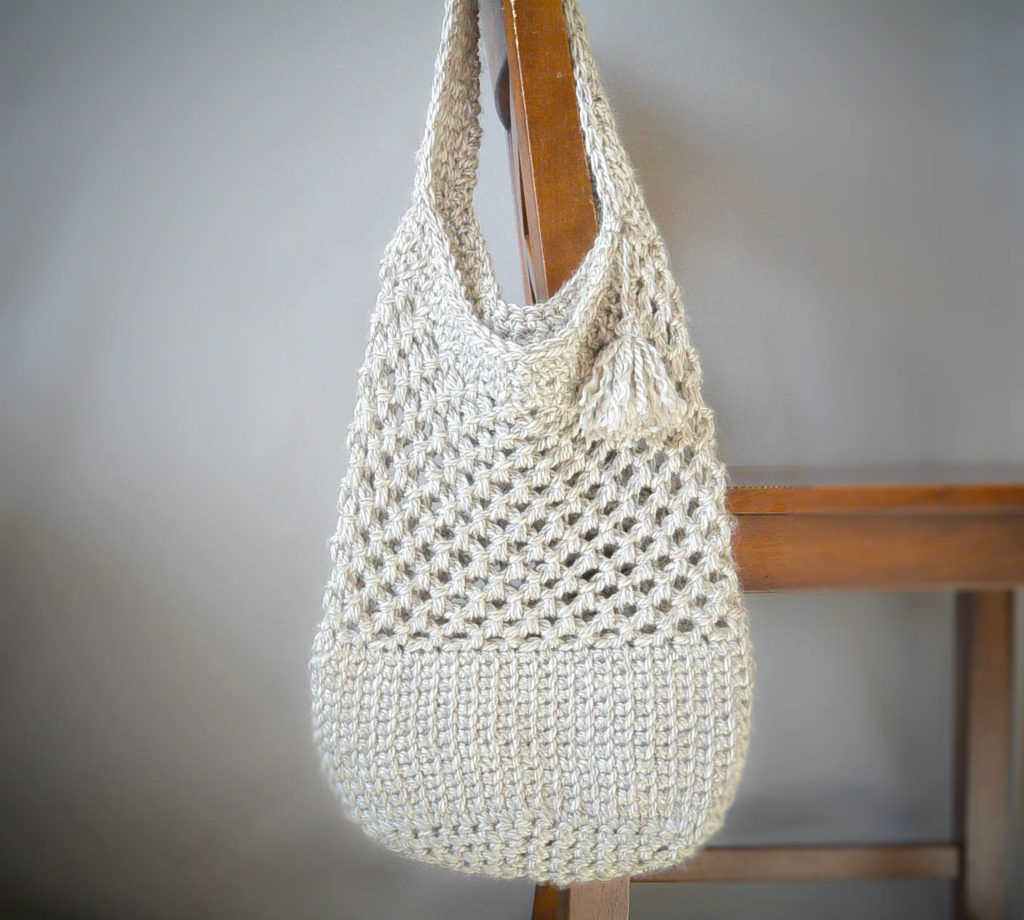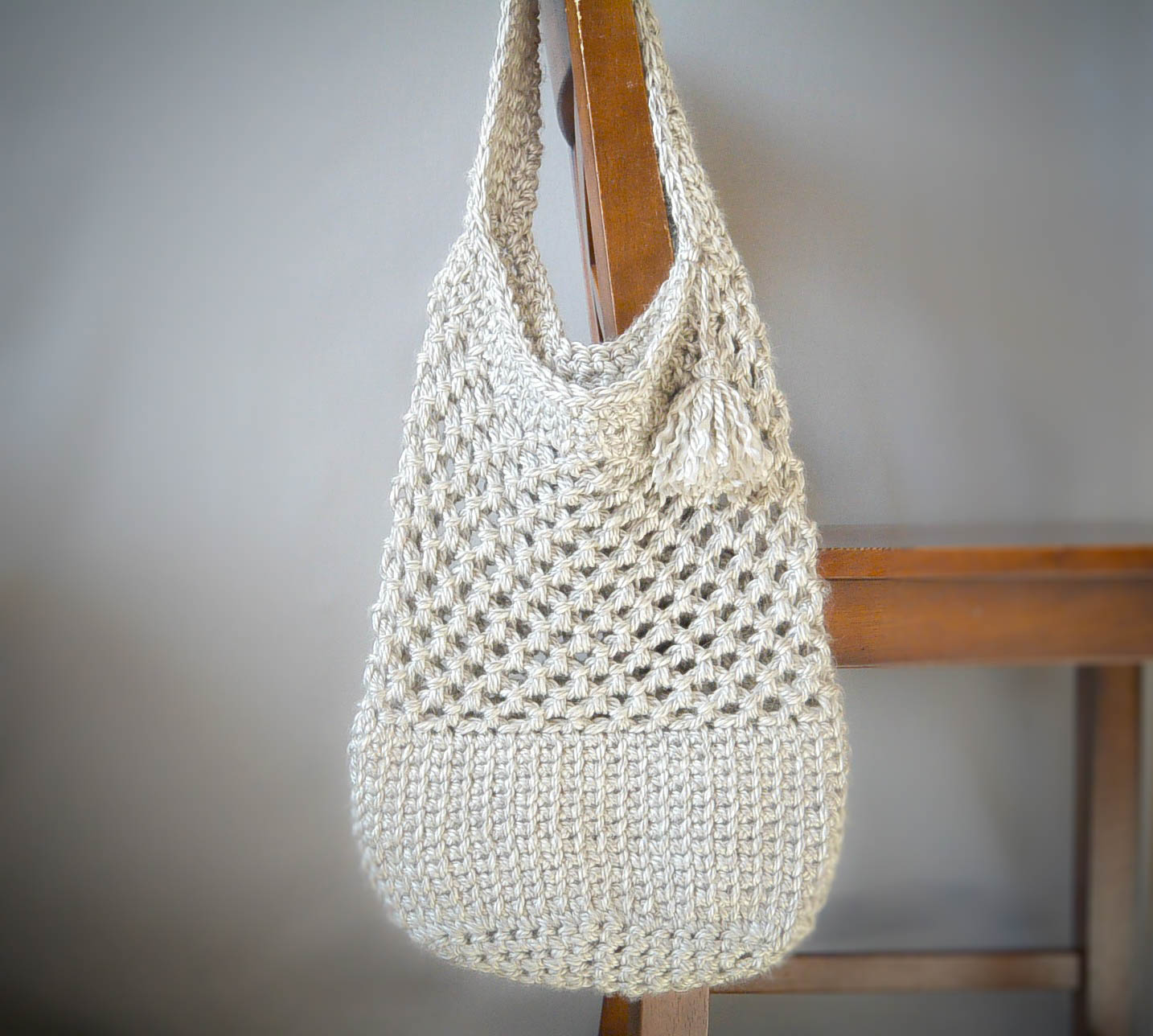 Manhattan Market Tote Crochet Pattern – I used the same stitch along the bottom of this market bag. I love it because nothing falls out!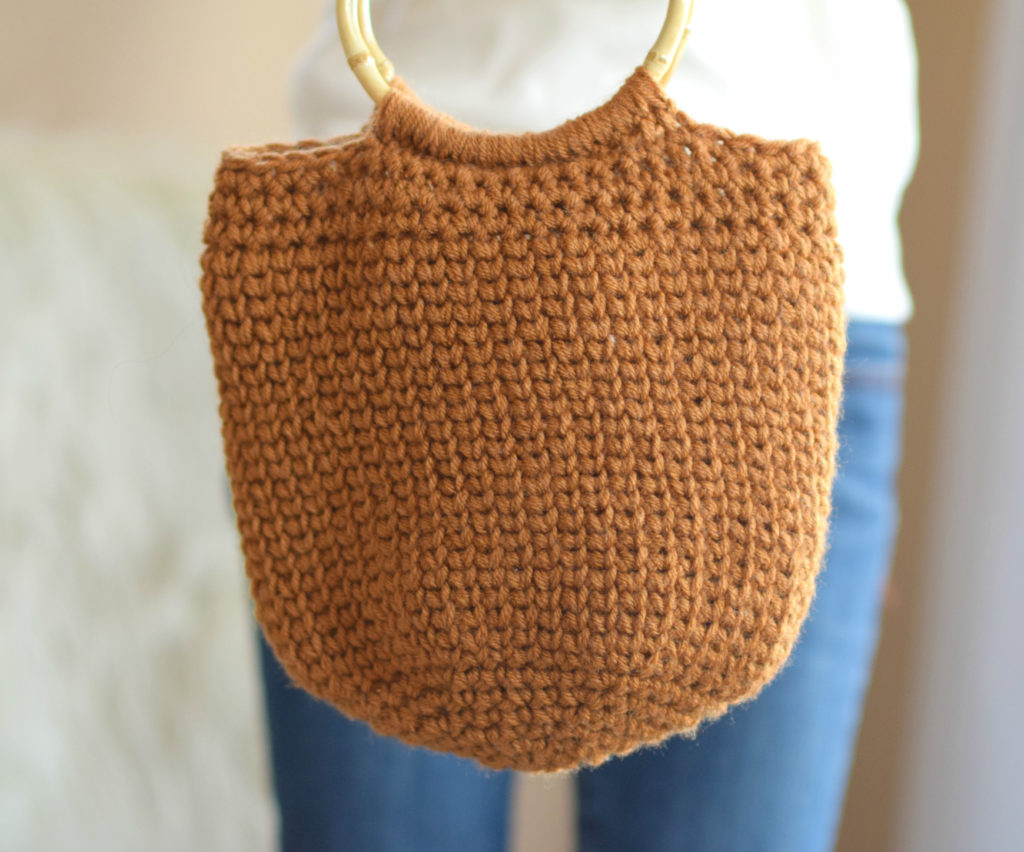 You will find the free pattern below, or you may choose to purchase the ad-free printable PDF version from my Etsy shop HERE.
Camel Bucket Bag Crochet PatternPattern Description: A cute bucket bag featuring bamboo handles and simple stitch work. No need to line this bag as the tight stitches hold everything inside.Skill Level: Easy +Materials: US Size L 8.0 mm crochet hook2 Skeins Lion Brand Yarn Vanna??s Choice in Rust here (100g/skein) Pattern uses approximately 190 grams6?? Diameter Bamboo HandlesStitch MarkersScissorsTapestry Needle to weave in endsGauge: Not important for this patternDimensions (approximate): 11?? wide X 10.5?? tallAbbreviations: ch _ chainsc _ single crochetcsc _ center single crochet (this is also known as the waistcoat stitch and it almost looks knit) You can find a tutorial and link to a video tutorial on my blog here https://www.mamainastitch.com/crochet-knit-stitch/st -stitchNotes: For this pattern, you should know how to crochet in the round.? Pattern is worked in continuous rounds unless indicated otherwise.? The bag is made while holding two strands of worsted weight yarn together throughout the pattern. Pattern InstructionsFlat Base of Bag:(Crochet with two strands of yarn held together throughout the pattern)Ch 2Round 1Work 6 sc into 2nd ch from hook (mark the beginning of each round with stitch marker if needed) (6 stitches)Round 2 2 sc in each sc around (12 stitches)Round 3 2 sc in first st, 1 sc in next. Repeat around. (18 stitches)Round 4 2 sc in first st, 1 sc in next two stitches. Repeat around. (24 stitches)Round 5 2 sc in first st, 1 sc in next three stitches. Repeat around. (30 stitches)Round 6 2 sc in first st, 1 sc in next 4 stitches. Repeat around (36 stitches)Round 7 2 sc in first st, 1 sc in next of 5 stitches. Repeat around (42 stitches)Round 8 2 sc in first st, 1 sc in next of 6 stitches. Repeat around (48 stitches) Next you will move onto the Main Body of the BagMain Body of Bag:Round 9 Csc in each st aroundRepeat round 9 until you have approximately 7?? of Csc stitches.? This measurement does not include base of the bag.Once you have approximately 7?? of Csc stitches and your bag is approximately 9?? tall when laid flat (and measured from the center of the bottom to the top) you will now move onto the single crochet top portion of the pattern. Single Crochet Top Portion:Single crochet each stitch around, working in continuous rounds, marking your rounds as needed for approximately 1.5??.? The bag should now measure approximately 10.5?? tall. You can add more rounds to make it taller at this point if you??d like (keep yarn needs in mind)! When you??ve reached the length you want, skip 2 stitches, slip stitch into the next, tie off and weave in ends.Attach Handles:Lay bag on a flat surface. Count 5 stitches inward on each side. Mark these stitches. Beginning with the first stitch, attach yarn and slip stitch crochet around the handle to attach to the bag.? Make two stitches in each single crochet stitch, wrapping yarn around the handle and then slip stitching to secure. See photos below.? Work across to the other stich marker. Tie off and weave in ends. Repeat on opposite side of bag to attach second handle. You can see in the photo above that the bag sits up on it's own as the fabric is quite tight. It's almost like a little basket! I'm so excited to use this bag and thrilled to know I can easily make more for friends.Would you add a closure of some sort? I thought about that but wasn't sure what would be the best method. Let me know your thoughts in the comments below!XO,JessicaOh! If you knit, you might like this:The Aspen Knit Tote PatternSharePinTweetShare