13K SharesSometimes you just want to make a beautiful, cuddly knit blanket that doesn't take a whole lot of brain power or time.? This super easy knit blanket works up VERY quickly and it's really soft as well which I love.? The inspiration for this blanket came from some throws that I saw last season at Anthropologie, only their blankets included brighter colors (and of course weren't as special because they weren't hand made – lol). I used two completely different yarns for this knit throw design and I love how it creates a really squishy and interesting texture. It also goes to show that if you've got various yarns of the same weight, it's possible to put them together and create something pretty.?Who else ends up with several partial skeins after the holidays? You can take all of those super bulky yarns and easily knit a blanket similar to this.? Some of you saw that I just re-organized my yarn room (here) so I don't have as many partial skeins as I did a few weeks ago, but I still have plenty of yarn that could use a stash buster project.? As usual, you can scroll down to see the free pattern below or you may choose to purchase the kit from Lion Brand Yarn here or?the ad-free printable PDF version from my Etsy shop here.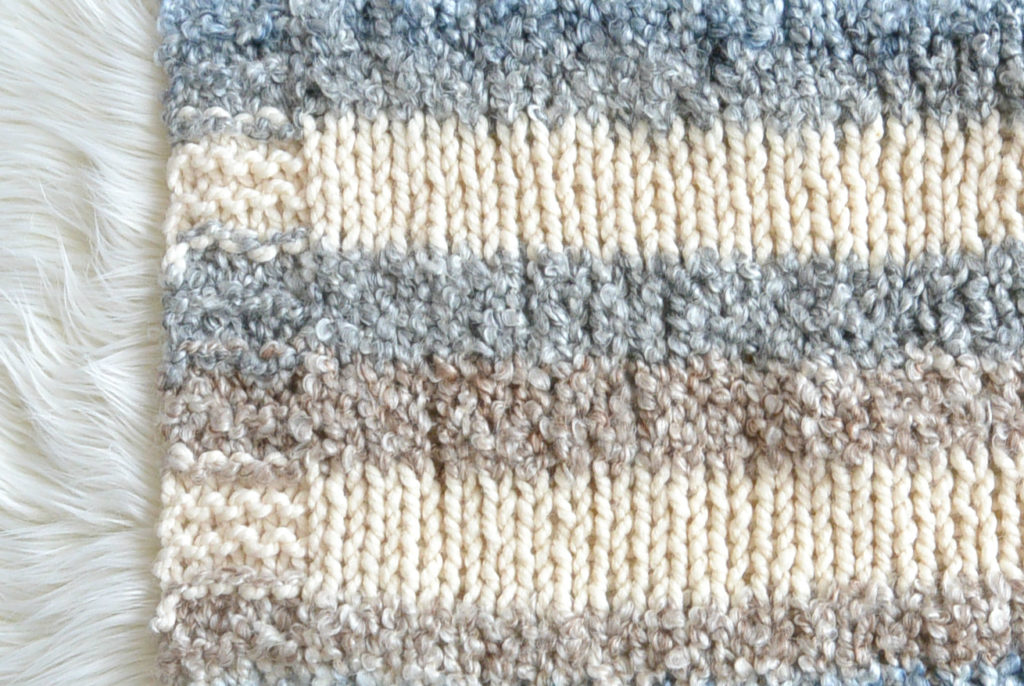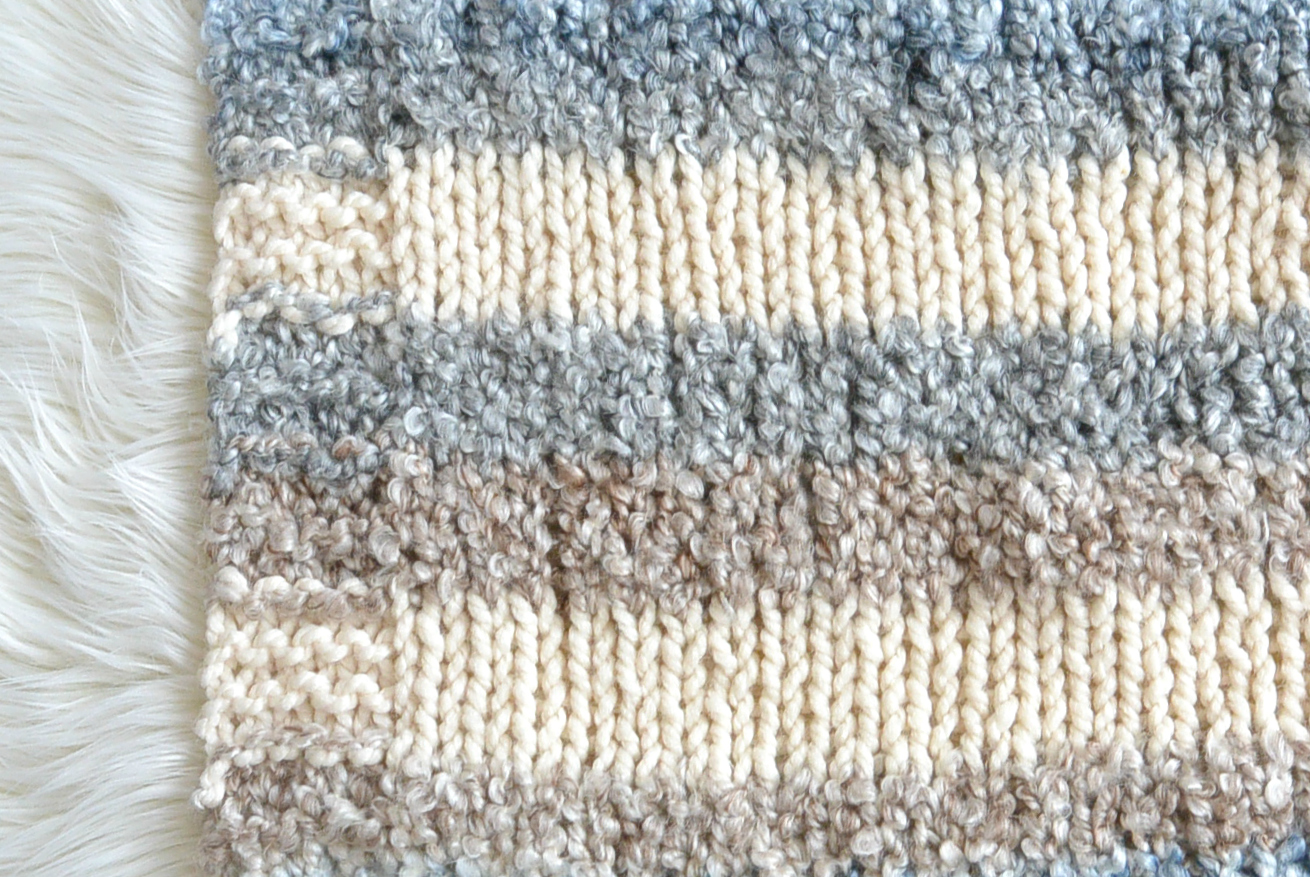 The photo below of Pikes Peak from my back deck is a bit of a color inspiration for this blanket. The fluffy clouds with the white, creams and blues. I didn't capture the leafless tan and white aspen trees that also are part of the landscape.? Winter time is so beautiful and we can get some amazing inspiration from nature and the colors that we see outdoors and in our environment.? Even if you live in the city there are colors working together everywhere you look.? Fun, right?

MY LATEST VIDEOS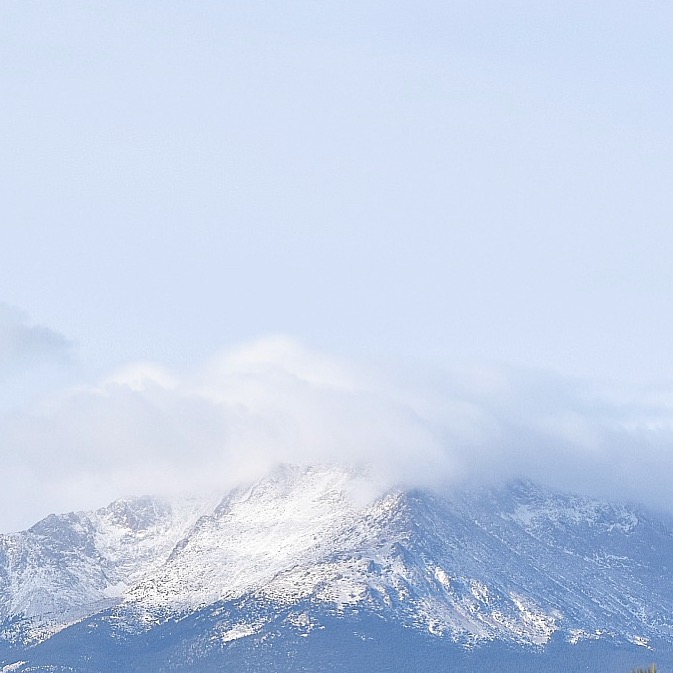 For this throw, you'll only need to know how to knit and purl which are the most basic knit stitches. If you still haven't learned to knit, you can EASILY learn (see my tutorials here and here.)Once you have those two stitches down, come back to make this pattern. __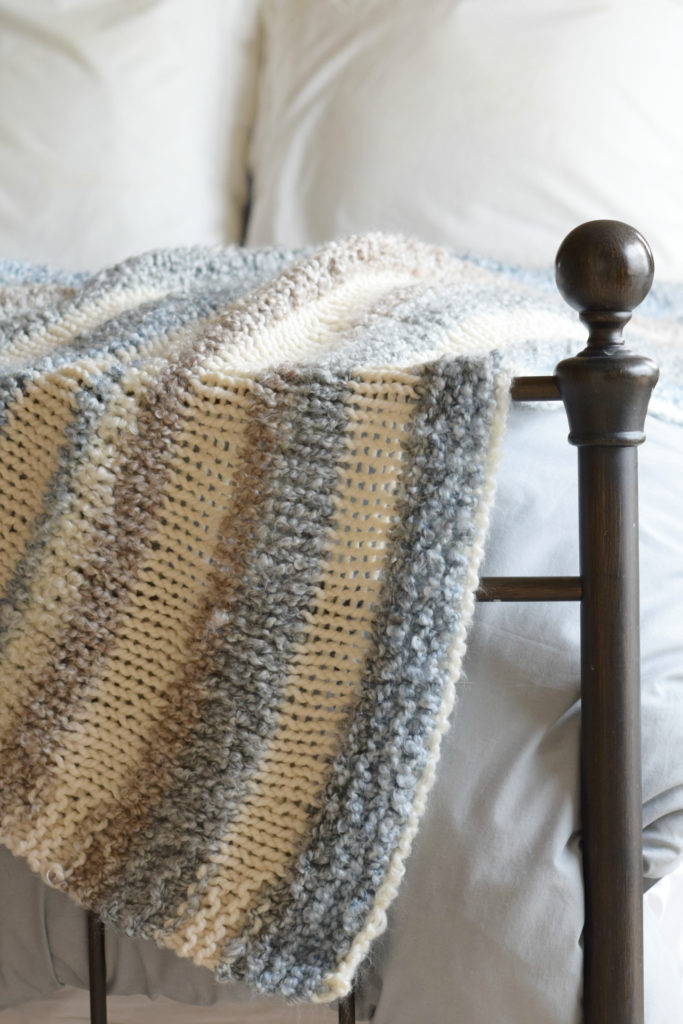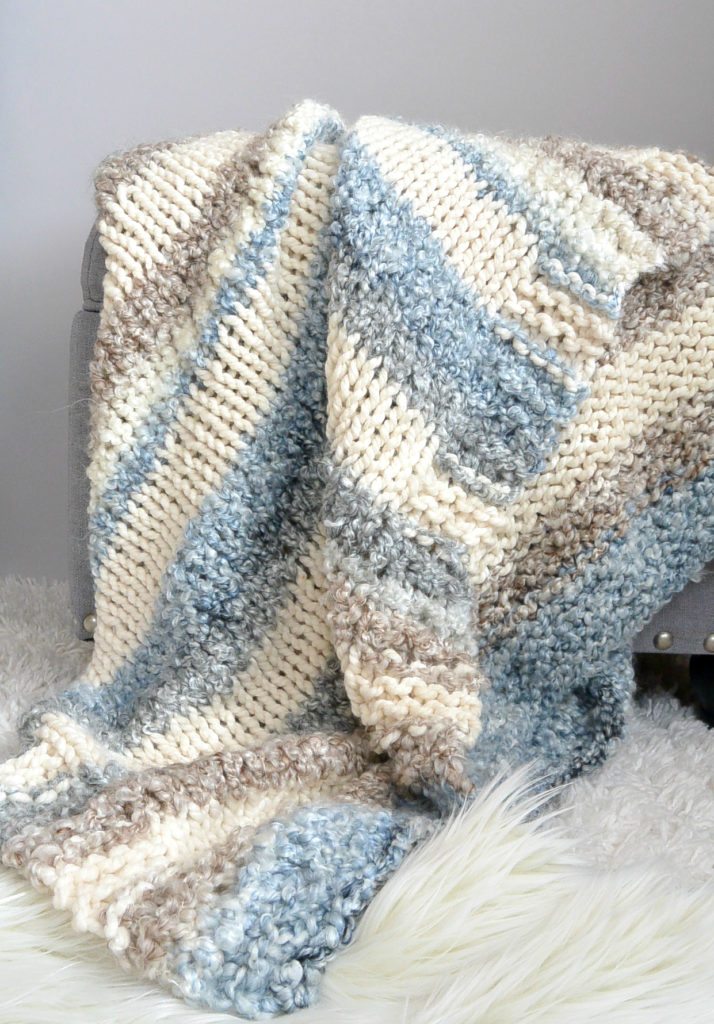 Blankets make great beginner knitting patterns because they are most often just plain old rectangles.? You can use the most basic of stitches to create something really useful for you or your friends.? One of my very first knitting projects was a knit blanket for my daughter, (The Native Stripes Knit Blanket here) which took FOR-EV-ER to make. I was a slower knitter back then and let's be honest, blankets are rather big projects. However, if you're looking for a quick blanket, this Cuddly Quick Knit Throw is a great option as it works up very quickly. I'd say someone with experience can get this done in a week with no problem.? The large needles create the trendy big stitches and also lend to a beautiful drape. This isn't a big throw blanket my friends! It's more like a lapghan size and this is also why it works up so quickly.? It's perfect for a small chair, ottoman or to simply toss over your legs on a chilly night. I prefer this smaller sized throw blanket to a regular afghan size myself.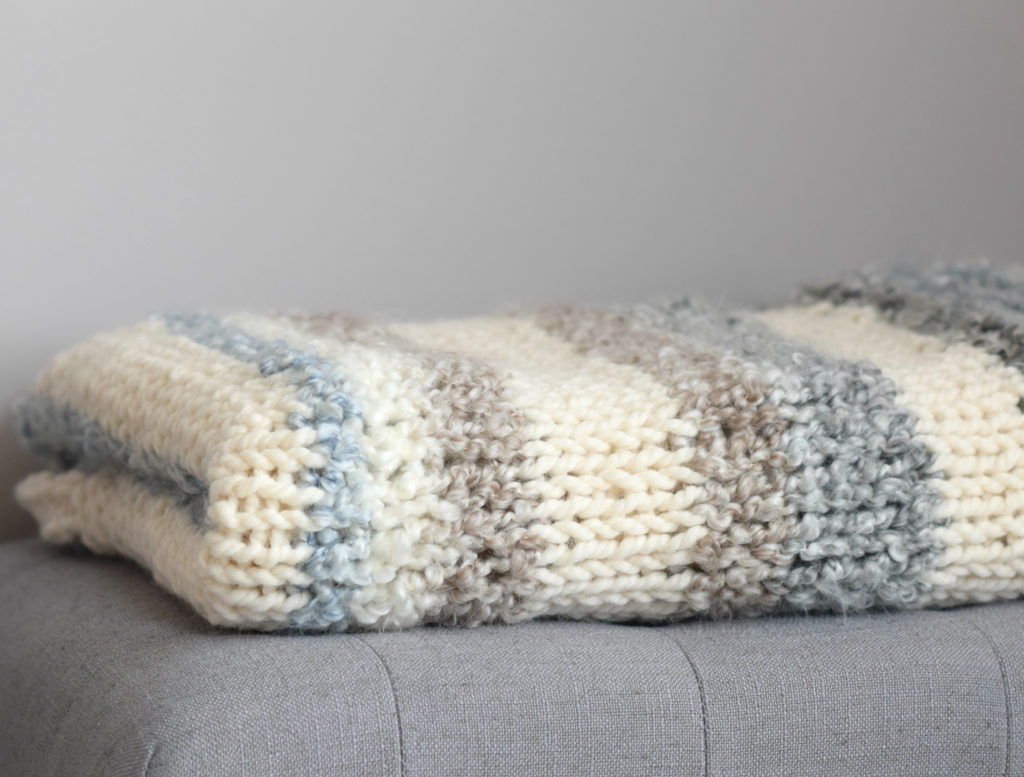 So let's get to this super easy pattern! (Free pattern below or printable version available in my Etsy shop here)Throw Blanket Pattern Description: A soft and squishy small knit throw blanket that works up quickly and is beautiful too! The ultimate cuddly knit blanket.Skill Level: Easy +Materials: US Size 19, 15 mm 29 circular knitting needles3 skeins Lion Brand Homespun Thick & Quick Yarn in Granite Stripes 227 g/skein2 skeins Lion Brand Wool Ease Thick & Quick Yarn in Fisherman 170 g/skein (Pattern uses approximately 670 g)ScissorsTapestry Needle to weave in endsYou can also now find the kit available from Lion Brand HERE!Gauge: Not important for this patternDimensions (approximate): Approximately 51 X 32Abbreviations: k knitp – purlNotes: You will begin this simple rectangular throw blanket by casting on and working the long edge.? Simple color changes are made throughout the pattern. The Homespun Granite Stripes has various colors within the yarn.? When you reach a cream colored section in your Homespun yarn, you might choose to wind that yarn and save it for a different project as it closely matches the Fisherman and the striping will not show up as boldly.? The ends and edges of the blanket are knit in the garter stitch and the center body of the blanket is in stockinette.? If you know how to knit and purl, this will be a breeze!* The right side refers to the side with stockinette stitch.
Cuddly Quick Knit Throw Blanket Pattern InstructionsBeginning Garter EdgeWith Homespun Yarn, Cast On 71 StitchesRow 1 Knit across row (71)Repeat row 1 (working in garter stitch) until piece measures 3 ?Next you will move onto the stockinette section of the patternStockinette SectionChange yarn to Wool Ease Thick & Quick in FishermanRow 1 K5, purl each stitch across to last 5 stitches, k5 (71)Row 2 Knit each stitch across row (71)Row 3-6 Repeat rows 1 &2 working in stockinette stitch (71 stitches in each row)Change color to Homespun Granite StripesRow 7 K5, purl each stitch across to last 5 stitches, k5 (71)Row 8 Knit each stitch across row (71)Row 9 16 Repeat rows 7 & 8 until *note: this Homespun Granite stripe should be approximately 3 1/2 ending on the right side which might be helpful if you have difficulty seeing or counting the rowsNext, you will repeat this entire Stockinette Section three more times.Final Stockinette SectionChange yarn to Wool Ease Thick & Quick in FishermanRow 1 K5, purl each stitch across to last 5 stitches, k5 (71)Row 2 Knit each stitch across row (71)Row 3-6 Repeat rows 1 &2 working in stockinette stitchFinal Garter EdgeChange colorr to Homespun Granite StripesRow 1 Knit each stitch across row (71)Repeat row 1 (working in garter stitch) until final garter edge measures 3 _??Cast off and weave in all ends.That??s all there is to this simple knit throw blanket!Feel free to be creative with extra yarn and add tassels or pom-poms to the edges of your blanket! You can also easily add fringe along two ends for a beautiful, boho look.If you enjoy working with big needles and yarn you might also like to see my Endless Cables Knit Throw Blanket Pattern!??Happy knitting to you my friends and I hope you liked this super simple little throw. __XO-JessicaIf you liked this, you might also like:SharePinTweetShare