20K Shares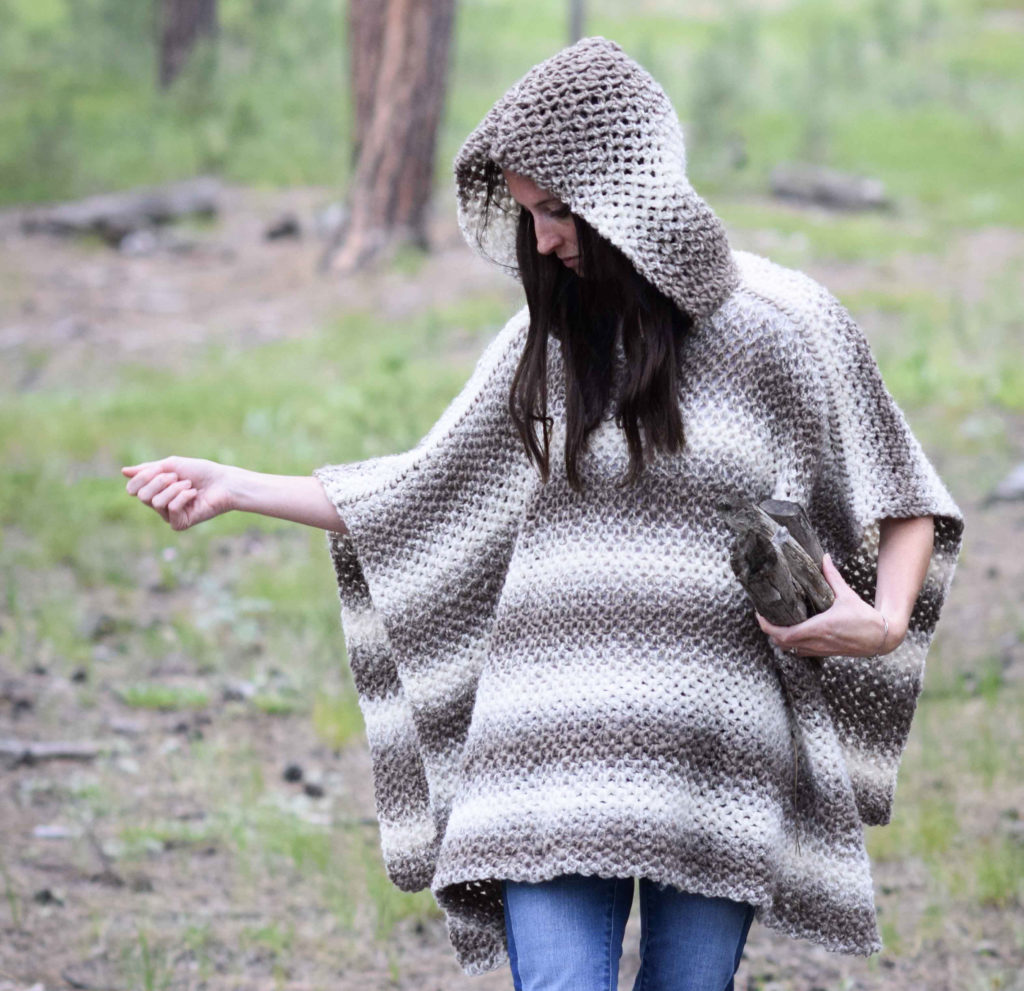 Who likes cozy?! It's oversized, warm, comfortable and most importantly – EASY. ?__ ?AND it's official. I've caught fall crochet fever with several of you and am accepting and embracing it. ?For this reason, I've decided to finish and release this fall friendly crochet pattern early. I'm just as bad as the craft stores that have already putting out Christmas stuff. __You guys, this thing is so comfortable. ?If you want to curl up in something that has an easy, light fit but is super warm and cozy, this could be it. ?While I love the blanket sweaters, I find this poncho to meet and even exceed them in the comfortable wear department. ?One of my most popular projects on the blog over this last year was the Light Frost Blanket Sweater and you can probably see that this poncho was inspired?by that sweater. It uses just four skeins of the beautiful Lion Brand Scarfie yarn and works up with a super simple and "knit like" stitch pattern. ?The hood adds a touch of warmth and comfort but it's completely optional. ?What do you think??You can scroll down to see the pattern for free or you may purchase an ad-free, printable version from my?Etsy shop HERE.??Update: Lion Brand has also made this into a kit and you can purchase that HERE.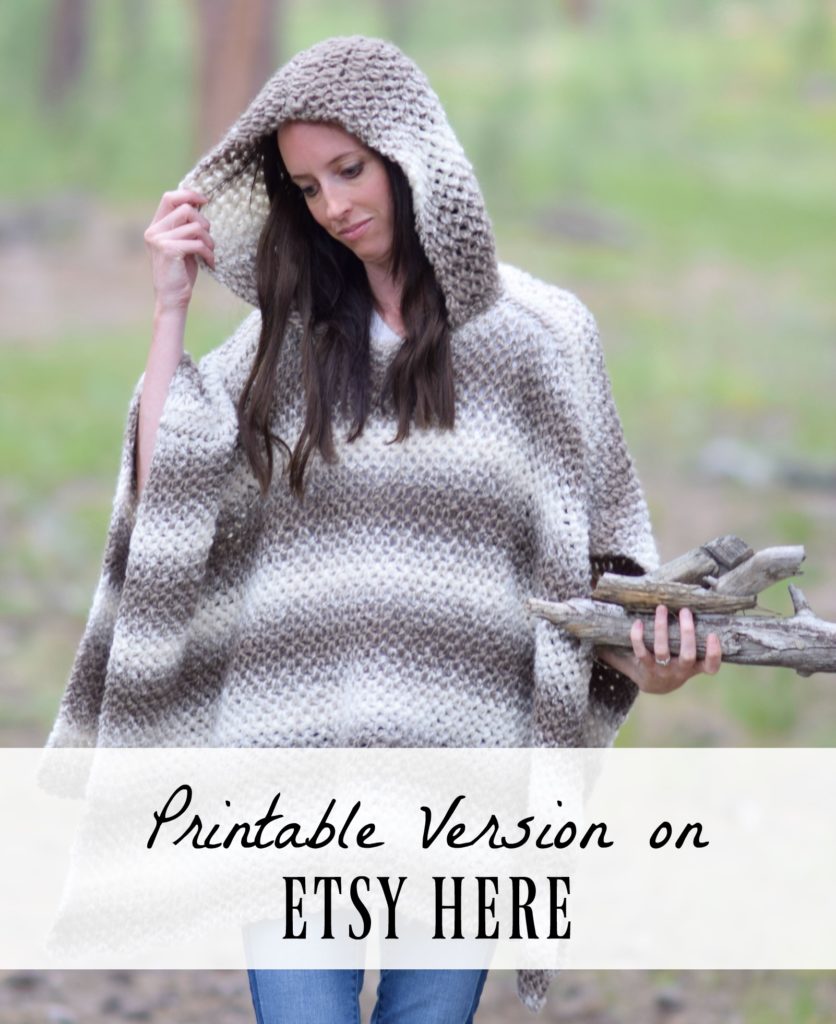 MY LATEST VIDEOS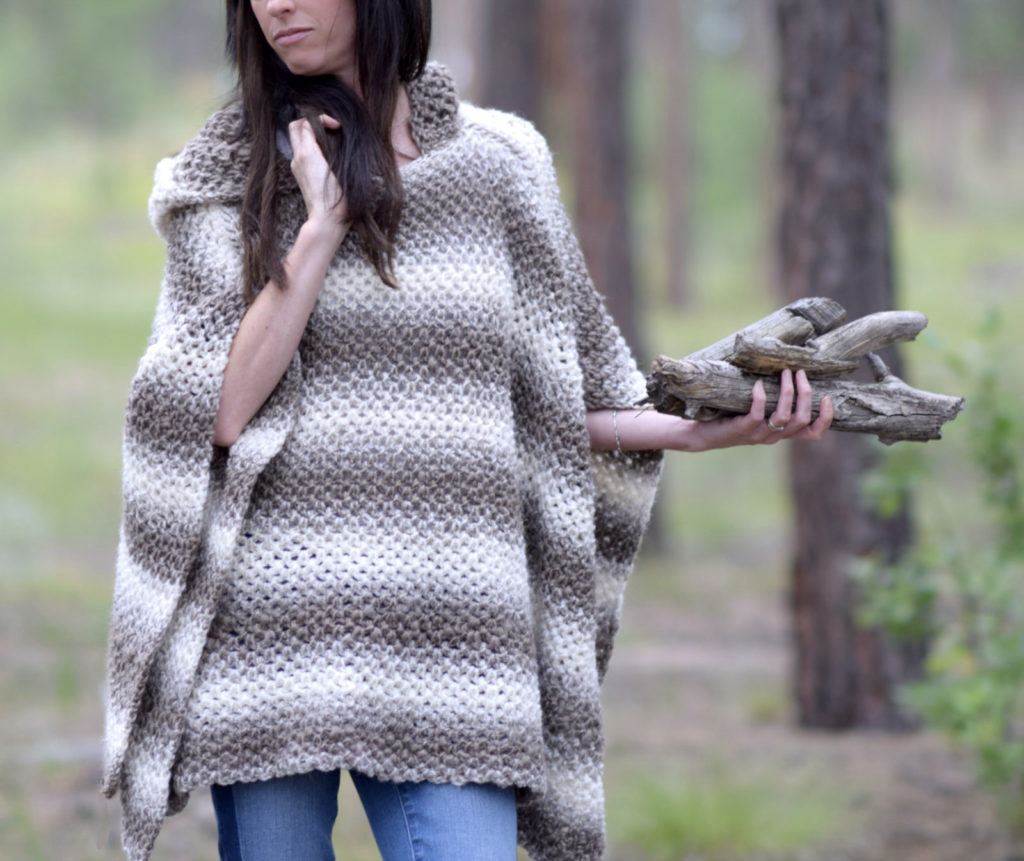 If you follow me here on the blog, you already know that myself and my family are outdoors as much as possible. We spend as much time as we can in our little pop-up tent trailer and at the family cabin. ?This poncho really reminds me of the colors of the forest and the beauty in the mountain environment. ? It's such a great piece to throw on over whatever you're wearing and head out into the fall or winter chill don't you think?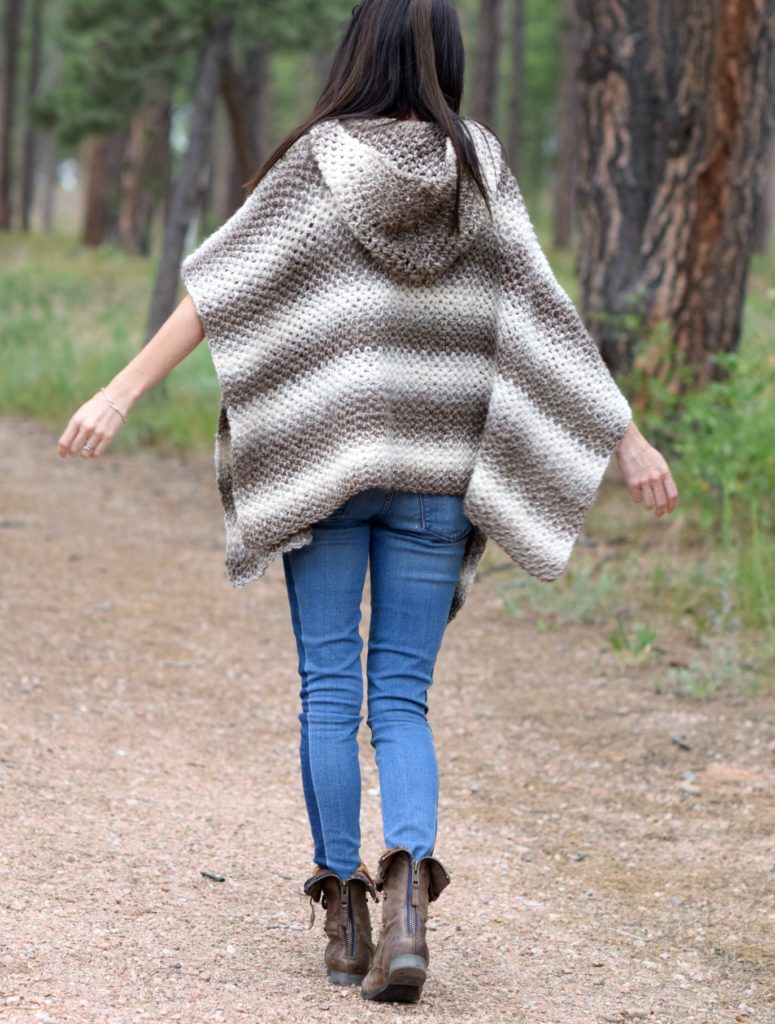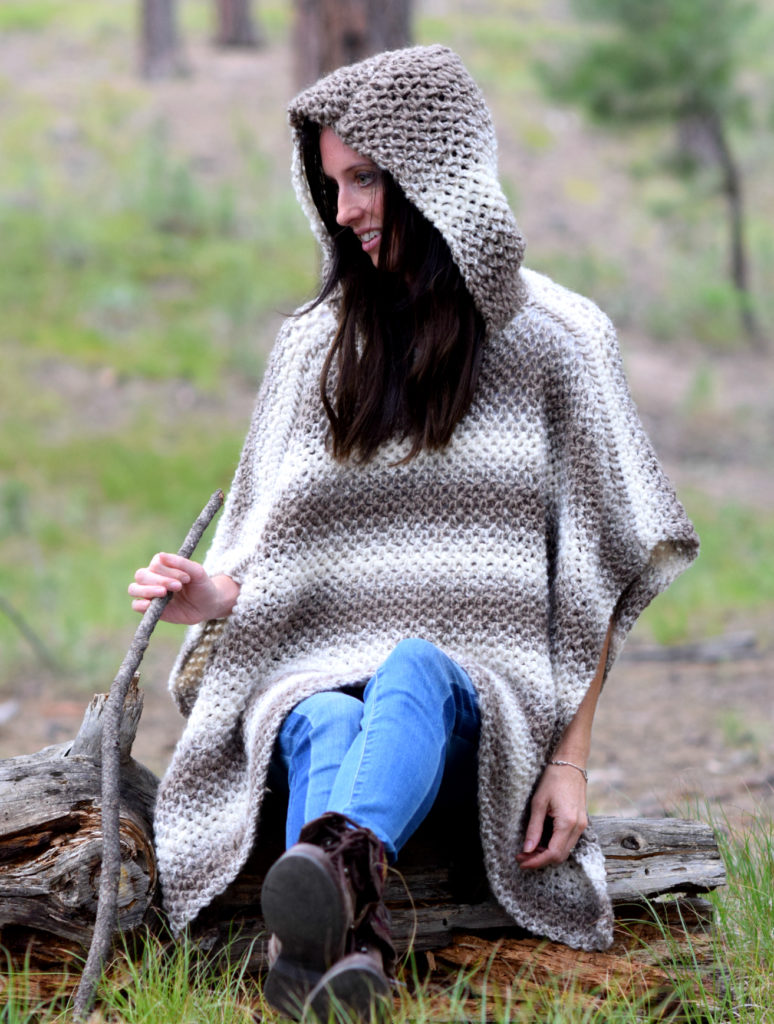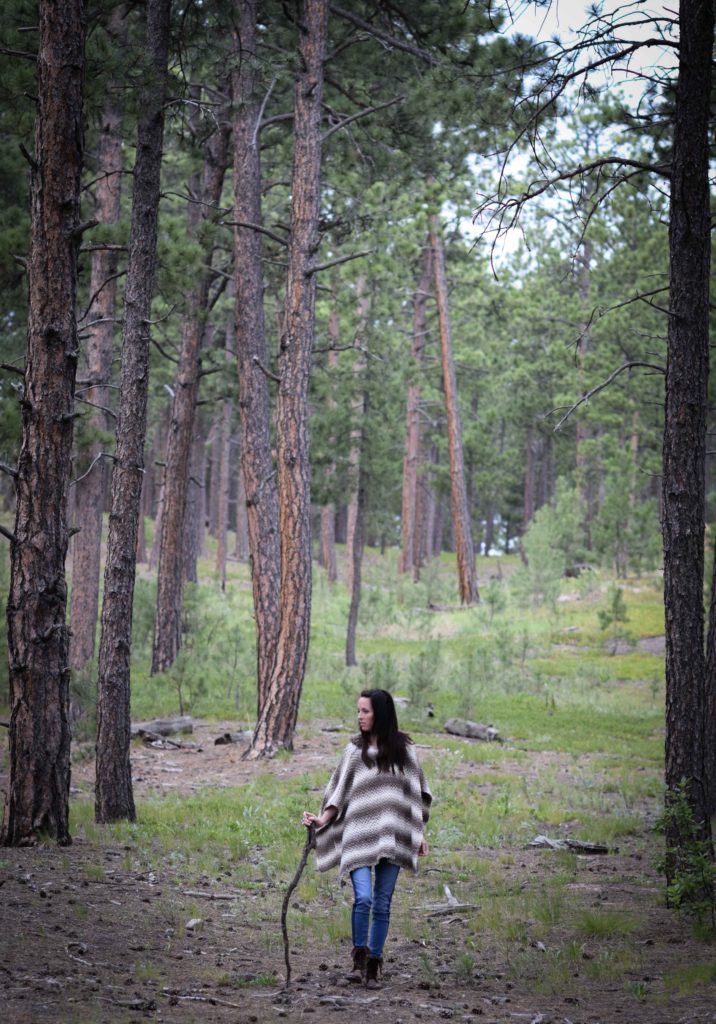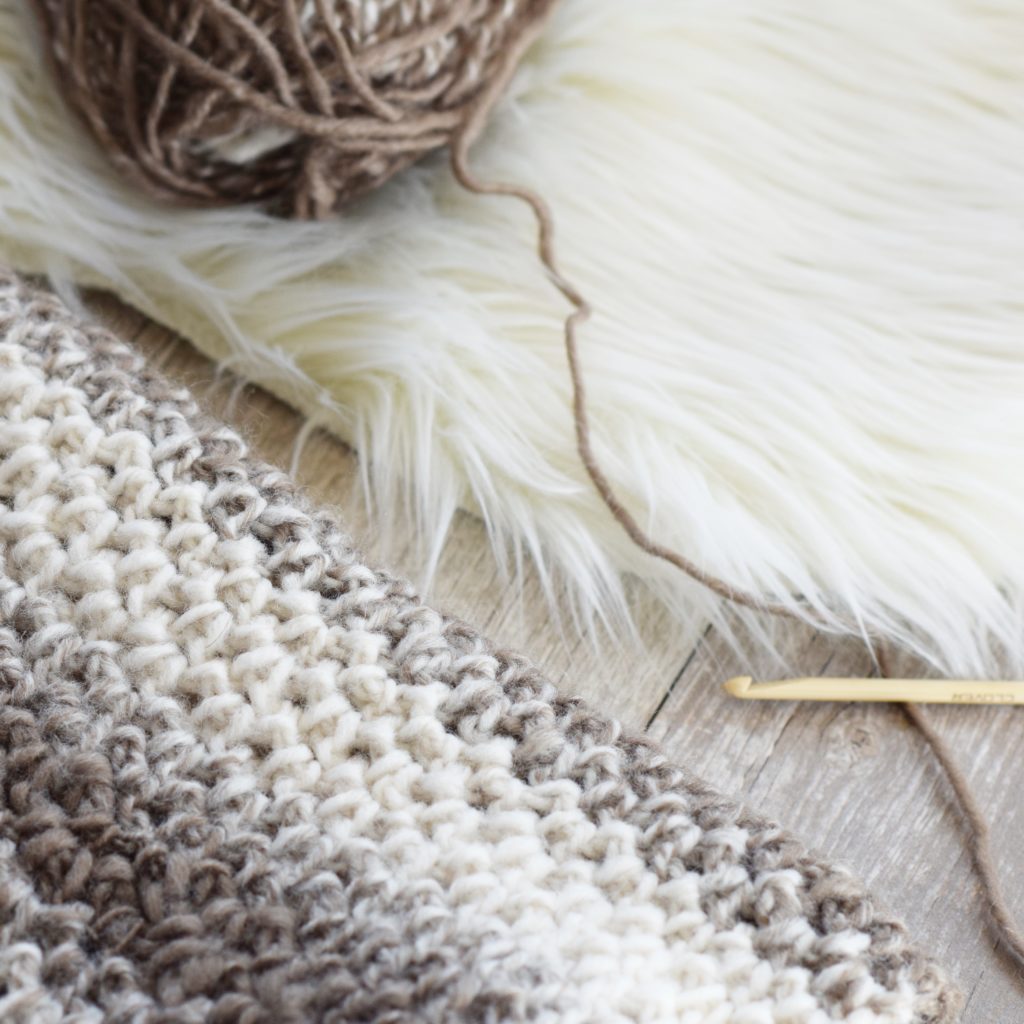 So here we go!Official little explanation:Cozy comfort meets eye catching style with this oversized hooded poncho. Not only will your poncho be noticed, youre also sure to be warm and comfortable with the relaxed fit and easy wear. The simple stitch pattern creates a knit-like look and the construction is straight forward making it a fun project for fireside or tv crochet.You will need:4 skeins of Lion Brand Scarfie in Cream/Taupe (150 g/skein) Pattern uses 593 g (You may purchase the yarn/kit from Lion Brand HERE)Size K 6.5 mm crochet hookScissorsTapestry Needle to weave in ends and seamSize:One size fits mostPoncho measures approximately 36 across and 21 ? from top to bottom. Hood measures approximately 12 ? tall and 10 inches deep.Skill Level:Easy +Gauge:Approximately 2 ? ?stitches per inch and just under 3 ? rows per inch *If your tension is looser or tighter, your piece can turn out to be larger or smaller. You might want to measure after several rows to ensure its the size that youd like.Skills & Abbreviations:sc single crochetch chainsl st slip stitchsk st skip stitchst – stitchNotes:This pattern is worked flat in two panels (rectangles) and seamed at the shoulders to finish. The hood is crocheted as a rectangle, then folded and seamed along the top. Further help with the stitch used in this pattern, including a video tutorial, can be found on my blog at https://www.mamainastitch.com/how-to-crochet-an-easy-mesh-stitch/? Please refer to the "Small Mesh Stitch" in that tutorial as there are two separate stitch patterns shown. =BDriftwood Oversized Hooded Poncho PatternCh 101Row 1 Sc across, ch 2, turn (100 stitches)Row 2 Skip the first stitch in foundation row and slip stitch into next stitch; *ch 2, sk st, sl stitch into next stitch; repeat from * across to last stitch. Ch 2, turn. (100 stitches)Row 3 Sl st into 1st group of ch 2 stitches below, *ch 2, sl st into next group of ch 2 stitches below. Repeat from * across. Ch 2, turn. (100 stitches)Repeat row 3 until piece measures 21.5 inches tall (or for a total of approximately 74 rows). Tie off and weave in ends.Repeat the pattern above to make the second panel.Seam:Place panels one on top of the other. Seam along each shoulder, leaving a 10? wide space in the center for the head and neck opening (If your poncho is 36 wide, you will seam just over 12.5 inches inward on each side of the poncho). Tie off and weave in ends.Hood:There are twoo ways that you can make and attach the hood, so feel free to choose what you find to be the easiest:Crochet hood first and attach to poncho:With this method, you will crochet a rectangle and seam the top to create the hood. You will then attach it to the poncho with a simple whip stitch.Ch 57Row 1 Sc across, ch 2, turn (56 stitches)Row 2 Skip the first stitch in foundation row and slip stitch into next stitch; *ch 2, sk st, sl stitch into next stitch; repeat from * across to last stitch. Ch 2, turn. (56 stitches)Row 3 Sl st into 1st group of ch 2 stitches below, *ch 2, sl st into next group of ch 2 stitches below. Repeat from * across. Ch 2, turn. (56 stitches)Repeat row 3 until your piece measures approximately 12.5 tall or as tall as youd like.? The rectangle should measure approximately 20 in length and 12 ? tall.? Fold rectangle in half to create a hood that measures approximately 10 x 12 ?. Seam top of hood closed.Next, carefully whip stitch seam the bottom of the hood to the poncho evenly around the neckline leaving an opening in the front (as pictured below) of approximately 4 ? inches. Check it every few inches to make sure that the hood is going to be centered. If it helps, you can secure it around the neck with safety pins or otherwise and crochet and release the pins as you go.?It can be a challenge to make sure that it's centered, so this is a help to keep it in place as you work around the neckline.*The other option is to lay the poncho flat on a table or floor as pictured below. Attach yarn approximately 2 ? inches in, on the left, front side of the poncho neckline.? Single crochet evenly around until youve worked around the neck and have reached 2 ? inches inward on the opposite side (56 stitcstitches around).? From there, work the same stitch pattern as is worked for the poncho over those 56 stitches until the hood reaches approximately 12.5?? inches in height. Seam the top of the hood closed.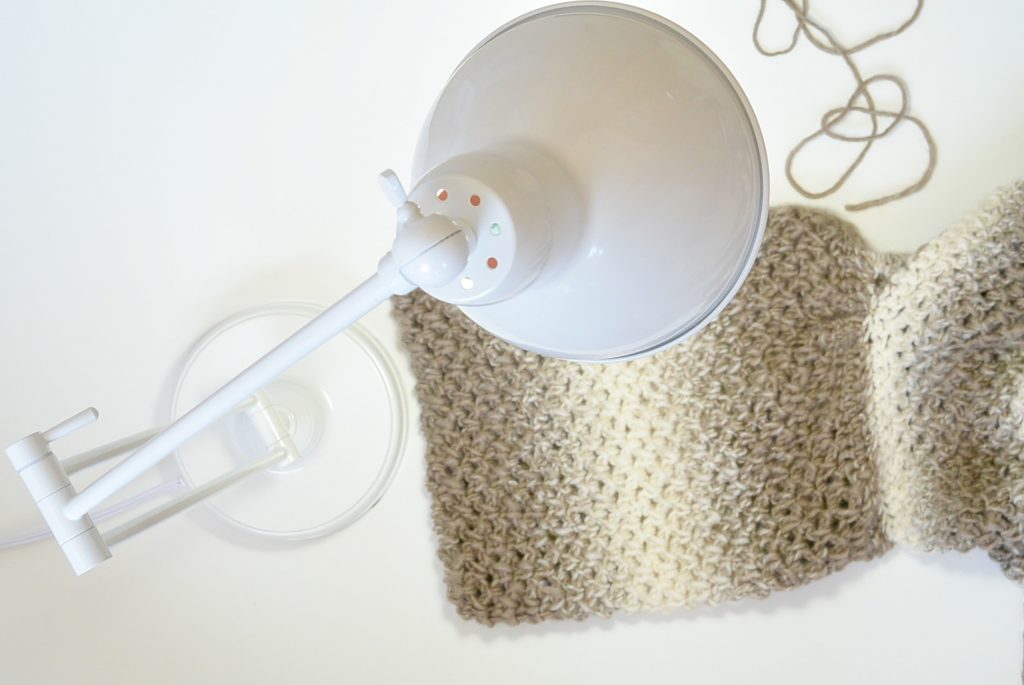 Above: Finished attaching hood to the?poncho. Recently, Ottlite saw my post on social media asking you about your thoughts on knitting and crocheting with black yarn. They thought I could use a little help with seeing my stitches and sent me one of their beautiful Eastman Table Lamps! Such a fun surprise and it is no doubt helping me to see better when working with dark yarns – and any yarn for that matter. If you're in the market for a light that is super high quality?and does an amazing job of lighting your work or craft space, this thing is incredible! You can see it here: Ottlite Eastman Table Lamp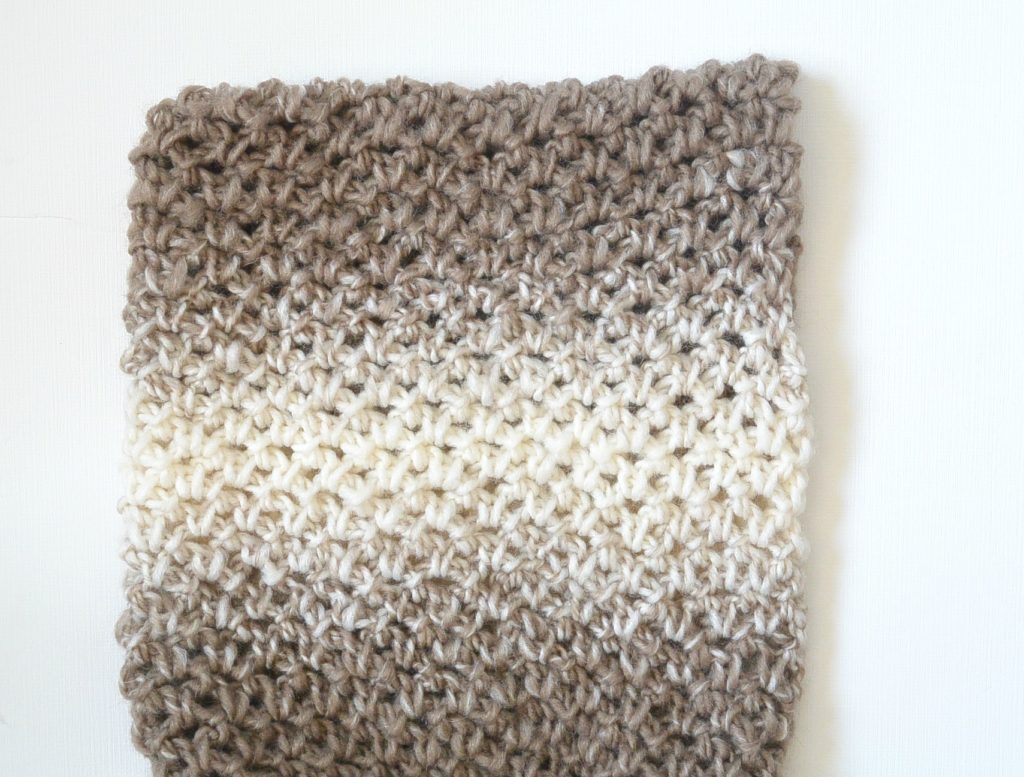 Above: The rectangle has been crocheted, folded and seamed at the top to create the hood.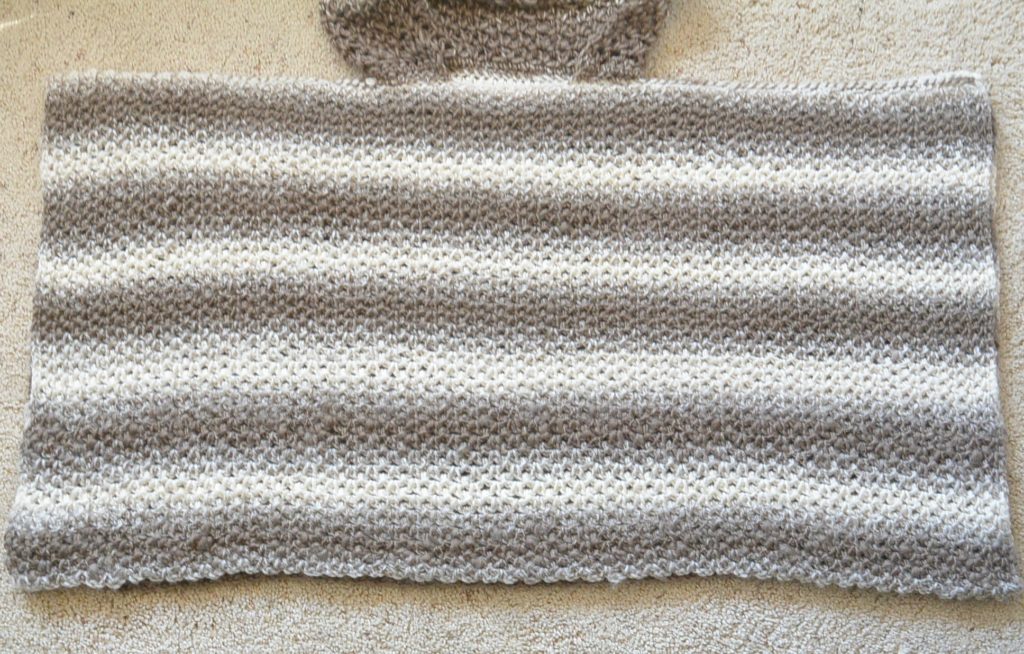 Above:? The hood has been seamed evenly to the neckline, leaving an opening in the front.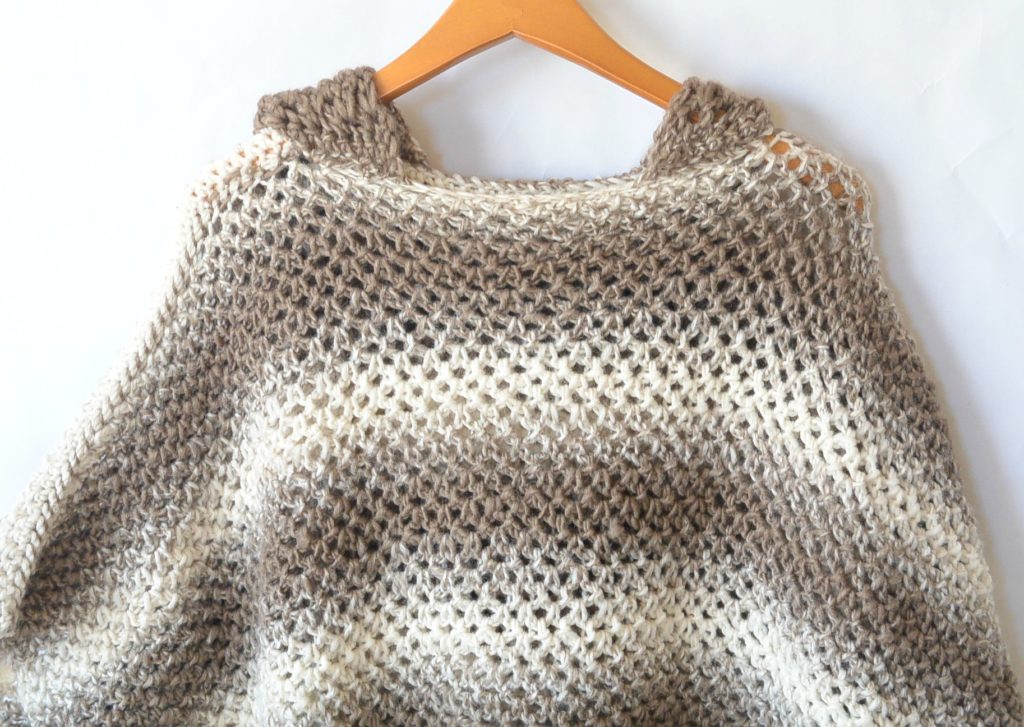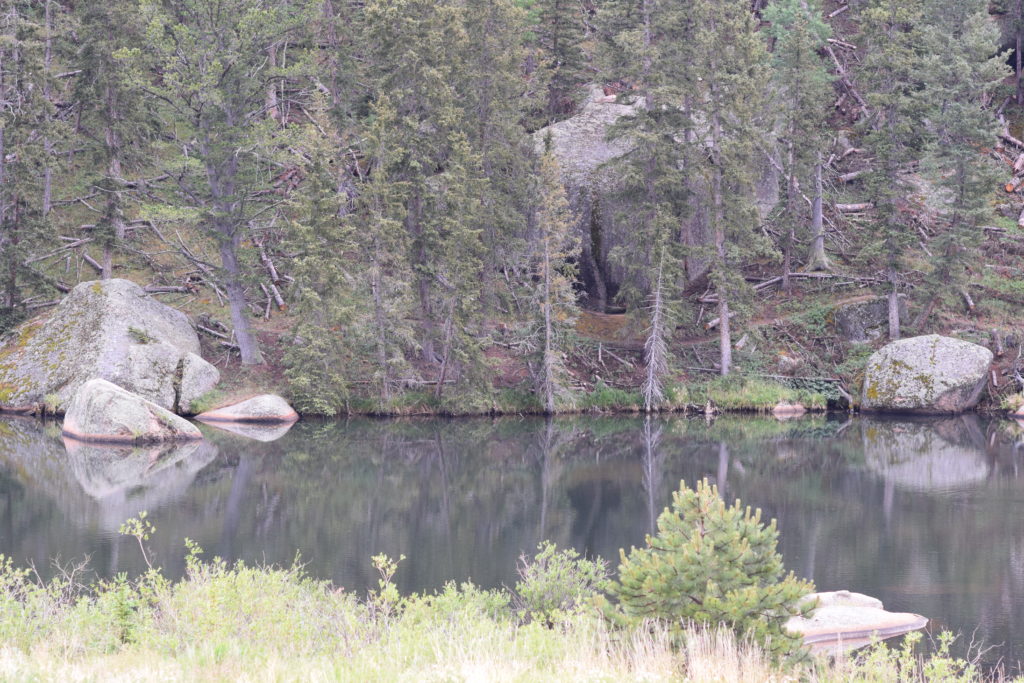 A happy place of mine __

I hope that you enjoy this easy crocheted poncho, and if you make one I'd love to hear about it. ?Do you have any ponchos in your wardrobe? Have a lovely day friends!XOJessica

SharePinTweetShare