25K Shares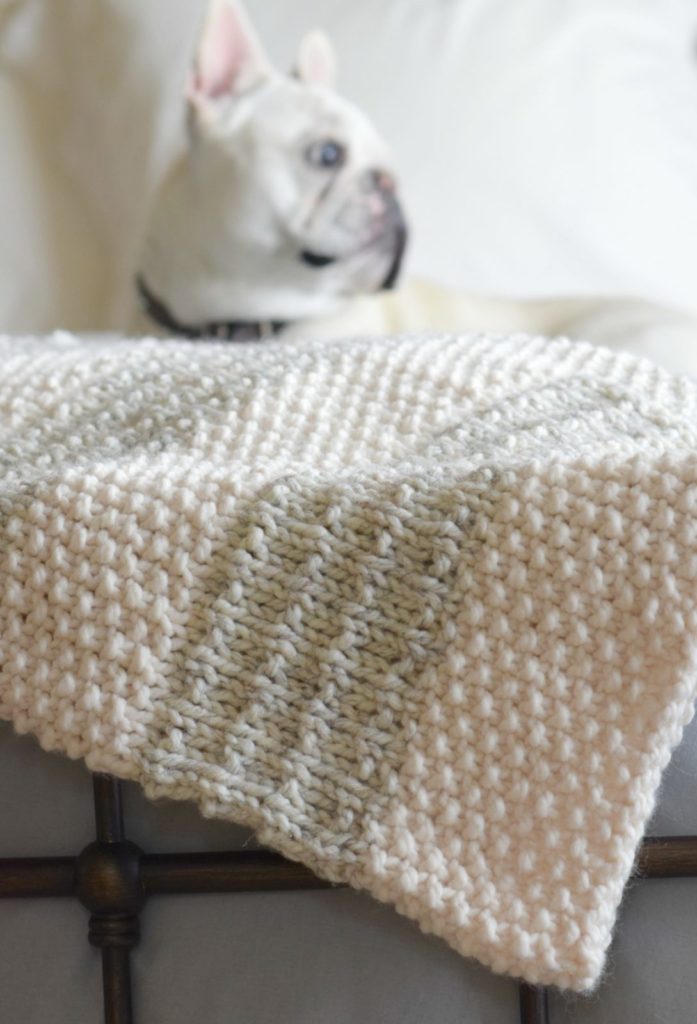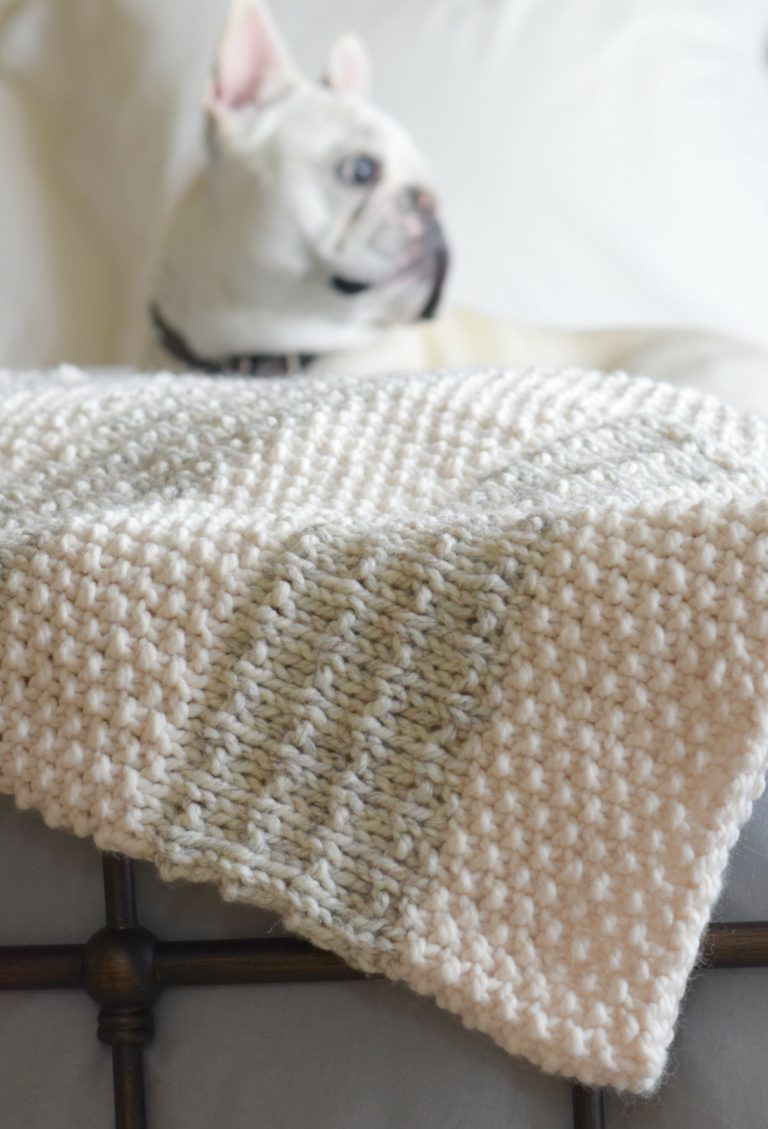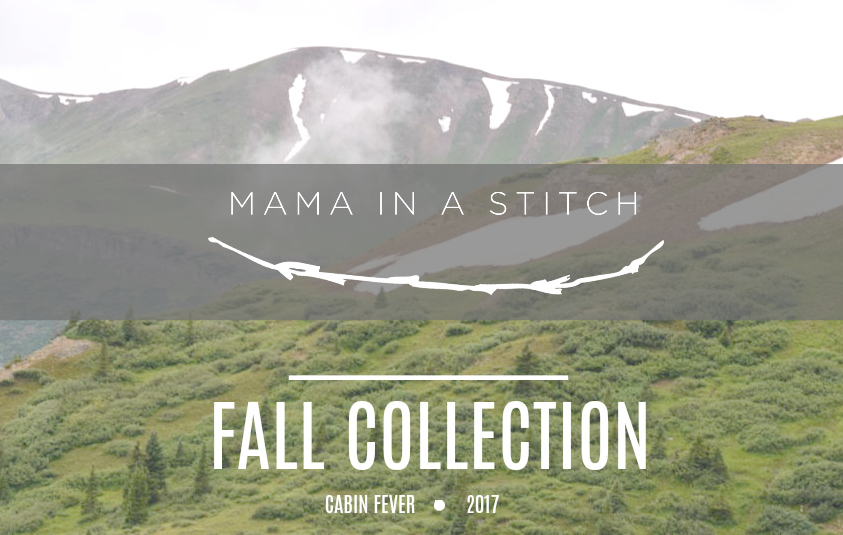 Woo hoo – fall knitting season is finally here (at least it is in my world)! ?Last year I created a "Fall Collection" (see last year's collection here) and had so much fun with it that I've decided to do the same thing this year. ? It sounds so official and fancy, but really it's just a bunch of simple knit and crochet patterns that I think are fun and beautiful for the season. ?Sooo, introducing the second pattern of this year's "Cabin Fever" collection! (You might remember the crocheted poncho pattern here that I released early a couple of weeks ago) I'm planning several cozy, comfy knit and crochet projects perfect for lazy days at home, outside or even at the cabin that I'll be sharing over the next several weeks. __ ?I figured a super chunky, cozy and EASY knit blanket pattern would be a good one to start with. ?You'll also see that you can make it in two different sizes, either a lapghan size or a throw blanket size. ?Hopefully you can get a jump start on it if you've got Christmas gifts in mind. (I know, don't talk about Christmas YET right?!)What I love about this knit blanket pattern is that it's simple, but it's unique because it uses the Andalusian stitch which you just don't see every day. ?It also uses super bulky yarn which is my all time favorite so it works up fairly quickly and has lovely loft and warmth. ?The subtle striping is modern yet not so bold as to take the stage over the texture. ?It's a classic style and the colors create an heirloom quality piece, yet it's still perfect for everyday use.? Kit available for PURCHASE HERE!

MY LATEST VIDEOS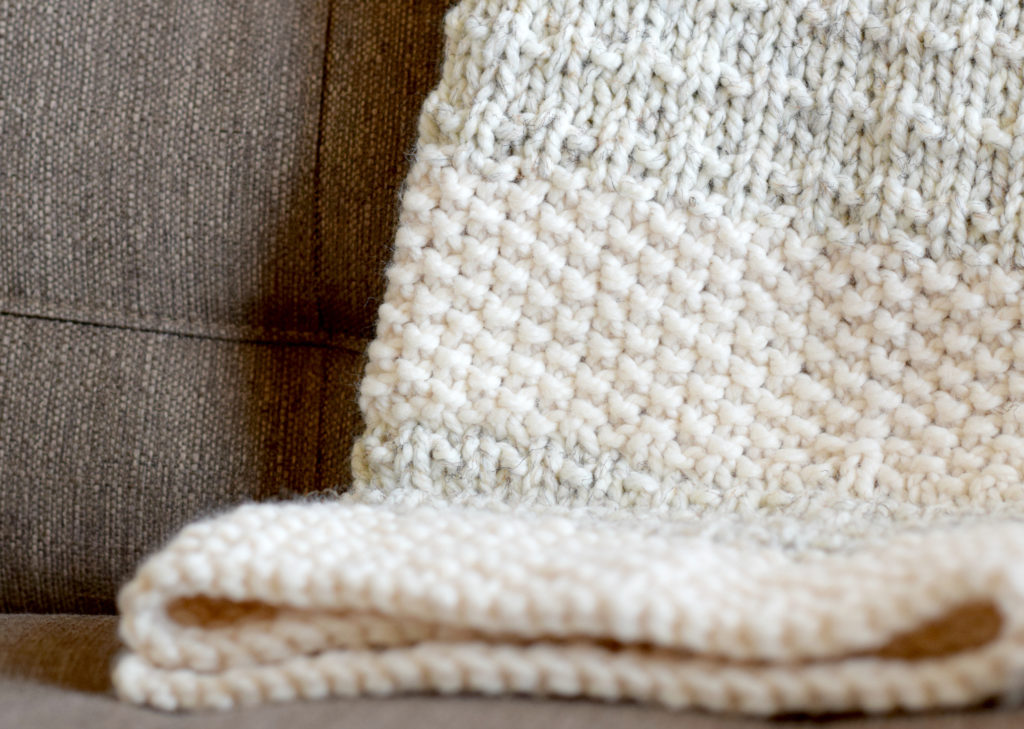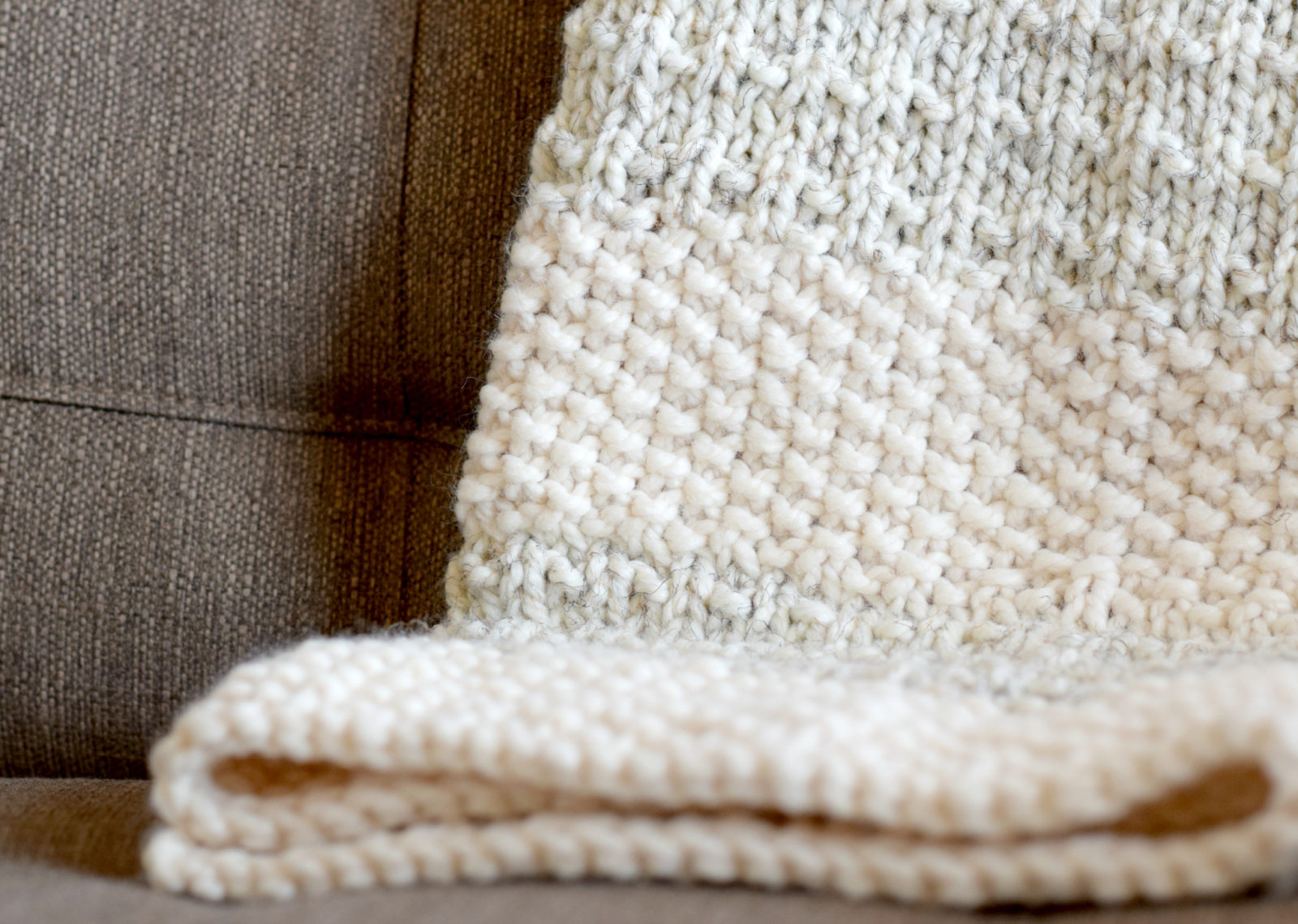 Like with so many of my projects, if you can knit and purl, you can do this. ?You do need to be really comfortable with the seed stitch. Baby beginners can get a little tripped up with that stitch, so just be sure you have it down. It's not hard, it just takes a little practice. ?So, is this a beginner knit blanket? Yes. Should it be your first knitting project ever? Probably not unless you're some incredible knitting genius. __ ?(Here's a total beginner knit blanket that I made a while back if you want something even easier "Native Stripes Knit Blanket HERE".) ?But if you have knit a few things, or you just want a pretty and easy knit, this is a good one!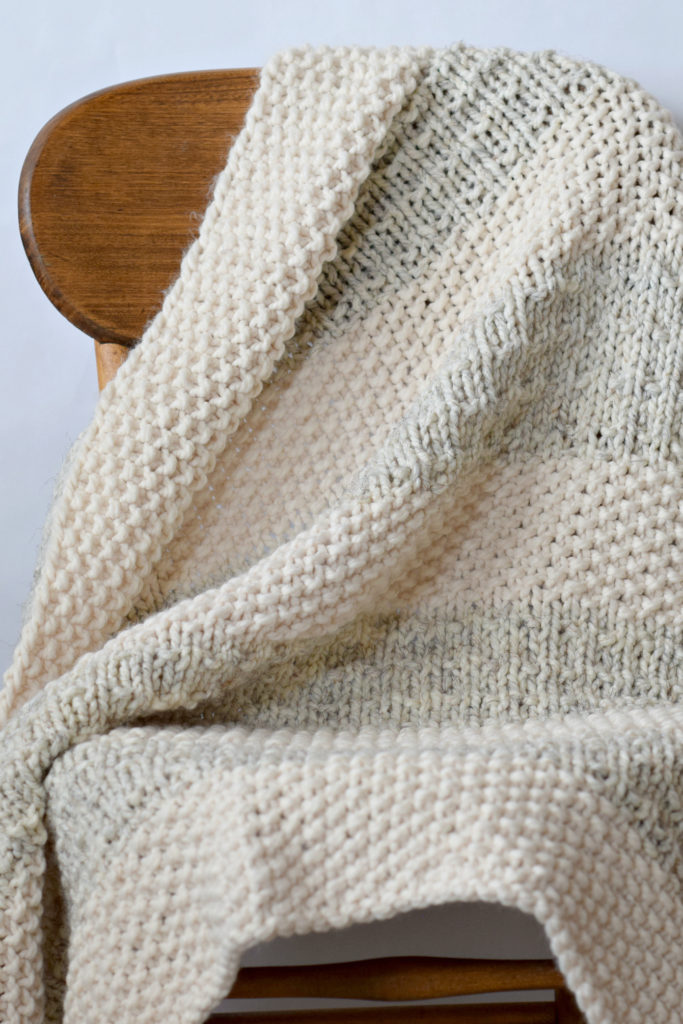 It is SO squishy and cozy!Would you choose different colors if you were to make this? ?What I like about these colors is that they go with everything and are pretty much timeless. I grew up cuddling a mustard yellow and dark brown crochet blanket that was probably made in the early 80's. ?It was cool at the time but probably wouldn't fly in my living room today. ?This knit blanket doesn't have any super trendy stitching or wild colors that could link it back to a certain decade. ?BUT, that doesn't mean you can't make this blanket your own! I chose my colors, now you choose what you like. ?Many of you have inspired me by taking these patterns and creating true beauties with bright and striking colors!
You can scroll down to see the free pattern below or you may choose to purchase the printable ad-free PDF version from my Etsy shop here.It works up pretty quick on large needles and with the super bulky Lion Brand Wool Ease Thick & Quick yarn!My fave yarnsOfficial Explanation:This timeless knit blanket goes with any home d?cor and is easily customized with your favorite colors.? The super bulky yarn and large knitting needles make it a fairly quick knit and the chunky wool blend yarn makes it a cozy and beautiful home accent.? Easy stitches create lofty textures and the play on stockinette stitch adds a unique and unexpected beauty to the blanket.? Make this in the lapghan size to easily toss over your legs on a cool night or make the full size throw blanket.? The lapghan size also doubles as a stunning baby blanket.Size:Lapghan (pictured):Approximately 39 inches X 39 inchesThrow Blanket:Approximately 52 X 57 inchesSkill Level:Easy +Skills & Abbreviations:co cast onk- knitp- purlYou must know how to ?work the seed stitch to make this pattern.? At times the pattern will simply instruct you to work the seed stitch on the 6 stitch border without indicating specific stitches. ?To knit the seed stitch you simply knit the purl stitches and purl the knit stitches.Gauge (approximate):Juust over 2 stitches per inch and just over 3 ? rows per inchNotes:This pattern uses the seed stitch and the andalusian stitch (a variation of stockinette). By making simple color changes, you will create the modern striping. A seed stitch border is worked on the sides.? This stitch count is important to make the pattern work correctly so ensure that you have the correct amount of stitches on your needle and place stitch markers where necessary.You will need:Lapghan Size:3 skeins Lion Brand Wool Ease Thick & Quick Super Bulky Yarn in Fisherman3 skeins Lion Brand Wool Ease Thick & Quick Super Bulky Yarn in Wheat? (Pattern uses approx. 907 g total of yarn)US Size 15 (10 mm), 36 inch Circular Knitting NeedlesScissorsTapestry needle to weave in endsThrow Blanket Size:6 skeins Lion Brand Wool Ease Thick & Quick in Fisherman5 skeins Lion Brand Wool Ease Thick & Quick in Wheat? (Pattern uses approx.1,767 g total of yarn)ScissorsTapestry needles to weave in endsHeirloom Knit Blanket PatternWith Fisherman, CO 79 stitches (lappghan size), 105 (throw blanket size)Seed Stitch Section:Row 1 K1, p1 to end of rowRow 2 Repeat row 1 (knit the purl stitches and purl the knit stitches to end of row)Repeat this pattern, working the seed stitch for 14 rows totalAfter you complete 14 rows you will change colors and work the Andalusian Stitch patternAndalusian Stitch Section: (including seed stitch border)Change color to WheatRow 1 Work seed stitch for first 6 stitches (place stitch marker), then knit across row to last 6 stitches (place another stitch marker), work seed stitch for last six stitches? (For lapghan size, there are 67 stitches of Andalusion Stitch with 6 stitches of Seed Stitch on either side)Row 2 Work seed stitch for first 6 stitches, purl across to last 6 stitches, work seed stitch in last six stitchesRow 3 Work seed stitch for first 6 stitches, then k1,p1 across the row to last six stitches, work seed stitch in last six stitches.Row 4 Work seed stitch for first 6 stitches, purl across row to last 6 stitches, work seed stitch in last 6 stitchesRepeat rows 1-4, 4 times total to complete this sectionOnce this Andalusian Stitch Section is complete, repeat the Seed Stitch Section.You will now repeat these two sections, the Seed Stitch Section followed by the Andalusian Stitch Section, for the remainder of the blanket. Cast off after you complete the 5th seed stitch stripe section for the lapghan size, and the 7th seed stitch stripe section for the throw blanket.? Weave in those ends! (You will have a total of 5 seed stitch sections and 4 andalusian sections in the completed lapghan blanket and 7 seed stitch sections with 6 andalusion stitch stripes for the throw blanket)That's it!And don't forget that this is the FIRST of several patterns that I hope to share with you in the coming weeks from my fall collection. How fun!??You can follow me on Facebook here or sign up for my newsletter (below) to find out when I share new patterns.Happiest knitting to you my friend! ?Let me know what you think of the blanket or if you plan to make one. ?__XOJessicaOH! Lately, I often receive requests to make my knit patterns into crochet and my crochet patterns into knit. ?If you like this, but you crochet, you might like one of these:Mod Heirloom Crocheted BlanketChunky Icelandic Crocheted BlanketSharePinTweetShare