4K Shares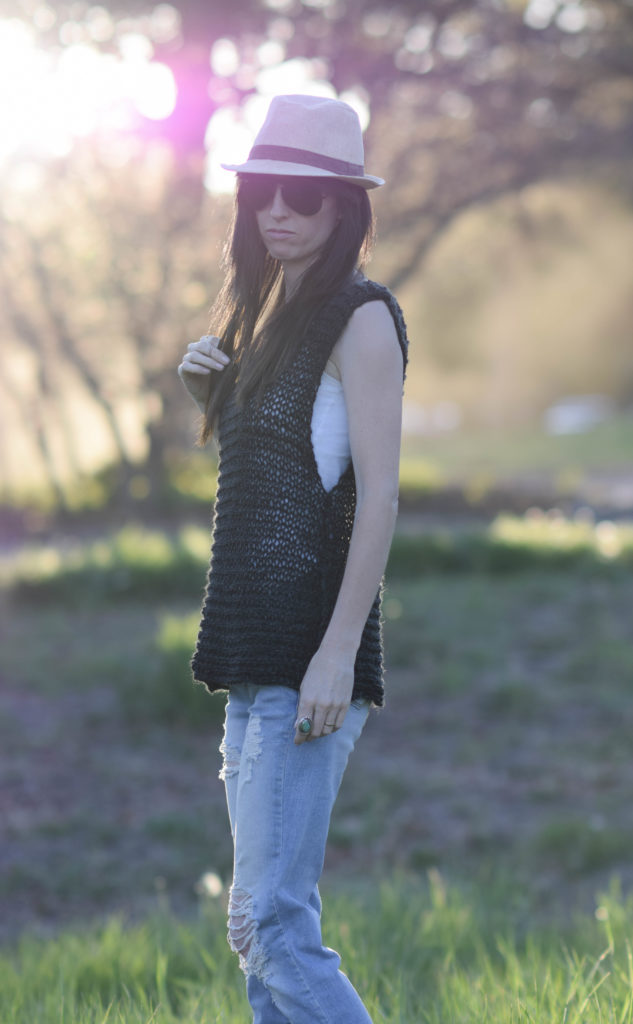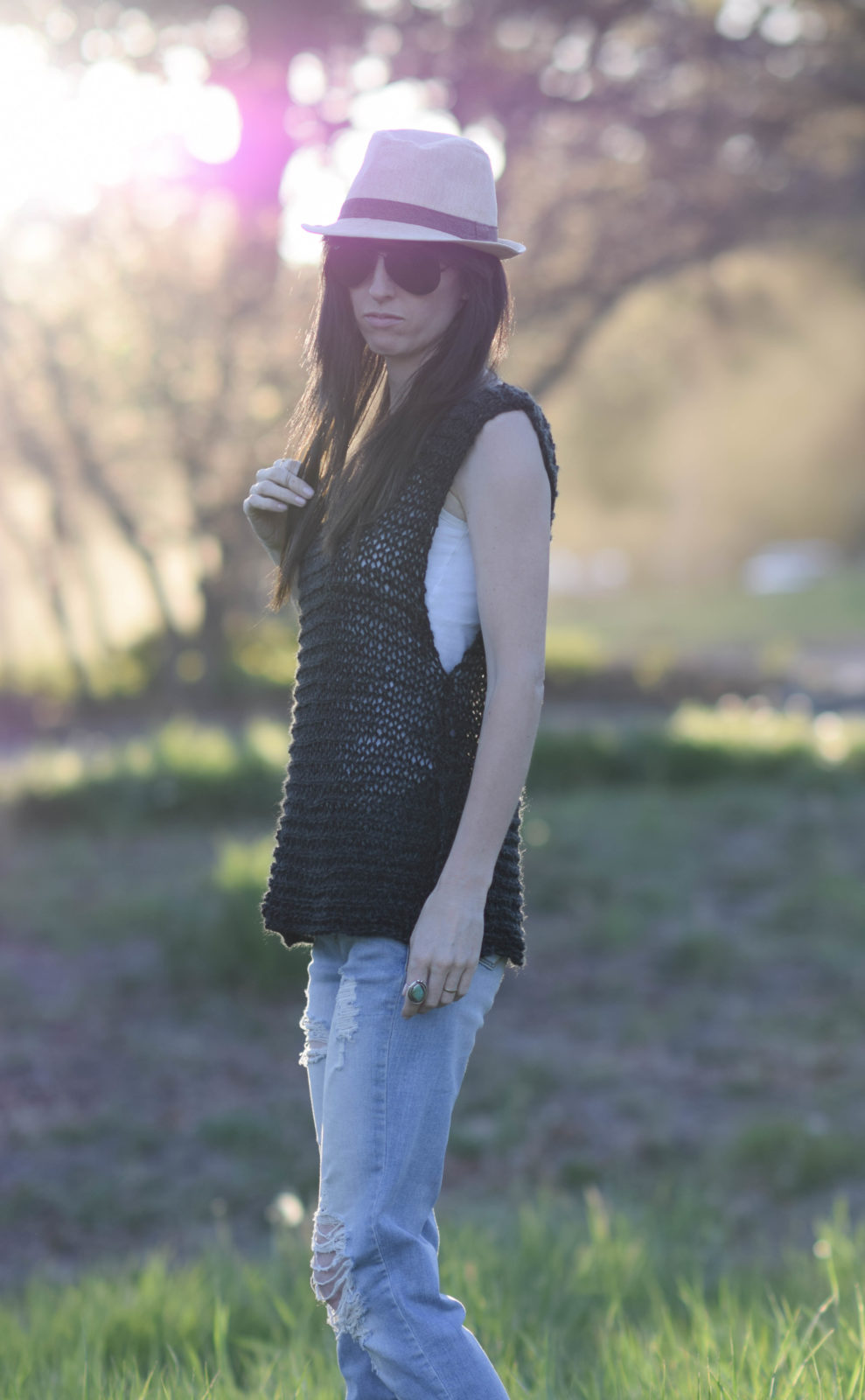 (Hubby forgot to remind me to smile for the picture apparently – LOL! I promise I'm a happy person.)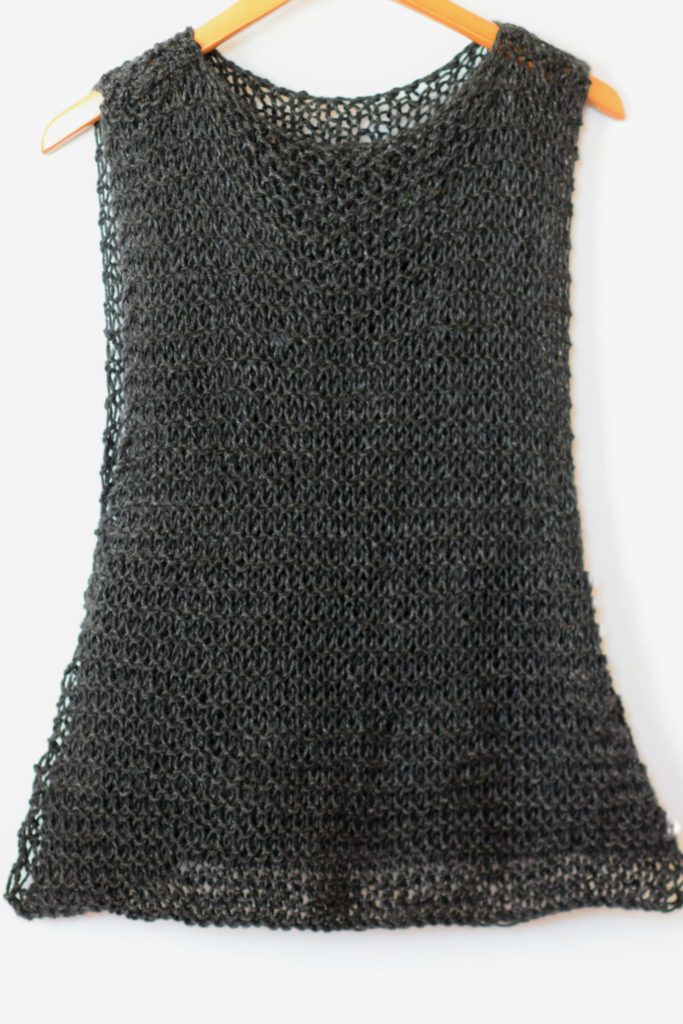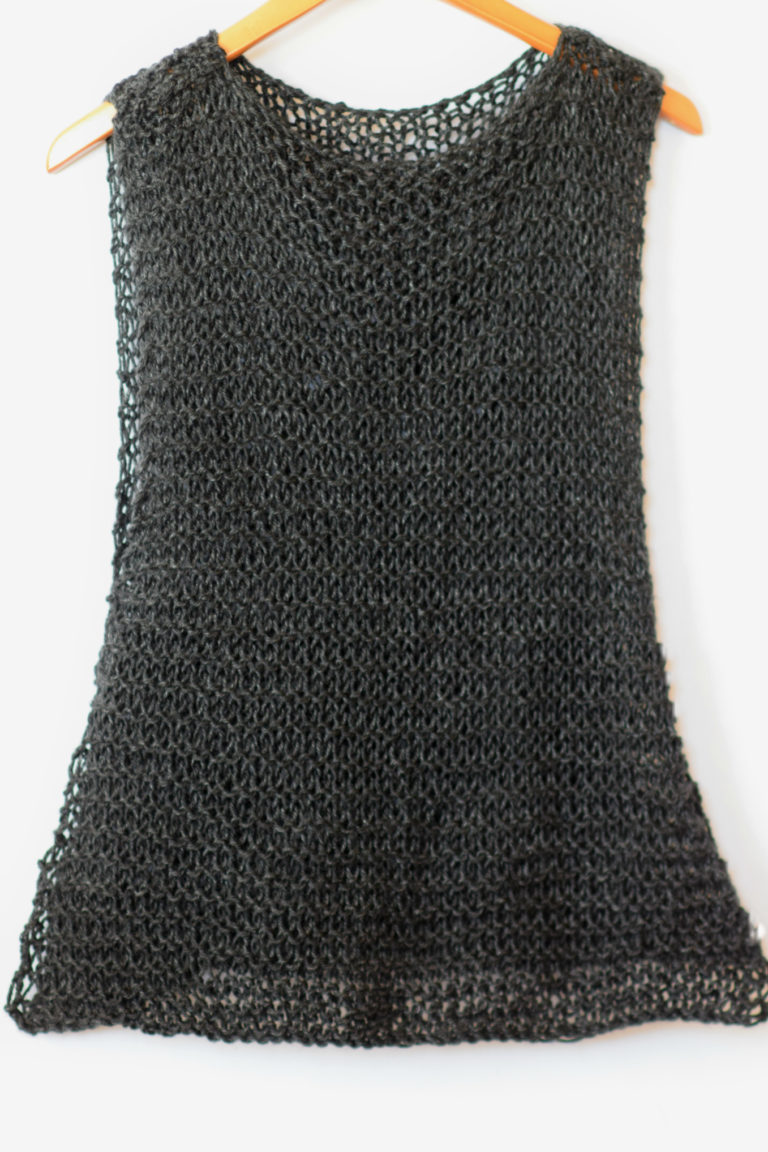 Hi friends! Since starting this blog, I've made some sort of knit tank pattern each summer. Last year, I made the Summer Vacation Knit Top which I really enjoyed. This year's pattern is probably the most beginner friendly tank yet, and it doubles as both a tank and a cover-up. ?You know how peeps say ladies should all have that "little black dress"? Well, I think I prefer "little black" knit tanks. __ While this one is made?in black, I know that most folks aren't as fearful as I am of color. How do you feel about working with black yarn? I loved hearing all of your thoughts on using it?over on Instagram. ?It is no doubt, NOT an easy color to work with in most cases! No worries though, because you can use any color that you'd like for this top. I think it would be cute in a really bright color, like tangerine or aqua even!**Lion Brand contacted me and has made this pattern into a kit! You may scroll down for the free pattern or purchase the full kit including the yarn from Lion Brand HERE!

MY LATEST VIDEOS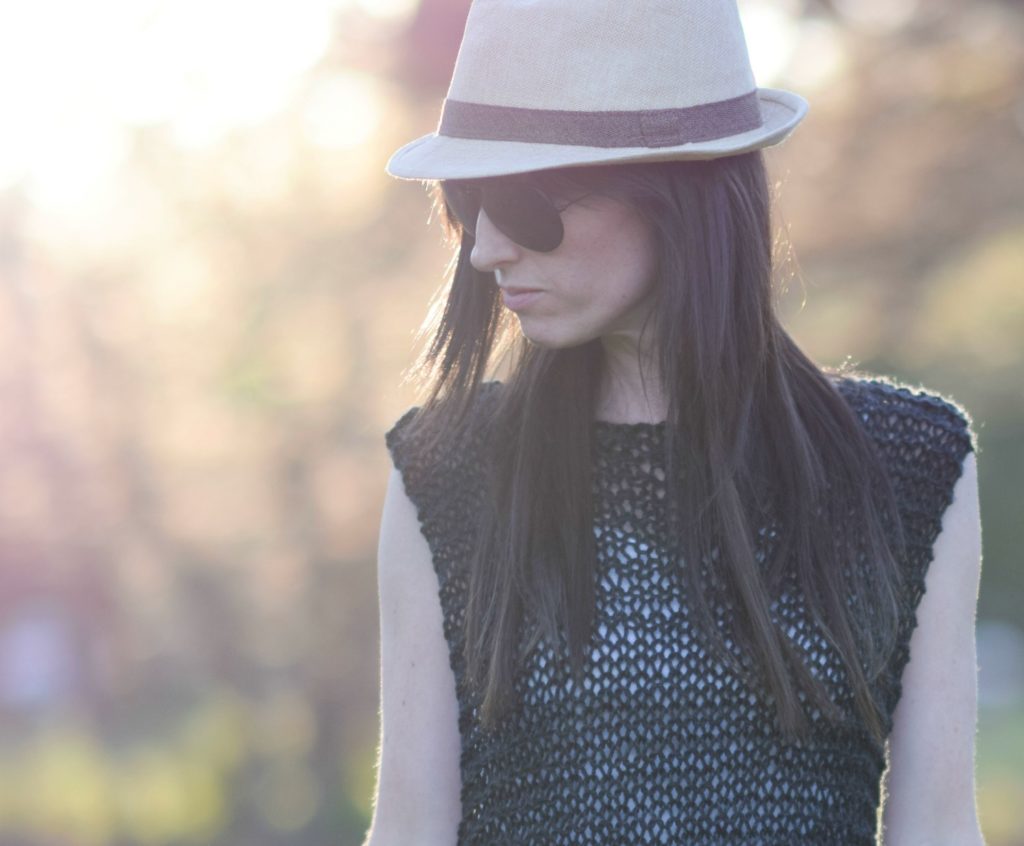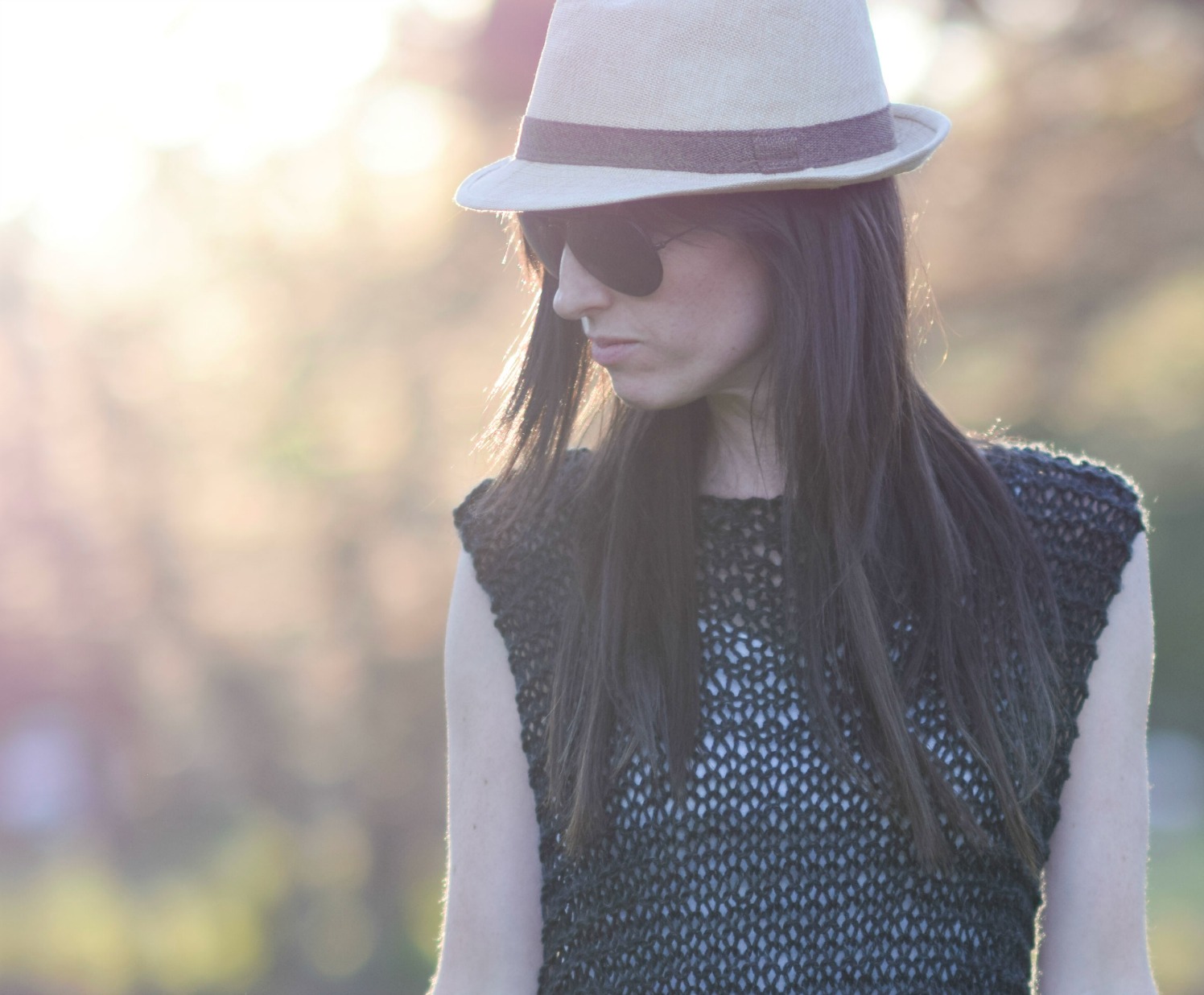 It doesn't get a whole lot easier than this pattern for knitting a shirt. ?The entire top is done with the beginner knit stitch and it's worked flat. I love that simply by using large needles with skinny?yarn you can get a nice, open meshy look. ?It's so easy and it creates a drapey, comfortable fabric. ?The bottom has some very simple increases, giving the top a flute like shape and making it wider at the hips. If you make it, I'd love to hear what you think! Oh, and the small only takes one skein of yarn for the entire shirt.?Ready to knit?If you want to see a little video of knitting with big needles and little yarn, I've shared one HERE on YOUTUBE: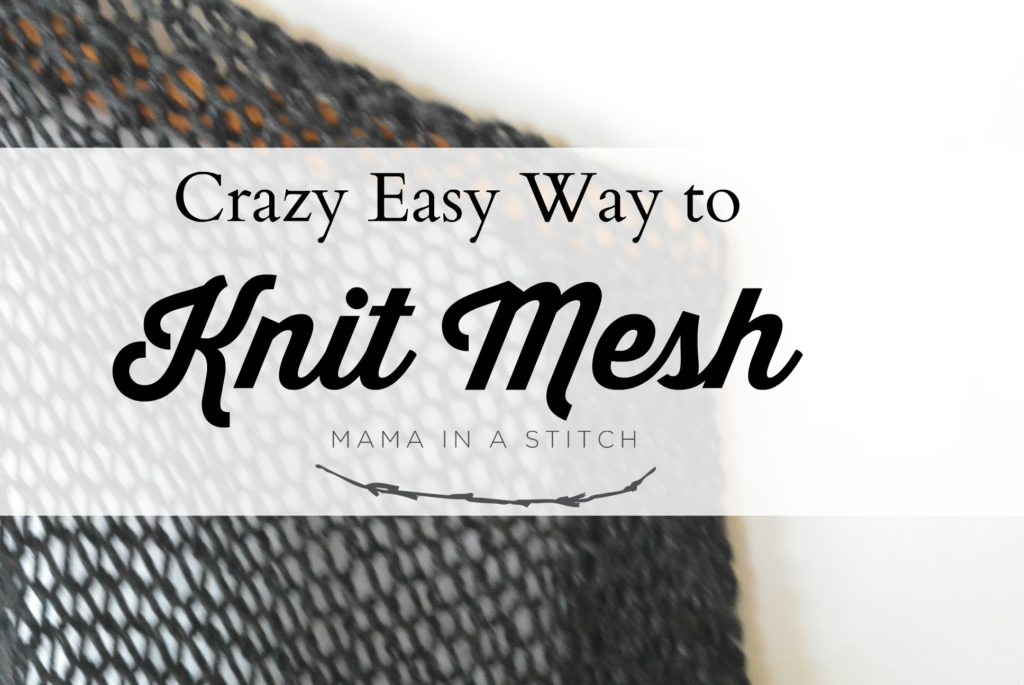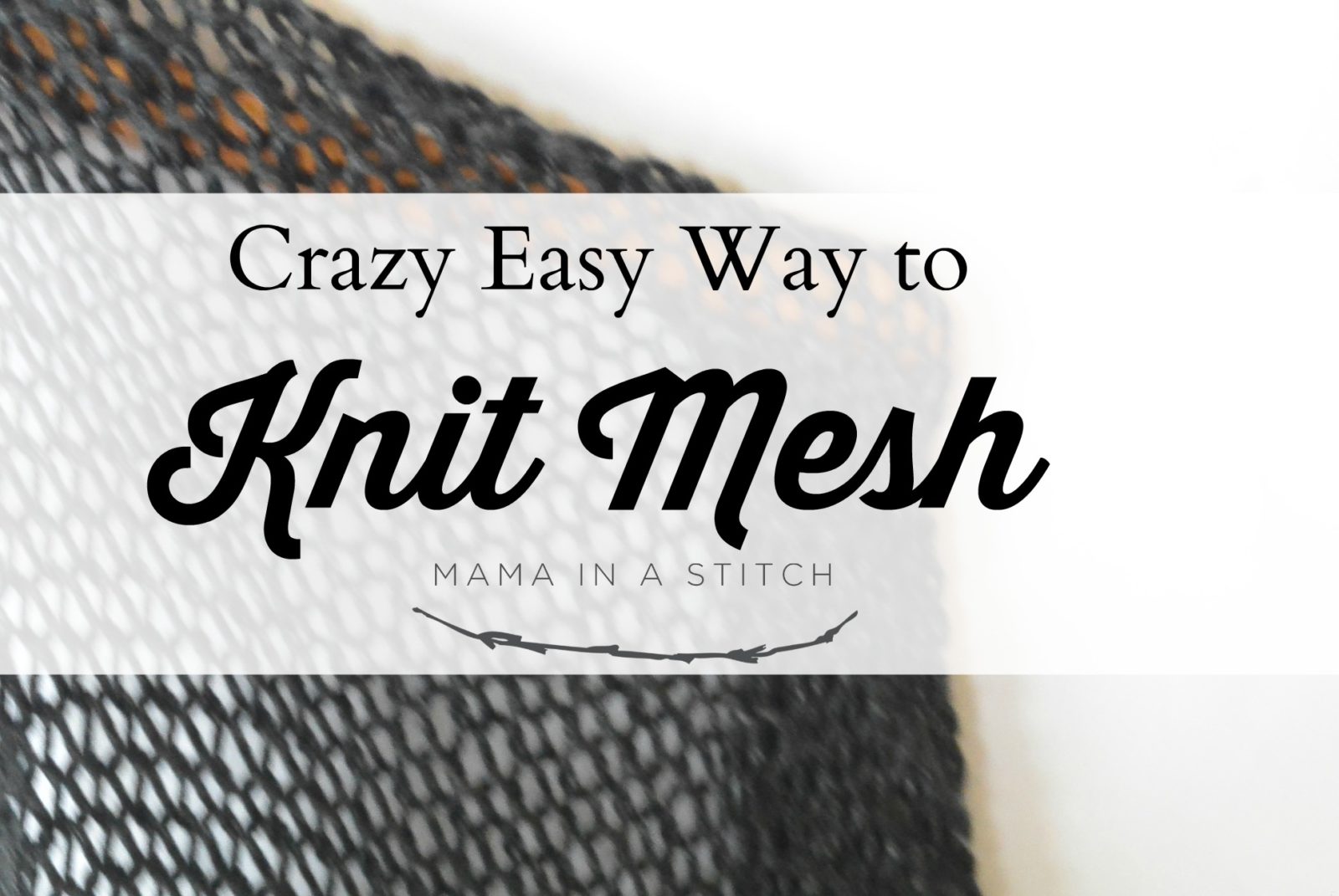 Click the image to take you to the YouTube video on knitting this easy meshAs usual, you can find an inexpensive, ad-free printable PDF version of this pattern in my Etsy shop HERE – Printable Little Black Tank Pattern. Otherwise, scroll down for the free pattern!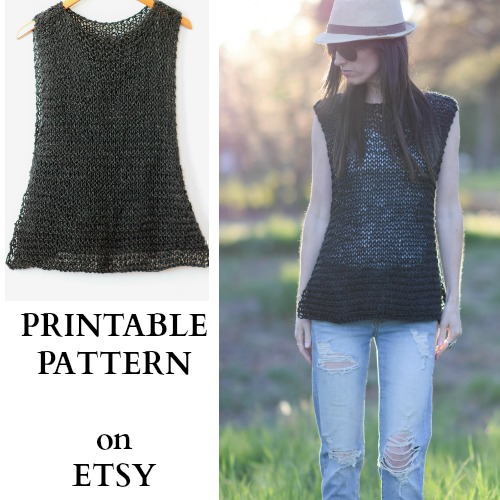 Easy Mesh Little Black Tank Knitting PatternThis super cute, cool and airy flute cut top will be a go-to for summer! Its also a very easy knit. Enjoy!You will need:US Size 17, 12.0 mm, 36 inch circular knitting needles (1 Small, 2 Medium, 2 Large) skeins Lion Brand Heartland Yarn in Black Canyon 251 yards/skein and 142 grams, or comparable worsted weight yarn. Size small uses approx. 142 g, Medium uses approx. 169 g, L uses approx. 207 g**Small size uses entire skein. Consider purchasing a second skein in case of difference in gauge or yarn usage amount.ScissorsTapestry Needle to weave in ends?Skill Level:Beginner +Skills & Abbreviations:k- knitkfb knit front and back ?–?Knit into the next stitch but leave it on the needle. Do not yet take the stitch off of the needle. You will then knit?into that same stitch through the back and drop it off the left hand needle.Please follow the key for your size throughout the pattern(S, M, L)Gauge:Just under 2.5 stitches per inch and approximately 4 rows per inchMeasurements:Each Panel Measures:Small: Approximately 15 inches cross measurement.? 21 inches from top of shirt to bottom of shirt.Medium: Approximately 17 inches cross measurement.? 22 inches from top of shirt to bottom of shirt.Large: Approximately 20 inches cross measurement.? 23 inches from top of shirt to bottom of shirt.(For XL, cast on approximately 53 stitches and follow the pattern. More yarn will also be required. Work the length indicated for a large.)Shirt does stretch downward, increasing the length when worn.Notes:With this pattern you will create an easy yet gorgeous mesh tank top or cover-up.? It is worked from the top down. The upper portion of the top starts off smaller at the neck and will become wider with increases as it approaches the hips. This creates an open, flattering flute-shaped top.? The front and back are each knit separately and then seamed to finish. Fun, fun!Easy Mesh Little Black Tank Pattern:Cast On (36, 41, 48) stitchesRow 1 Knit across rowRepeat row 1 until your piece measures approximately (7, 8, 9) inches in length. You will now move onto the increase section.Increase Section:Row 1 Kfb in first stitch of row, knit across rowRow 2 Knit across rowRow 3 Knit across rowRepeat rows 1 _ 3 until the entire piece measures (21, 22, 23) inches longNote: You should have worked (7, 8, 9) inches of garter stitch without increases, and a total of approximately 14 inches of the increase section patternFor large busted ladies, consider adding extra length to each panel by knitting more rows.Bind off and weave in ends.You will repeat this pattern to make a front panel and a back panel of your top.Block as needed. (Pictured below: panels side by side, soon to be seamed)Seam Front & Back Panels TogetherPlace panels one on top of the other (the panels are reversible so there is no right or wrong side). With a length of yarn and your tapestry needle, whip stitch seam the shoulders, working from the outside inward approximately 3?? inches on each side.? You may make the neck opening smaller or larger to suit your style!Seam each side, starting 3?? from the bottom, sewing upward, leaving holes for the arms. Tie off and weave in ends. As pictured, the arm holes are 10?? inches long, however, you may make them as large or small as you??d like.Yes, it's hard to see (thank you black yarn), but you will seam the sides together with a tapestry needle and a simple whip stitch.Above: Whip stitch seam shoulders and sides, leaving a spaces for the head and arms.That??s all there is to this easy little shirt or cover-up!See how it becomes larger at the hips?Above: All sewn up and on the hanger!I hope that you enjoy your new ??little black?? tank top! What color would you make yours?XOJessicaSharePinTweetShare