2K Shares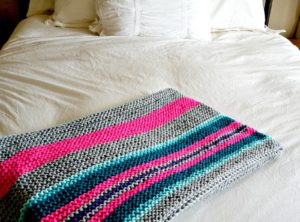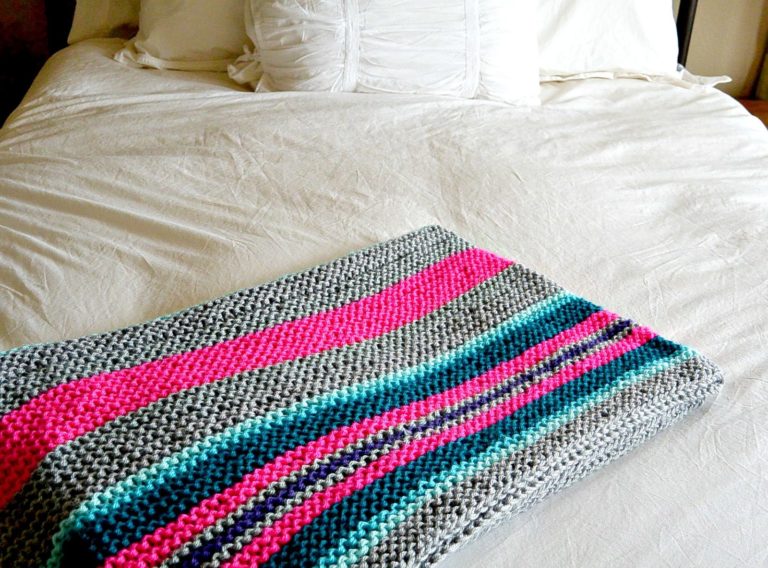 I can not believe that I am finally writing this post. I FINISHED my first knit blanket! ?It feels as though I've conquered some unobtainable feat. Oh. My. Goodness.? I bought the yarn?just after New Year's Day (carefully hiding the receipt from my husband?because of the?unusually large yarn purchase. It's a blanket for?Pete's sake, it takes a LOT of yarn!)?and had wonderful plans to finish it by the end of February.? No, no, no, that didn't happen. There was a point at which this blanket sat untouched for weeks, and I thought it may turn into that work in progress that never gets completed.??However,?I had an unexplained?burst of motivation, and through broken needles (literally my needles broke mid-knit), dropped stitches, and insanely late nights,?I completed it this week. And did I mention that I'm more than pleased with it?!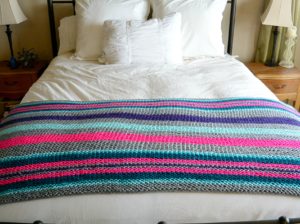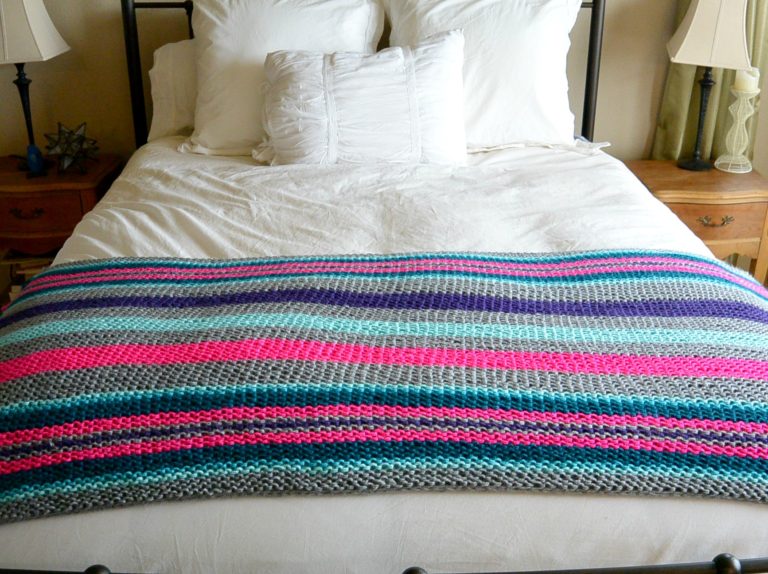 Okay, Mexico has always been one of my favorite countries. I've had the privilege?of visiting the wonderful place multiple times, and even studied abroad there in the city of Monterrey.?Hablas espanol? ?I've always loved the look of the brightly colored woven blankets, and thought it would be fun to try to knit something that reminded me of those. It was a joy to pick out the yarn because the possibilities were endless on what colors I could put into this piece. Have fun picking out some fun colors!

MY LATEST VIDEOSThis easy blanket is all done in garter stitch, and is totally suitable for a beginner that feels comfortable with the knit stitch.? You do need to know how to change colors, so if you've never done that just look it up on you tube. It is so easy, and this would make a great project to practice changing colors.The Quick Explanation of How to?Knit A Striped Blanket:With your size 13, 35 inch cables, you will cast on?120 stitches holding two strands of worsted weight yarn. Knit however many rows of each color that you would like.? Make sure you always change colors on an even row, 2,4,6,8 etc.? A trick I learned half way through was that all my yarn ends were on the same side of the blanket.? One time I changed colors on the opposite side, and got the funky little line that shows on the "wrong" side.? The wrong side is pretty too, but if you want a consistent look, then stick with this method. You can make the blanket with as many or as few stripes as you'd like. Below is the pattern of exactly how I made this particular blanket.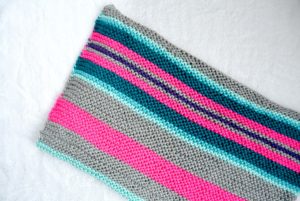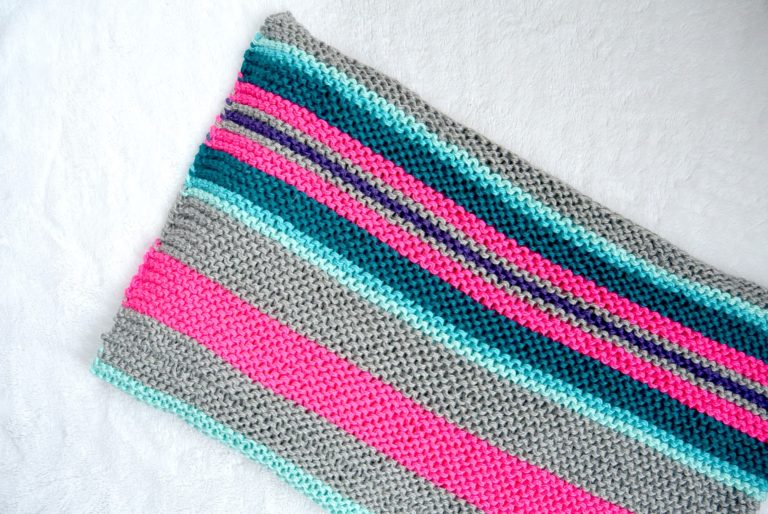 Notes:This blanket measures?55 X 35?but is easily customizable to whatever size that you would like. It's a nice size as a throw blanket or a lap afghan.? Simply add more stripes, or take stripes away to make it smaller or larger.It is made holding two strands of worsted weight yarn together.It is worked long ways.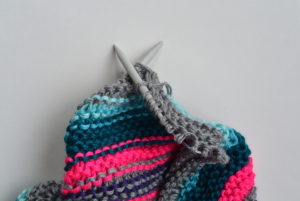 Knitting in rows on circular needles. My cable broke at one point. I was knitting away while every single stitch was dropping off onto nothing. Hot glue saved my needles and my sanity that evening!You will need:Size 13, 36 inch Circular Knitting NeedlesWorsted weight yarn of your choice – I used Caron Simply Soft 4 skeins of grey, 2 skeins?Neon Pink, 2 skeins Pagoda, 2 skeins Robins Egg, 2 skeins Blue Mint, 2 skeins?Violet ( I had a lot left over, but bought two skeins of each in order to hold the two strands together while knitting)ScissorsTapestry NeedleHow I Made it ?"Pattern" :Holding two strands of grey yarn, cast on 120?stitches.Knit?(garter stitch)?6?rows with greyYou are now going to?make the "Colorful Stripe"**Knit 2 rows with Robins EggKnit 2 rows with Blue MintKnit 6 Rows with PogodaKnit 4 Rows with Neon PinkKnit 2 rows of GreyKnit 2 rows with VioletKnit 2 rows with GreyKnit 4 rows with Neon PinkKnit 6 Rows with PogodaKnit 2 rows with Blue MintKnit 2 rows with Robins Egg**You are now moving to the bold stripes through the center of the blanketKnit 12 rows with GreyKnit 12 rows with Neon PinkKnit 12 rows with GreyKnit 12 rows with Robins EggKnit 12 rows with GreyKnit 12 rows with VioletKnit 12 rows with GreyNow you will Repeat from ** to ** above (for the colorful stripe that runs along both sides)Knit 6 rows of grey, Cast off, tie and weave in ends.There you have it!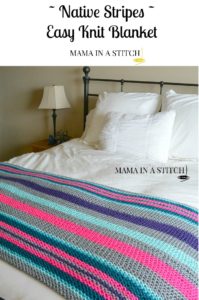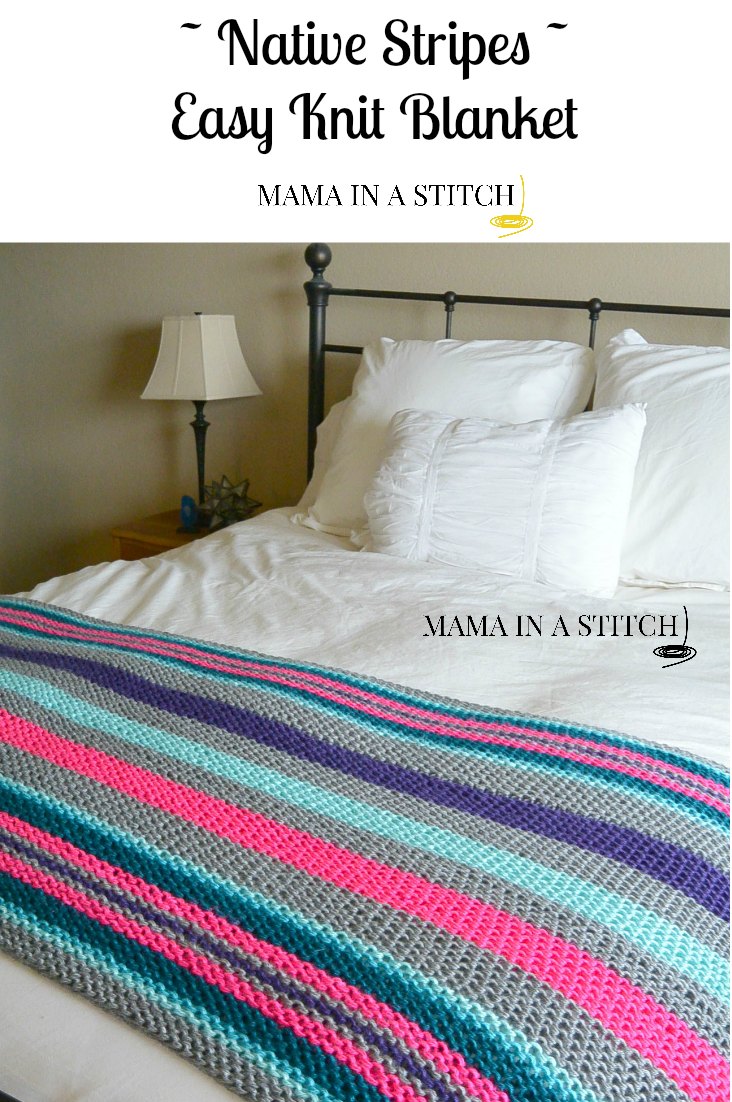 Let me know if you have any questions about the pattern! Truth be known, this blanket will be going into my daughter's room. You can check out the matching Dream Catcher that I made her HERE __Although I questioned why I decided to knit a blanket while I was making it, I am so happy that I did it. Do you enjoy knitting blankets?If you?enjoyed this, check out all of my other easy patterns! You can also follow me on Facebook or sign up for my newsletter! Thanks!?SharePinTweetShare