1K SharesScroll down for the free pattern below, or you may choose to purchase the ad-free, printable version from my Etsy shop HERE or the kit (currently on sale) from Lion Brand Yarn HERE NOW AVAILABLE in Color Mink & ChinchillaMost of us knit and crochet lovers have seen some variation of a faux fur yarn, but I had never seen one like this! Have you?! It is the most realistic, softest faux fur I've touched.? It was so difficult to decide what I wanted to make with the "Go For Faux" yarn (here)?because there are so many cozy options this time of year.? Blankets, trims, even the thought of a coat crossed my mind! However, I went with a fur vest because they are currently all over store fronts and I've been wanting one for myself.? This fur vest is easy enough for anyone to crochet, even if you are a new beginner.? If you're like me, you're wondering if it sheds, if you can see the stitches, and how it works up. I'll get into those details below.? __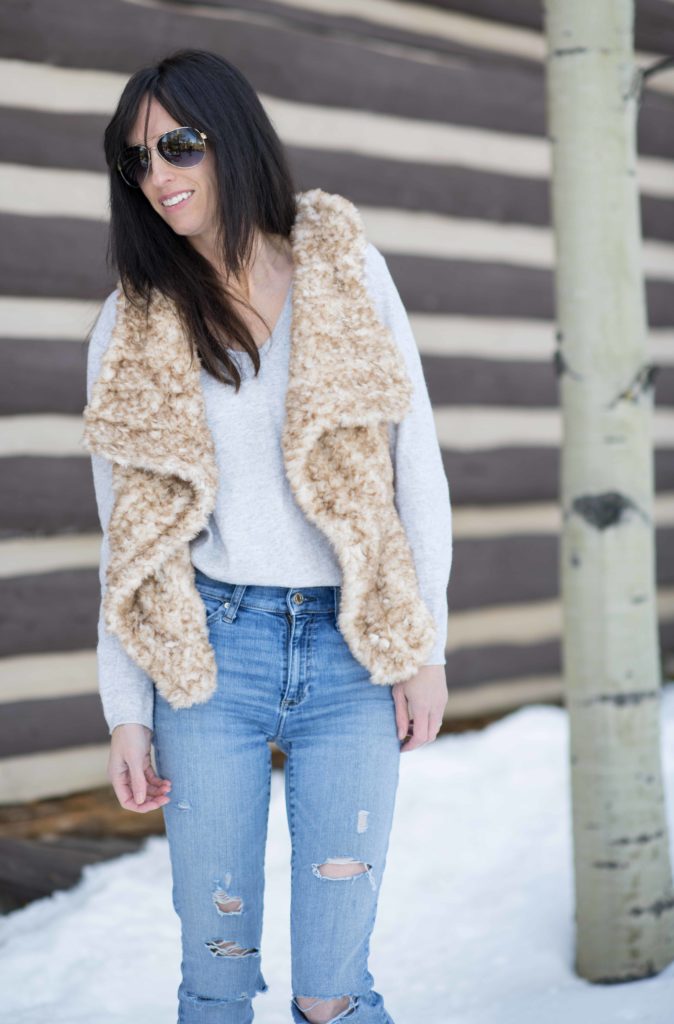 This thing is so cuddly! It was such a pleasure to wear my vest on this freezing cold day. My body was warm, but let me tell you that my toes were frozen. Note to self – wear appropriate boots in snow. __

MY LATEST VIDEOS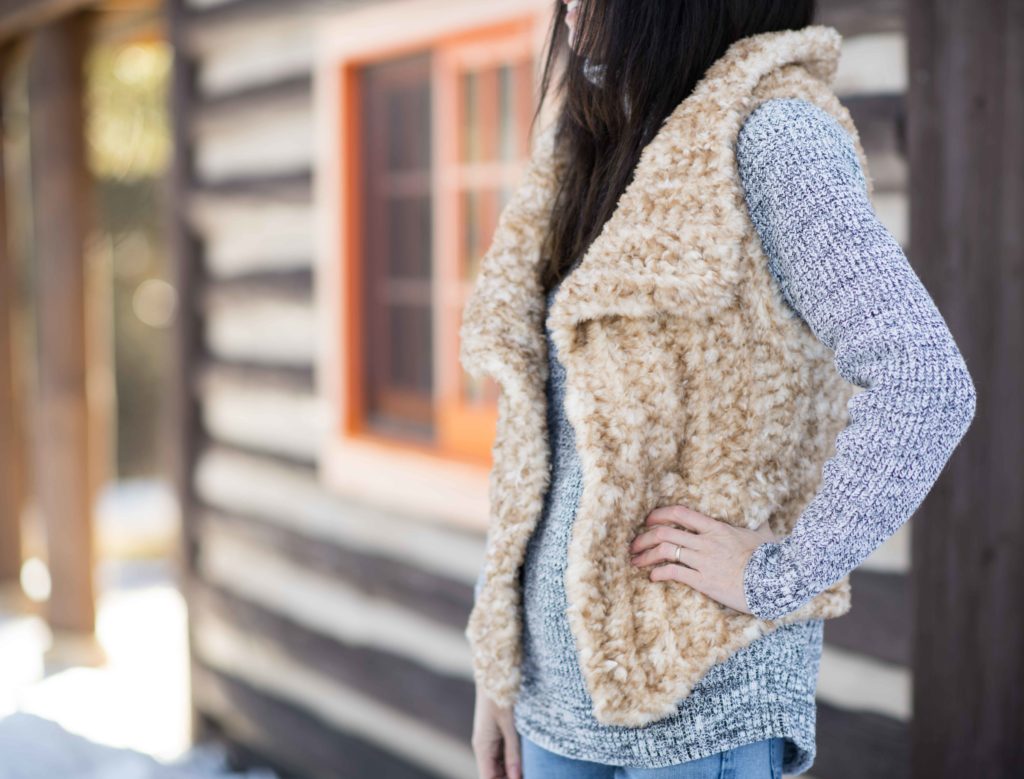 So how does this yarn work up?? The short answer is, really nicely with some shedding.? However, it hasn't shed since I've worn it.? From what I saw, the friction from the movement of crocheting and hooking the yarn was causing it to shed. Once wearing the vest, it hasn't seemed to shed at all.? You also want to avoid frogging it and that's why I've made this pattern as absolutely simple as possible so you won't need to frog!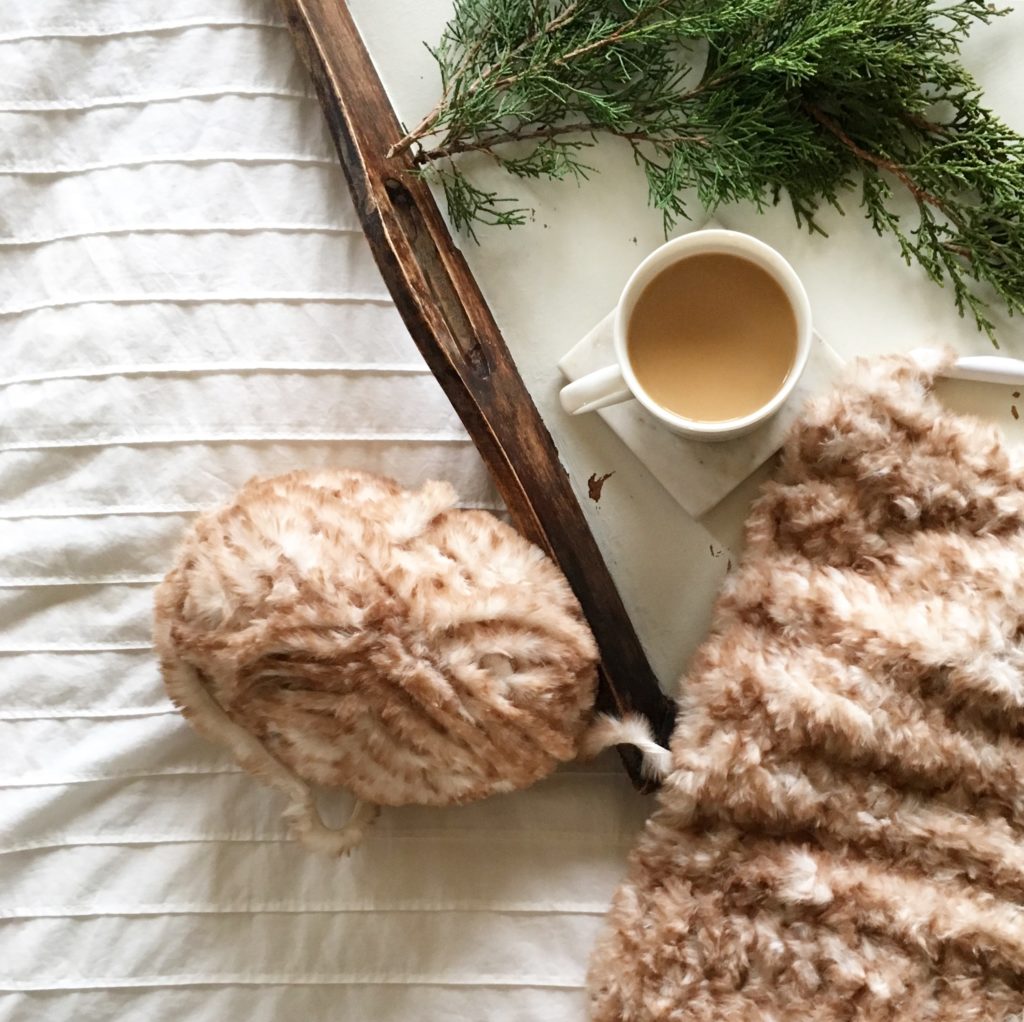 Is it difficult to see the stitches?? Yes, it's hard to see your stitches, but by using a large hook and simple stitches, I had no trouble at all.? As I worked across the row there were times that I would feel the fabric to find my stitches. Once I got going though, it was easy to get in the groove and crochet as normal across each row.? If you can't see your stitches, use your fingers and feel for the next stitch in order to work through it.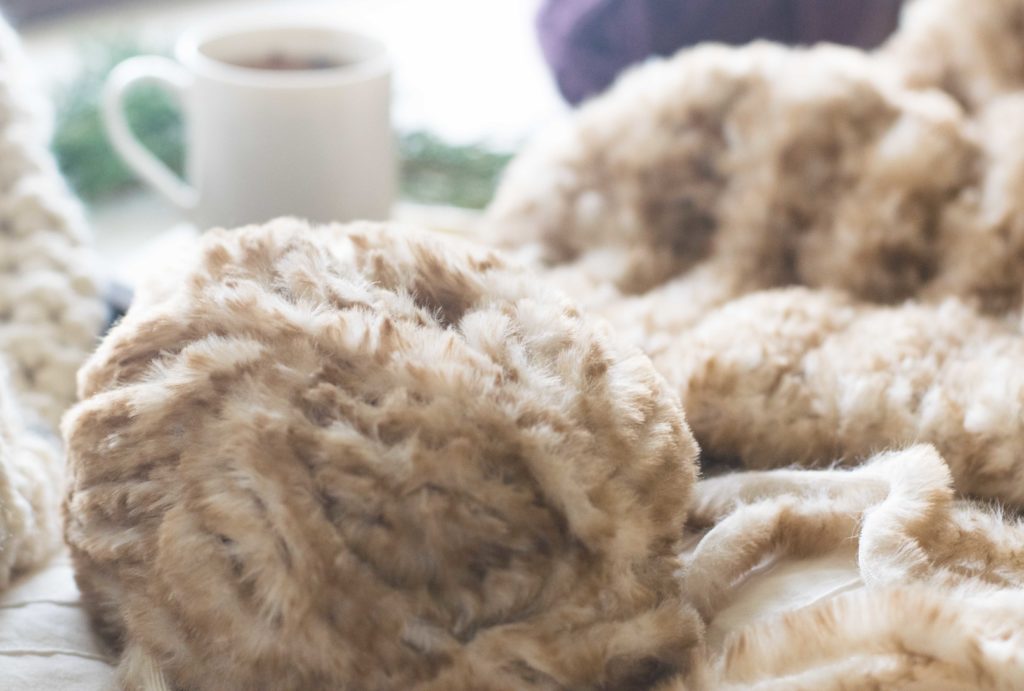 Below: Also loving this darker brown option.? I'd like to make a cowl with it!?You can see all of the color options on the Lion Brand website HERE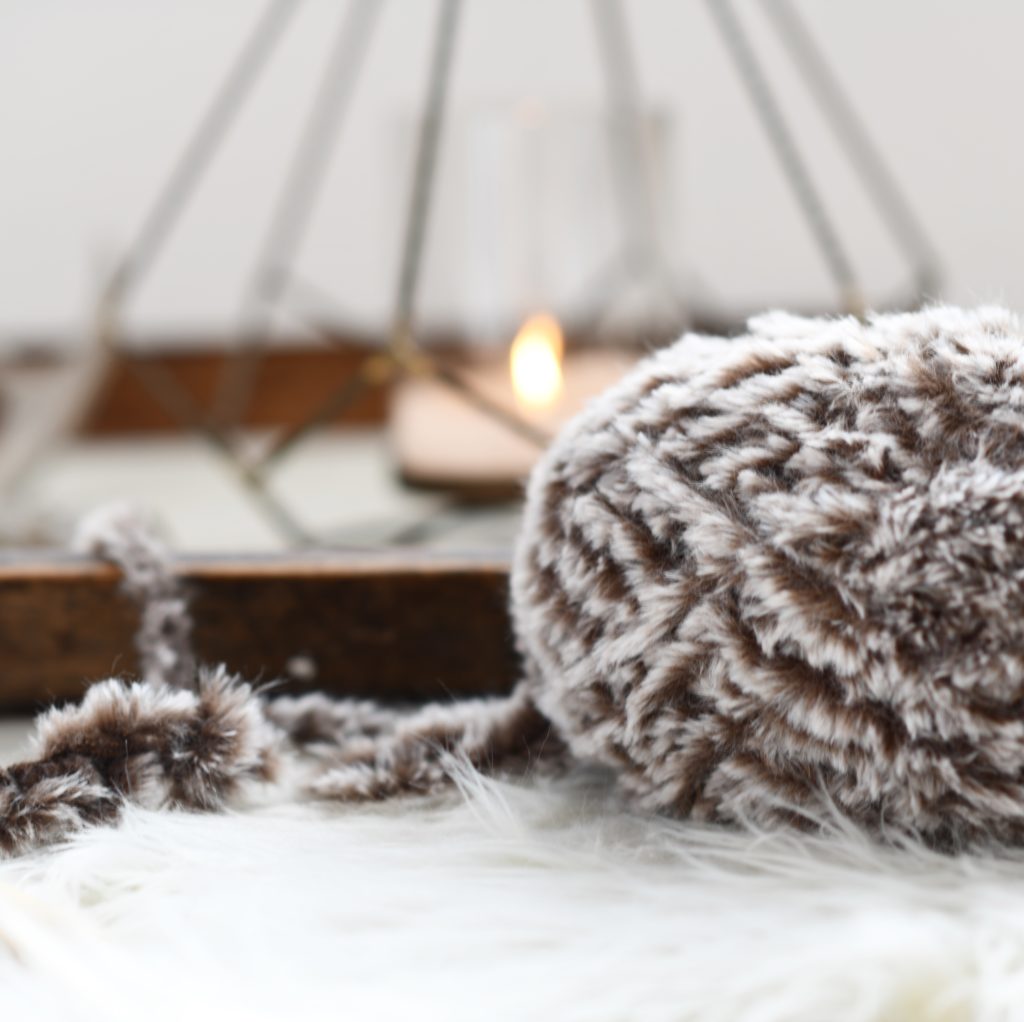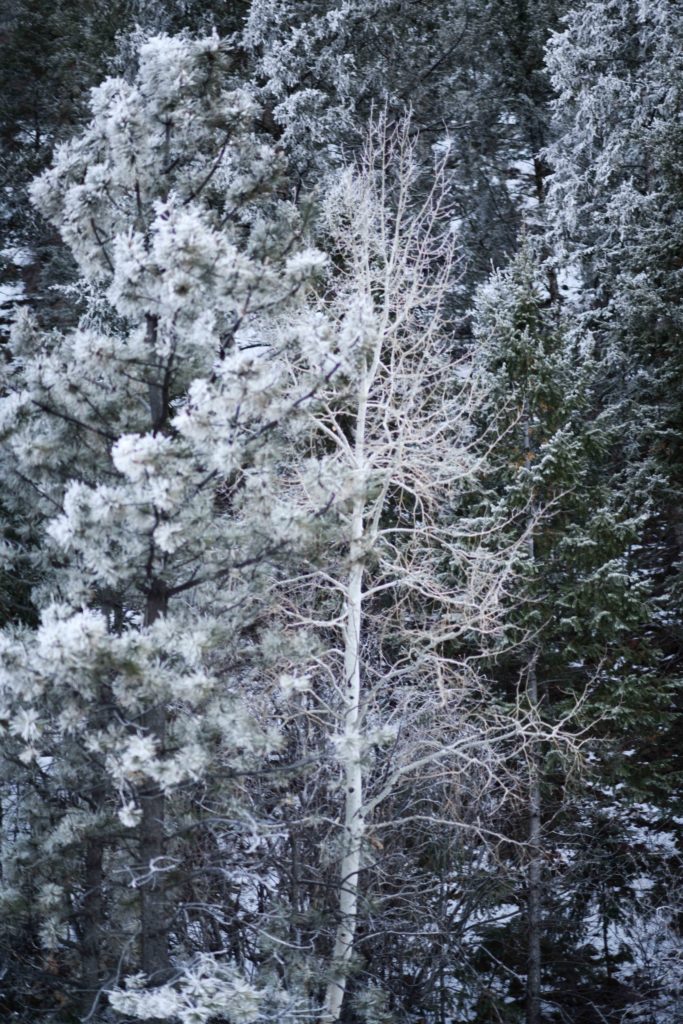 It's snowy and we want all the cozy things. (Photo taken in Woodland Park CO)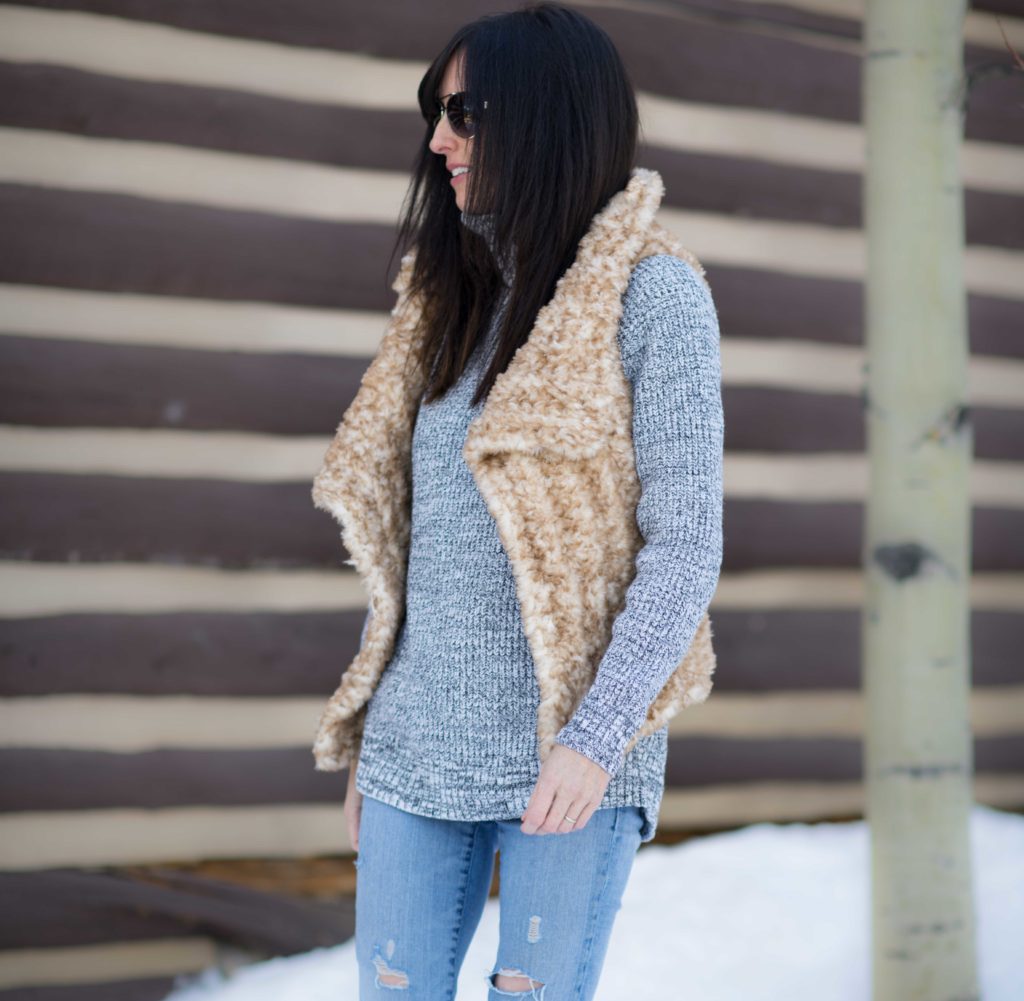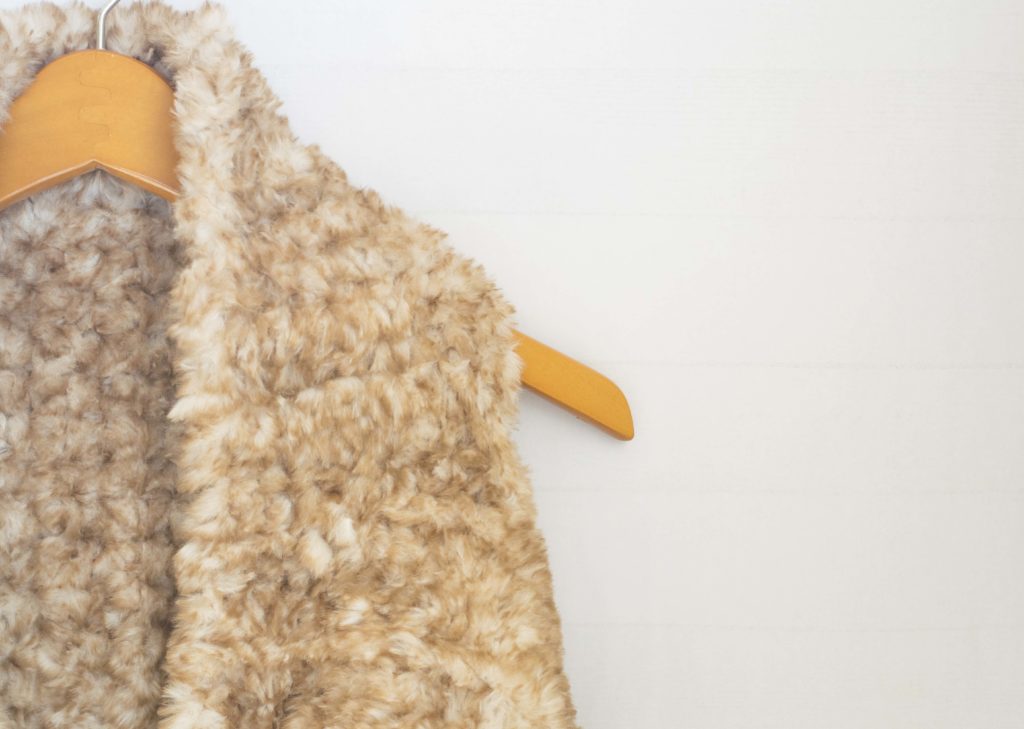 I hope that you enjoy this project and I'm thrilled that it's the second in my Hygge Winter Collection. Sign up for my newsletter to follow along if you want to see all of my newest winter patterns! And scroll down for the free pattern and some photos to help you along __? You'll see that it's essentially a rectangle with shaping for the arm openings – keeping it simple so you can easily make this furry goodness!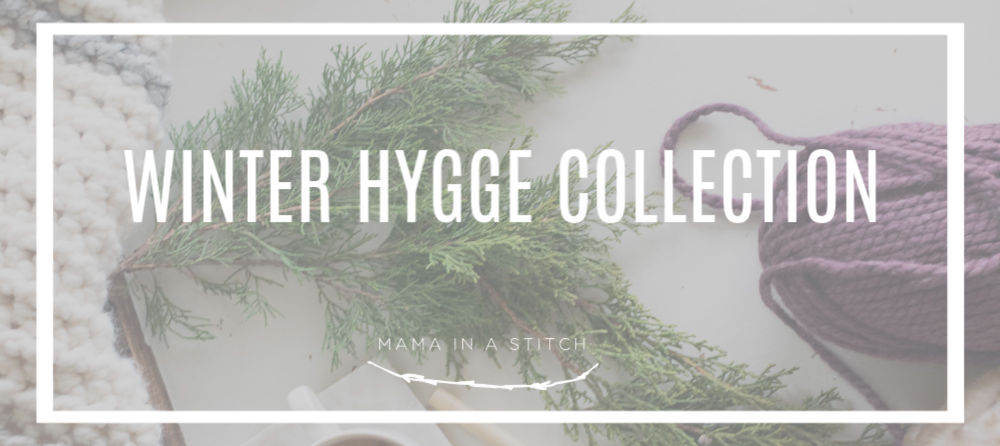 Faux Fur Vest Crochet PatternPattern Description: This incredibly soft faux fur vest makes a cozy and fashionable accessory for any winter outfit. Wear it with your sweater dress or pair it with jeans and a flannel top for an ultra-casual, comfortable look.? Youll find that its made with basic crochet stitches and includes minimal shaping so its great for beginners and experienced crochet artists alike. Beautiful ribbed stitching on the collar shows off the hues in the fur and the fit is sure to flatter.Skill Level: Beginner +Materials: US Size P 11.5 crochet hook(5, 5, 6, 7) Lion Brand Yarn Go For Faux in Pomeranian (100g/skein 65 yards/skein) Kit available with yarn and pattern HERE Pattern uses approximately (411 g, 489 g, 573 g, 628 g)ScissorsTapestry needle?Dimensions (approximate)?4 sizes available – XS, S, M, L/XLPlease follow the key throughout the pattern (XS, S, M, L/XL) The key refers to the stitch count or the number of rows (where indicated) for each size ?Bust Circumference:XS – 34S 38M 42L/XL 46Length:XS – 18S 19.5M 21L/XL ?21Cross Back:XS 15S 15M 17L/XL 19Abbreviations & Skills: ch chainsc single crochetsc blo single crochet through the back loop onlyst stitchsts stitchestr treble crochetGauge:Approximately 6 stitches and 4 rows in 4 of single crochetIts important that your gauge matches the gauge indicated in the pattern for the size to turn out correctly. Adjust your tension or change hooks accordingly to obtain correct gauge.Notes: This vest is worked from one side to the other side with shaping for the arm openings. (See diagram and photos for additional assistance) The pattern is written in sections starting with the first collar, moving onto the arm opening, center back, final arm opening and second collar. If you dont clearly see the stitches due to the nature of the fur yarn, it may be helpful to feel for them within the fabric as you work across the rows.Pattern InstructionsCh (37, 38, 39, 39)First Collar PortionRow 1 Sc in 2nd st from hook and each st across (36, 37, 38, 38)Row 2 Ch 1, turn, sc blo in each st across (36, 37, 38, 38)Rows 3 (11, 13, 14, 15) Repeat row 2 (note that the numbers in parenthesis here are rows worked, not stitch counts. For example, the size XS will be a repeat of row 2 starting at row 3 through row 11)First Arm Opening ShapingRow 1 Ch 1, turn, sc in 2nd st from hook and in each of next 8 stitches (9)Row 2 Ch 1, turn, sc in each st across the row (9)Row 3 Ch 1, turn, sc in each st across, then ch (10, 11, 11, 12) skip (10, 11, 11, 12) sts from final row of First Collar Portion, tr in next st, tr in each st to end (36, 37, 38, 38 total stitches including ch sts)Center Back PortionRow 1 Ch 1, turn, sc in each st across (36, 37, 38, 38)Rows 2 _ (11, 11, 13, 15) Repeat row 1 (note that the numbers in parenthesis here are rows worked, not stitch counts)Second Arm Opening ShapingRow 1 Ch 1, turn, sc in 2nd st from hook and in each of next 8 sts (9)Row 2 Ch 1, turn, sc in each st across the row (9)Row 3 Ch 1, turn, sc in each st across, then ch (10, 11, 11, 12) skip (10, 11, 11, 12) sts from final row of Center Back Portion, tr in next st, tr in each st to end (36, 37, 38, 38 total stitches including ch sts)Second Collar PortionRow 1 Ch 1, turn, sc blo in each st across to chain stitches, sc in each ch st, sc blo in each st to end (36, 37, 38, 38)Row 2 Ch 1, turn, sc blo in each st across (36, 37, 38, 38)Rows 3 _ (11, 13, 14, 15) Repeat row 2 (note that the numbers in parenthesis here are rows worked, not stitch counts)Tie off and weave in ends.Photo Tutorial Arm OpeningsBelow: Make a chain as indicated in pattern, skip stitches and treble crochet to attach.Below: Chain stitches were made, then treble crochet stitches worked until end of rowEnjoy your new, furry vest!It was awesome to read some of your ideas on what you'd make with this fur yarn on Instagram and Facebook! Feel free to share your ideas in the comments section here as well so we can dream up other things to make with this luscious faux fur.XO,JessicaIf you liked this, you might also like:Everyday KimonoChunky Icelandic BlanketThank you to Lion Brand Yarn for sponsoring this post. All opinions are 100% my own.SharePinTweetShare