Crochet Pendleton Selvage RugI've known about world renown Pendleton wool since I was a wee child, when my parents got one of those classic?rainbow striped?Pendleton blankets ( better know as the Glacier National Park Blanket ) for their king bed.?A few weeks ago,?in internet land, I came upon Pendleton Woolen Mills Outlet.? There they sell fabric and "waste" scraps from?Pendleton blankets and other goods to anyone who wants them, mostly crafters.? I love this idea to the core.? What an eco-friendly approach to manufacturing! Why don't more fabric and textile?makers take advantage of this idea? I can make something useful out of waste? The tree hugger emerges?from me. One of the scrap products that they sell?is called "selvage".? From reading further on their blog, I learned that you can crochet a rug from this selvage.? What does a crochet addict, Pendleton loving, environmentally conscious, fabric freak do when they read such a thing? ORDER scraps of course! I patiently awaited their "truck report" to find out what kinds of scraps they would receive from the week of production.? This report comes out at the end of each week.? I made the call to the Mill, and spoke with a helpful lady, telling her the possible colors I would prefer.? They do their best to accommodate what you would like, but make no guarantee they have your color preference.? I told her, either a yellow and?grey mix for my kitchen or a purple for my daughter.? She kindly went and checked the bins to find an eight pound bag of purple selvage that she said would be "girly". Sweet! Then she told me it was on sale for 50% off. WHAT? What does a crochet addict, Pendleton loving, environmentally conscious, budget obsessed girl do when she hears something like this? Order more! No, I didn't. But I wanted to. I told myself to simmer down and see how my first rug goes.? And it went amazingly well. (I'm already picturing what other things I can "selvage" and turn into rugs-those dingy sheets?) ?Here is the little synopsis of the Pendleton selvage rug…..

Selvege Rug
How?I?Made?A Selvage Rug

MY LATEST VIDEOS1. Check the Pendleton Woolen Mill Truck Report to see if they had the scraps I needed. They say about?five pounds is the amount needed to make a rug. My bag was eight pounds, as they are all pre-filled and can vary in weight.2. Called and requested various colors, finally choosing purple. The selvage was cheap, and I spent more on shipping than materials. It was $19.00 to ship the eight pound box.3. Anxiously waited, wondering what this "purple" really would look like.4. Bought the suggested Size S crochet hook ( found here Lion Brand S Hook ) required to make the rug.? I called several craft stores, and found the Lion Brand Size S hook at Joann Fabric.? I was so scared I wouldn't find one in stock after calling three different stores. But alas, when I told the clerk at Joann "It's a big, giant, red hook", she found it.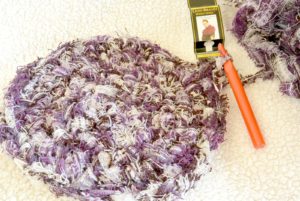 It works up really fast with this big hook5. Received my big box of scrap. Opened it, and LOVED the color!! Then got nervous because it looked totally overwhelming with the amount of wormy, twisted fabric scraps.6. Began the project.? To my merriment, the scraps were easy to pull out, and were not tangled at all.? There is a need for a bit of patience as you have to pull out each piece, and sometimes pull apart pieces stuck together.? I would just pull a piece out as I went along.? No need to ball it all up first. The ends do need spliced, which intimidated me. There are directions on how to do this in the pattern on their site.? You basically just knot the ends together, removing all the "fuzzies" from the core strings first.*On their blog, the pattern given is for an oval type shaped rug.? This is lovely, but I wanted a circular rug.? If you know how to crochet in the round, this is all I did.? Below I will write the pattern for crocheting in the round.*With my eight pound bag, I still have plenty left over selvage*This is crocheted in a spiral, so mark the first stitch for each round (I used a piece of velcro and just stuck it to the rug on the first stitch)*If you know a single crochet, increase, and crochet in the round, you can do thisYou will need:Selvage – 5 poundsSize S Crochet Hook – I used Lion Brand – worked like a charmScissorsPattern:Round 1 Start with a Chain 2, then sc 6 times into second chain away from hook – slip stitch to joinRound 2 ?Increase X 6 = 12 stitchesRound 3 *1 Increase, sc in next st* Repeat from * to * around row (18 stitches in this Round)Round 4 *1 Increase, sc in next 2 sts* Repeat from * to * around row (24 stitches in this Round)Round 5 * 1 Increase, sc in next 3 sts* Repeat from * to * around row (30 stitches in this Round)Round 6 * 1 Increase, sc in next 4 sts* Repeat from * to * around row**Continue this pattern (increasing your number of single crochets by one, in each repeat, for each round) until your rug is the size you would like.? Mine measures 24″ in diameter.***There were a few times that my rug seemed to want to bow, as if it was too tight. I just would increase an extra stitch when that happened. If it ruffles, you are increasing too much.****Check out the pattern that they have posted on their blog if you'd like an oval shaped rugAdding the Poms (Optional)I used almost two yards of poms which I purchased at a big box retailer. I used crochet thread and an embroidery needle to sew the poms on, making a stitch about every inch.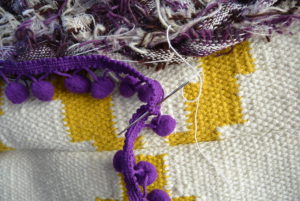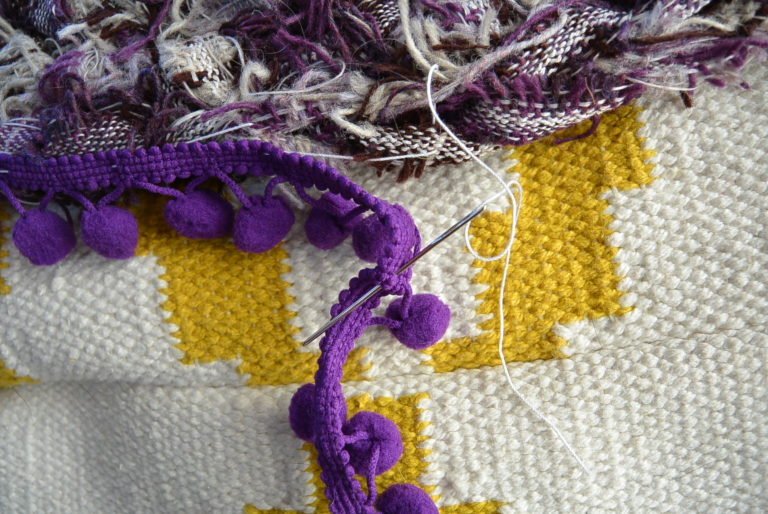 I worked around, making a stitch every inchI hope you will be as happy with your rug as I am with mine.? I can't wait to make more goodies with my leftover selvage!Are you going to make one, or have you made one in the past?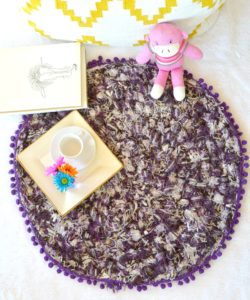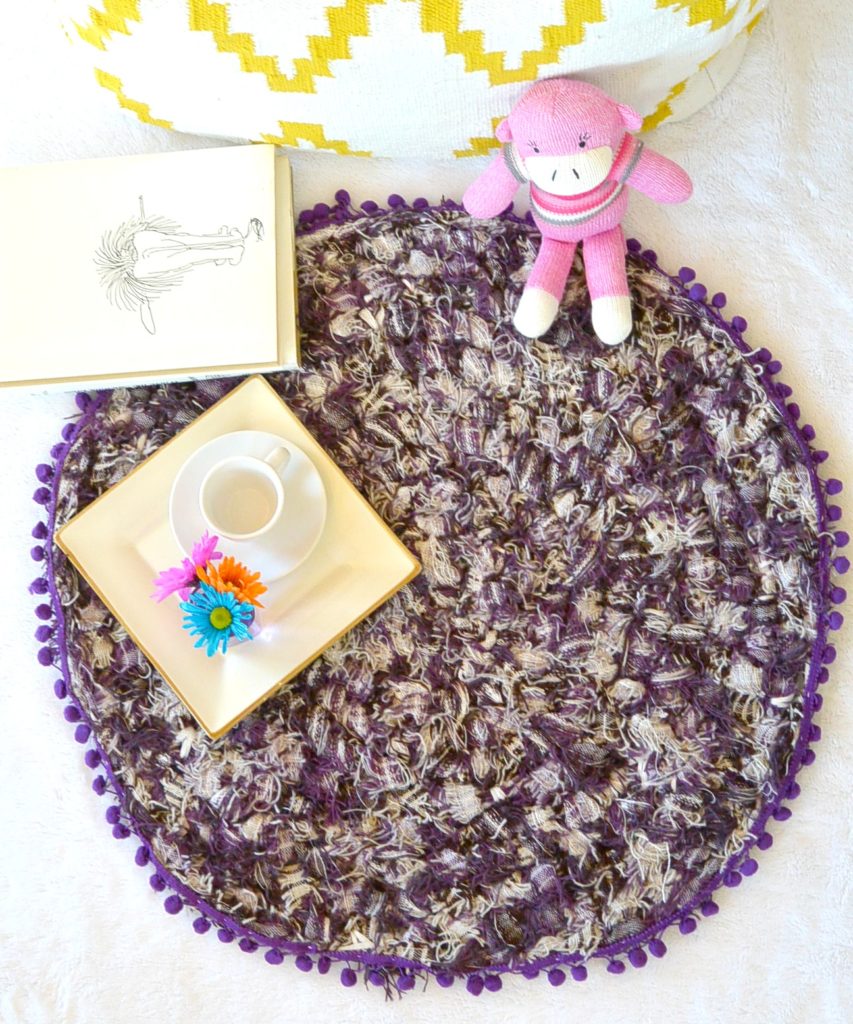 If you like this, please subscribe, pin or at least check back often for new ideas and patterns!SharePinTweetShare