2K Shares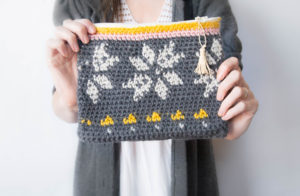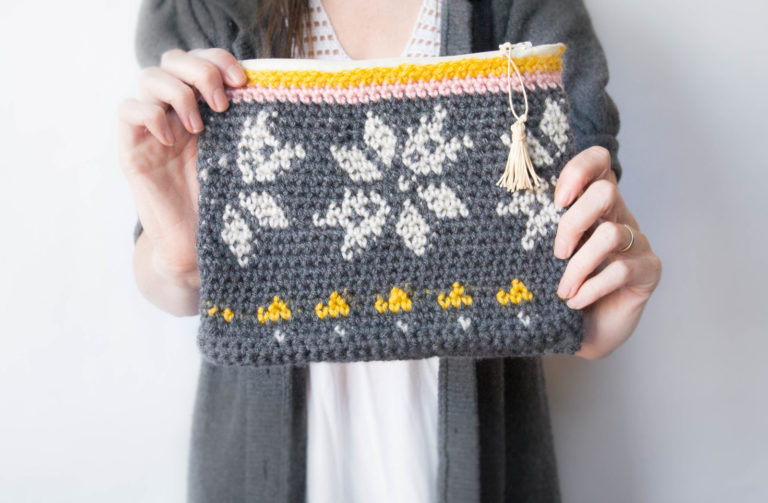 With sweater season in full swing, I've been wanting to either knit or crochet something with the cute snowflakes that I've got on some sweaters and slippers.? For some reason, after comparing the knit and crochet versions of this look, it seemed easier to me to try it with crochet.??Fair isle knitting is?gorgeous,?so I am sure I will give it a whirl soon.? I think besides these fingerless mitts that I made a while back, I haven't been much of one to do "details" on my projects. __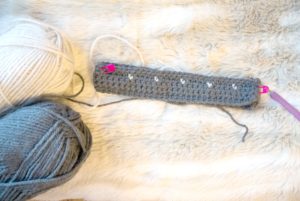 Here are the beginnings of the little bag.What I found out is that you can do tapestry crochet (while carrying two colors at the same time) in the round or flat.? Quite frankly, the flat version freaked me out a bit. The way I kept seeing it done was to crochet a row, and then crochet BACKWARDS rather than chaining and turning. Oh my!? I decided that I'd like to try it out in the round as it seemed more doable. So then I debated on what to make…a coffee cup cozy, a basket, or a wine bottle holder of some sort. Finally I decided on a little zipper make-up bag as it wasn't too big or overwhelming.

MY LATEST VIDEOS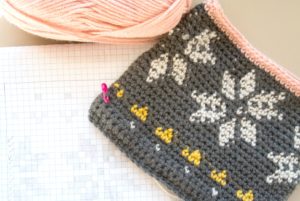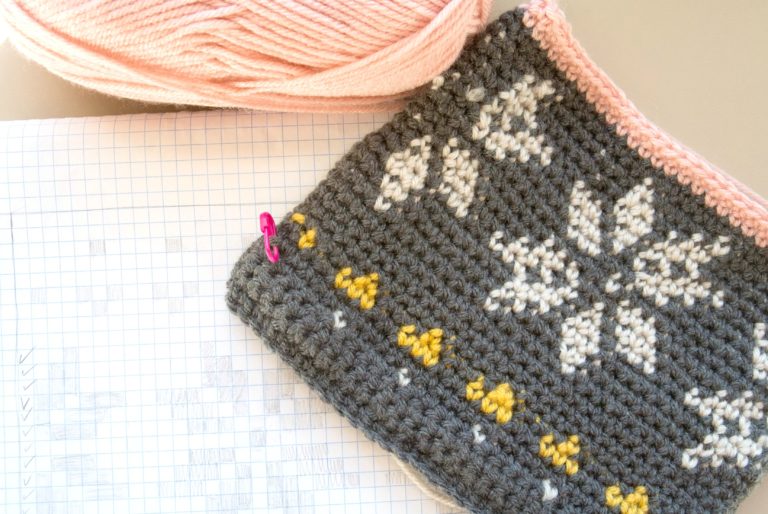 If you're up for trying this, click on the pink text below to check out the great video on how to do it from Moogly. Thanks to Moogly for permission to share this!Video On How to Tapestry Crochet from MooglySo once I decided that I wanted a wintery sweater look, on a piece of graph paper, I was able to fit a snowflake in the middle with two halves on either side. By adding a few extra accent stitches, simple triangles and stripes, it gives it more of a?knit look.? My other love is art, but I don't get to do much of it anymore since I'm so addicted to yarn! It was really fun to break out the pencil and paper again. __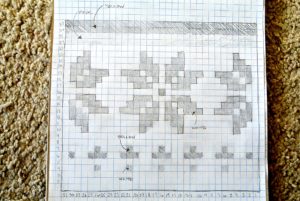 For this I just did some graphic snowflakes, stripes and some extra accent stitches. You can do anything you'd like, but try to keep it fairly simple the first time.For your first time, you may want to make something a little easier. Maybe making a "checkered" look might be simple, or stripes would be easy too. I had to frog a couple of rows that were off when crocheting?the snowflakes.There were a couple of times that I was twisting my yarns.? I was able to stop it, but I'm not totally sure what I did! The one thing that helped was that I didn't carry the color all the way around. I cut it and then began carrying it again about 5 stitches before the color work would start again.Needed for This Project Size I crochet hookLess than?one skein?each?of Lion Brand Vanna's Choice in Linen, Pink, Mustard and Silver Grey or comparable yarn. (You can do as few or as many colors as you want)ScissorsGraph paper and pencil( you can copy my graph onto some paper, or if you know how to paste the picture into Word and print it – go for it)ZipperNeedle and thread to sew on zipperFine yarn or waxed thread to make a tasselOR make up your own graph and use up some scrap yarn to make a coffee cup cozy or something else that you may enjoy! After watching the video above, you can see how fun and easy it really is.How I Made This
Colored in a graphic on my graph paper that I liked (try simple checkers or stripes if you want to make it easy!)Chained 62 – for me it was easier to do one row of single crochet and THEN join in?order to continue?in the round. This was a tip I got from a reader that prevents twisting the chain. Because I seam the bottom of the bag at the end, this worked perfectly fine. You can however, chain 62, slip stitch to join, and begin crocheting in the round. Just be careful not to twist your chain.? You will be working CONTINUOUS rounds and essentially you're making a tube. __Place stitch markers on either end of 31 stitches (this was the width of my graph picture)Follow your graph and make color changes (just as the video above shows) as you go!?It helps to check off each row as you complete it on your paper.?Weave in all ends with your tapestry needle.
Wait to seam the bottom until after you add the zipper!Adding A Zipper:For this bag I bought a 7 inch zipper.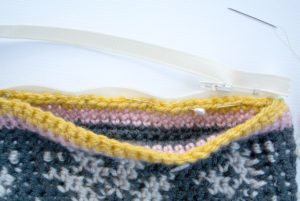 My "bag" is turned inside out. The zipper is being pinned to the outer edge, with the zipper on the inside. I will seam the bottom when the zipper is complete.With the bag inside out, pin the zipper, facing inward, around the bag.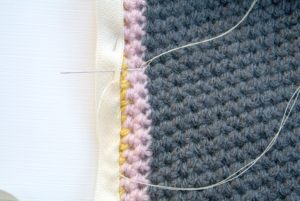 I'm attaching the zipper with a whip stitch, which worked for me. I've seen some tutorials that do this stitch AND a back stitch. You also could sew it on with a machine.Seam the Bottom ClosedI seamed the bottom closed with a single crochet seam.? In other words, I attached my yarn with a slip stitch. Holding both sides together, I inserted by hook through both sides of the bag and single crocheted along the bottom.? I then tied off and weaved in my ends.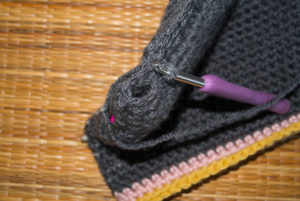 Single crocheting the bottom closed.Attaching a Tassel to the Zipper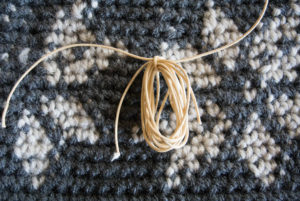 The makings of a tassel. Loop the thread/yarn around your fingers.For my tassel I used waxed thread. There are tons of tutorials online on how to make a tassel. You can search it in YouTube as well. The quick explanation from me would be to simply wrap?the thread/yarn?around two or three fingers several times as if to make a pom pom. Take a piece of string and pull it through the center and tie.? Then wrap another piece of string around the top a few times, tie off and tuck the tail into the tassel. Cut the bottom to create the fringe. Attach to the zipper.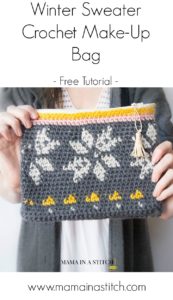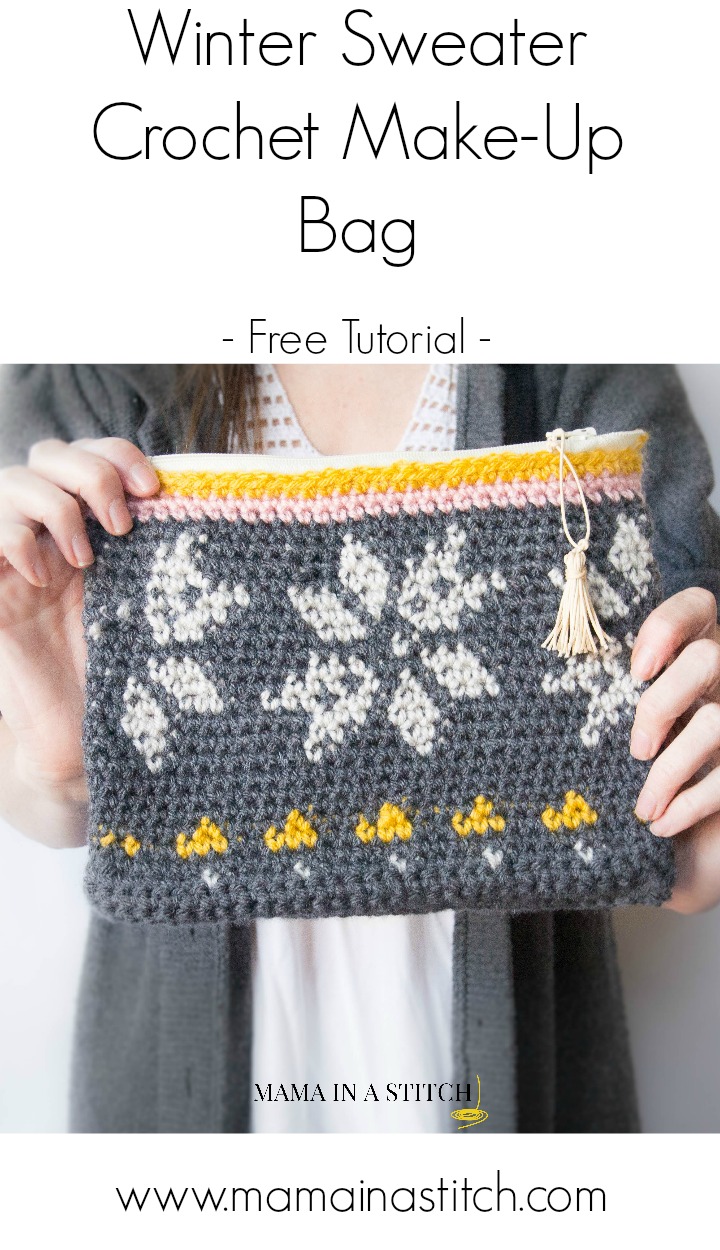 There you have it!So while tapestry crochet isn't the EASIEST project in the world (and I tend to only do easy __ ), it still is fairly simple. It's just single crochet, and switching up colors. Fun, right?!SharePinTweetShare