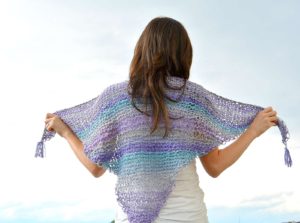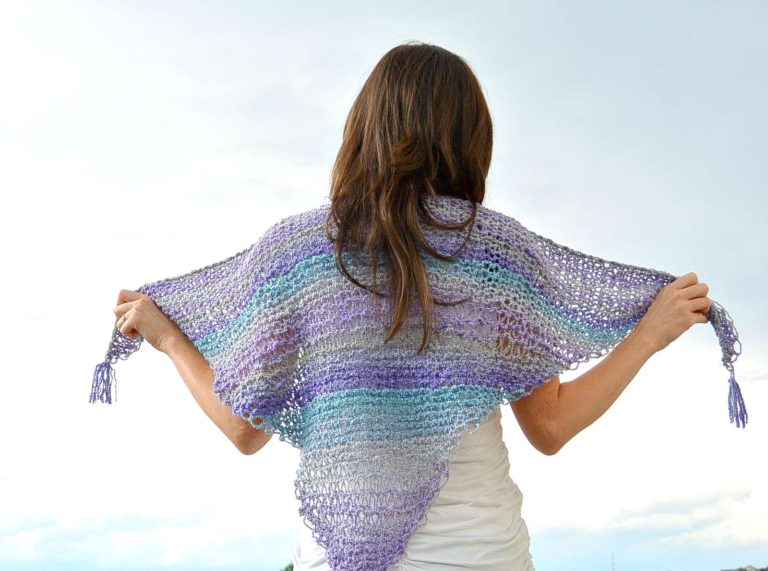 I keep seeing these "shawlettes" all over the internet and thought I'd give one a whirl.?They look like mini-shawls which I thought?might be nice for summer, but could be used in the fall as well.???I've also wanted to make something that might work as?a swimsuit wrap, so I tried to make?this "open" enough that it can do double duty as both.? This is so incredibly easy, almost simple enough for an intermediate beginner.? It's worked from the bottom up (starting at the tip of a triangle and going to a flat base by increasing), and is?all done in the knit stitch, with a yarn over at the beginning of the row to increase as you work your way up.??I did a few sections of drop stitches, but you can totally just knit the entire thing and get almost exactly the same look as mine here.? The drop stitches give it kind of a "funky, carefree" look.I made a little video to show the stitches that I used and how it is done below. Thanks to Lion Brand for?providing me a sample?of their Textures yarn which I used for this fun little project!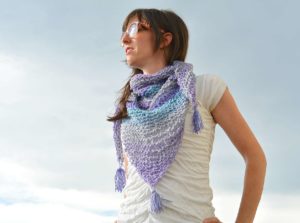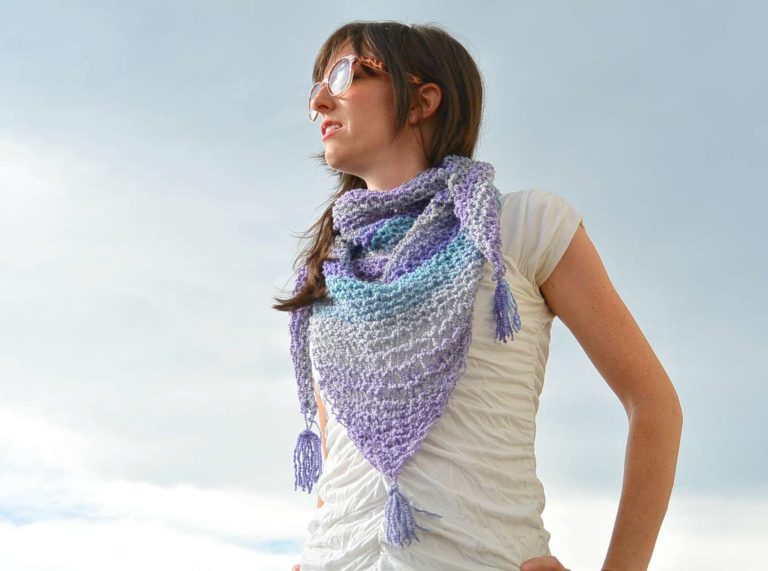 My favorite way to wear this shawlette is pictured above, but you can wear it just like a shawl by laying over both shoulders.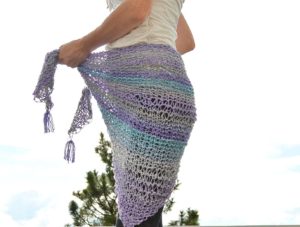 It's not bulky at all and can even be used as a little wrap or cover-up.Here's what you will need:2 skeins worsted weight yarn – I used Lion Brand Textures in Arctic (there are quite a few cool color options in this yarn so check it out!)US Size 13 Circular Knitting NeedlesScissorsTapestry needle to weave in endsHow to Knit a Shawlette / Pattern:Row 1 With one stitch on your needle, yarn over, knit oneRow 2 Yarn over, knit across row (2 stitches)Row 3 Yarn over, knit across row (3 stitches)Row 4 Yarn over, knit across rowRepeat this pattern for approximately?seven inches – OR – repeat this pattern for the remainder of the shawl.? I added drop stitches, but you don't have to in order to get almost exactly the same look. Just repeat this EASY pattern until you reach 90 stitches across, and there you have it! __If you'd like to do the drop stitches – Once you have knit the pattern above for?seven?inches you will begin a section of drop stitches which will be worked as follows*Yarn over, knit, yarn over, knit. Repeat this pattern?across the row.Next row, slide off the yarn overs, and knit each knit stitch.?KNIT THE LAST TWO STITCHES OF EACH ROW.*(This sequence above creates a long "drop stitch", so you will have drop stitches across the row.)Repeat from * to * three times.After you have done this three times, you will continue the simple knit stitch pattern from Row 4 – Yarn over, Knit across row.Repeat this pattern for four inches.Once you have four inches of knit stitches, you can start another section of drop stitchesRepeat the drop stitch pattern of *Yarn over, knit, yarn over, knit across the row. Next row, slide off yarn overs, and knit each knit stitch, being sure to KNIT THE LAST TWO STITCHES.*Repeat from * to * three times.Now continue the pattern from row four, yarn over and knit across entire row. Repeat this until you reach the end of your shawl, at 90 stitches across.? You could certainly make it a full size shawl, or any size you like by repeating this pattern. Make it as big or small as you want. I added tassels to the three points of the triangle. You can choose to add them or not, or even add them along the entire edge!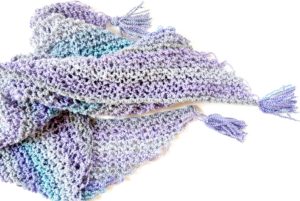 MY LATEST VIDEOSGet creative, and have fun making this the size that you like. As always, let me know if you have any questions or if I can improve my instructions in any way.I hope you've enjoyed this "shawlette / wrap / scarf "!If you liked this, check out my other free patterns and feel free to follow me on Facebook, or subscribe for more patterns and ideas!SharePinTweetShare