4K SharesYou may scroll down to see the free Las Cruces Crochet pattern below or choose to purchase the ad-free printable PDF pattern from my Etsy shop HERE. Yarn can be found HERE.This alpaca crocheted wrap that I'm sharing with you today is pretty unique for me as I don't make a ton of shawls and wraps.?I love this piece because it works as a scarf as well – in fact, that's how I prefer to wear it!? ?Knitting and crochet is special in that we can make things that we see in stores, but even better, we can make things that you could never find in a store. I'm pretty sure you won't find anything like this in a store. __? The best part is it's very simple to make!It's fun to take shapes and put them together in interesting ways in order to make something unique.? I knew I wanted to use triangles and I really enjoyed the Smoky Mountains Triangle Wrap (here), but wanted a different look than the granny stitch this time.? My hope was for this to be an eye catching and comfortable alpaca wrap featuring beautiful stitch work inspired by southwestern textiles.? The ??trails?? of stitches cross and intersect, leading the eyes on a visual tour of the wrap and giving it the name Las Cruces. La Cruz is a trail or also a cross in the Spanish language.? Neutral color tones will compliment any outfit and the patterns and shapes will definitely be noticed when it's worn. __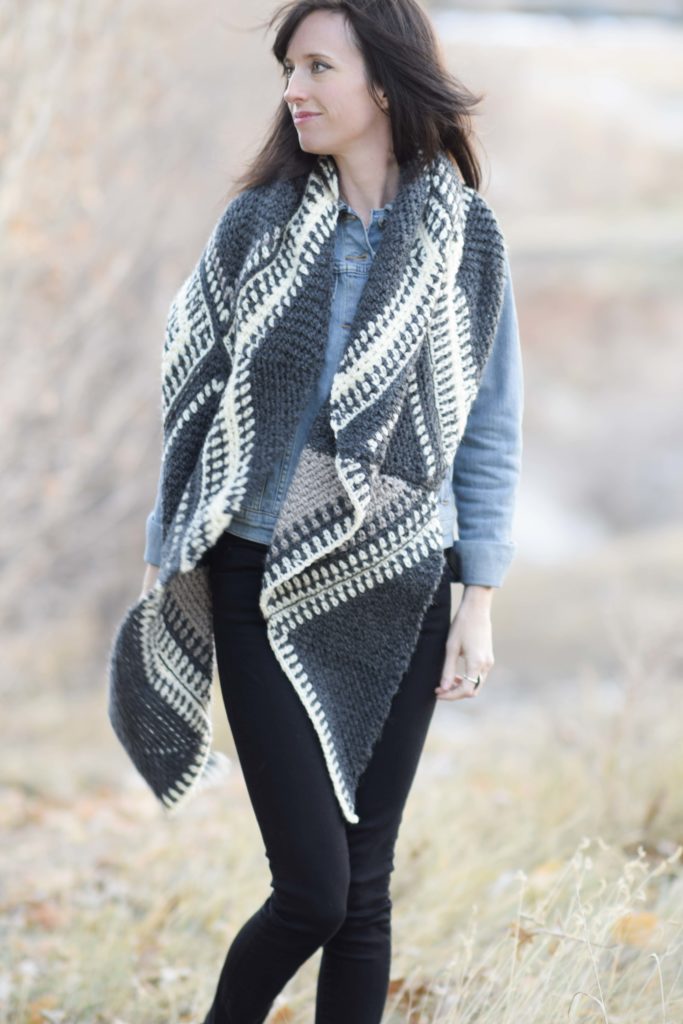 MY LATEST VIDEOSTypically, I try to stick with timeless, monochrome, neutral projects so this is special for me (and a bit out of my comfort zone – hehe!).? It's still not overly trendy as the neutrals will go with anything and the design is eye catching but not overpowering.? Scroll down to see how simple it is to crochet. Essentially you are making 12 triangles using the simple granite stitch and seaming them together. Yay! While the look is inspired by southwestern textiles, it's certainly a piece that can be proudly worn in the biggest of cities, smallest of towns or the desert southwest.? Or just to the coffee shop where I go. __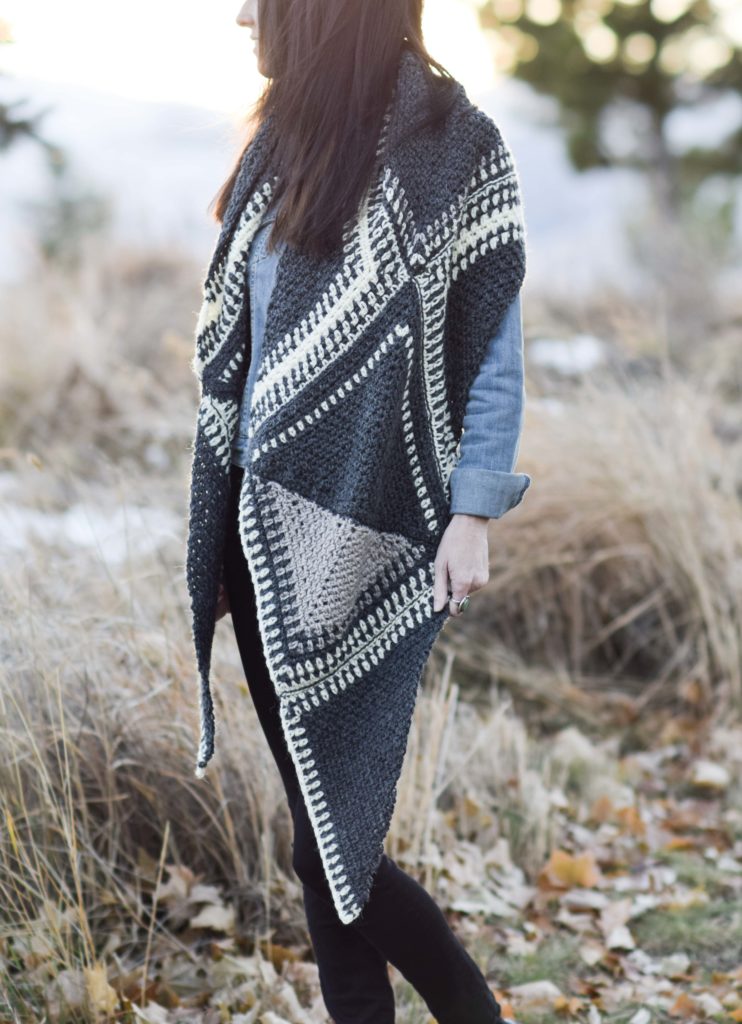 To the untrained eye, this shawl looks complicated but it's very simple.? Like I mentioned earlier, it's created by crocheting simple triangles and making occasional color changes. The granite stitch triangle is so simple that you'll have it memorized after just a few rows.? You can see the written pattern below as well as a full picture tutorial! Grab your worsted weight yarn and try out the triangle and you'll see how quickly and easily it works up. If you've never worked the grantite stitch, it wouldn't hurt to practice a little swatch.? You can see a picture tutorial for the crocheted granite stitch on my blog here.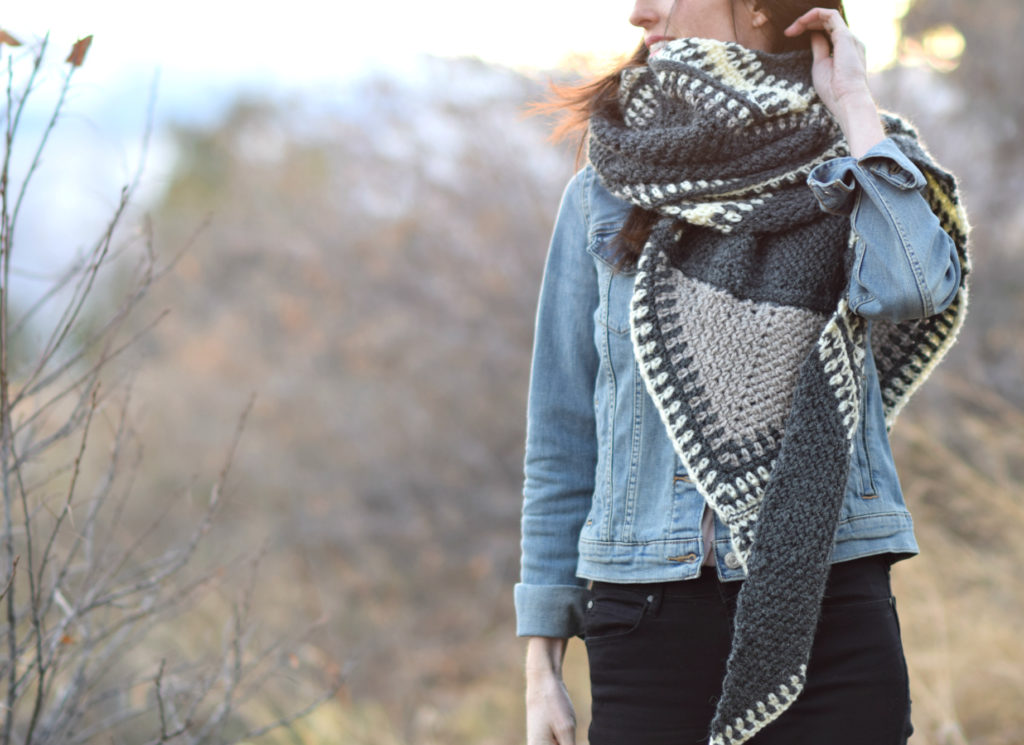 Below you can see one of the triangles.? You will have the triangle pattern memorized pretty quickly!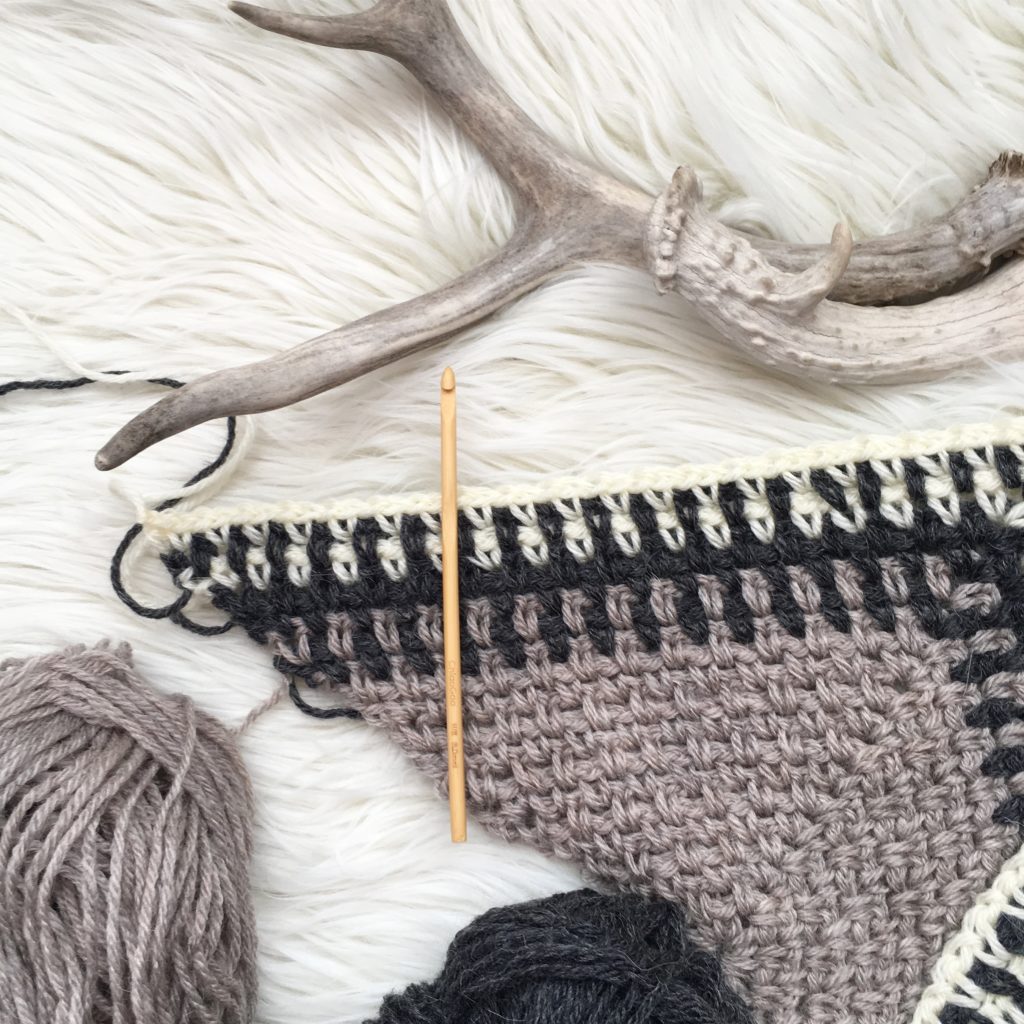 Below: Seam them together to make the pretty designs!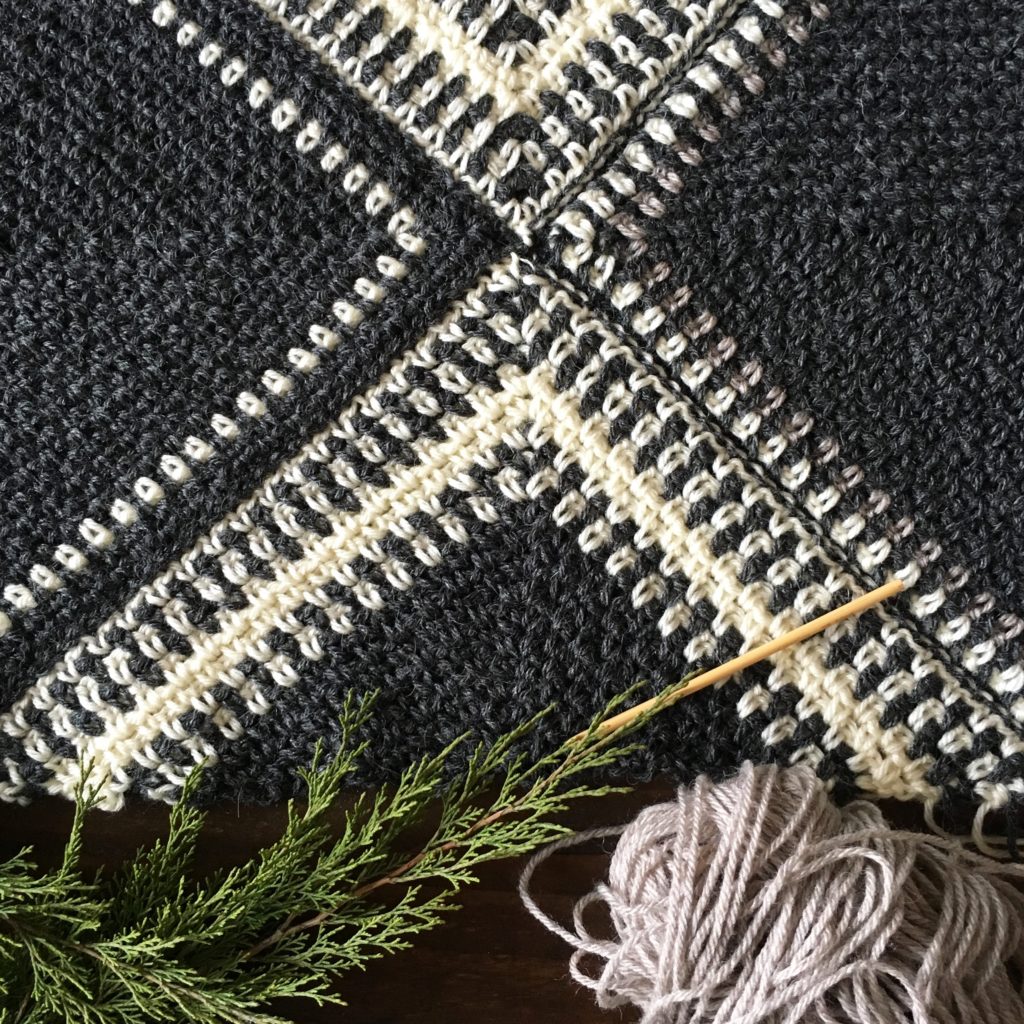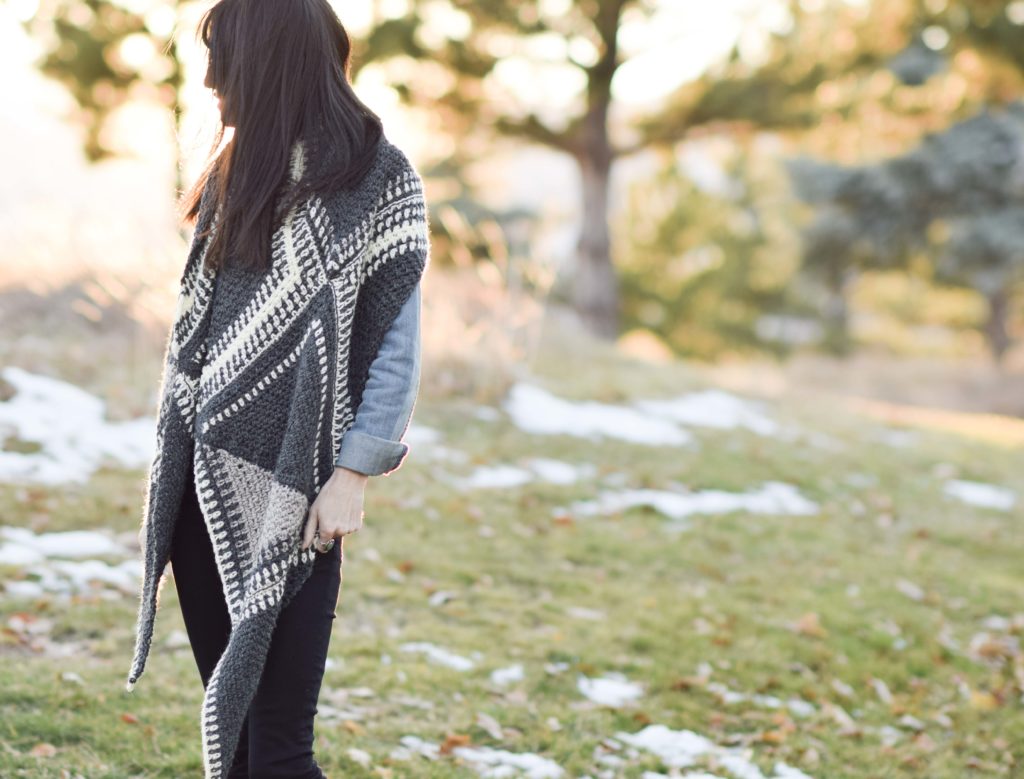 Let's get to this simple crochet pattern!(Remember that you can also purchase the ad-free, printable PDF pattern from my Etsy shop here)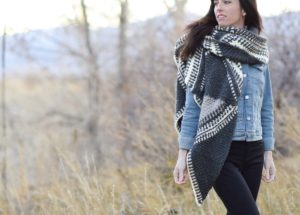 Printable Ad-Free Version Available On ETSY
Las Cruces Wrap Crochet PatternPattern Description: An eye catching and comfortable alpaca wrap featuring beautiful stitch work inspired by southwestern textiles. The trails of stitches cross and intersect, leading the eyes on a visual tour of the wrap and giving it the name Las Cruces. La Cruz is a trail or also a cross in the Spanish language.? Neutral color tones will compliment any outfit and the patterns and shapes are sure to impress. Simple triangles are created and seamed together to create this easy, cozy wrap.Skill Level: IntermediateMaterials: US Size K 6.5 mm Crochet Hook1 Skein Lion Brand Yarn Touch of Alpaca in Taupe HERE (100g/skein)1 Skein Lion Brand Yarn Touch of Alpaca in Cream HERE (100g/skein)3 Skeins Lion Brand Yarn Touch of Alpaca in Charcoal HERE (100g/skein) Pattern uses approximately 414g of yarnScissorsTapestry NeedleGauge: Approximately 14 stitches and 11 rows in 4x4 of granite stitchDimensions (approximate): 17 X 81Abbreviations & Skills: ch chainsc single crochetsk st skip stitchdc double crochetsts stitchesst stitchsp spaceCC change colorsNotes: This wrap is crocheted by creating triangles using the granite stitch then seaming them together to finish. (See photo tutorial below for additional assistance) Work each triangle following the Master Pattern, making color changes when indicated.? While no border was added to this, you can be creative and add any border to your wrap that you like if desired. Tip: Because it can be difficult to see stitches with dark yarns, you might want to start with Triangle #1 to learn the stitch pattern as it begins with Taupe, a light colorLas Cruces Pattern InstructionsMaster Triangle Pattern?Follow this pattern for each triangle (see instructions for Triangles #1 – #4 below) making color change where indicated. See photo tutorial below for additional assistance. The stitch pattern is the granite or moss stitch. You will work single crochet stitches into the chain spaces.Ch 4, sl st to join and form ringRow 1 Ch 3, sc in ring, ch 1, (sc 1, ch 2, sc 1), ch 1, sc 1, ch1, dc 1 in ring.Row 2 Ch 3, turn, sc in first ch 1 sp, ch 1, sc in next ch 1 sp, ch 1 (sc, ch 2, sc) in ch 2 sp, ch 1, sc in next ch 1 sp, ch 1, sc in final ch 1 sp, ch1, dc in same sp.Row 3 Ch 3, turn, sc in first ch 1 sp, ch 1, *sc in next ch 1 sp, ch 1. Repeat from * across until you reach the ch 2 corner space, (sc, ch 2, sc) in ch 2 corner sp, ch 1, *sc in next ch 1 sp, ch 1, Repeat from * across until you reach turn ch 3 space, (sc, ch1, dc) in final space.Repeat row 3 until youve worked 20 rows, making color changes where indicated. Tie off and weave in ends.Triangle #1 (Make 2)Rows 1 13 TaupeRow 14 CharcoalRow 15 TaupeRow 16-17 CharcoalRow 18 CreamRow 19 CharcoalRow 20 CreamTriangle # 2 (Make 2)Rows 1 16 CharcoalRows 17 CreamRow 18-20 CharcoalTriangle #3 (Make 4)Row 1 11 CharcoalRow 12 CreamRow 13 CharcoalRow 14-16 CreamRow 17 CharcoalRow 18 CreamRow 19 CharcoalRow 20 CreamTriangle #4 (Make 2)Row 1 16 CharcoalRow 17 TaupeRow18 CharcoalRow 19 CreamRow 20 CharcoalTriangle #5 (Make 2)Row 1 17 CharcoalRow 18 CreamRow 19 CharcoalRow 20 CreamAssemblyFirst, you will crochet a single crochet edging along the bottom ONLY of 6 triangles. This edge will make it easier to seam them together as these edges arent as clean as others in order to seam.? Attach yarn and single crochet one row along the bottom of both Triangles #1, 2 of the Triangles #2, and both Triangles #4.Using the flat slip stitch seam, seam each piece together as pictured below. (Triangles #5 on outside edges, followed by Triangles #1, Triangles #2, Triangles #3, and the center Triangles #4). The triangles are reversible, so you don't have to worry about the right side being up, however, you do want to make sure your seams are all on the same side (so don't flip the shawl or triangles once you've started)Tie off and weave in all ends. You may also choose to add a border or tassels! Block to shape and size as desired. This might be how it looks as you put it together!Triangle Pattern Photo Tutorial:All single crochet stitches are made in the chain spaces for row 2 and row 3Chain 4Slip stitch to form ringRow 1: Chain 3Single crochet in ringCh 1, sc then chain 2Single crochetChain 1, sc, ch 1, then dc to finish rowRow 2: Chain 3, turnSc, ch 1, sc, ch 1, sc, ch2Sc in ch 2 sp, then work stitch pattern across to end with (sc, ch 1 and dc) in final ch 1 spRow 3 is worked just like row 2 in that you chain 3, sc in ch 1 space then will alternate single crochet and chain stitches, working single crochets into each chain space across the row until the chain 2 corner space. (Sc, ch 2, sc) in the ch 2 corner space, then alternate the chain and single crochet stitches until the final space, in this case the turn ch 3 space. Crochet ?(sc, ch 1, dc) in turn ch 3 space.Repeat the stitch pattern from row 3 for remainder of triangle.I hope you enjoyed this unique project.? It was fun to create something a bit different and it's been so nice to wear. I'd love to hear your thoughts or questions!XOJessicaIf you liked this, you might also like:SharePinTweetShare