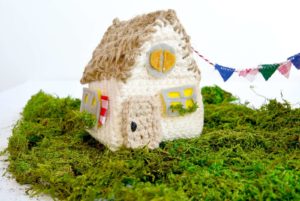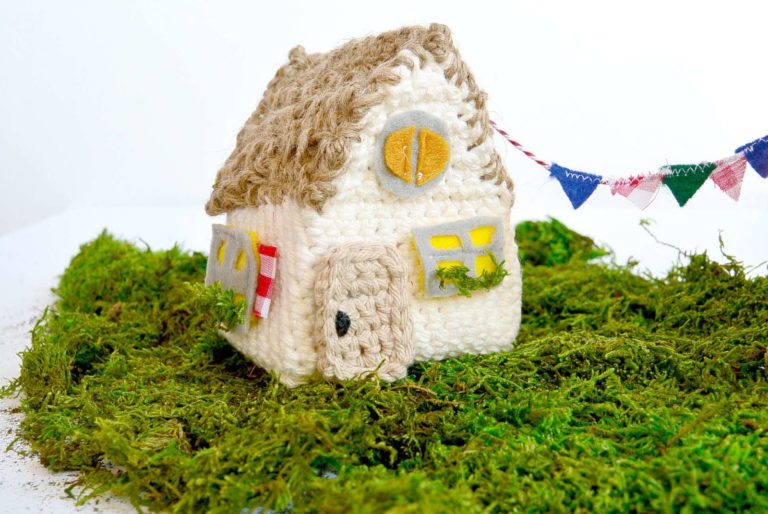 Friends, I bought twine to make an elegant lady's accessory (I still might make it) and then this happened.? I couldn't stop picturing a thatch roof once I started to crochet with the twine.I don't know if it was an "Aha" moment, or a "I've totally lost my marbles"?moment, but my?little girl loves her new little house – which in my book means it's all good. __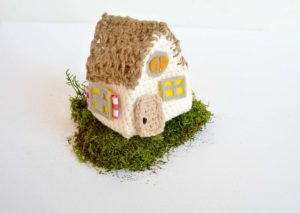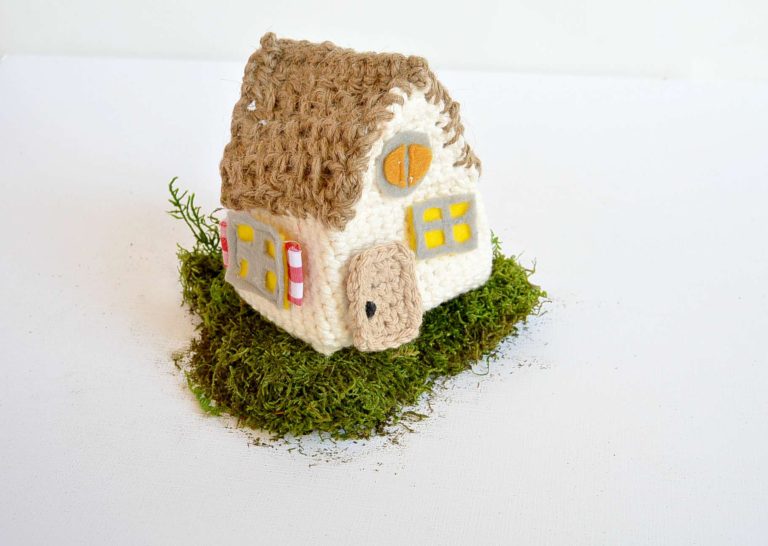 So?once I had the idea for the house, I excitedly told?the hubby?when he?said something to the effect of, ?"What would you use it for?". ?My blank stare ensued?and I thought, it's just cute why must there be a use.? BUT, it sure would be better if there was a use for it.I decided to make it so that the roof can open and you can keep any itty bitty little toys or miniatures in your house….VOILA! Then I started to get a bit out of control deciding what to put in my little house, what holidays to decorate it for, what characters will go inside, etc. etc.My girl loves horses over people, so we bought tiny horses for the house. __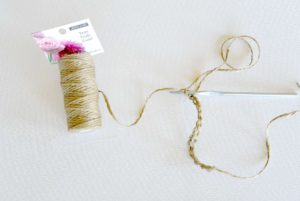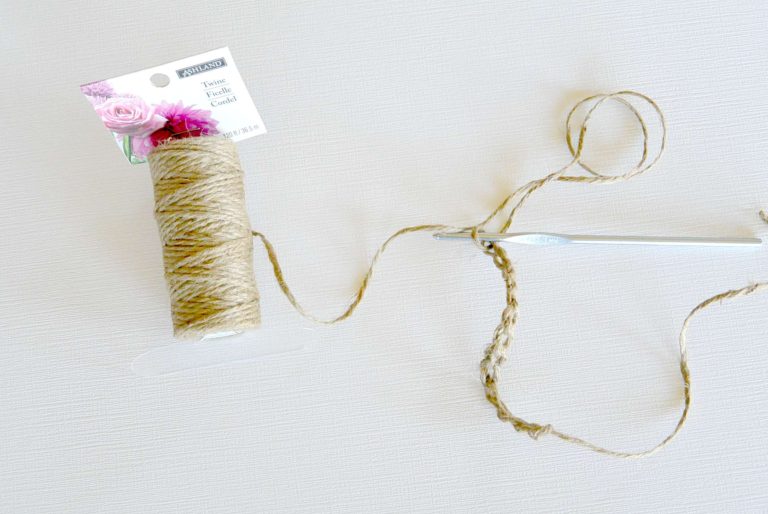 MY LATEST VIDEOSAll of the little creations that I have made stay inside the house. I left the back of the roof unattached so it can easily be opened and closed.?See pictures below of the various holiday "d??cor".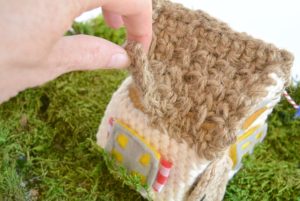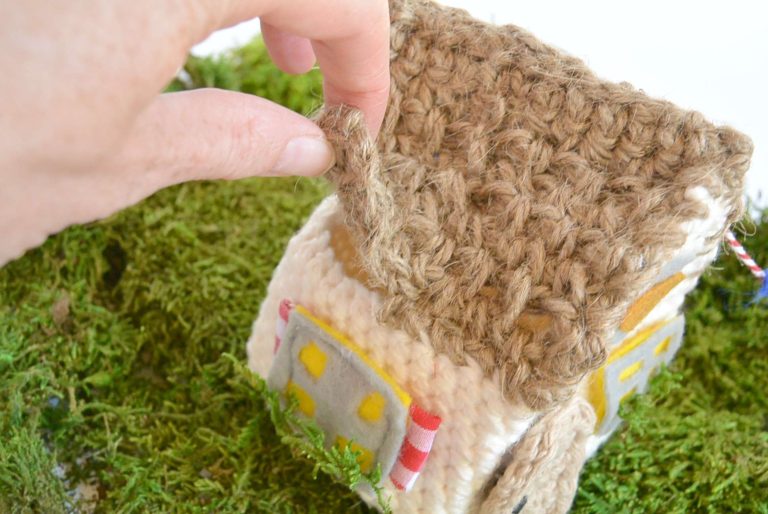 The roof opens to keep all of the little play toys tucked away inside – just like this OCD Mama wants them.I recently came upon little miniatures from my own dollhouse that I had as a girl. Bless my mom for keeping those for me and my daughter all these years. If you don't have some already, you can find darling miniatures at any craft store really. I have found several I want to buy at Michaels….trying to refrain, trying to refrain.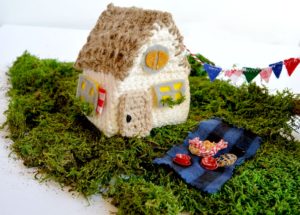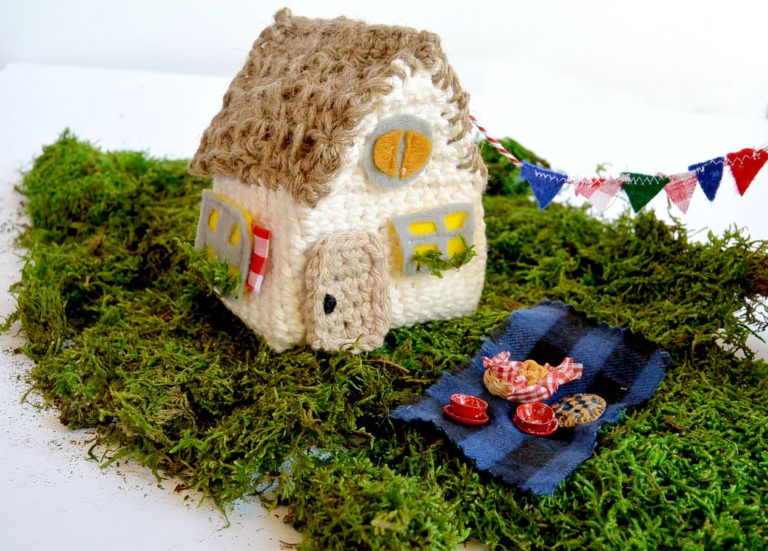 Summer picnic at the wee house.? That pie seriously made me hungry at one point while I was taking pictures.In the next couple of weeks, I will post more detail about this house, along with?the felt goodies and the pattern for the itty bitty pumpkin. But first, find the pattern for the house below :).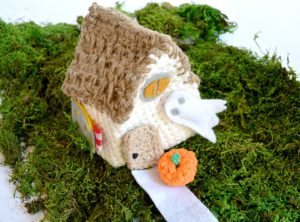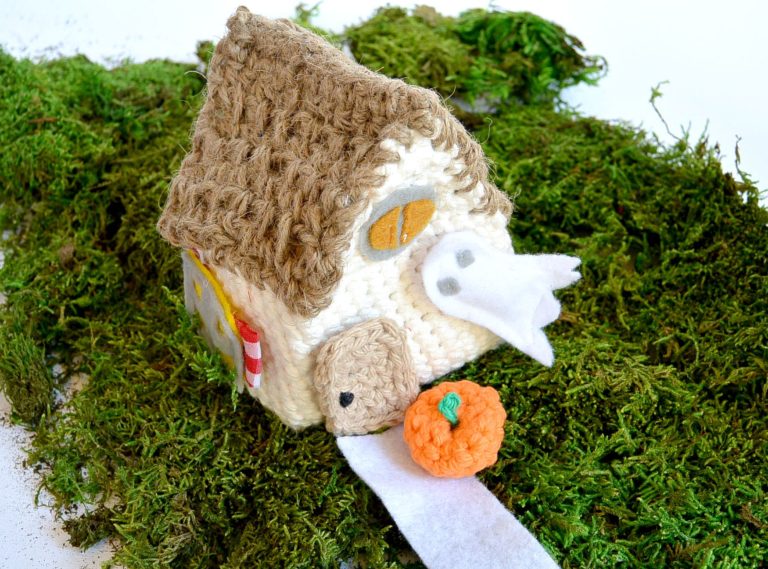 Halloween at the wee house. The ghost of all things is the favorite for my three year old. She already asked me for a monster and a witch. What's up with that? This gives "LIttle House of Horrors" a whole new meaning.I had so much fun making all of this little, tiny stuff.And yes, the windows, doors and ghosts all can be removed and re-arranged. More to come about that next week…..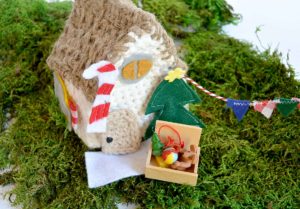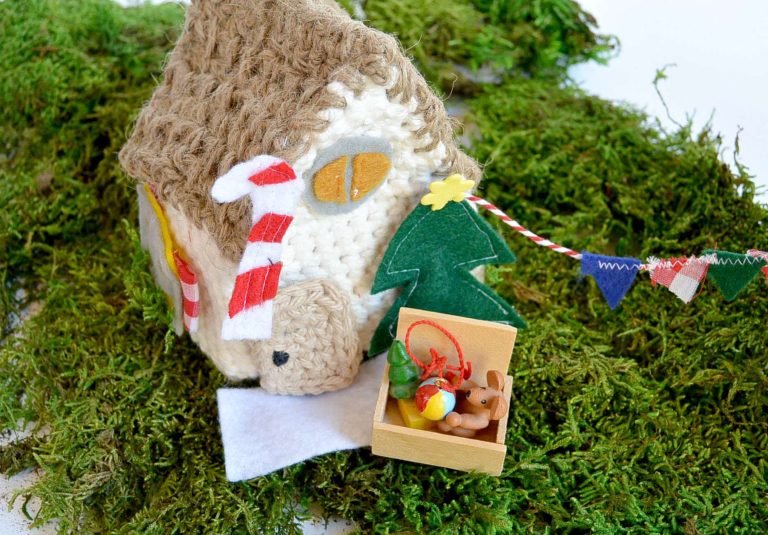 Christmas time! Santa left the toys outside – whoopsy!Here is what you need to make your own little house:SuppliesTwine as pictured above ( I bought mine at Michaels)Size F Crochet HookLily Sugar N Cream Cotton YarnFelt in various colorsTapestry Needle to weave in endsVelcro (if wanted)Sewing Machine, or needle and?thread to hand sew for the "d??cor"?(optional as well)Watch my little YouTube Video of my house being put to use here: __
Video Of My Little House In ActionNotes:The house is made with a rectangle base, then worked upward in the roundThe roof top is made from?twine and can be single crochetedMy base is about 3.5 inches x 3 inches. Each roof piece is about 3.5 inches x 3 inchesHow to Make the House "Pattern"With your Size F hook, and yarn, Chain 13Row 1 Single Crochet across row, chain 1, turnRow 2 Repeat row oneContinue this pattern of single crochet until you have a nice square, or rectangle ( again mine measures about 3.5 X 3 inches)Once you have a nice rectangle, SINGLE CROCHET around the entire square, making two stitches in each corner. In other words, do normal single crochet around but single crochet two times in each corner stitch.Now you will start the walls:To start the walls, single crochet in the FRONT LOOP ONLY. Put a place marker where you started. Leave this place marker here so you can see your rounds. When you finish the first round, you will then begin to single crochet AS NORMAL (no longer in front loop) for the remainder of the rounds.? You are working in the round, though this is a square. Go around, and around to build up your walls. Once your walls are about?2.5-3?inches tall, finish your round.Triangular Rooftop:Choose one of the shorter sides of the rectangular house to make your triangular rooftop.Row 1 *Attach your yarn if you need, and work single crochet across the top of the wall. Chain one, turn.Row 2 Single crochet the first two together, single crochet across row, single crochet the last two together*Repeat from * to * until you have two or three stitches left at the top. Tie, weave in all ends.Repeat this for the opposite side of the house.Thatch RoofFor the roof, you are doing two little rectangles and attaching them to the topYou have two options…Option 1: Single crochet the roof top1. Chain 13, Single crochet across row, Chain 1, turnRow 2 Repeat row one. You are single crocheting the entire roof.Option 2: Moss Stitch the roof topChain 13Row 1 Single crochet across row, Chain 1, turnRow 2 Single crochet in first stitch, chain one, skip chain, single crochet in next stitch. Repeat this until end of row, single crochet last stitch, chain one, turn.Row 3 until length reached to cover side of one triangle at the top of the roof, repeat row two for remainder of roof side.Once you have two rectangles that will fit on your roof, use your tapestry needle and twine ?to whip stitch the roof to the top of the house.? Leave the back half of one of the long sides unstitched so that it can be opened if desired.Here it is, coming together with one side of the roof attachedWindows and DoorThe windows are simply cut out from felt. Use any colors or shapes that you desire. You can attach them with hot glue, sew them on, or use velcro as I did (more to come about that.)The door is just a small single crocheted rectangle, with a black stitch for the door handle.*Maybe I don't need to do this, but here's my official sounding disclaimer. Don't let small children play with tiny toys including any that might fit in this house – read the labels on the tiny miniatures that you put in the house to see what age they are appropriate for. No blaming me if your little puts a toy down the hatch!So?any other ideas out there on what to add to my little "fairy" house? I'd love to hear what you?think.Also, as always, don't hesitate to ask me questions or let me know what I can do to improve my instructions. If you liked this, feel free to subscribe by entering your email address or follow me on Facebook. Thanks so much! __SharePinTweetShare