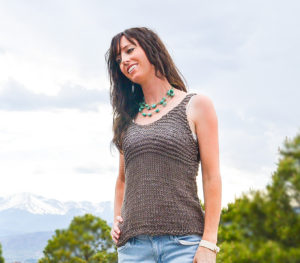 I have avoided knitting a top because I couldn't seem to find a pattern that was easy enough for me to follow. Can you relate to me on this? They all seemed to have "shaping", complicated instructions,?or?they were?just too intimidating for a newbie like me. I looked around?the internet and even checked out some knitting books at the library.? I figured there must be a way to make a?classic top for?summer that was easy enough for me to finish, and so I cast on and tried to?design me a shirt. Ha ha! __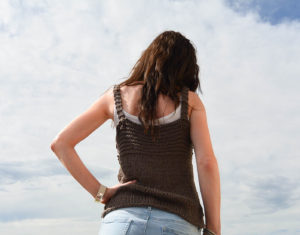 Quite honestly, it was a shot in the dark with this top.? At points as I was making it, I was saying to myself…hmmm..ugly, or not ugly. But when it was time to seam up the two sides, and weave in the ends, I was in love!? I am going to?be wearing it all summer with a white tank, but it would make a great swimsuit cover up. You could even where it under a blazer or jean jacket to dress it up. Heck, wear it with nothing underneath if you're crazy like that! __I had the joy of knitting part of this top in the beautiful Rocky Mountains. My daughter and I took a little break to have a walk, and it started pouring rain.? I caught this picture as we were heading for shelter (don't tell my hubby that I got the camera lens wet – eek!).

MY LATEST VIDEOS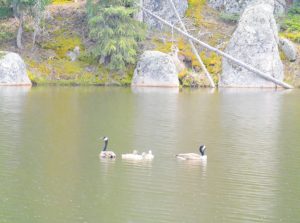 Okay, back to the easy knit top…..Before you get scared off because it's a top, and not a scarf, let me tell you why this is SO easy ( I do NOT suggest though that this be your FIRST project – you do need some practice):It is knit in two pieces and seamed.You only use knit and purl (it is partly done in stockinette, and partly done in garter stitch).The back is literally a square (you know how to do that).The front is made from the bottom up, and starts as a square.To make?the top, you will need to know how to cast off stitches, and knit two together. If you don't know how to knit two together, just look it up on YouTube. It is the easiest thing ever, and will open you to a whole new world.You seam the two sides together, and done.The pattern is forgiving, and even a mistake (including an extra stitch) here and there isn't a big deal.See, not scary at all!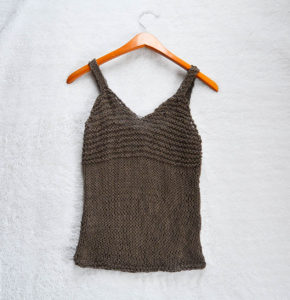 This top is basically a square, with two triangles worked on the top, and two looooong rectangles for straps. Easy. __Notes:This is for a size XS – Medium (probably a small medium)? The reason I say it would fit these range of sizes is that it is SUPER stretchy, and loose fitting on me who is a XS or S.If you want to make it in a size large, I will give you the gauge, and you may be able to figure it out by simple adding stitches when you cast on for either side. It might be helpful for you to look at a shirt that you have that has a nice fit, and match as closely as you can looking at my gauge and sizing information.It's a very open fabric because it is worked with a worsted weight yarn, and large size 13 needles. This makes it nice and cool for summer. __Approximate Gauge: 3 stitches and 3 rows in one inchShirt Measurements: Approximately 15.5″ across, and 14 inches from the center top to bottom of shirt. It's stretchy. __You will need:Two skeins worsted weight yarn ( I used Lion Brand Cotton Ease in Taupe?) I found it to have a nice drape and wanted to use a cotton or cotton blend yarn.US Size 13, 16″?Circular Knitting needles (You can probably use straight needles, it just might not be as easy)Extra size 13 needles (this is for when you will work on the top and have to?slip stitches off onto another needle?– don't worry, it's easy)ScissorsTapestry NeedleHow I Made It "Pattern"Front Panel:With your size 13, 16″?circular needles, cast on 46 stitchesRows 1 –?5 Knit stitch (Garter Stitch)After you do five rows of garter stitch, begin working in stockinette stitch (stockinette is alternating rows of knit, purl) Complete?10 inches of stockinette stitch.After you complete 10 inches of stockinette stitch, you will begin to garter stitch.Garter stitch for 3 3/4 inches or about 17 rowsBegin Making Arm area and creating the upper portion of top:After you've done the 10 inches of stockinette, and 3 3/4 inches of garter stitch (so far you have a square piece of fabric), on the following row, knit cast off the first four stitches at beginning of row. Knit across. Knit cast off 4 stitches at the end of the row. You will have 38 stitches left on your cable needles. (This cast off portion is where your arms go)You are now going to take the stitches that you have on your needle, and divide them on to two different needles, 19 stitches onto each needle. Leave one side on the cable, and the other on your extra size 13 knitting needle. (**If you've ended up with an extra stitch or two, it's ok, just make sure that you have them divided evenly on each needle. If you need to decrease a side to get the same amount as the other side, do so. Just add or take away your stitch difference for the remainder of the pattern)From now on, these are two separate knit sides. Don't worry, it's easy (see the picture below).V Neck portion:Start with one side, either side is fine. You are now making one side of the top, upper portion of shirt. You will be knitting a triangle.*For the first row of the V-neck portion, knit (garter stitch) across rowThe next row, you need to knit the first two together, knit across row, knit the last two together.*Repeat from * to * until you have 11 stitches left on your needle ( You are alternating, knitting across row, then knitting two together at beginning and end of the next row)When you have 11 stitches left on your needle, you will do this on your final row of the triangle: knit three together at beginning of row, then knit two together ACROSS ROW so that you have 5 stitches left on your needle.Your strap is beginning with these five stitches. (If you're off a stitch, just note it so that you can make the other side the exact same. For instance, if you end up somehow with 6 stitches, it's ok. Your strap will be a bit wider than mine, but it's not the end of the world) Now for the really easy part. __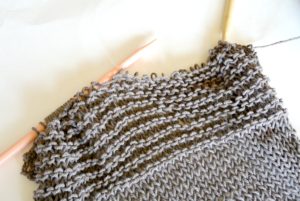 Here I have a square, and I have slid half of the stitches off onto my extra size 13 needle. Each side will be worked separately now.Strap:You will now knit each row (garter stitch)Garter stitch until your strap (slightly stretched) is about 12 inches long, or about 34 rowsCast off stitches. Weave in all ends.You will attach this strap to the back side when you assemble the shirt!Repeat the V-Neck Portion instructions from above for the other side of the FRONT of the shirt. Complete the strap the same way as well. Now your front panel is complete.? It looks kind of funny before you seam it together, don't worry.? It is shaped so that your arm has space to move around!Back Panel:The back panel is started exactly the same as the front panel. It is simply a square.With your size 13 circular needles, cast on 46 stitchesRows 1 –?5 Knit stitch (garter stitch)After you do five rows of garter stitch, begin working in stockinette stitch (stockinette is alternating rows of knit, purl) Complete?10 inches of stockinette stitch.After you complete 10 inches of stockinette stitch, you will begin to garter stitch.Garter stitch for 3 3/4 inches or about 17 rows, cast off, tie off, weave in ends.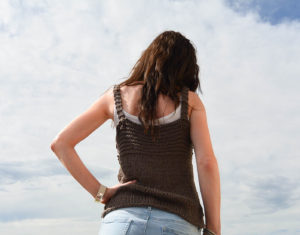 See the back? It is a square, and the straps are brought over from the front and seamed onto the back.Seaming:Connect straps to back panel, and seam. Tie off, weave in ends.With right sides together, whip stitch from top down just the garter stitch portions on each side of top. Tie off and weave in ends.Turn right sides out.Use the mattress stitch to stitch down the stockinette portions. If you've never used the matress stitch seam, you can look it up on YouTube to see how it is done. With this seam, you will not even know there is a seam in your stockinette.I hope you have fun trying out this knit top, cover-up, tank, sweater, whatever you want to call it. __As always, please let me know if there is anything that I can clarify or improve in my instructions.What do you think, would you attempt this top? Have you found any easy patterns for shirts? If so, I'd love to hear about them!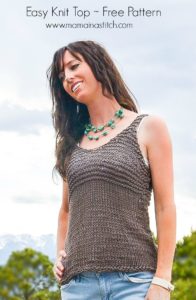 If you enjoyed this, please feel free to subscribe to my newsletter or blog (simply enter your email address) for all of my free patterns. You may also follow on Facebook, Instagram or Twitter! Thank you so much.SharePinTweetShare