2K Shares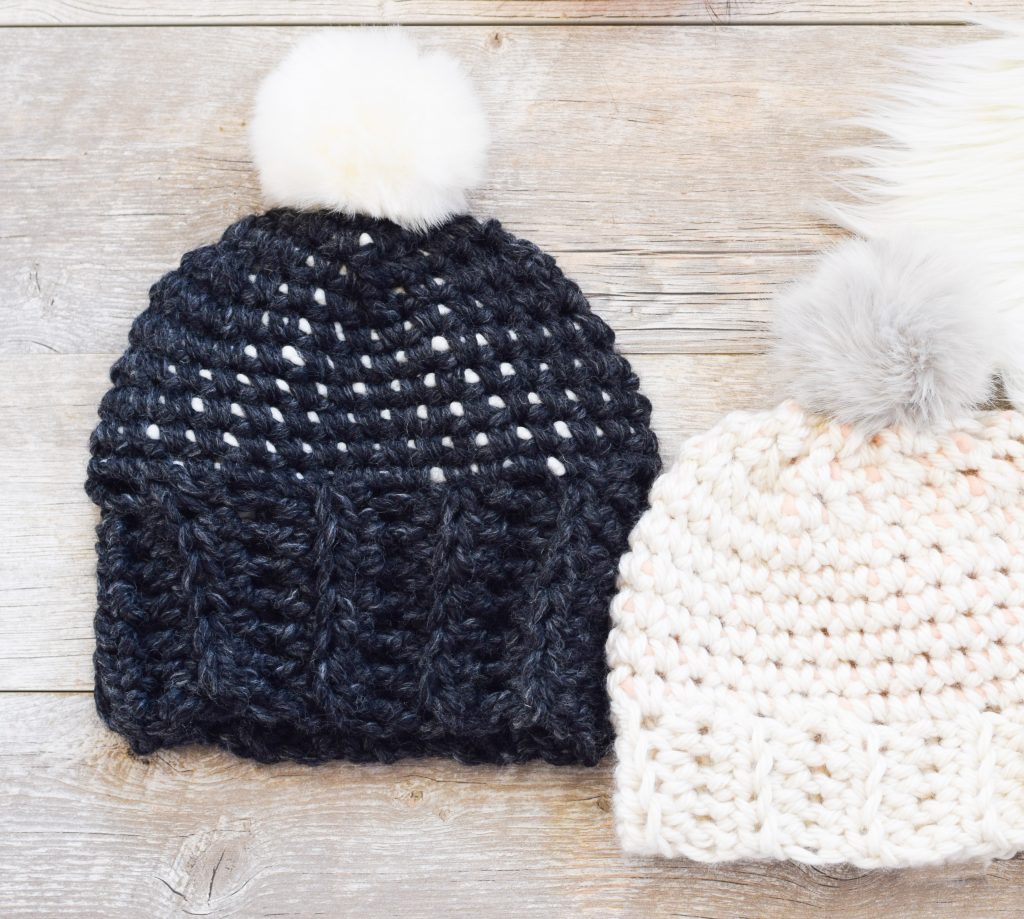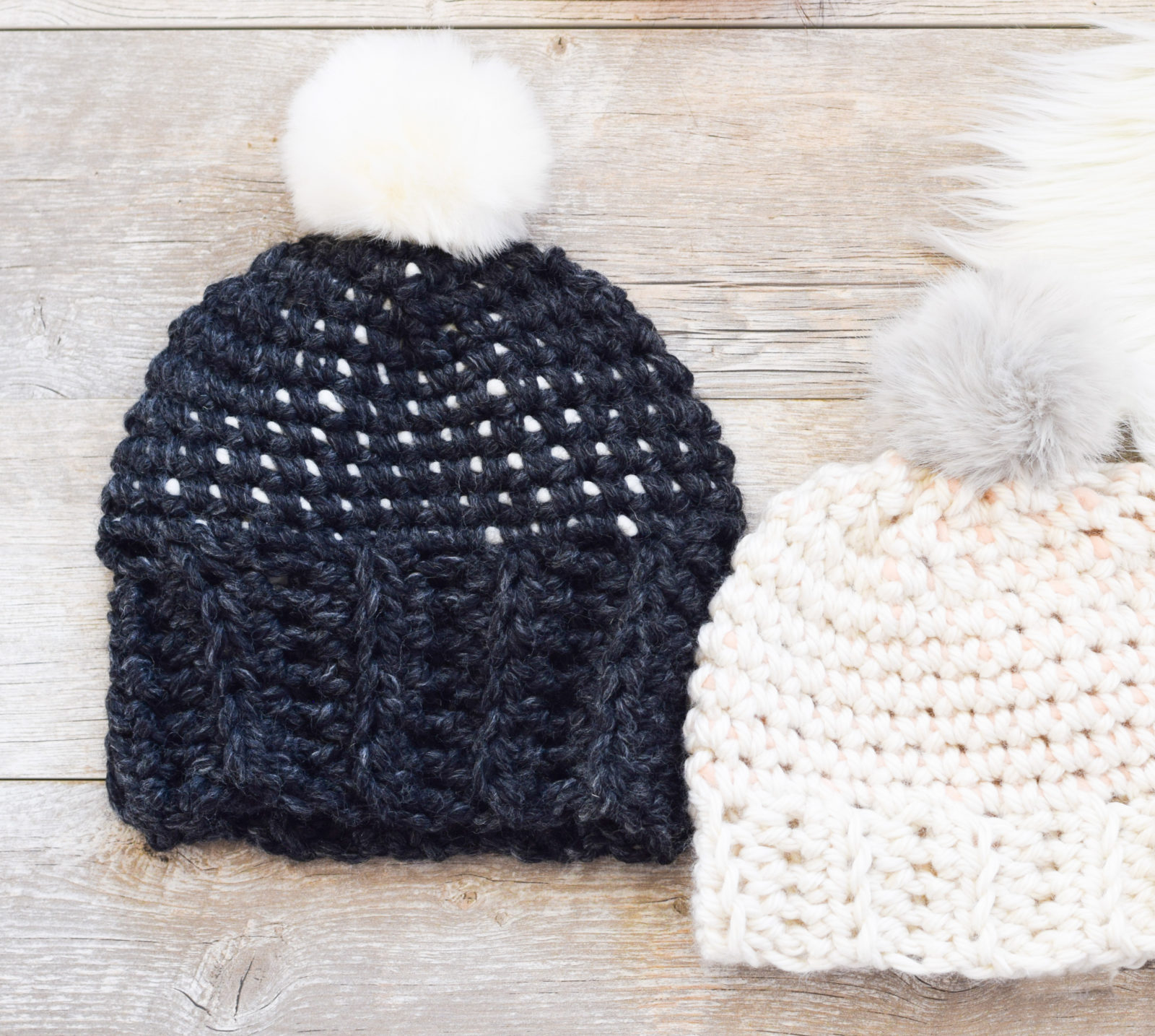 I recently realized that I hadn't created a hat pattern this winter! Last year, I enjoyed making the?Favorite Beanie and the Big Pom Ski Lodge Hat?which are posted here on the blog. ?The hat that I'm sharing with you today was created with the beginner or new crocheter in mind. Plus, I just wanted to make something quick and pretty mindless with my left over yarn. It's not for a brand new beginner, but it's a goodie for someone who's comfortable with single crochet and half double crochet.??When I first started to knit and crochet I didn't want to make anything complicated, but I still wanted it to look kinda cool. So while this hat doesn't have any fancy shaping or counting, it turns out pretty cute and it's a bit unique. It's a good project for someone who likes easy. Again, it's not for baby beginner who has never picked up a hook, but it is good for toddler beginner that knows the real basics. __ ( Please don't expect your baby or toddler to make this. He-he! )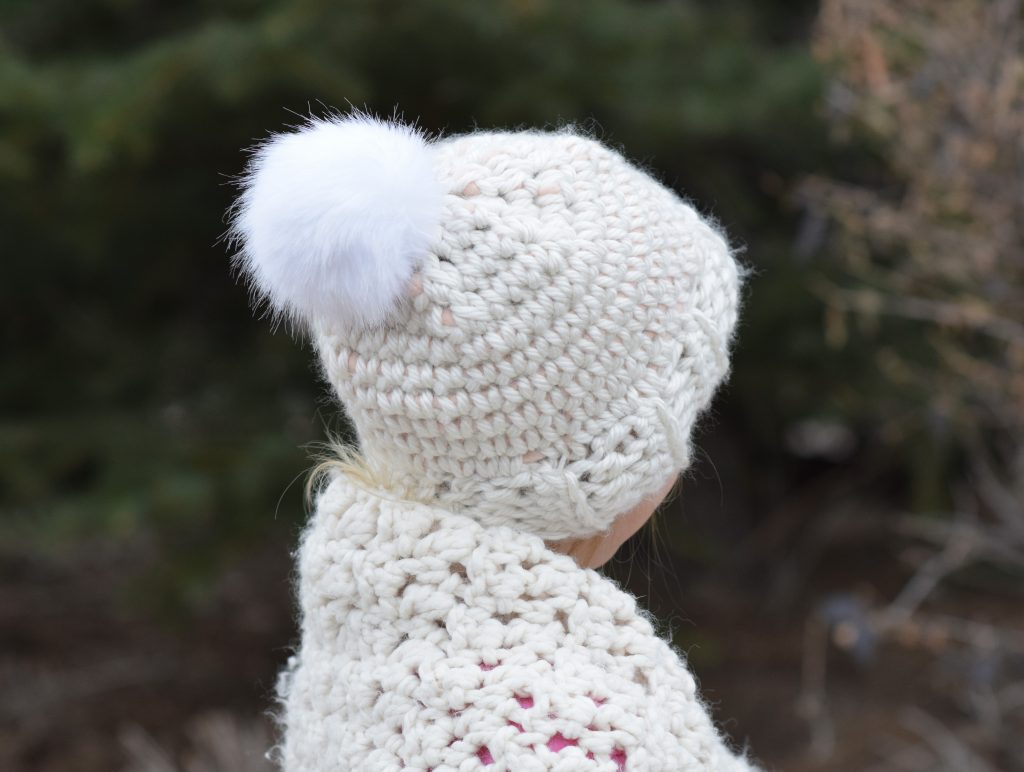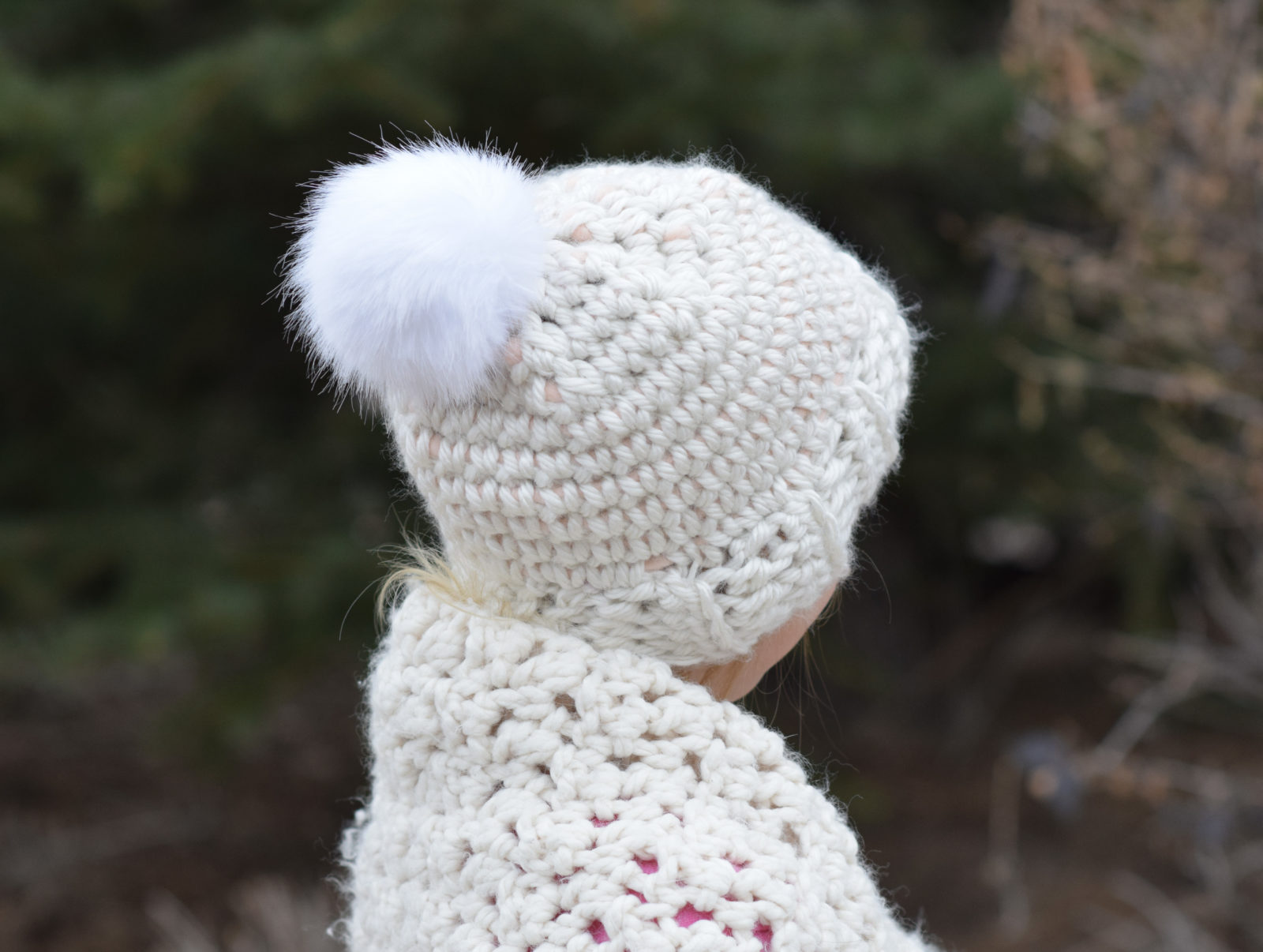 Doesn't this almost look knit? My girl loves her new hat. I let her pick the pom and she went with white.I'm staying on the big and chunky train, and have also hopped on the faux fur pom train for this hat. ?I have so much super bulky yarn left from projects over the last few months! It was time to use up some of that yarn, so you'll find that for the black hat I used up my Lion Brand Wool Ease Thick & Quick yarn. The?cream hat is a mix of my Lion Brand Hometown USA?and my We Are Knitters super bulky wool in Salmon.

MY LATEST VIDEOSThis is made a lot like some of the crocheted baskets that I've seen. For a basket, you might crochet around a rope to secure it, and you?work in rounds. ?Same concept for the hat. You will be crocheting with another length of yarn inside your stitches. Does it sound hard? It is NOT hard. ?You single crochet. And there's a piece of yarn laying in the stitches. That's it! You carry the yarn through, just as with tapestry crochet, but you never actually pick it up and use it. It's?much, much easier than tapestry crochet.?( I love tapestry crochet by the way. I've done all kinds of fun stuff with it including this Fair Isle Bag, Modern Camp Blanket and Southwest Tote)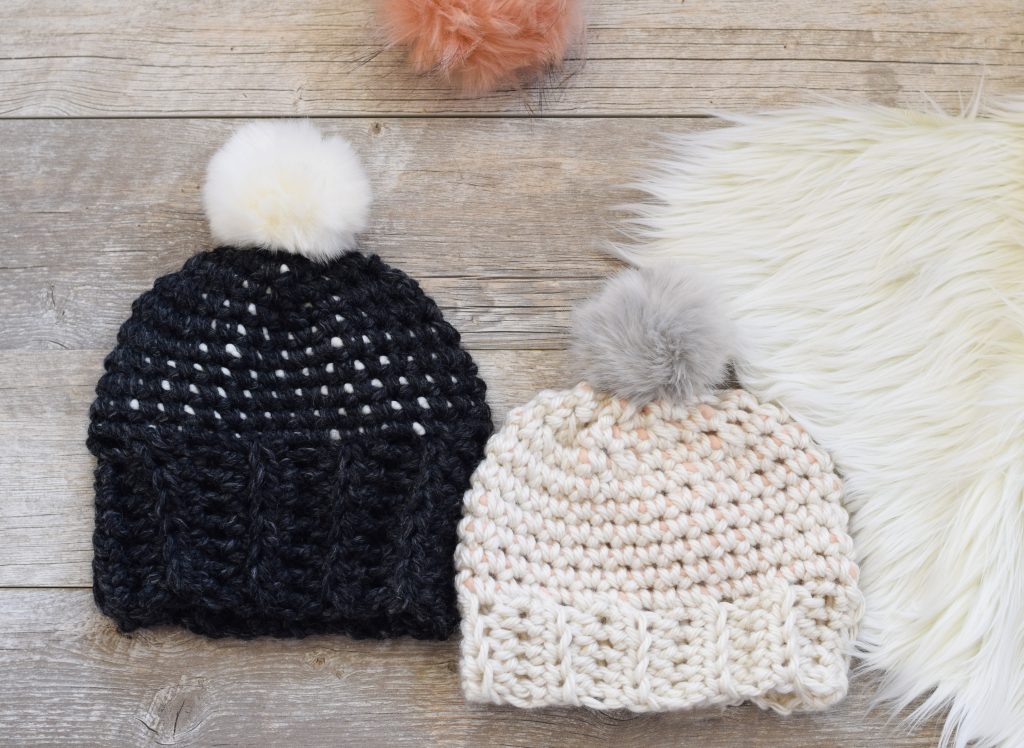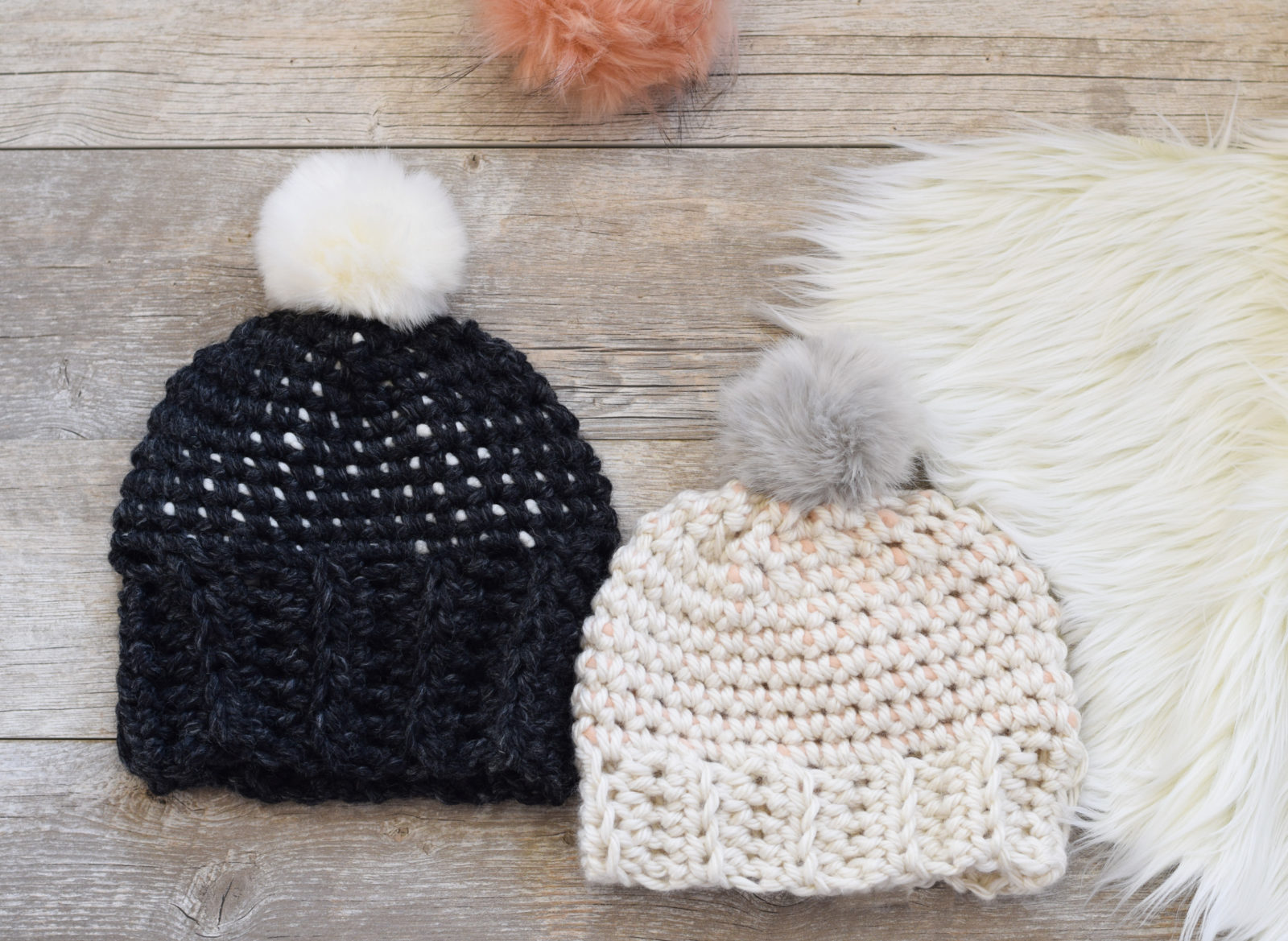 For the cream and salmon hat, I simply made the ribbed brim a bit shorter so that it would fit my daughter. The salmon yarn was?from the recent Deja Vu Hat that I posted from We Are Knitters. I found the poms, which are actually key chains from the store Claire's Boutique.The faux fur pom hats are all over the?stores these days, right?I called around to the Michaels stores in my city and none of them had the faux pom poms in stock (even though it turns out that they did – read on). ?I then went on a crazy fur pom pom hunt through the local mall. I found some at H&M that were around $6.00, but I really wanted to have the pink one which I found at Claires Boutique. ?They were between $9.99 and $12.00!!! UGHH! That is a receipt that I will be hiding from the husband! They had smaller ones at Claire's that were $5.99 and were attached to hair ties. I suggest getting a Michaels 50% off coupon and buying?their pom key chains.?In this case, they'd be reasonable at just a few bucks. AND, if you call Michaels make sure to ask if they have the Pom KEY CHAINS. They had them the entire time, but only looked for faux fur poms without key chains attached of course.?Now I know!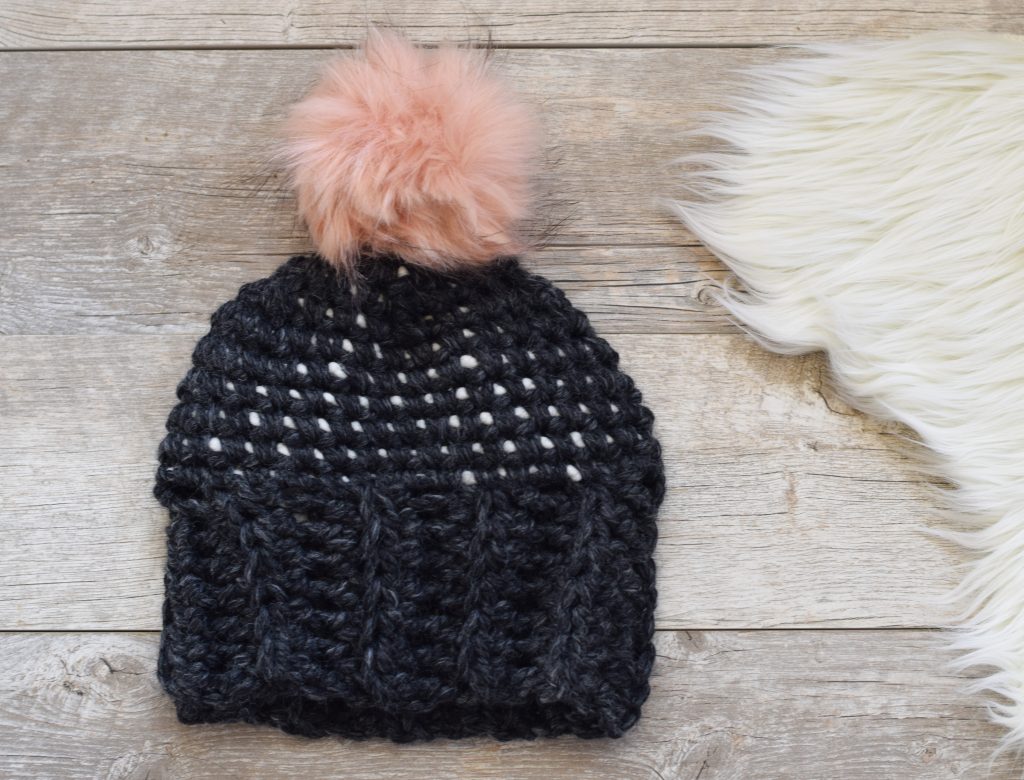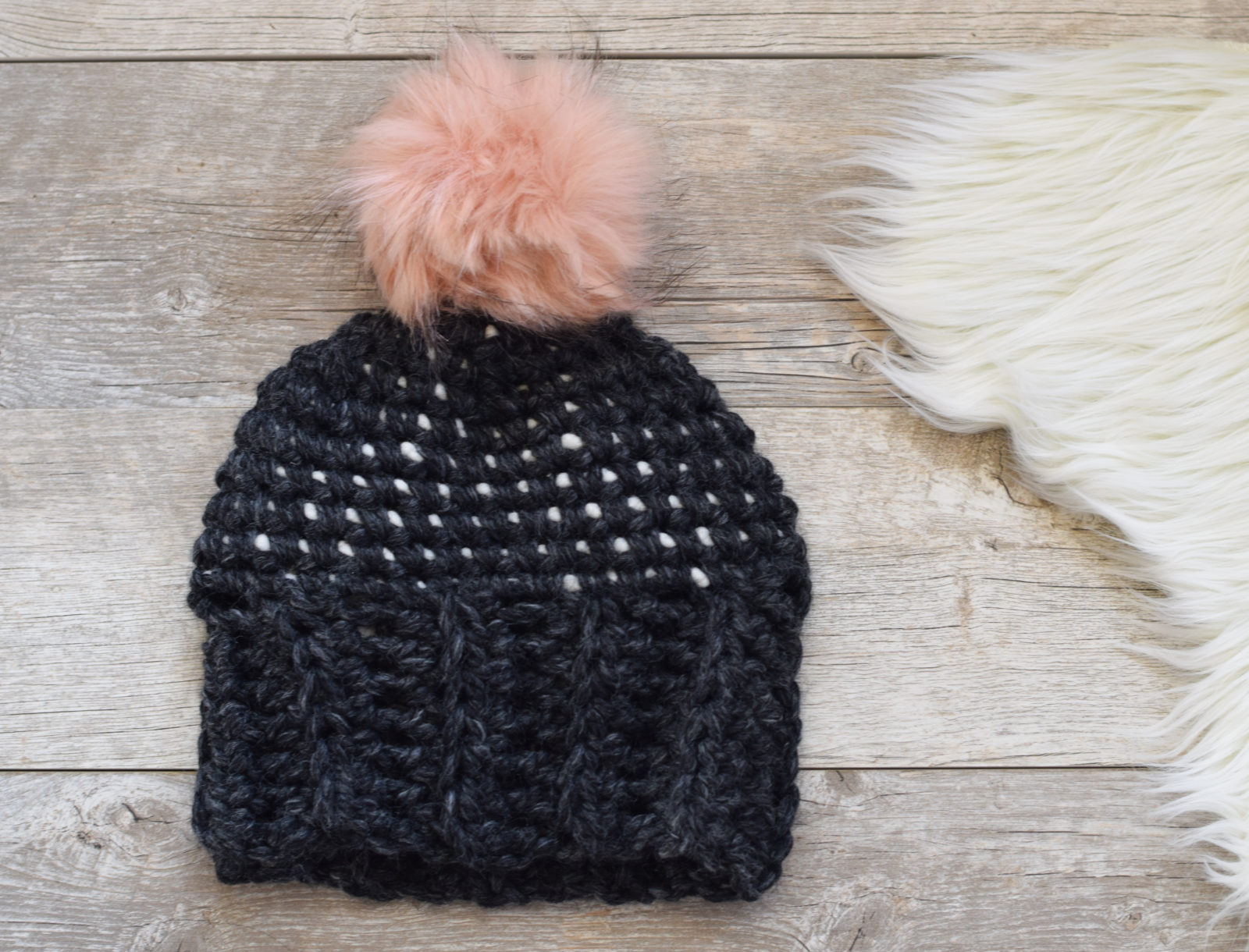 I asked you on Facebook and Instagram if I should go with the pink or white, and it seemed most of you liked the pink! I actually kept both and tied the pom on in a manner that I can change it easily. Then I can wear it both ways and switch it up. I'm just not sure that I'm adventurous enough for the pink.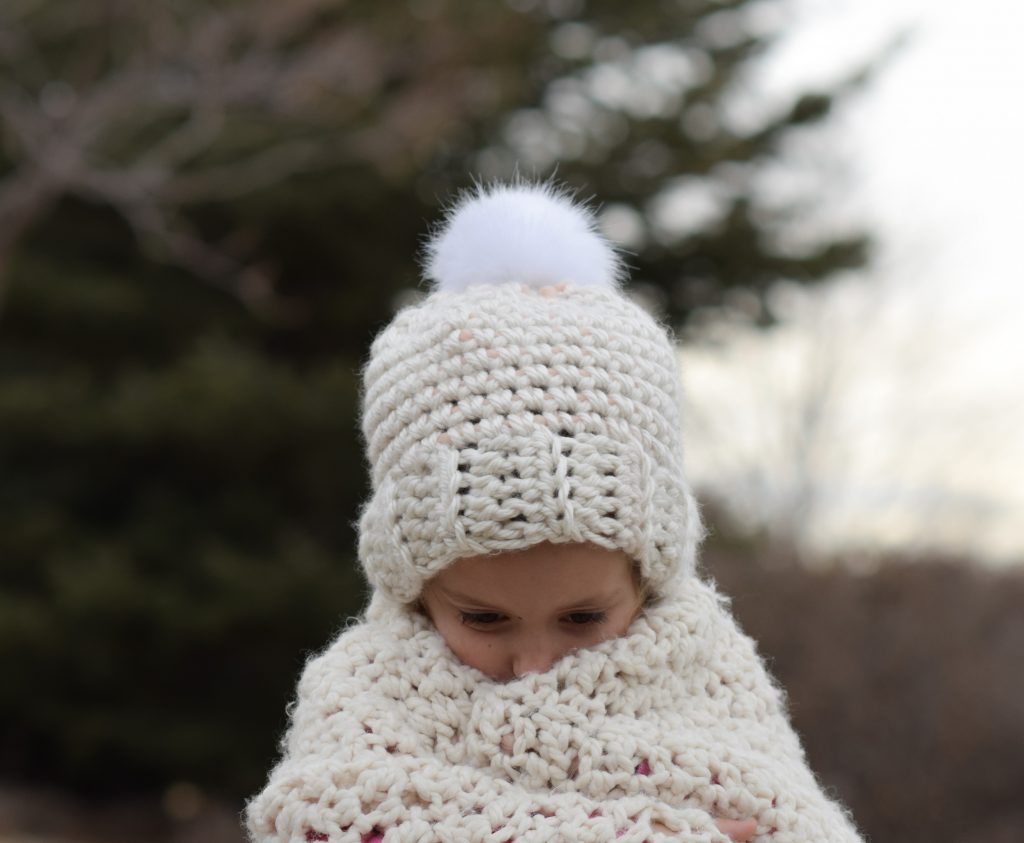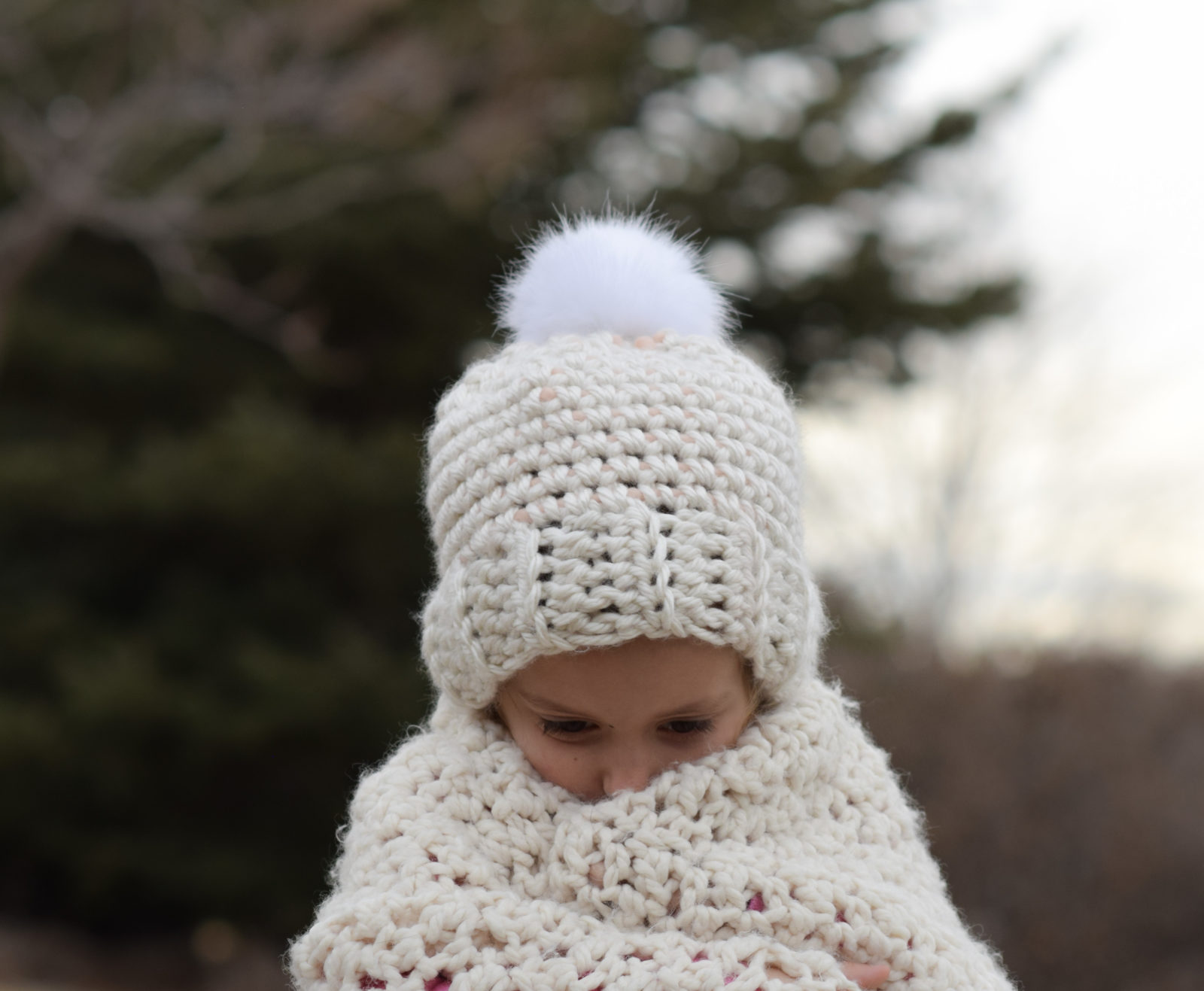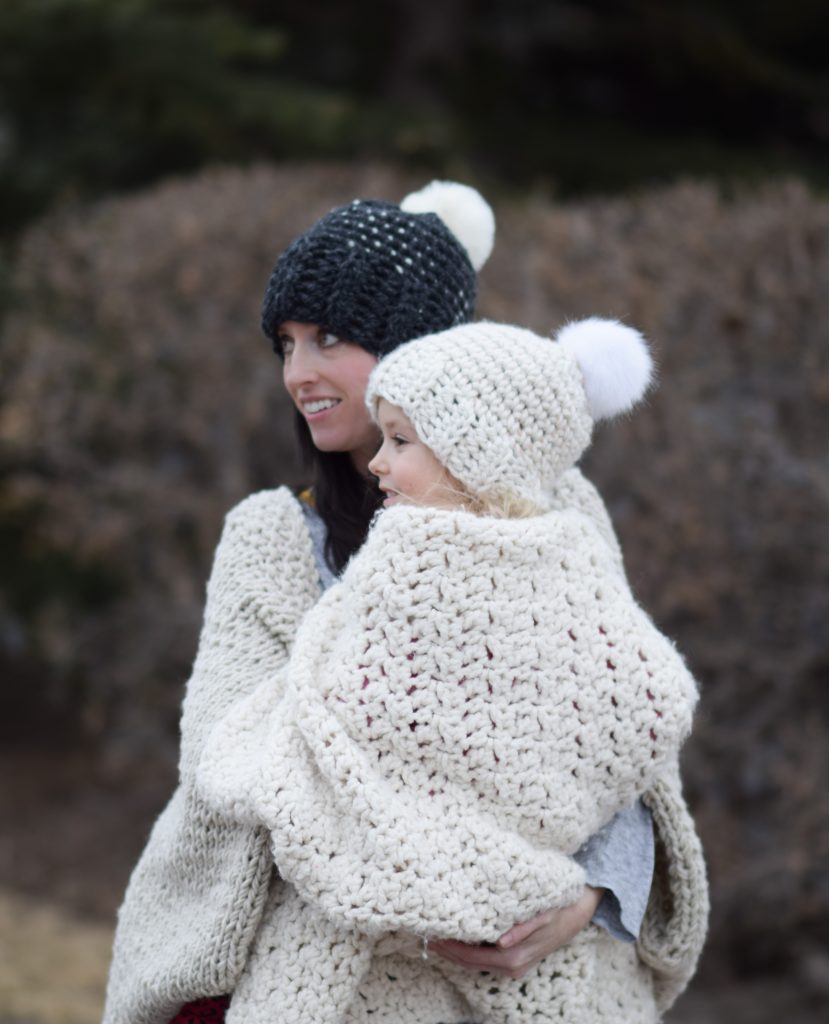 One can never wear too much yarn.Ready to crochet this easy, peasy hat?Description:This crocheted hat features flecks of color that add dimension and interest! The unique look of the stitch and pattern creates almost a knit look, yet it can be done even by someone who is fairly new to crochet.? The dark contrast with the light is reminiscent of beautiful, starry skies.Sizing: Pattern is for an adult womanCircumference is approximately 20 inches around (hat is stretchy)Approximately 9 inches from top to bottom( I didn't write out a seperate pattern for the child's hat, pictured in Cream and Salmon. All I did was make the beginning chain for the brim shorter and left the rest of the pattern the same. The Salmon yarn was a bit bulkier than the cream yarn, so this made the hat fit a bit tighter which worked for my daughter too. )You will need:US Size N 10.0 mm crochet hook1 skein of Wool Ease Thick & Quick in Charcoal and 1 skein in Fisherman (170 grams/skein and 106 yards) The hat uses a very small amount of the contrast color. Main color is charcoal and contrast color is Fisherman. Pattern uses 105 grams of charcoal and just 10 grams of Fisherman. (Its a great project to use up some super bulky scrap yarn for the contrast color)ScissorsTapestry needle to weave in endsFaux fur pomCrochet thread or sewing thread (and sewing needle) to attach faux pom to hat(These poms were purchased at Claires Boutique and are actually key chains. I removed them from the key chain. Ive seen faux poms at Michaels stores as well and more key chains with faux poms attached at H&M)Gauge:Approximately 1 ? ?stitches per inch on body of hatSkills & Abbreviations:ch – chainhdc half double crochetsc single crochetskip stitchdecrease by crocheting two togetherNotes and Tips:You will start this pattern by creating a ribbed brim for the bottom portion of the hat. This is done by making half double crochet stitches in the back loop only. The mid and upper portion of the hat is simply made by single crocheting with the main color around the contrast color. You will carry the contrast color throughout the mid and upper portion of the pattern. (See picture tutorials below for help)This is also noted below, but you need to pull the contrast color as you work to tighten as you will find it bunching up on the inside of the hat. However, also keep the hat nice and loose by stretching it once you have kept the contrast color from bunching. Simply give your work a tug from both sides simultaneously as you finish each row to ensure you??re not crocheting too tightly and that your hat will fit comfortable.Pattern:Bottom Ribbed Portion of HatCh 8Row 1 ?Half double crochet (hdc) in 2nd chain from hook and each stitch across row, turn. (7 stitches)Row 2 ?Ch 1, *hdc in back loop only in 2nd stitch from hook*. Repeat from * to * across. (7 stitches) Turn.Repeat row 2 until for a total of 20 rows. (For a smaller woman??s head, you may make 19 rows, and follow the pattern as written for the remainder of the hat)You will now join the two ends together.? You can do this with your preferred method (such as in invisible seam method) or with a simple whip stitch using your tapestry needle.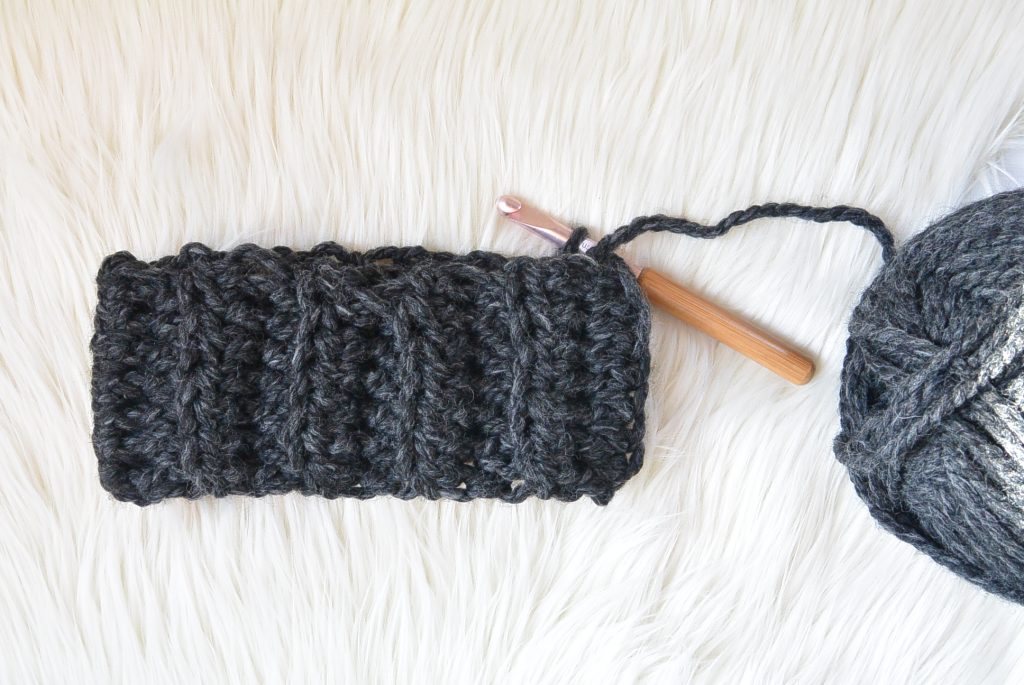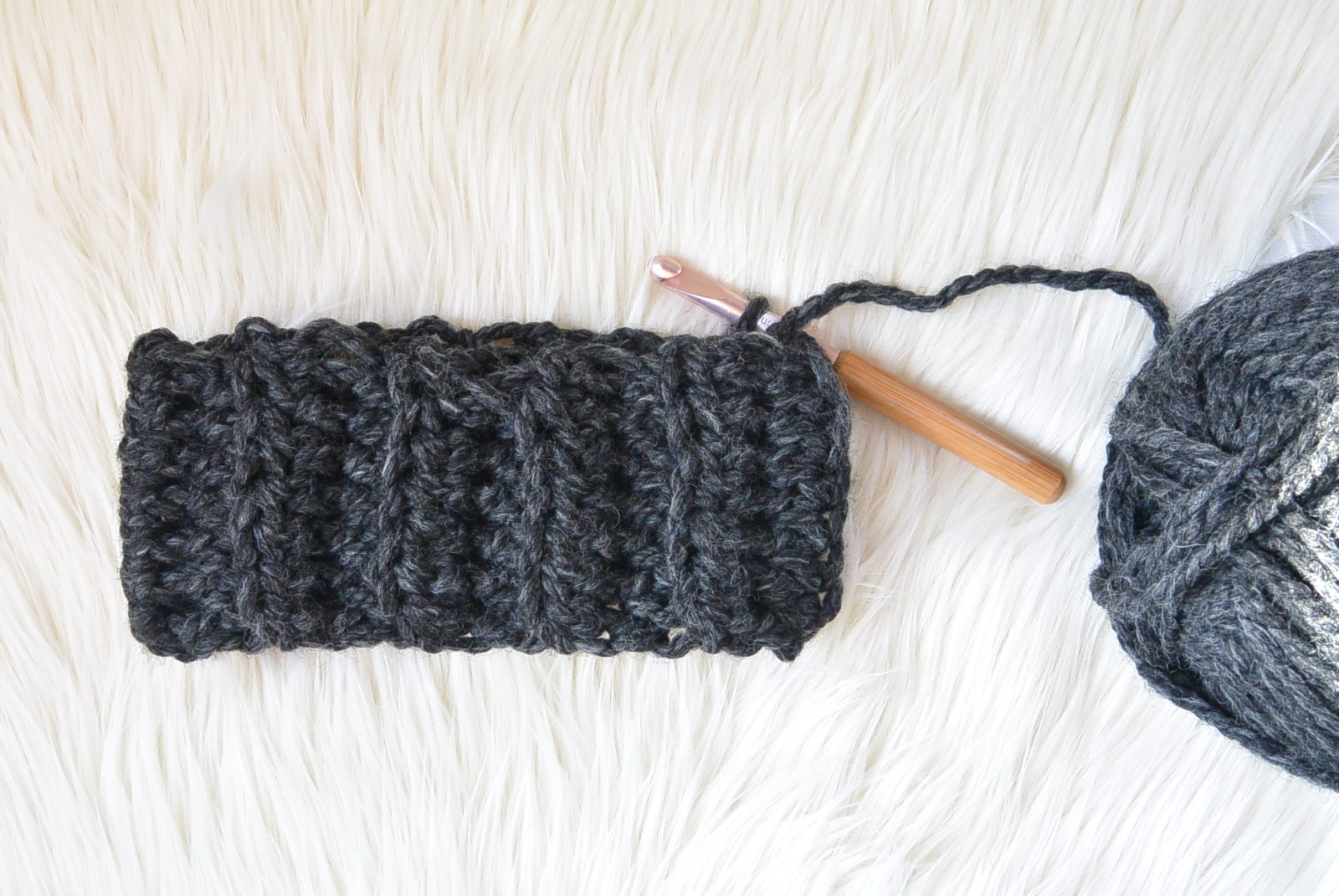 Above, you can see that the two ends have been joined and now you will proceed to the mid and upper section.Mid Body and Upper Portion of HatAttach your yarn to the upper portion of the ribbed portion with a slip stitch to secure. You may also secure the Fisherman (contrast color) with simple knot for extra durability and so it doesnt pull out as you will now begin to carry it through your hat. Carrying the contrast color of yarn along your work, you ?will single crochet around it as you go (Be sure to see my picture tutorial below).? In other words, you single crochet as you normally would, only there is a piece of yarn running through it!IMPORTANT: Also, make sure you keep the contrast color from bunching up by looking at the inside of the hat for bunching and pulling the contrast color gently as you go. Be sure to keep your hat loose and stretchy by tugging both ends as if to stretch the hat every so often. This tugging will also enable the white to show through nicely.Round 1 Sc evenly around, with the contrast color inside of your stitches, making a total of 35 stitches around.(If you like to count stitches at the end of each round, then you might want to mark your rounds)Repeat round 1 , working in continuous rounds, for a total of 6 rounds. (Working in continuous rounds means that you do not need to join each round. Just go round and round!)Once youve worked 6 rounds, you will begin to work decrease roundsDecreases at Top of HatRound 7 & Round 8 ?*3 sc, sc2tog. ?Repeat from *around (continue to carry the contrasting yarn through these rows and throughout the pattern)*In other words, work three single crochet stitches, working around the contrast color as normal, then crochet two together to decrease, still keeping the contrast color inside of your stitchesRound 9 Sc around, keeping your contrast color on the inside as you have done throughout this portion of the hat.Tie OffFirst, secure your contrast yarn to the hat so that it wont come out or pull downwards by tying it with a knot to your main color at the top of the hat.? Now, with a length of yarn and your tapestry needle, work through each stitch at the top of the hat. Pull tightly to secure and to cinch the top of the hat closed.You can then either make a pom-pom by hand, with a tool, or as pictured, use a store bought faux fur pom! If you have a faux fur pom as pictured, I found the easiest way to attach it was with either by using a small tapestry needle and crochet thread or a sewing needle and thread. Be sure you work through the pom and your hat several times to secure. Tie off, weave in ends if necessary.Crochet Picture Tutorial For Starry Sky Hat: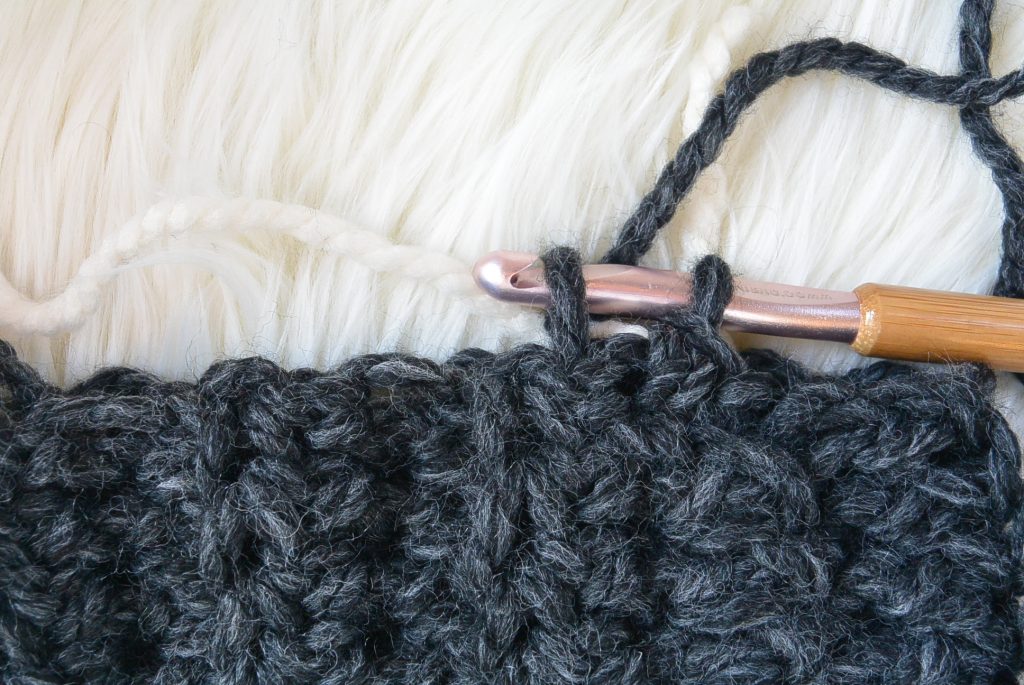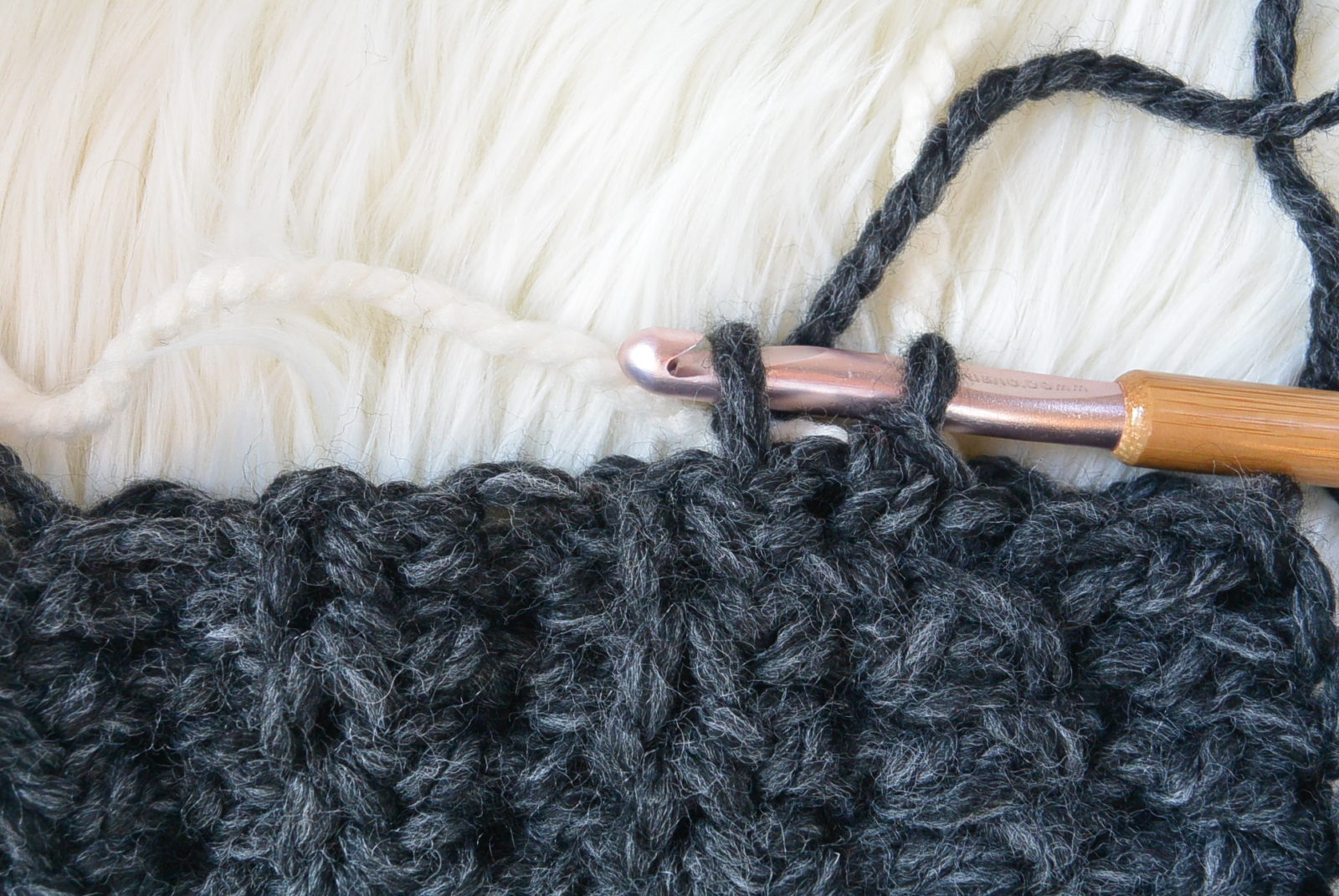 I am single crocheting around the cream color yarn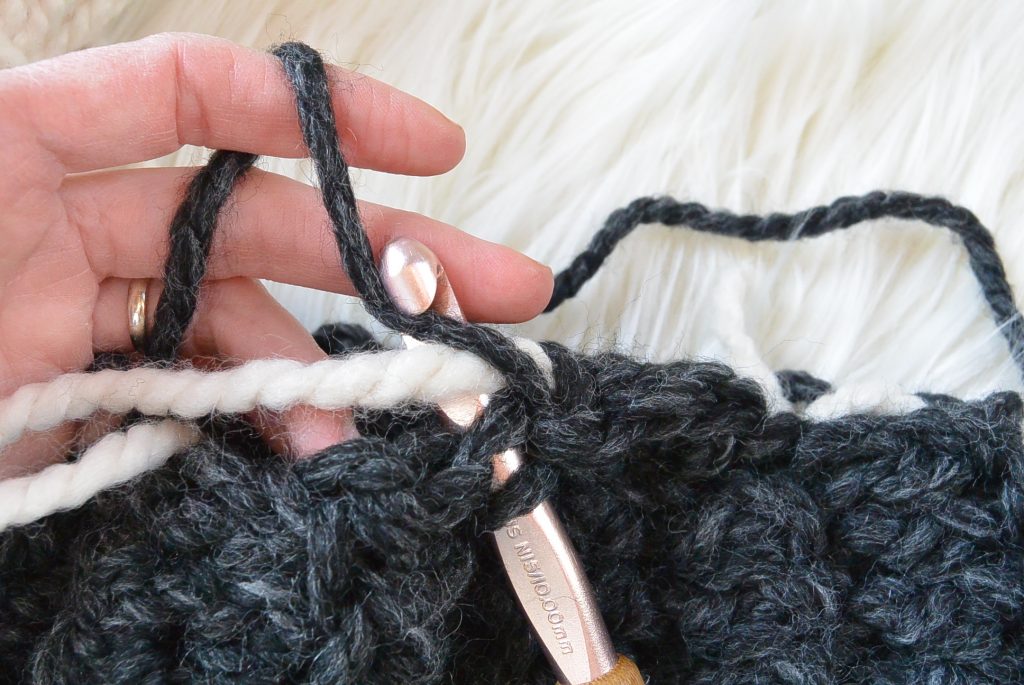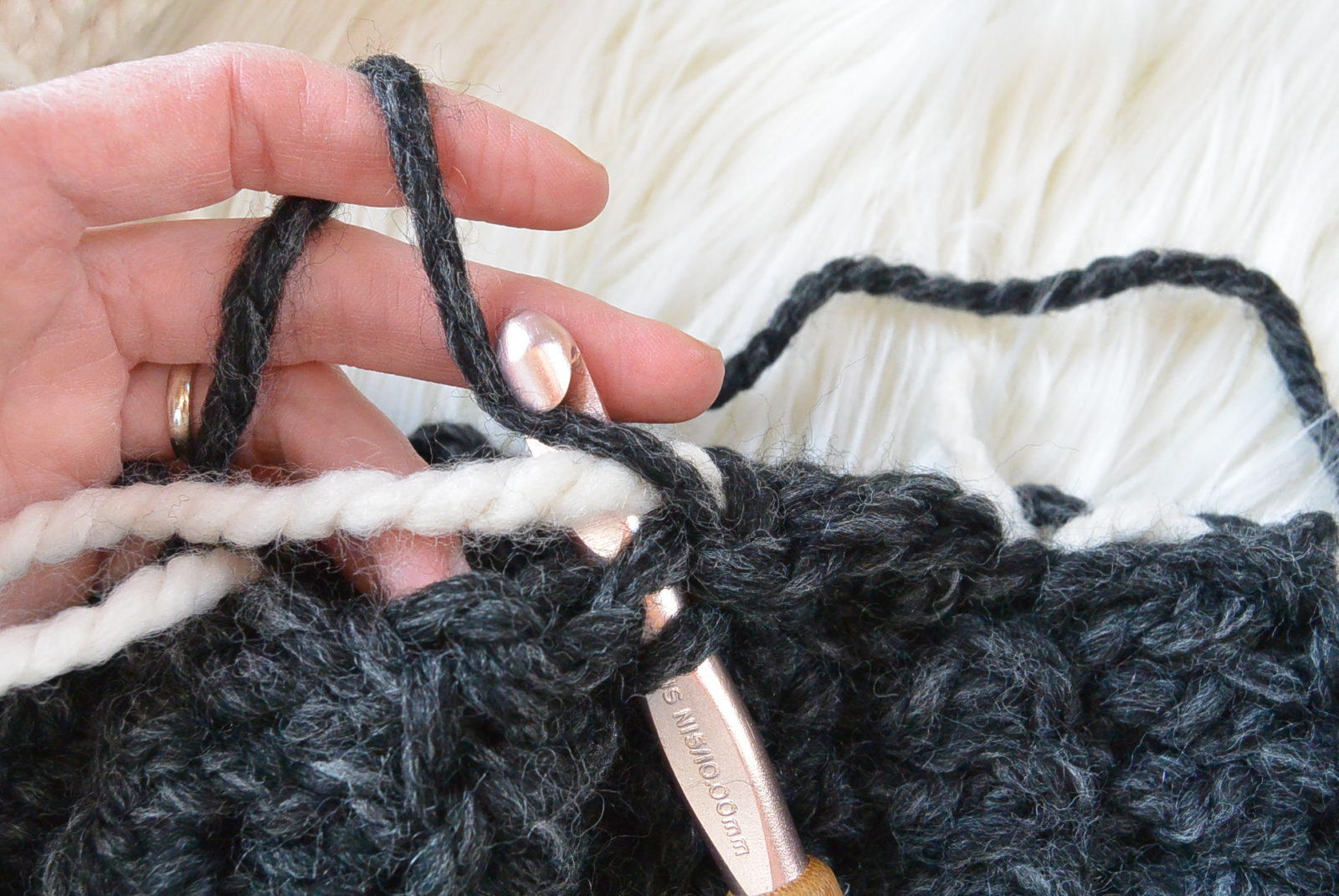 See how I'm about to crochet AROUND the yarn? That's all you do for the entire hat. Simply carry that cream yarn along while you crochet the black yarn around it.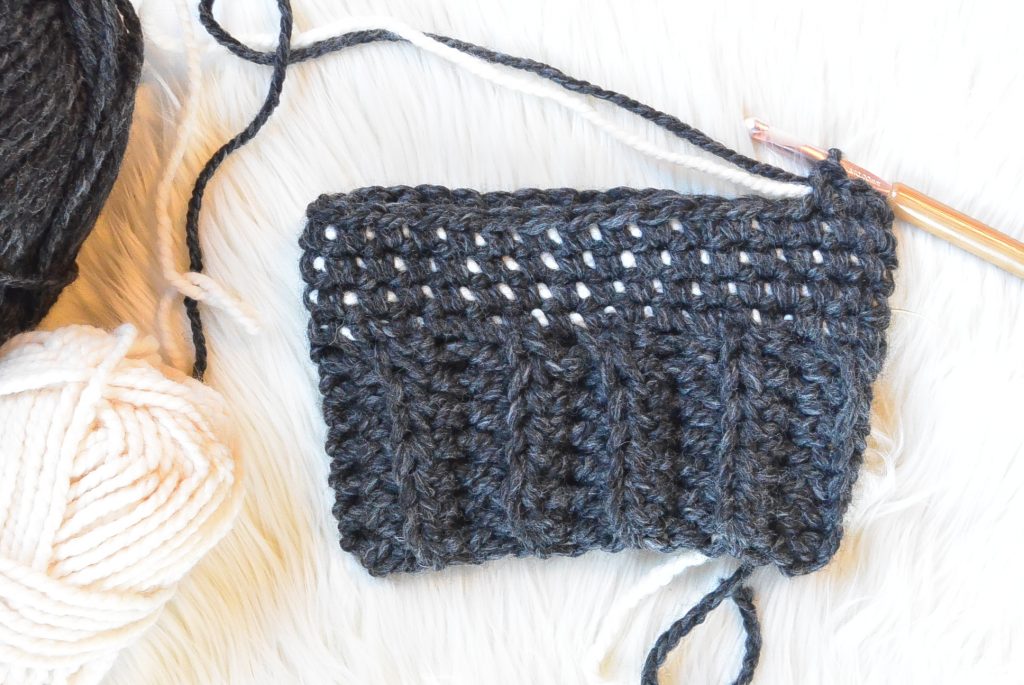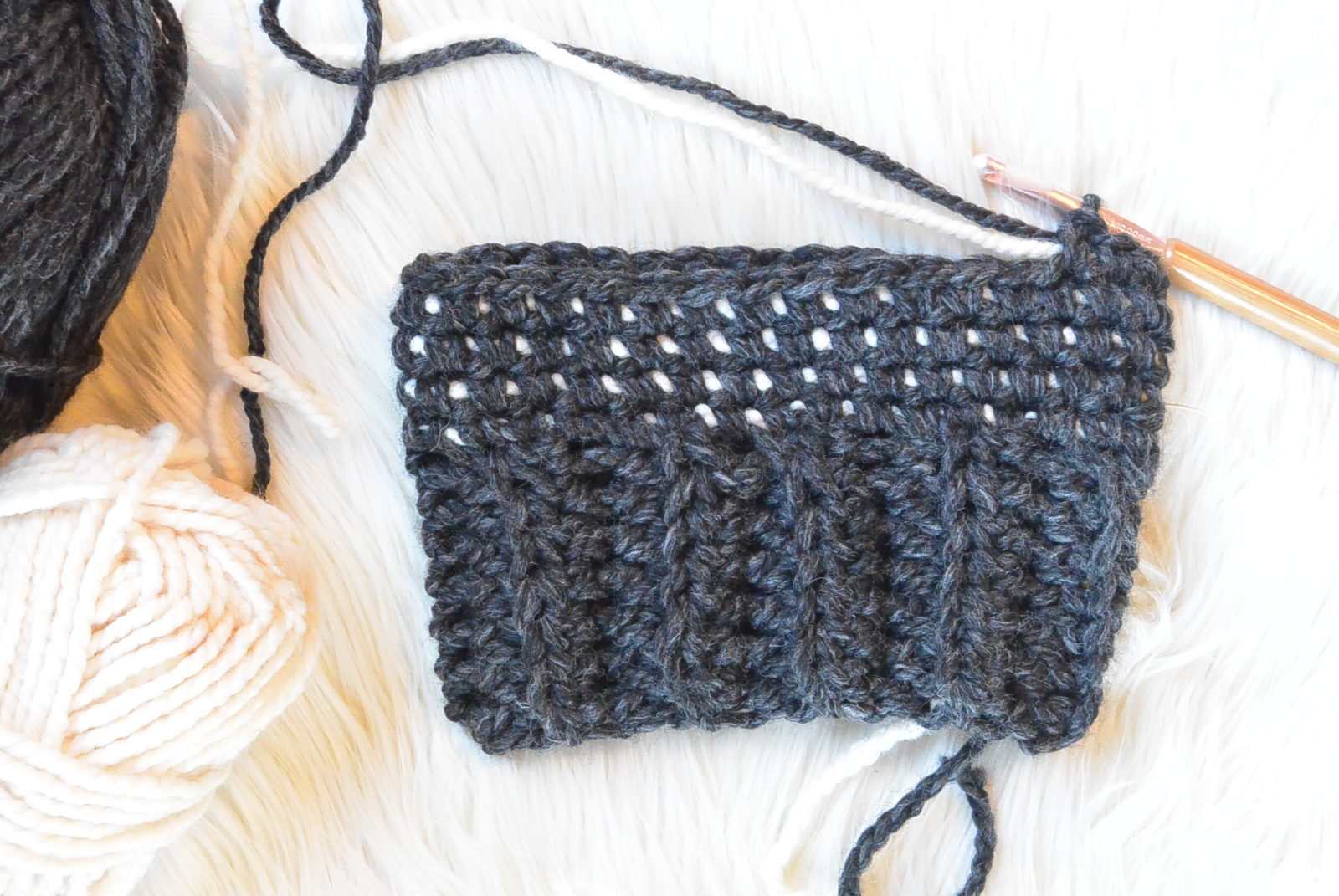 It will begin to look like this!Cinching the top of the hat: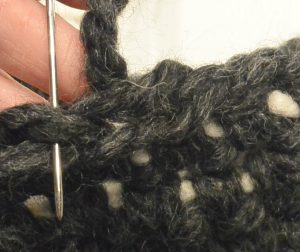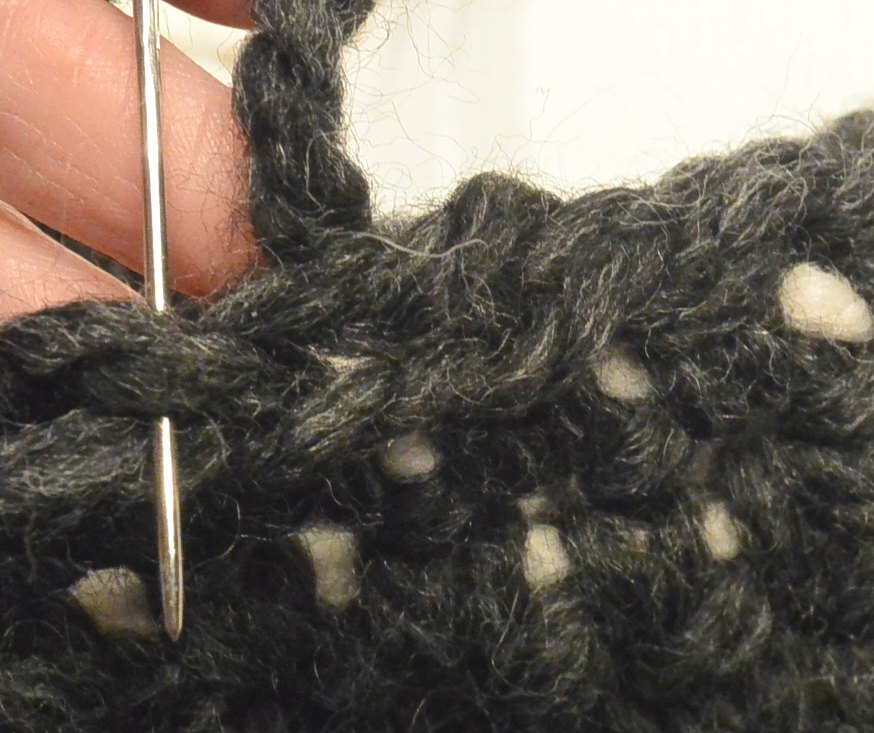 Above: Work the tapestry needle and length of thread through the stitches on the top of the hat. Pull tightly to cinch closed and tie off.

That's it! I hope that if you're a new crocheter, this hat will be a fun little project where you can stretch your skillz and also have a hat that you're proud of.XOJessica

SharePinTweetShare