27K Shares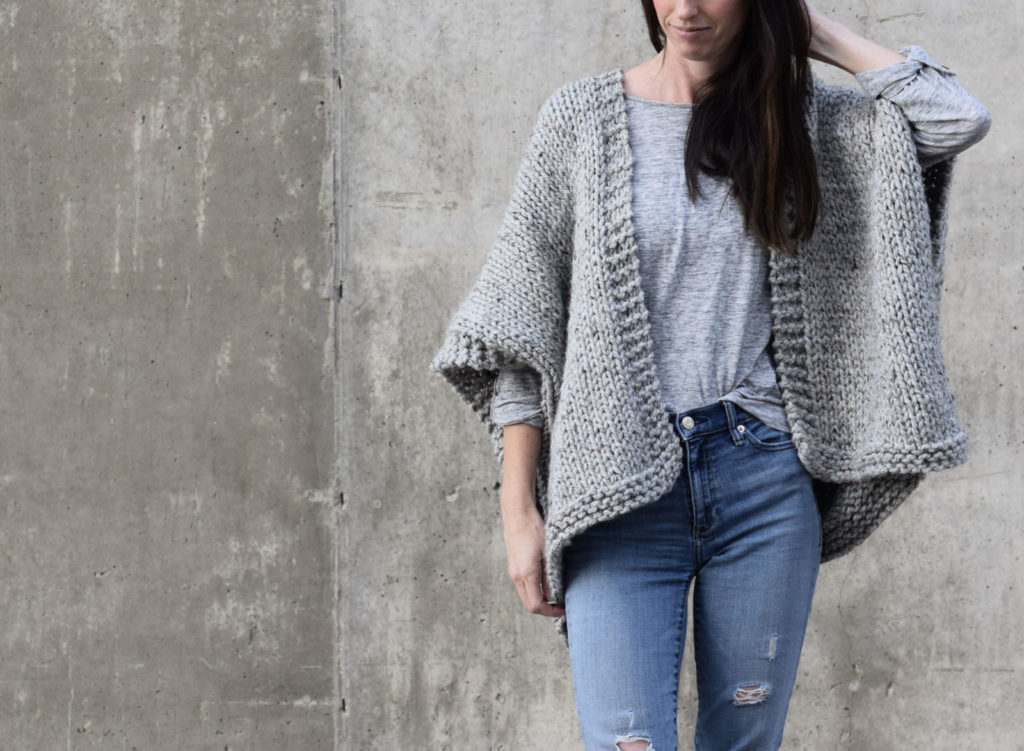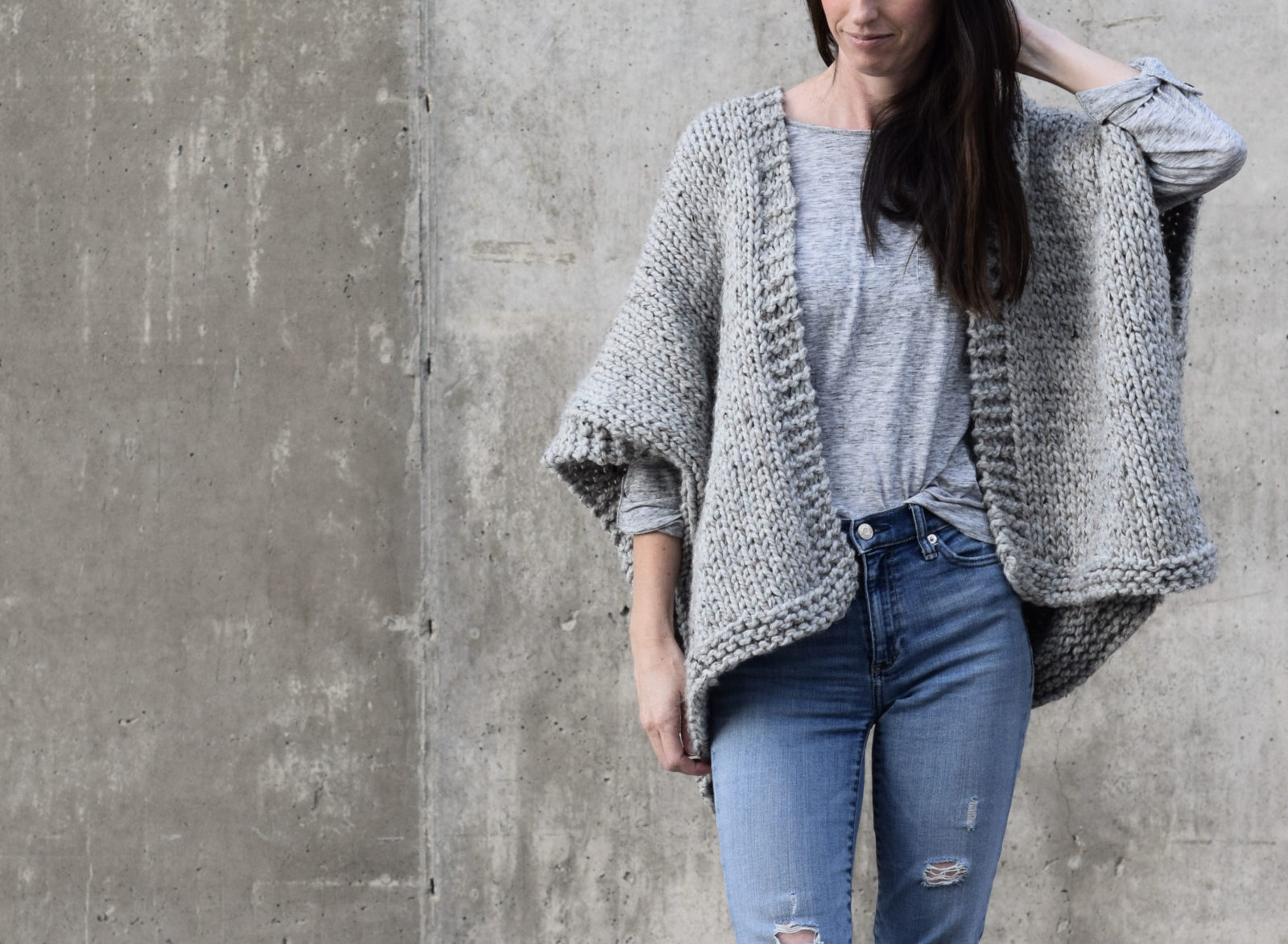 I recently shared a crocheted Cascading Kimono Cardigan Pattern here on the blog so I thought it might be fun to share this knit kimono pattern today! This particular kimono is completely beginner friendly and it's made with my all time favorite super bulky yarn and large needles.? It's so comfortable to wear and it's warm too as it's made with a wool blend (a soft wool blend – I don't do that itchy scratchy stuff too well).? And if you can't wear wool, you can easily substitute any super bulky yarn that you like for this pattern.? It's perfect to curl up with on the couch or throw on for a brisk morning stroll.? I've been enjoying some amazing fall strolls and I'll share a shot of some changing Aspen leaves at the bottom of this post. Anyway, this project actually reminds me a bit of the Easy Knit Blanket Sweater, and it's just as comfortable to wear if not more so since you don't need a button to keep it in place.? It also could probably be classified as a poncho, but since the sides are seamed it is a bit more of a cardigan or "kimono" than a poncho to me. Call it what you want, but call it cozy cause it is! (I'm so cheesy) And do you like to wear grey too? It's such a versatile color and it's always been a fave of mine to wear since it doesn't show dirt and it's a good, soft neutral. UPDATE: You can now find this as a kit on Lion Brand's Website HERE!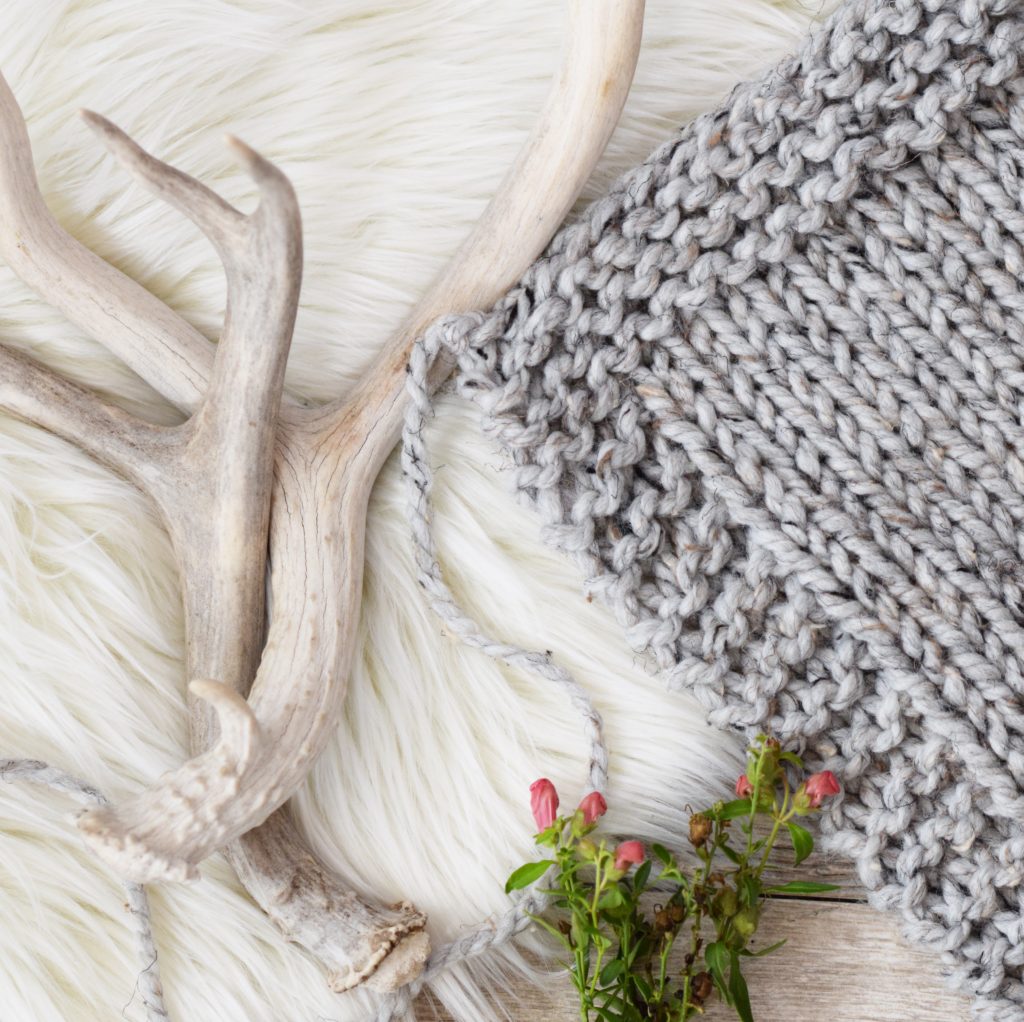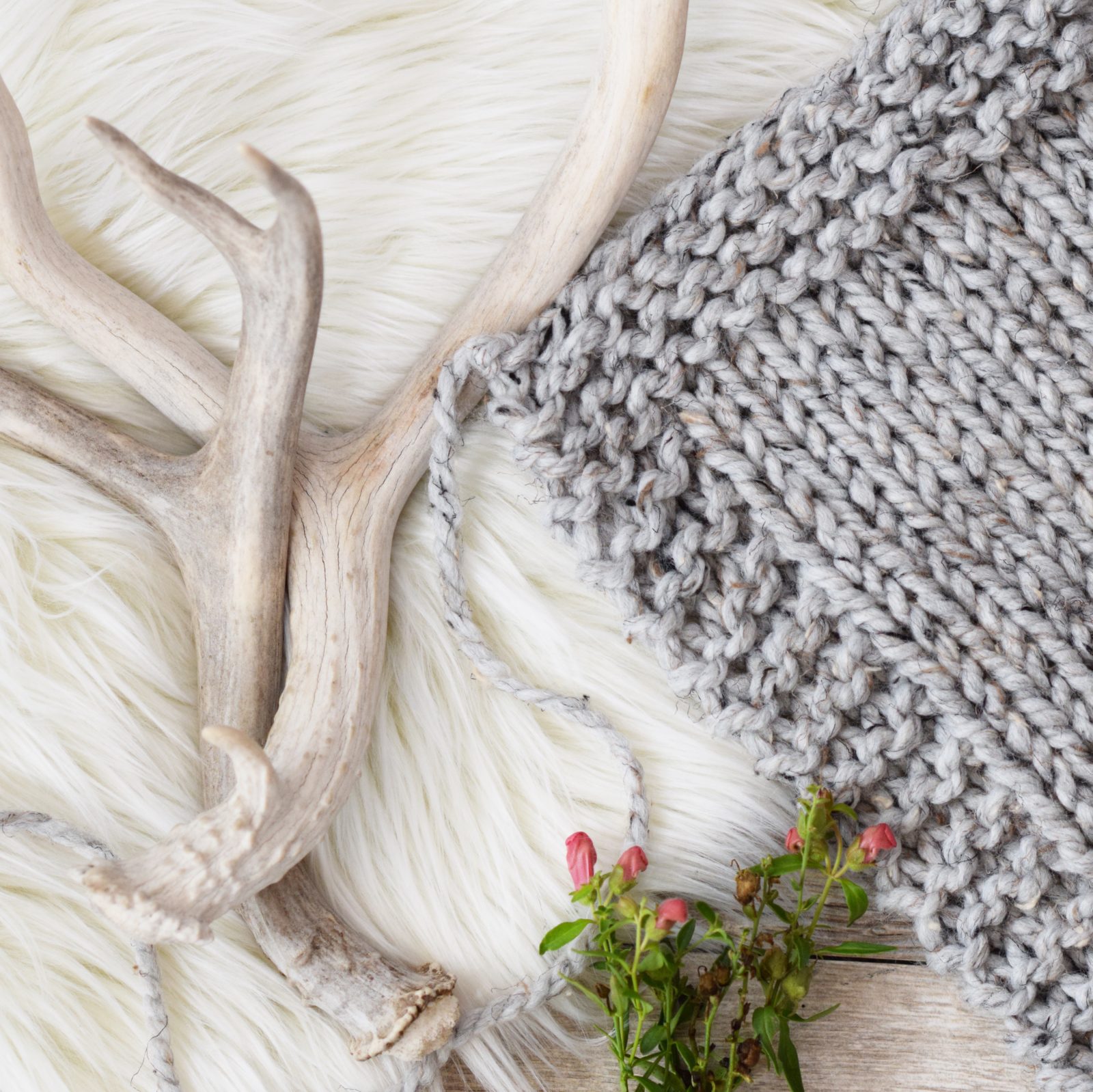 My fave Lion Brand Wool Ease Thick & Quick Super Bulky YarnAbove – the flowers are from my backyard and the deer antlers were found on a hike near Woodland Park, Colorado.? The deer shed them naturally and then they regrow.

MY LATEST VIDEOSThis is another pattern that is beginner friendly yet super chic to wear.? If you scroll to the bottom of the pattern below, you can see the photos and how it's basically two rectangles seamed together.? If you can knit and purl, this will be easy for you to make for yourself or as a gift for a friend or loved one.? If you haven't learned to knit, you can find my tutorial and video in this post HERE using the method that I find easiest.??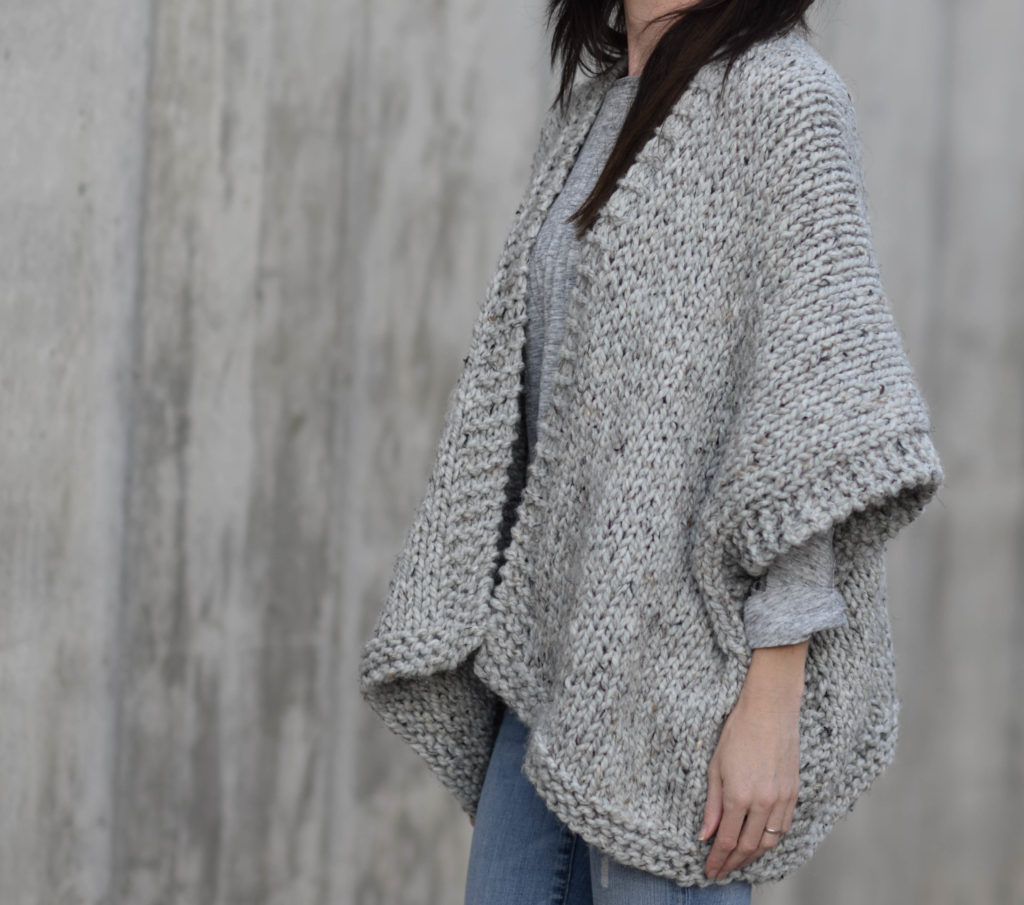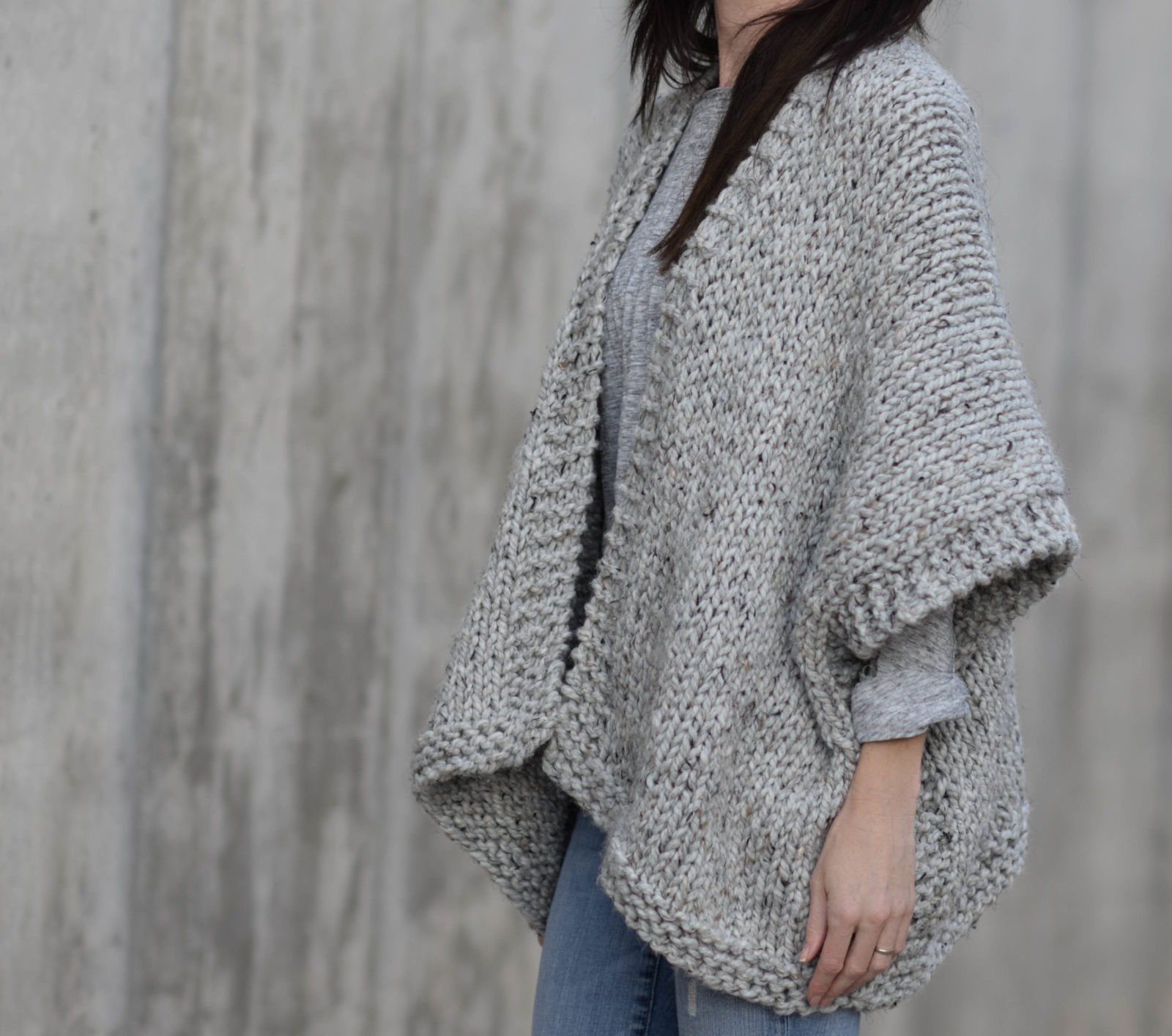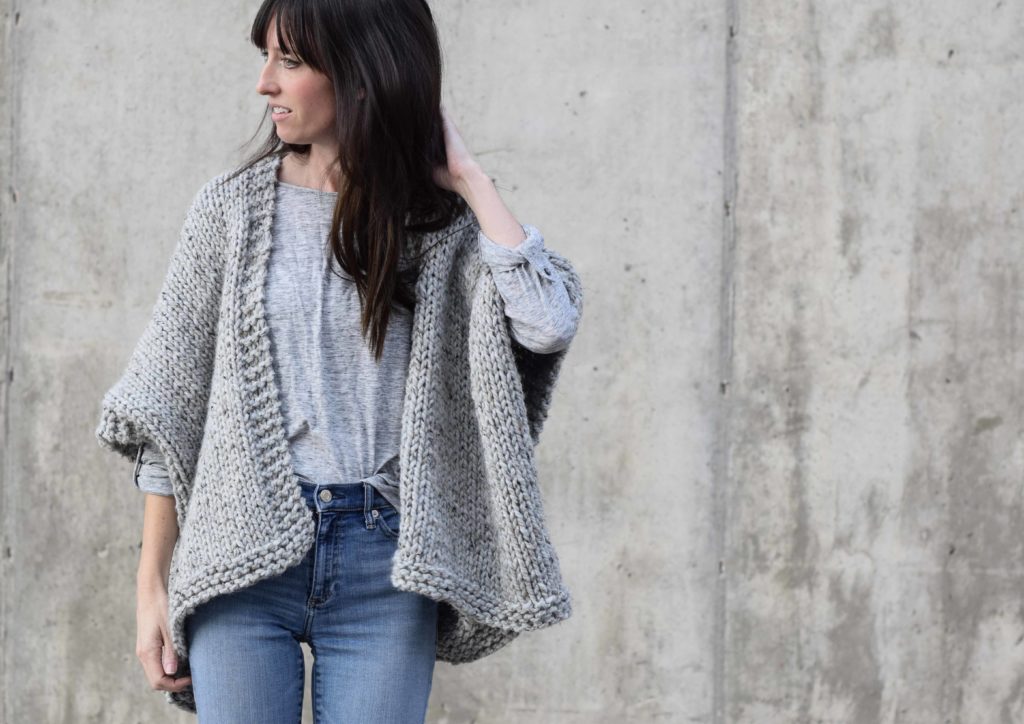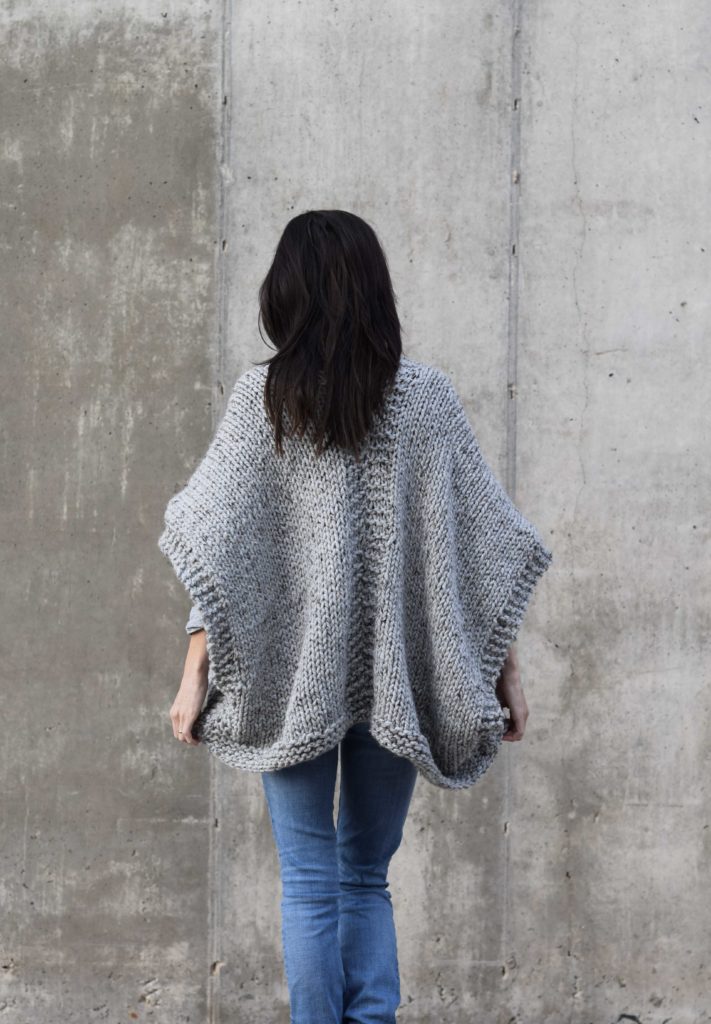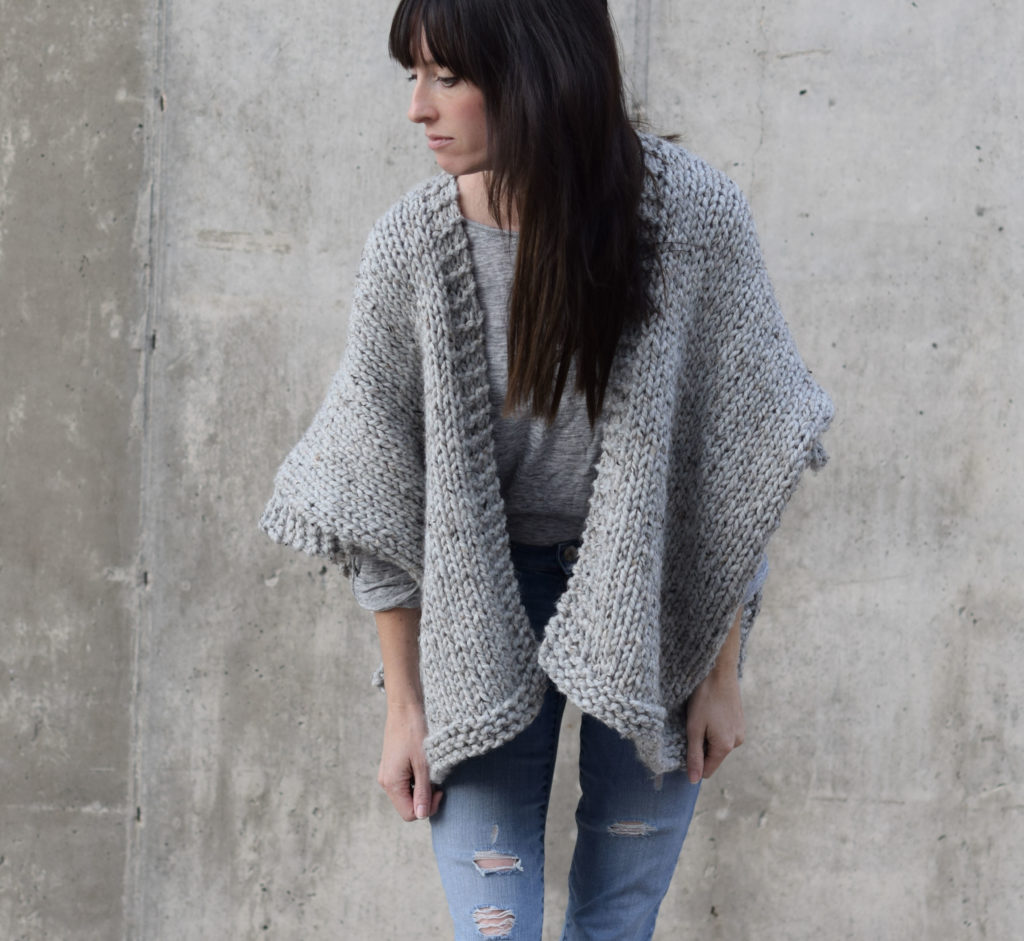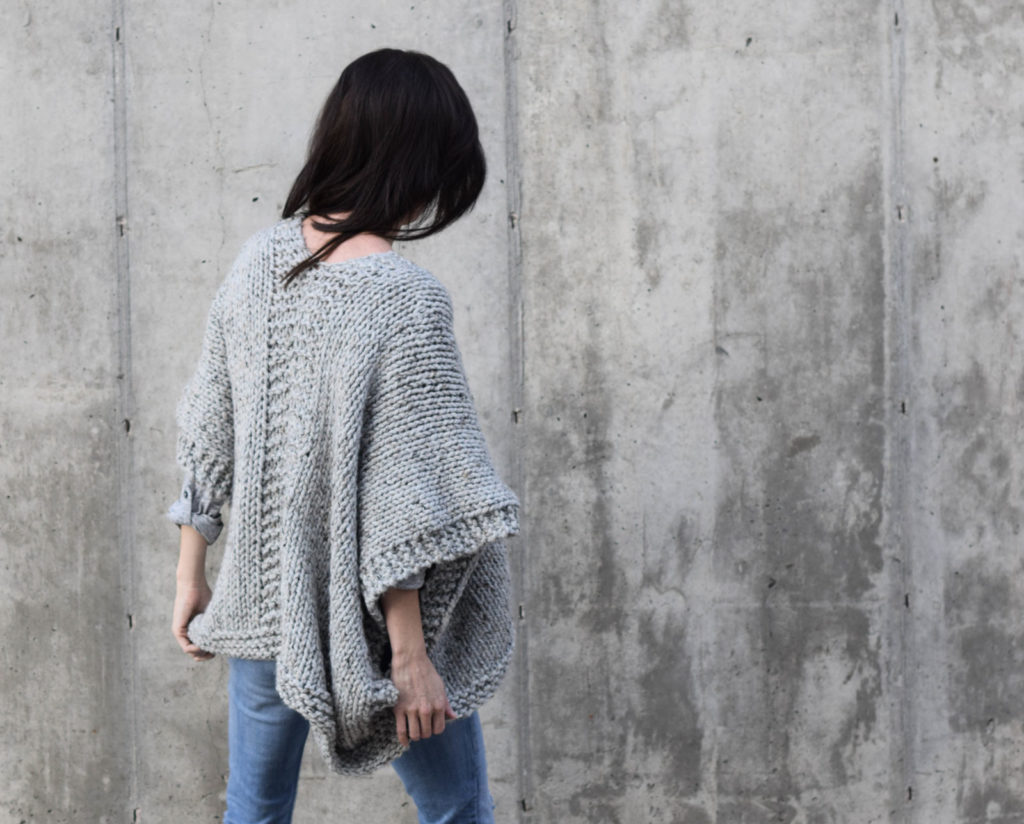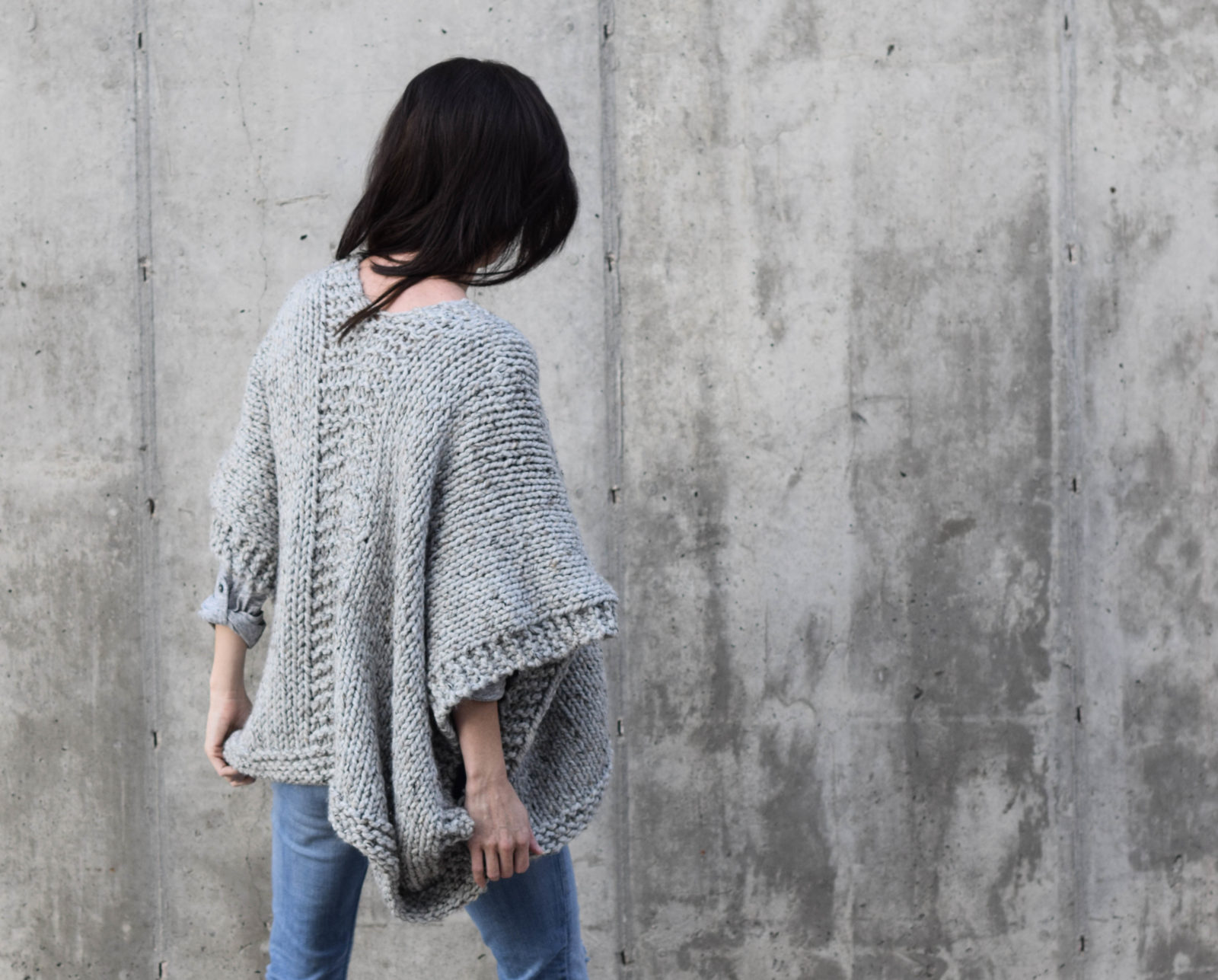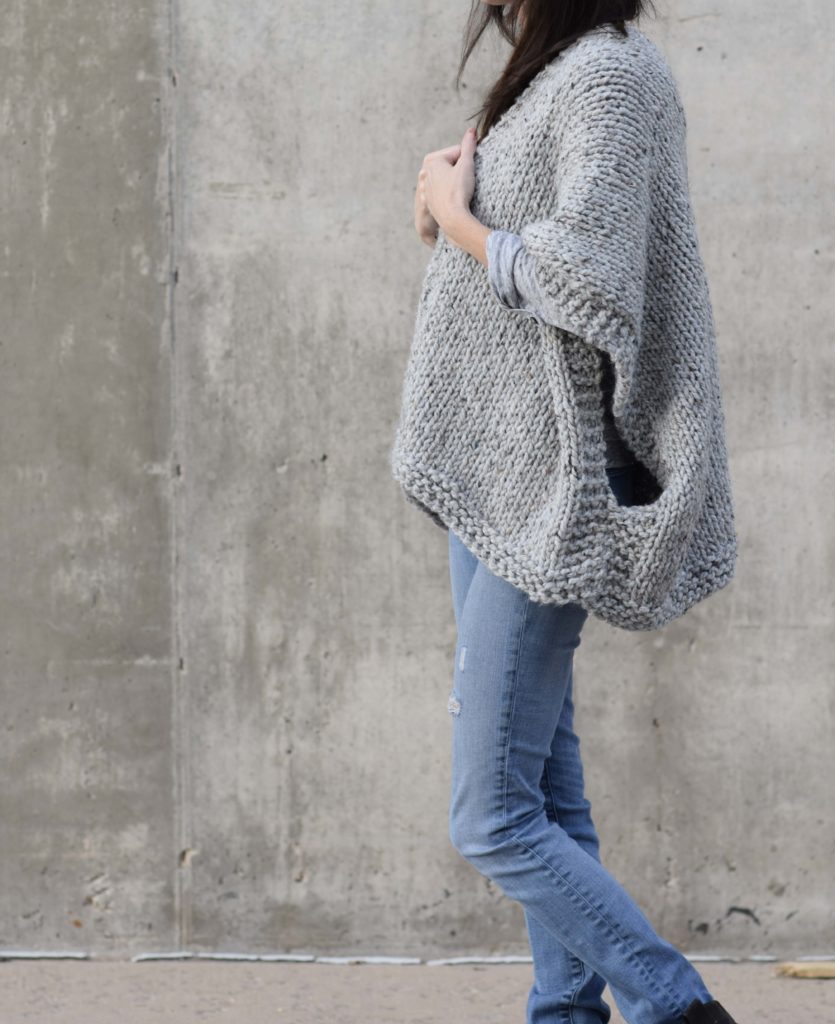 Below you'll find the free pattern or you may choose to purchase the ad-free, printable PDF version from my Etsy shop here.
Telluride Easy Knit Kimono PatternIt doesnt get comfier or warmer than this cozy, beginner friendly knit kimono. Made with super bulky yarn and large needles, it works up fairly quickly and is a dream to wear on cold days.? You will need:US Size 17 12.0 mm, 24″ or 36″ Circular Knitting Needles5 (S/M), 6 (L/XL) skeins Lion Brand Wool Ease Thick & Quick Super Bulky Yarn in Grey Marble (Kit from Lion Brand with Pattern and Yarn HERE)Pattern uses approximately 725 g (S/M) 960 g (L/XL)ScissorsTapestry Needle to weave in endsSizes:S/ML/XLFollow the key for your size throughout the pattern (S/M, L/XL)Measurements:S/M32 across and 22.5 longBust Circumference 64L/XL36 across and 26.5 longBust Circumference 72Skill Level:BeginnerGauge:Just under 2 stitches per inch and 2 ? rows per inchSkills & Abbreviations:k knitp – purlNotes:This kimono is made by knitting two simple rectangular panels (knit flat) and seaming them together at the center back and sides.? If you are comfoortable with the knit and purl stitch, you can easily make this kimono!? The sides of each panel are worked in garter stitch and the center is stockinette. There isnt any fancy ribbing or shaping involved. Slip the first stitch of each row in order to keep cleaner edges.?Circular knitting needles are used in order to fit all stitches on the needle, but panels are worked flat just as you would do with straight needles.*This is a fairly short kimono.? You can make it longer by knitting more rows for each panel. If you are making this for someone who is tall or with a large bust size, consider adding more rows to each panel in order to make the kimono longer. In addition, just before casting off, you may place the panel centrally over one shoulder as it will be worn in order to see if you are happy with the length. Adjust accordingly.PatternCast On (31, 35) stitchesRows 1-5 Knit across row (31,35)Row 6 Knit 4, purl (23,27), knit last 4 stitches (31,35 total)Row 7 Knit across row (31,35)Repeat rows 6-7 until piece measures approximately (43, 51) longNext, knit 5 more rowsCast off, weave in ends.Repeat above pattern to make second panel.Assembly:Place panels side by side with wrong sides facing up. With a length of yarn and your tapestry needle, whip stitch seam (or use your preferred seaming method) from the bottom of the pieces upward until you reach the center of the panels.? Tie off and weave in ends. Fold upper portion of panels down and seam up the sides of each panel with whip stitch seam or preferred method approximately 5?? inches on each side.? Tie off and weave in ends.Above – there are the two panelsSeamed up the center back and fold down front.Next seam up the sides.That??s all there is to it!I hope that you enjoy your new, super cozy kimono and happy knitting!XOJessicaHappy Fall! SharePinTweetShare