11K SharesIntroducing the Lakeside Crocheted Pullover. __ I'm loving this sweater for lazy days at home, visits to the lake and just to throw over my leggings! This is the first time I've written a crochet pattern for a lightly shaped sweater using? worsted weight yarn.? You might remember a tutorial on how to make a knit-like pullover (here), but there was only slight shaping in the sleeves.? Anyway, I love making crocheted and knit tops but have largely stayed away from shaping. Why? Because it means I have to do more counting and more paying attention. Mama likes to relax with my hobby rather than count all day – hehe. However, to get the look that I wanted for this top there was no doubt shaping was going to happen. And guess what – it's actually enjoyable! (Not ready to try shaping quite yet? Check out this easy chunky blanket sweater and this black one too!)If you're going to make a shaped sweater, it really doesn't get any easier than this! I've included the pattern, a diagram and photos as well as helpful links to stitch tutorials throughout this post.? Read on. __? And as usual, the ad-free printable PDF can be found in my Etsy shop HERE, you can see the free pattern below, or you may choose to purchase the kit from Lion Brand Yarn HERE. Love the color options!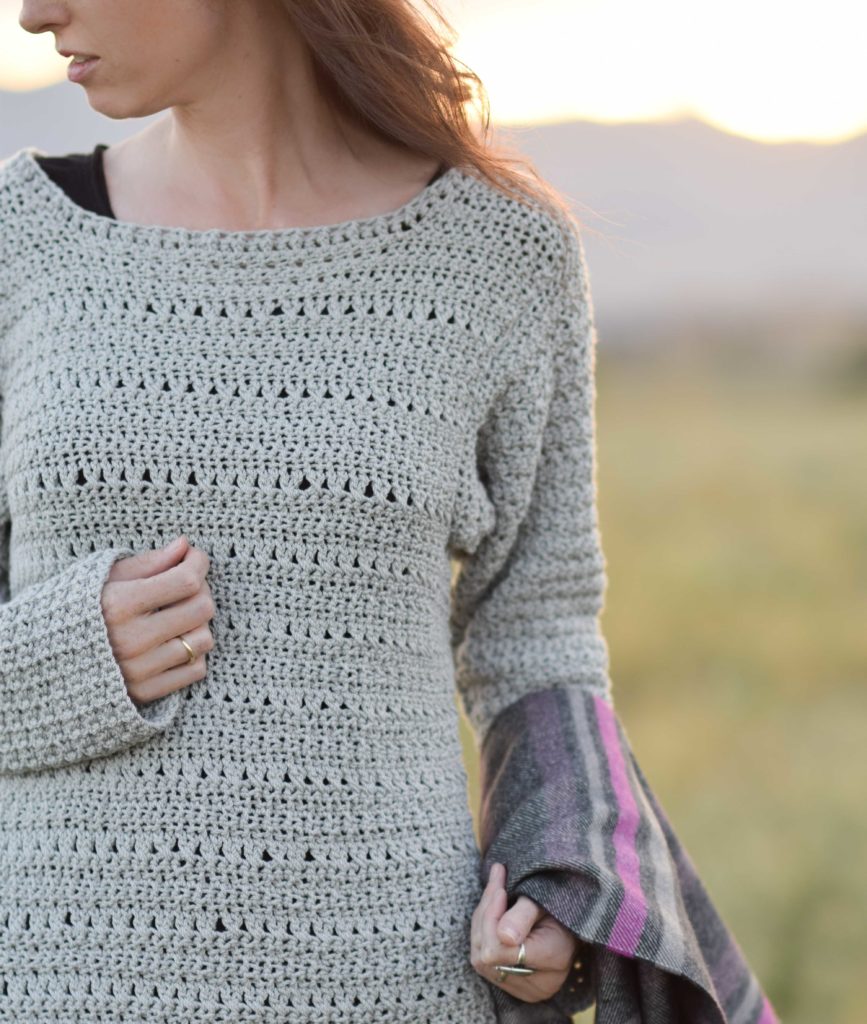 Above: I love how the crossed double crochet rows create the look of pretty eyelets without the burden of counting. Yay!

MY LATEST VIDEOS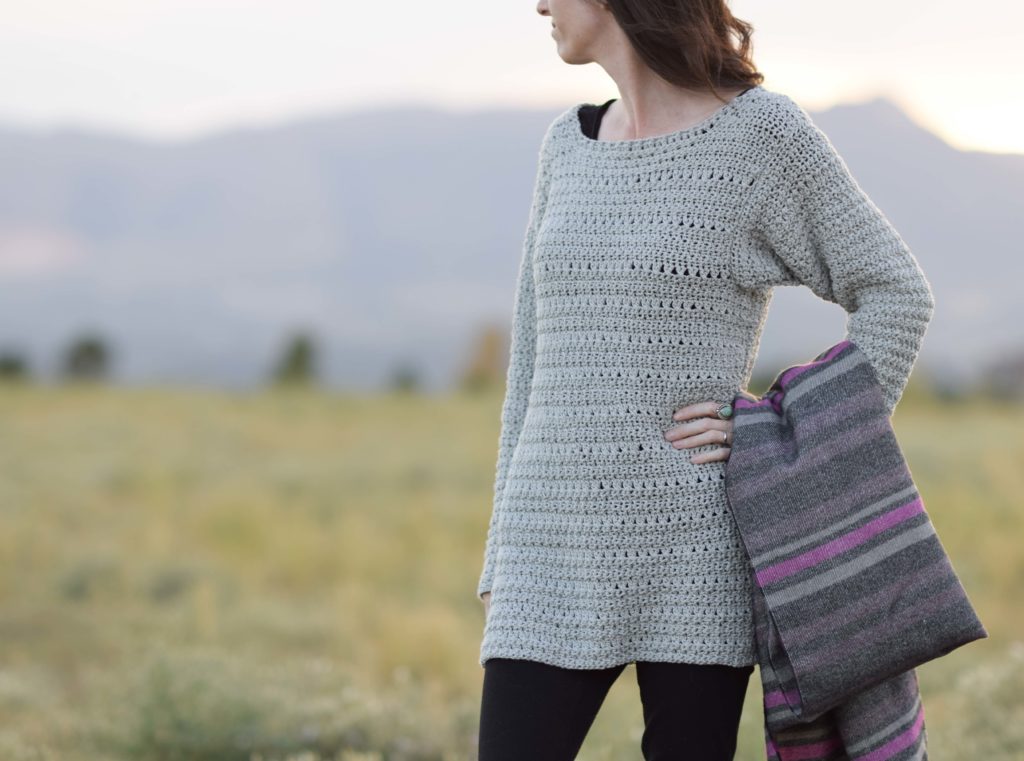 Below: The ZZ Twist yarn is super silky. You can see all of the colors available here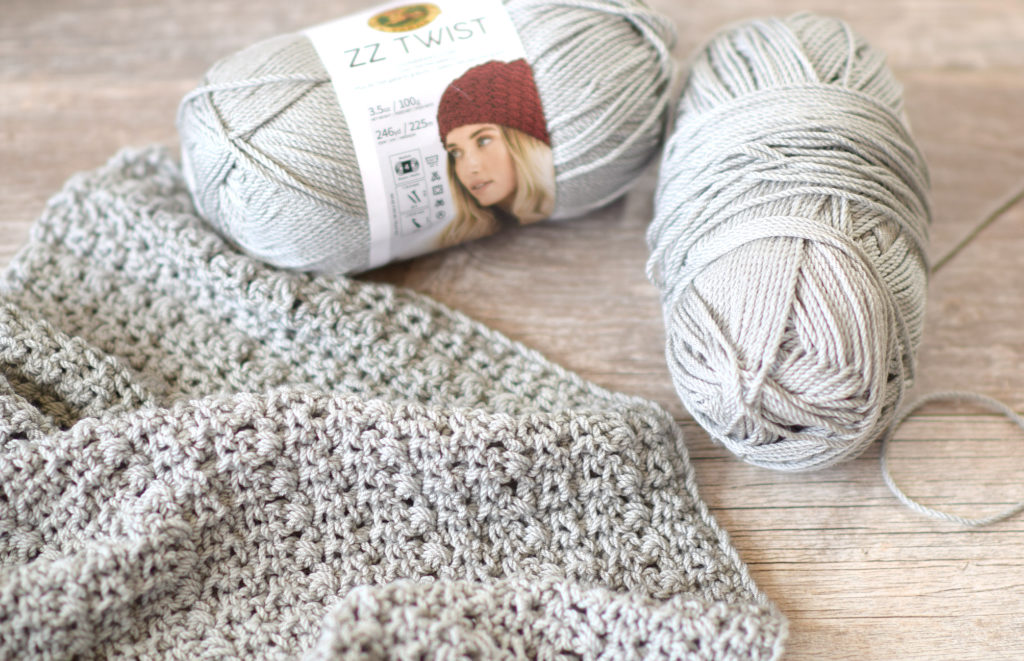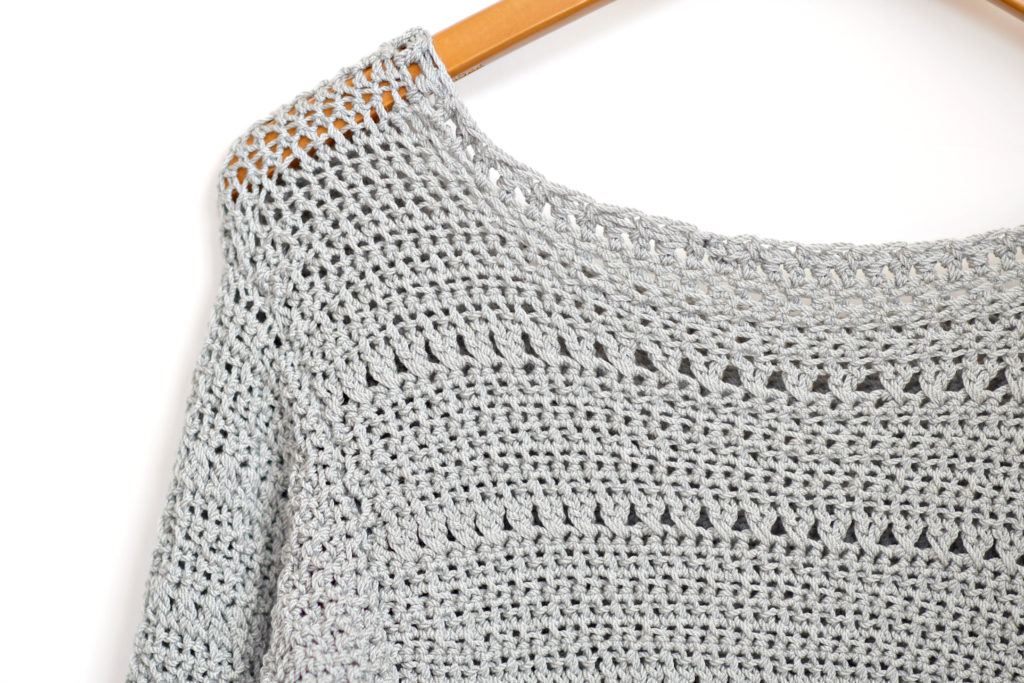 Because this sweater is made with worsted weight yarn, it's warm but not overly hot.? The drape is really nice as the nature of the yarn is silky and it has lovely stitch definition while remaining "relaxed".? The fabric is bouncy and stretchy. __? While I'd say this is an easy pullover, it's definitely not for a brand new crocheter. It takes time to make and could get a bit overwhelming for a newbie.? I tried my best to make the pattern user friendly and simple as possible.? It's a forgiving? pattern in my opinion as adjustments can be made by someone with experience if needed for your specific shape. Small mistakes likely will go unnoticed and it's written in a minimalist fashion to keep things simple.??Feel free to make this your own by making a smaller neckline or adjusting the sleeves, or even by adding cuffs!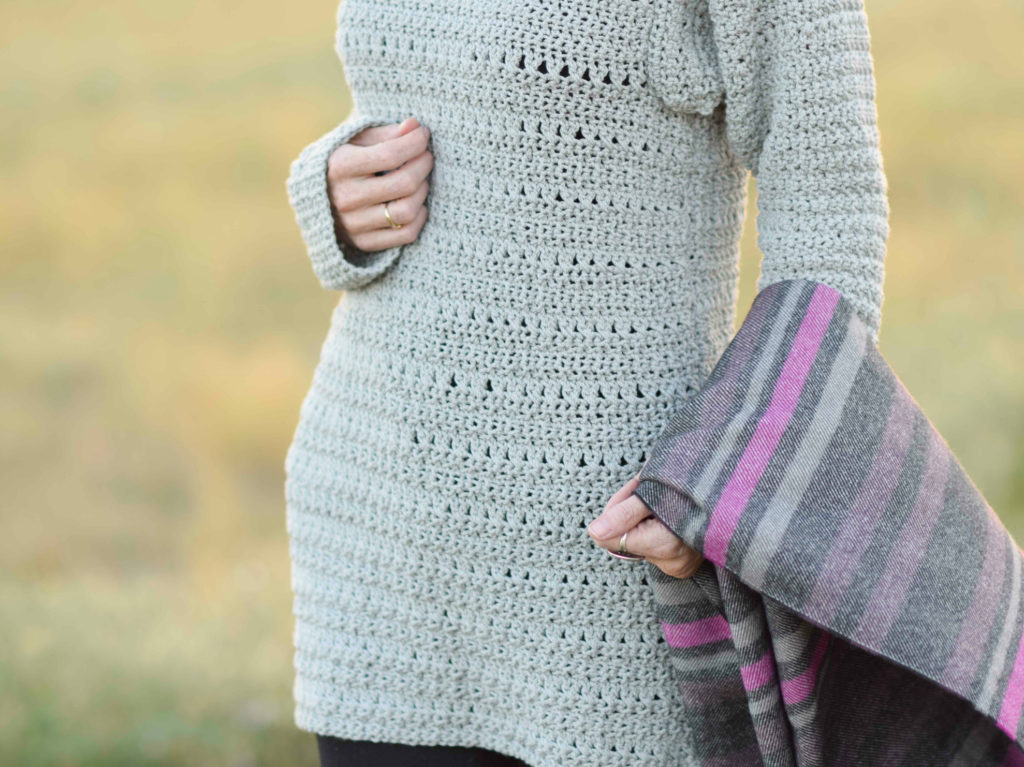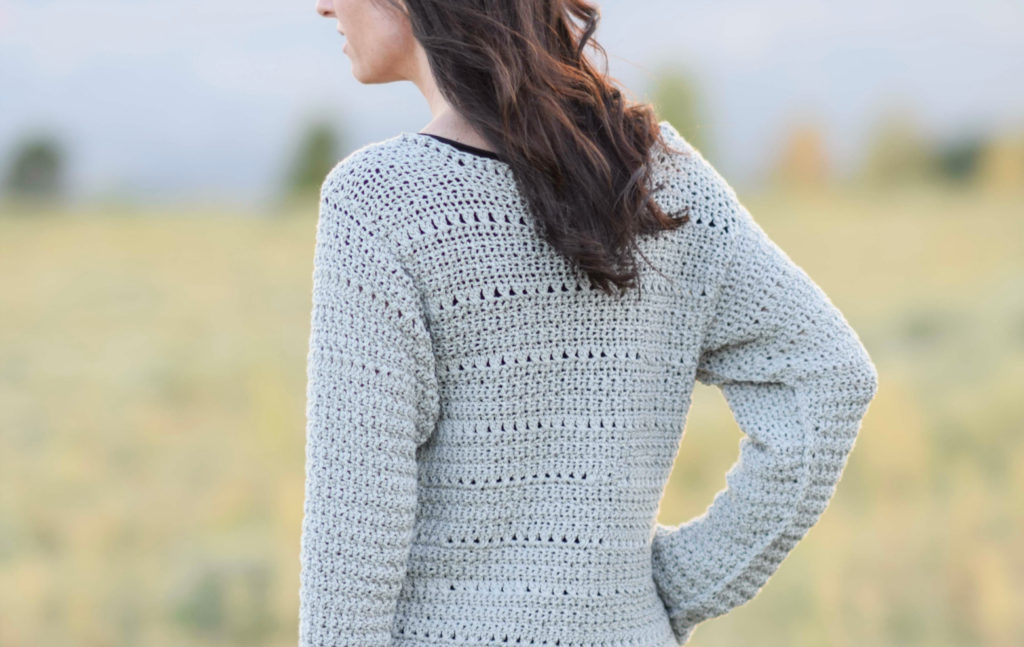 How Do I Crochet This Sweater? (in people words) scroll down for the patternI'm going to give you a quick summary in people words rather than strict crochet pattern terms on how to make this sweater. Then scroll down to see the specific pattern below!Here's what you will do to make this simple sweater. You're going to start with a chain and will crochet from the bottom up. Using alternate single crochet and crossed double crochet stitches, you'll make the textured fabric. This is the first time alternate single crochet has been used in one of my projects and I'm in love! It's so easy and makes a great alternative to the look of regular single crochet.? (You can see a tutorial from New Stitch A Day here) Crossed double crochet is simple too as it entails skipping a stitch, making a double crochet, then going back to the skipped stitch to make another double crochet (see a crossed double crochet tutorial here). You'll be making a basic rectangle at this point using these two stitch patterns. Yay!Next, you will shape the arm openings.? "Shaping", in this case, means that you will be making a few slip stitches inward on either side. That's it! Then continue the stitch pattern until you get to the neck. At that point, you will work some simple decreases to shape a lovely neckline. You will crochet two panels just like this as one is for the front and one is for the back.Lastly, you'll crochet the sleeves. You'll make a chain that will be the long edge of the sleeve and work the pattern. Decreases happen at certain rows as you follow the pattern.? And finally, seam the panels and sleeves – voila!OH! And one very important part of sweater making is to ensure that you are crocheting with the correct gauge!!! Your sweater can turn out drastically smaller or larger than intended if you crochet tighter or looser than what's indicated as the gauge for the pattern. Please note that I like to crochet loosely, so if you are a tight crocheter this is especially important to check before you begin. You can always go up or down a hook size to get your gauge just right.?Below: You will crochet two panels in this simple shape.?Below: Crocheted sleeve that will be folded and seamedBelow: The panel is shown with the sleeve as if to be seamed.Below: I made and am wearing the size small. I'm 5'6″ and 105lbs for reference. What Yarn Did You Use?This sweater was crocheted with Lion Brand Yarn ZZ Twist worsted weight yarn (here).? This was the first time that I used this yarn and I can't say enough good things.? It didn't split, it wasn't fuzzy, it has amazing drape and just a bit of sheen.? It's also silky smooth which was necessary for a top that's going to be worn so close the the skin.Alright, are you ready for the pattern details? Here goes!Remember you can choose to purchase the advertisement free, printable version from my Etsy shop here or see the free pattern below. __ The Lakeside Easy Crocheted Pullover Sweater PatternPattern Description: This beautiful sweater features a lightly textured fabric with incredible drape.? Simple shaping creates a flattering piece, yet its easy enough to crochet even if this is your first sweater project. The silky texture of the yarn feels great against the skin making this a lovely top to enjoy at the lake, the coffee shop, home or office.Skill Level: IntermediateMaterials: US Size J 6.0 mm Crochet Hook(6, 7, 7, 8) skeins Lion Brand Yarn ZZ Twist in Silver 100 g/skein (Pattern uses approximately 530, 602, 686, 782 grams) Kit Available from Lion Brand Yarn HEREScissorsTapestry Needle to weave in endsGauge: Just under 16 stitches & 12 rows of alternate single crochet in 4 X 4? **Gauge must be used to ensure that the sizing will turn out correctly. Adjust hook size as needed to obtain correct gauge. =BDimensions (approximate): Small, Medium, Large, X-LargeBust:? S 35 M 39 L 43 XL 47Width: S 17.5 M 19.5 L 21.5 XL 23.5Length: S 26.5 M 27 L 27.5 XL 28Follow the key for preferred size throughout the pattern (S, M, L, XL)Abbreviations & Skills: ch chainst – stitchsc single crochetsc flo _ single crochet through the front loop onlysc blo _ single crochet through the back loop onlydc _ double crochetsk st _ skip stitchFPhdc _ front post half double crochetBPhdc _ back post half double crochetdc2tog _ double crochet two stitches together (decrease)Special Stitch Patterns:Alternate Single Crochet (alt sc) – *single crochet through the back loop (sc blo) in the first stitch, single crochet through the front loop (sc flo) in the next stitch; repeat from * across. See this tutorial here for more helpCrossed Double Crochet – *sk st, work dc, go back to skipped stitch, work dc in skipped stitch; repeat from * across. (see a tutorial from New Stitch A Day for the crossed double crochet stitch here)Notes: This sweater is made in 4 pieces and seamed to finish. Two front panels are crocheted from the bottom up with simple shaping at the arms and neck.? Two sleeves are then crocheted flat starting at the widest end and then decreasing to the other end of the sleeve.? Panels and sleeves are then seamed together to finish! See the diagram and pictures for additional help. Pattern InstructionsFront & Back PanelCh (70, 78, 86, 94)Row 1 Sc in each st across the row (69, 77, 85, 93)Row 2 Ch 1, turn, alt sc across the row ending with sc blo (69, 77, 85, 93)Row 3 Repeat row 2 (69, 77, 85, 93)Row 4 Ch 3 (counts as dc), turn, dc in 2nd st of row, *sk st, dc in next st, dc in skipped st. Repeat from * across the row (69, 77, 85, 93) (note: you are working crossed double crochet in this row)Row 5 7 Repeat row 2 (69, 77, 85, 93) (sc into ch 3 of previous row on the final stitch of row 5)Row 8 Repeat row 4 (69, 77, 85, 93)Repeat rows 5 8 until piece measures approximately (18, 18.5, 19, 19.5) longNext, you will shape the armholes and continue working the same repeating stitch pattern from rows 5 8.Shape ArmholesRow 1 Ch1, turn, sl st in first 8 stitches, work stitch pattern (starting from where you left off in the repeat of rows 5-8) across to last 8 stitches; leave last 8 sts unworked. (53, 61, 69, 77)Next, continue stitch pattern repeat from rows 5-8 for approximately 6. (53, 61, 69, 77 stitches in each row)You will then move onto the neckline shaping.Neckline ShapingRow 1 Ch 1, turn, work alt sc across in the first 15 stitches; leave remaining stitches unworked for neck (15)Row 2 Ch 1, turn, work alt sc across the row (15)Row 3 Ch 1, turn, work alt sc to last 4 sts; sc2tog twice (13)Row 4 Ch 1, turn, work alt sc across the row (13)Row 5 Ch 1, turn, work alt sc across the row to the last 4 sts; sc2tog twice (11)Row 6 Ch 1, turn, work alt sc across the row (11)Tie off, weave in ends.Turn your panel, attach yarn to upper opposite side of panel.? Repeat above pattern for Neckline Shaping to create neckline for opposite side.Repeat entire panel pattern to make a second panel. (You make one panel for the front and one for the back)SleeveCh ( S/M 74, L/XL 80)Row 1 Sc in each st across the row (73, 79)Row 2 Ch 1, turn, alt sc across the row (73, 79)Row 3 Ch 1, turn, sc2tog, alt sc across the row to last 2 sts; sc2tog (71, 77)Row 4 Ch 1, turn, alt sc across the row (71, 77)Row 5 Ch 1, turn, alt sc across the row (71, 77)Row 6 Ch 3 (counts as dc), turn, (dc2tog) over next two sts (2nd and 3rd st of row), work crossed dc across the row to last two sts, dc2tog over last 2 sts.Row 7-12 Repeat rows 1-6, 1 more timeNext, you will work only the alt sc stitch pattern, making decreases when indicated, for the remainder of the sleeve.Alternate Single Crochet (alt sc) Portion of SleeveRow 1 Ch 1, turn, work alt sc across the rowRow 2 Ch 1, turn, work alt sc across the rowRow 3 Ch 1, sc2tog, work alt sc across to last two sts, sc2togRepeat rows 1 _ 3 until the sleeve measures (10??, 10??, 11??, 11.5??) wideNext, work alt sc across each row until the length of the sleeve is approximately 19.5?? longTie off and weave in ends.Repeat sleeve pattern to make second sleeve.Assembly:Place panels together; sew up side seams, leaving 4 _ 5 inches open at the bottom, and then sew shoulder seams. Next, fold sleeves appropriately and seam. Finally, sew sleeves into arm openings with a whip stitch seam or preferred method. (See photos)Final Neck Detail:Attach yarn to necklineRound 1 Ch 2, hdc evenly around neck openingRound 2 Ch 2, FPhdc in first st, BPhdc in next st, repeat from * in each hdc around, slip stitch to attach at end of round. Tie off and weave in ends. (Note: You may make the neck cuff as many or few rows as you??d like to make neck opening wider or smaller.)That's all there is to it!Now wear it, gift it or show it off to your friends. Lol!What do you think? Please let me know if you have any questions about this pullover! I hope you enjoy making it as much as I did. __XOJessicaThank you to Lion Brand Yarn for sponsoring this post! All opinions are 100% my own.SharePinTweetShare