2K SharesScroll down for the free pattern or you may choose to purchase the inexpensive, ad-free, printable version from my Etsy shop HERE or the kit from Lion Brand Yarn HERE -available in 3 colors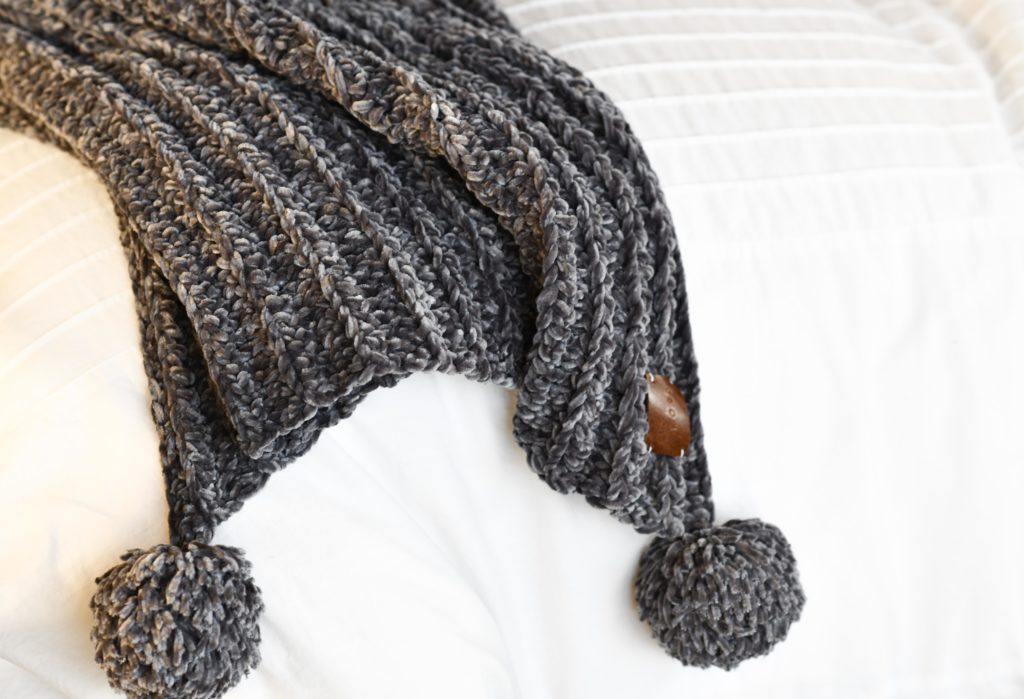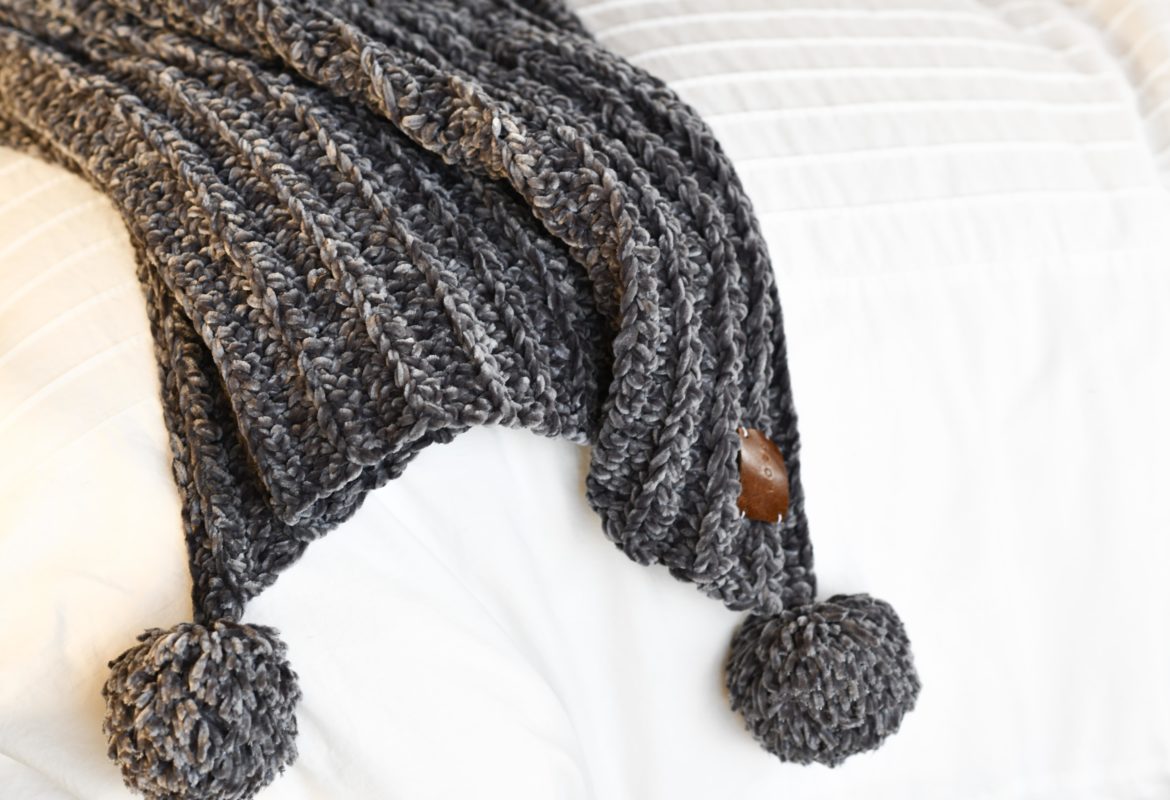 If I could pick only one crocheted throw blanket for my living room, THIS would be it!? It has the look and feel of an expensive brand name knit throw, but it's special because it's handmade. __ My daughter and I sit with this afghan nearly each evening as we wind down for the night.? The drapey, super soft velvet feels like luxury and it's simply the most comfortable blanket that we have.? I even added a little leather tag to it that says "Love" because it's that cuddling, snuggling type of blanket.? There have been some really cute and velvety, chenille type Ugg blankets that have been in stores this year, and this blanket reminds me a bit of those!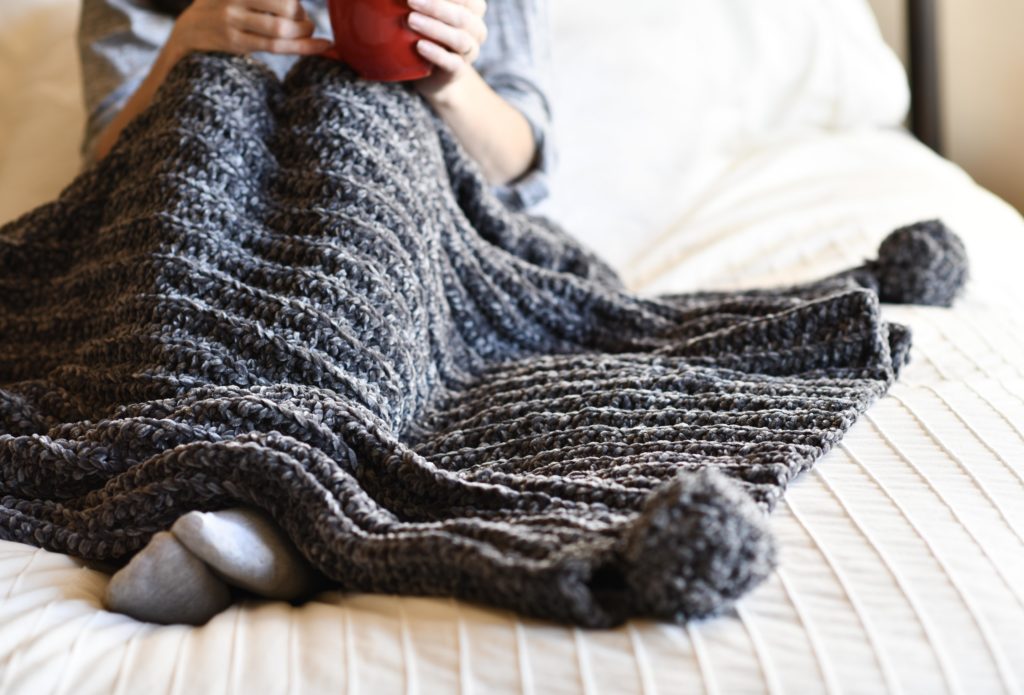 MY LATEST VIDEOSHave you crocheted with a velvet yarn??When I heard that Lion Brand was coming out with the Vel-Luxe yarn, I couldn't wait to get my hands on it.? ?I'd never worked with velvet before!? While I made a blanket from it this time, it would also be a lot of fun to make a cardigan or a hat.? ?I was concerned it might shed or be difficult to work with, however, it doesn't shed at all. Not even a tiny bit, which surprised me.? It also maintained its softness.? Sometimes certain acrylics feel soft to me, but once I crochet them into a fabric they seem to become stiffer. Not this velvet.? It's drapey, lovely and soft as can be.? I have absolutely no complaints and want to use it again.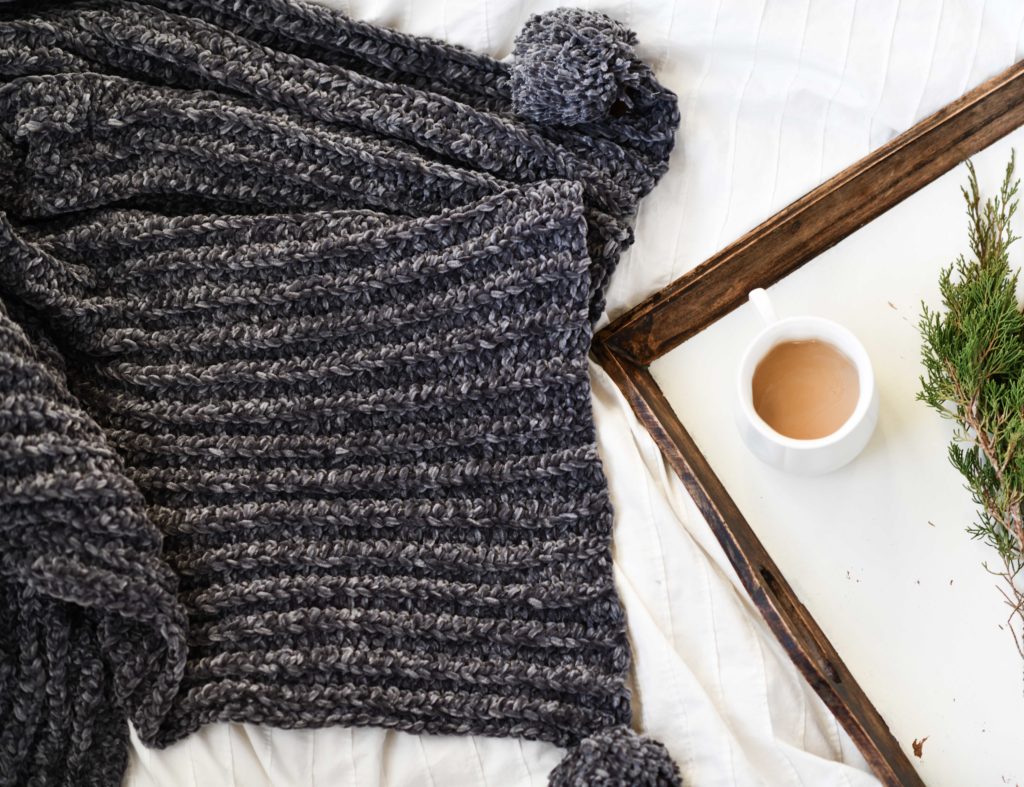 During the design phase of this crocheted blanket ( fancy speak for how I decided to make it ), I tried several different stitches holding the two strands of yarn together.? One thing was true – stitches looked quite different with the yarn! First, I thought the granite stitch (here) would be perfect, but when I worked up a swatch it looked completely different than what I'm used to.? If you try it, you'll see what I mean!? I don't know if this was due to the fact I was holding two strands together, or the nature of the velvet, but it was rather interesting to see how some of my favorite stitches worked up in crochet.? It will be fun to try knit stitches sometime as well to see if they are any different.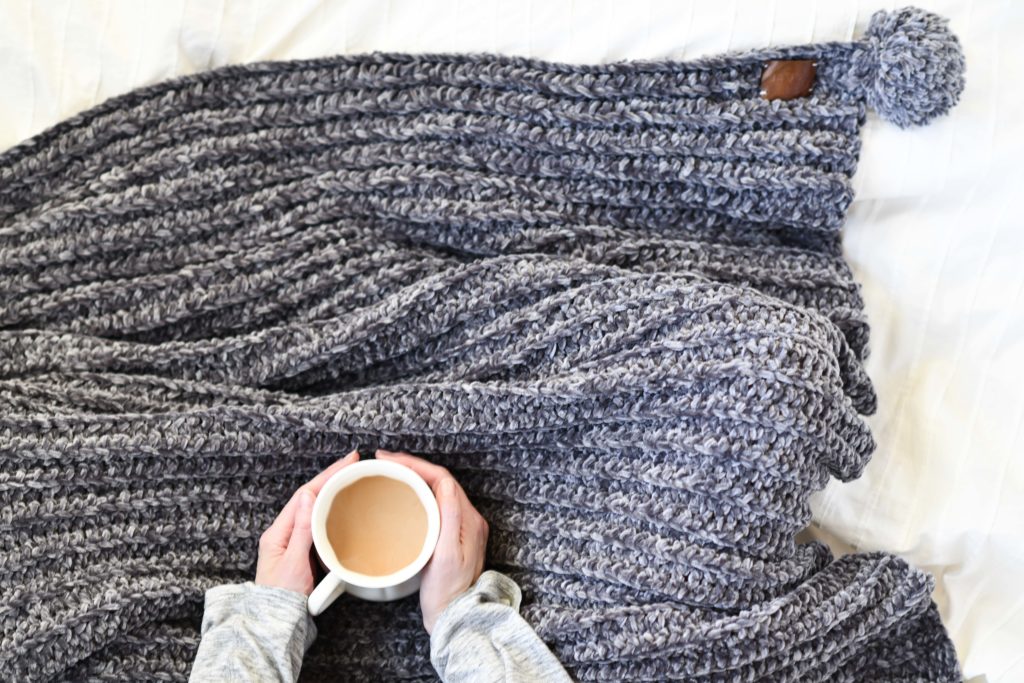 In the end, I liked the clean, knit-like look of using half double crochet stitches through the back loop for this blanket.? The slight ribbing gives it a nice, understated texture and makes it cozy too. It's also completely beginner friendly, so no being intimidated by this project. If you can count stitches, and know how to half double crochet, you are good to go with this pattern.? __Below: SQUISH!!!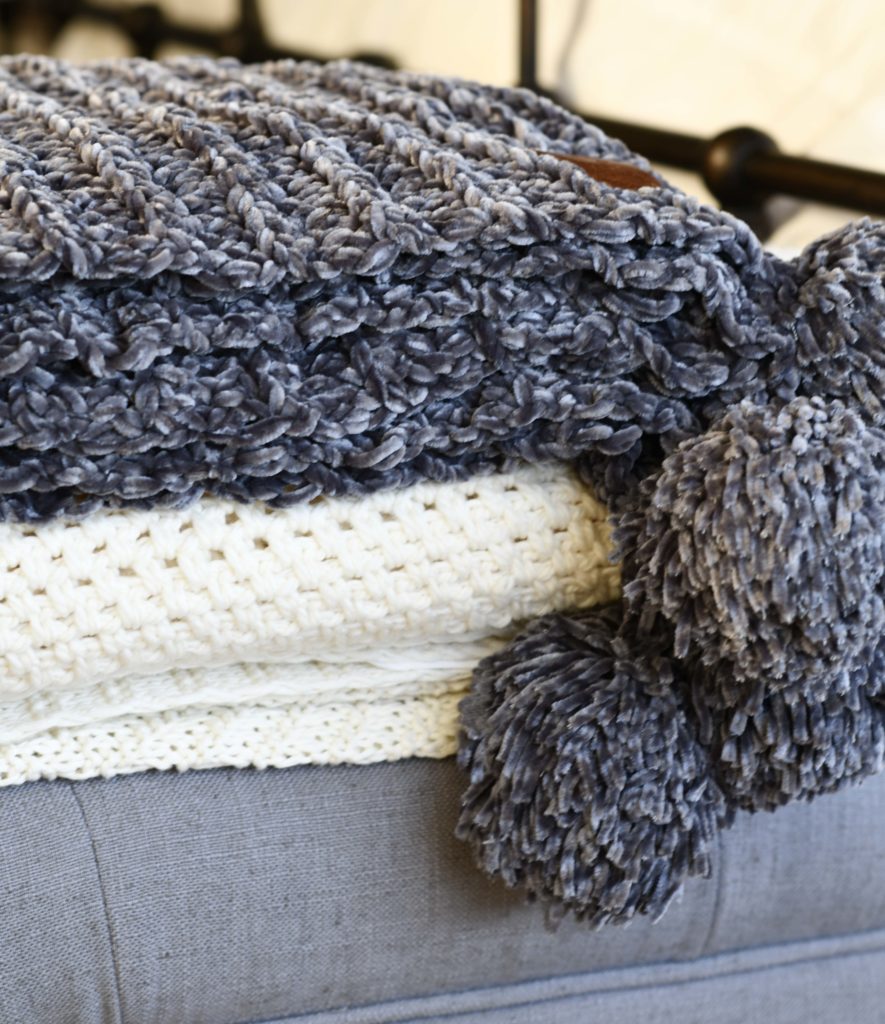 If you're curious about the tag, it was very easy to make.? First, let me say that you might save yourself money by finding a shop on Etsy that will personalize tags for you.? I was in a bit of a hurry and didn't have time to wait for tags to be made for me, so I did them myself.? I purchased scrap leather from Michaels and a set of leather stamps which included the letters of the alphabet.? I already had a leather hold punch at home and wax thread.? From there, I simply cut out a leather rectangle, stamped the word "LOVE" on my tag with the letter stamps, punched holes in each of the four corners and sewed it onto the corner of the blanket.? It was an investment, but I love that I now I have the letter stamps to make tags that say anything that I want! The stamps aren't cheap, nor is the hole punch, so go to Michaels armed with one or more of their coupons that you can grab online.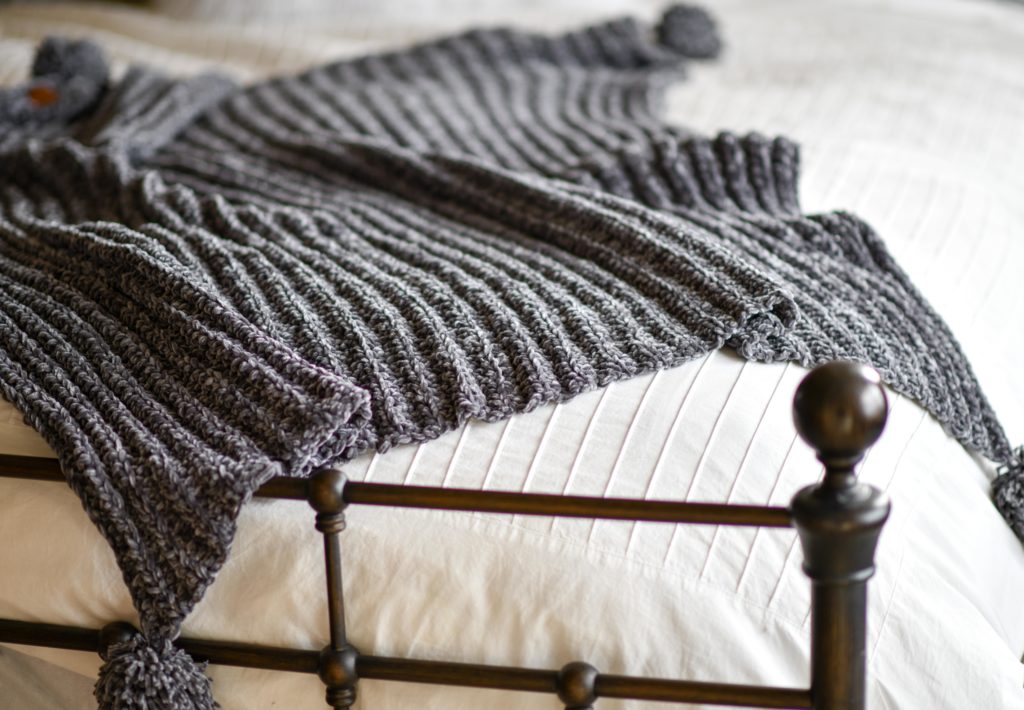 I added poms to my blanket, but if I make it again, I'll add tassels instead.? It's a lot of work to give these poms just the right hair cut to have them looking clean.? You've also got to make the pom very tight and secure so that the slick velvety pieces don't slide out! The tassels are just as beautiful as I did test out making a large one to see how they looked. It was much easier and just as nice.? But the poms are pretty, so if you're up for the challenge, go for it!Below: Loving this lighter Silver color as well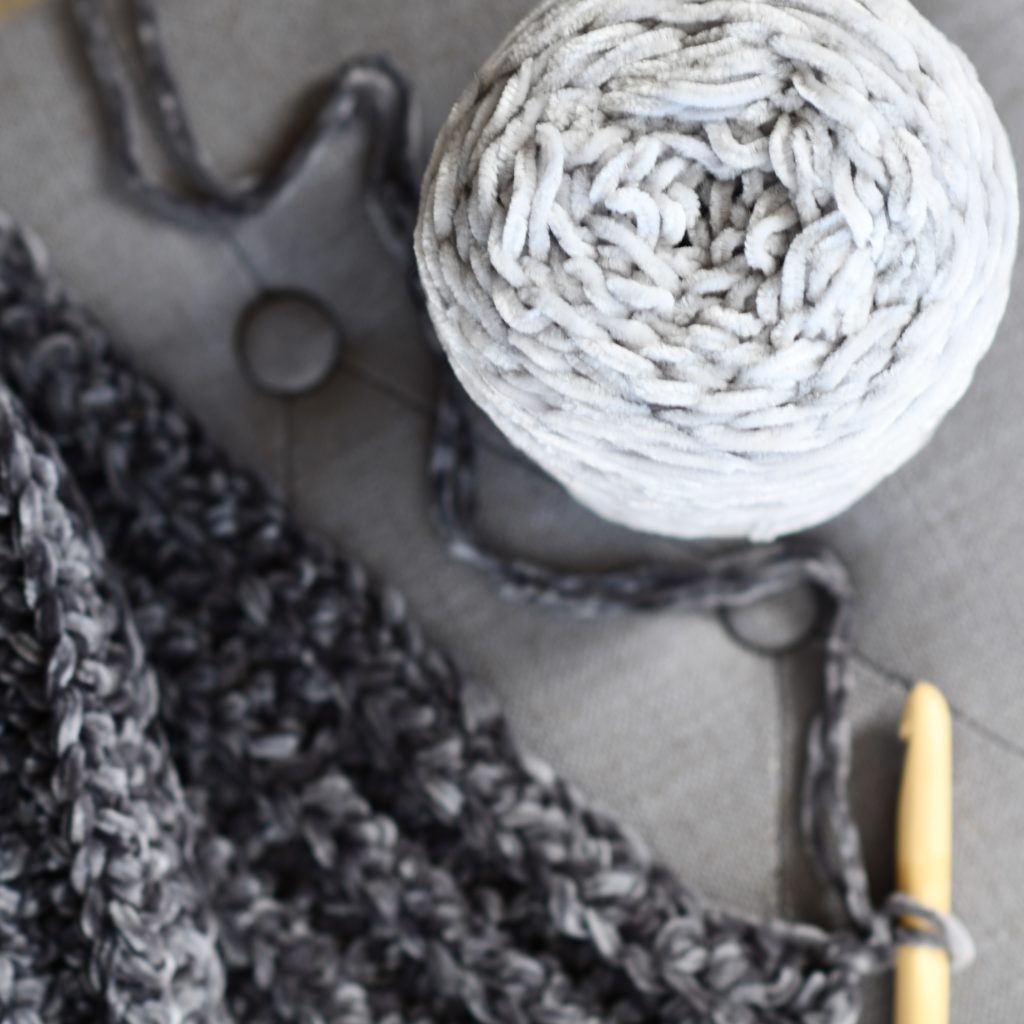 Let's get to this Vel-Luxe Throw pattern!Free pattern below, or you may choose to purchase the printable version in my Etsy shop HERE
Vel-Luxe Throw Blanket Crochet PatternPattern Description: Luxurious velvet yarn and modern crochet stitch work make this a timeless blanket thats perfect for year-round use.? Understated ribbing gives this crocheted afghan the look of knit and the comfort and quality of an expensive store-bought throw. Perfect for gift giving or to make as a special throw blanket for yourself.Skill Level: Beginner +Materials: US Size L 8.0 mm crochet hook9 Lion Brand Yarn Vel-Luxe Yarn in Charcoal (150 g/skein) Pattern uses approximately ???????? 1,300 grams including poms? Kit available from Lion Brand HERE in Charcoal, Dusty Pink & Marigold?(You may also purchase the yarn, without the kit from Lion Brand HERE)ScissorsTapestry needle?Dimensions (approximate)45 X 50Abbreviations & Skills: ch chainst – stitchhdc half double crochethdc blo half double crochet through the back loop onlyGauge:Approximately 10 stitches and 6 ? rows per 4 x 4Notes: This blanket is crocheted while holding two strands of yarn together throughout the pattern.Pattern InstructionsHolding two strands of yarn together, ch 129Row 1 Hdc in 2nd ch frrom hook and in each st across the row (128)Row 2 Turn, ch 2 (doesn??t count as a stitch), hdc blo in each st across the row (128)Repeat row 2 until you??ve used 8 skeins of yarn or your blanket is approximately 45?? wide.Tie off and weave in ends.Add Poms or Tassels (optional):Tip: Poms might be more challenging to make than tassels due to the nature of the yarn. With a pom maker or your preferred method, create 4 large poms or tassels.? Trim as needed. Securely tie one pom or tassel to each corner of the blanket with a length of yarn and weave in ends. You may find many pom and tassel tutorials by doing a simple online search. You may also view a picture tutorial on how to make a pom at the Mama In A Stitch Blog at: https://www.mamainastitch.com/how-to-make-an-easy-pom-pom-from-yarn/A simple tassel tutorial can be found here:https://www.mamainastitch.com/how-to-make-tassels/Enjoy your new, luxurious blanket!Hope you enjoyed this my friends. I'd love to hear your thoughts and have an amazing day.XOJessicaIf you liked this, you might also like:Mod Heirloom Crochet BlanketGo-To Crochet BlanketThank you to Lion Brand Yarn for sponsoring this post. All opinions are 100% my own.SharePinTweetShare