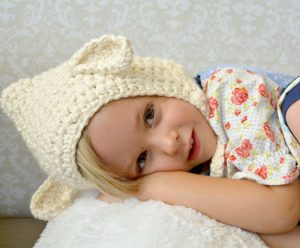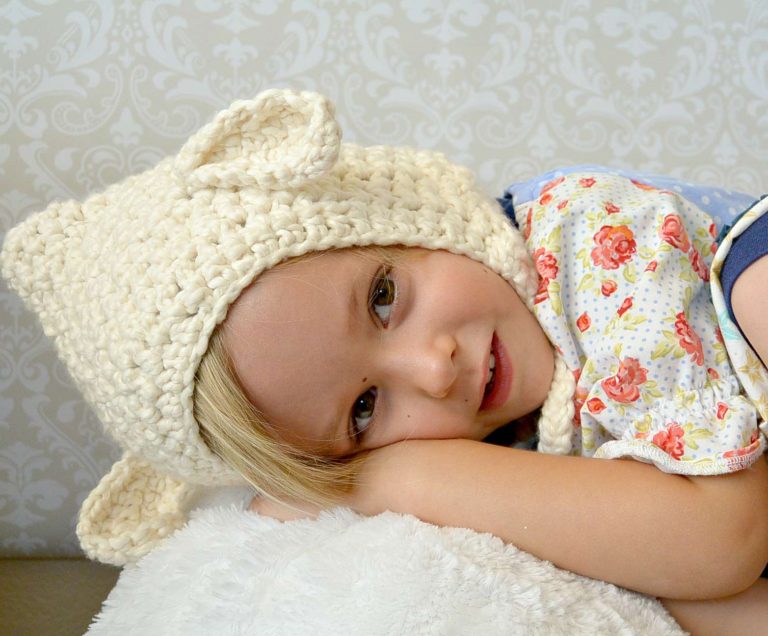 A long time ago (like back in February) I posted pics of the lamb hat that I had made for my daughter. I promised to post the pattern soon, and although late (very late-oops), here it is!I think it?kind of has a vintage look, maybe because of the yarn or maybe because of the simplicity of the hat. On top of that, it?reminds me of?vintage cotton that's been washed a thousand times because it is INSANELY soft. This is one of my favorite yarns as?I love the look and it's organic cotton.?Yum! I'm a sucker for things that are au' naturel. __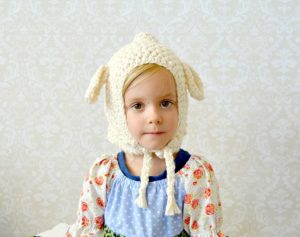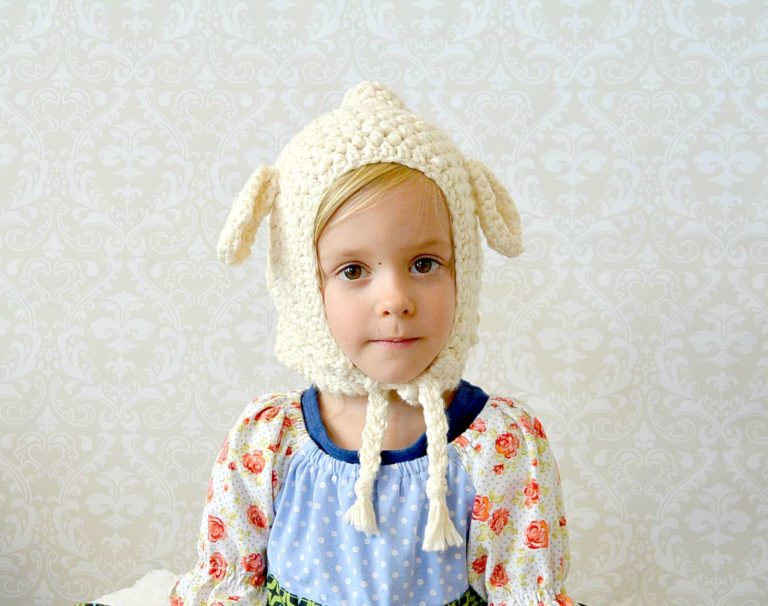 This hat is SOOOOO easy to make. If you read my blog, you know I'm all about easy and quick! Thanks to the texture of the yarn, you get the fuzzy soft lamby look without having to do any fancy stitches.?(I also used this yarn on some knit booties that you can see?here. ) It is done in half double crochet, and is essentially a rectangle folded in half with a few extra details.? The ears use basic stitches including double crochet, half double and single. If you feel comfortable with these stitches, this hat will be a breeze.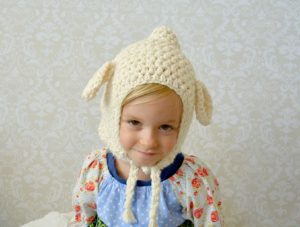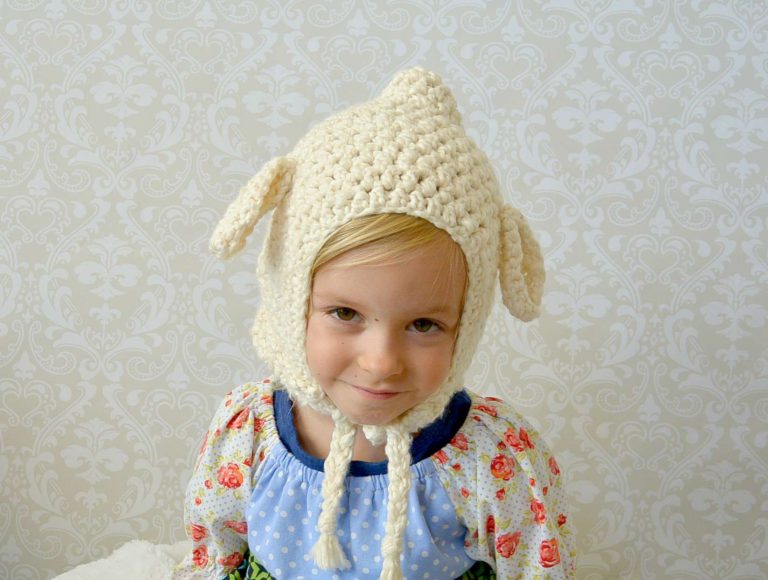 I still think that my girl is a baby, until I see her through the camera lens. Someone, please stop time right now!

MY LATEST VIDEOSNotes:*Fits about 2 to 4 years old (add some extra rows for a big 4 year old)*You start by making a rectangle.? This rectangle is folded and seamed along one side to make the hood. Ears and details are attached.**Note: Some pattern corrections were made since publishing the pattern. Note the hook size and number of chains-edited August 25th, 2015.You will need:3 (possibly 4?skeins) Lion Brand Natures Choice Organic Cotton**I made this hat before I knew I'd start posting my projects, so I didn't write down how many skeins. I just remember thinking it would take one and I kept having to go to the store to buy more. Luckily I had some coupons for Jo-Ann Fabric, so I got a discount. It's not the cheapest yarn around, so this was a help. __Size?J Crochet HookScissorsTapestry Needle to Weave in endsHow I Made It – Lamb Hat PatternChain 56 (Chain 50 if you don't want to fold the bottom up to give a bottom detail- see below)Row 1 In 4th chain from hook, half double crochet (hdc).? Continue to hdc across row. Chain 2, turn.Row 2 *?In 4th chain from hook, half double crochet (hdc) across row, chain 2, turn.*Repeat from * to * until piece measures just over 7 inches wide (about 16 rows, give or take). Tie off, weave in ends.You should now have a big rectangle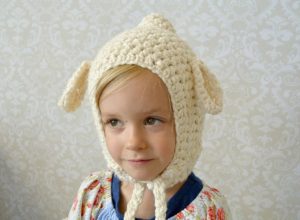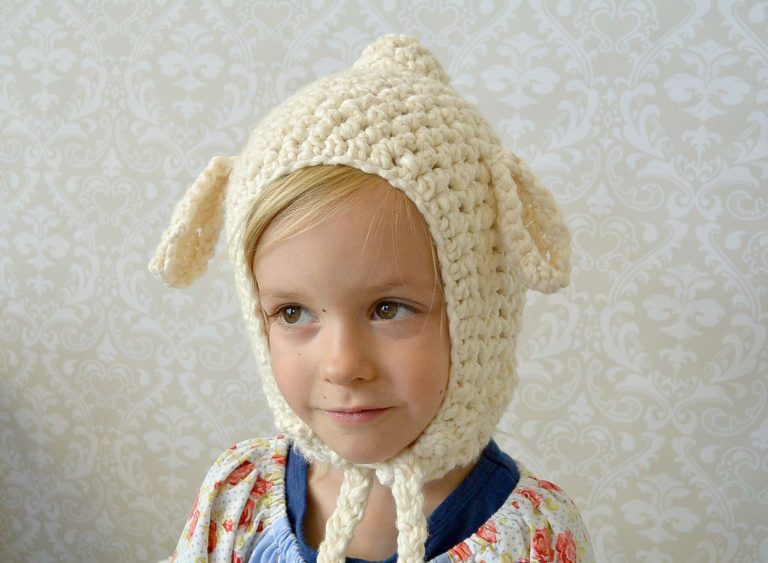 Detail at bottom of hat:Fold the short ends up approximately 1 to?1.5 inches. (This is only if you chained 58 rather than the 50) Slip stitch across to attach.? Tie off, weave in ends. This creates a little puffy detail at the bottom of the hat. (A beginner friendly detail)NOTE: Once the hood is seamed and laying flat, it should?measure about 7 inches wide (from where the face is to the seam in the back), and you want to fold up the bottom so that it is about 9 inches?from top to bottom when laying flat as a hood. So see the top of her head here? From the top to the bottom of that hood should be about 9 inches when laying flat. There is room for an extra inch or so, it's a forgiving pattern.? I put this here in case your gauge has made a larger or smaller hood than mine. Fold up more or less to get it the right size. __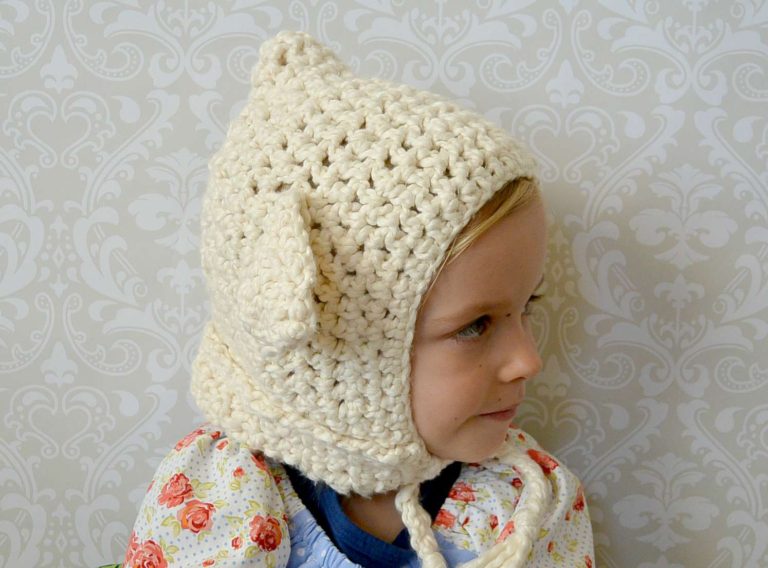 See the detail on the bottom? This is done by folding the hat up, and slip stitching to attach.Making your rectangle into a hood:Fold your rectangle in half, and slip stitch together on one side.? This is the back of the hood (My slip stitches are on the inside of the hood). The front is open for a cute face to fit right inside.EarsChain 10Row 1 In 3rd chain from hook DC, DC, HDC, HDC, HDC, SC, SC, Slip stitch, Chain One – DO NOT TURN, You will work down the other side of your chain now.Now on the opposite side of your row – or other side of your chain you will work the followingRow 2 Slip stitch, SC, SC , HDC, HDC, HDC, DC, DCNow you will single crochet around entire ear. Slip stitch to join. Tie off. Weave in ends.Tie ears on to hat using your preferred method.? Place ears one third of the way in, and one third of the way down the hat.Ties/TasselsCut four strands of yarn about 15 inches long.? Hold together.Fold your bundle of strands in half.Put folded end through bottom corner of hat. Draw the ends of the yarn through the fold and pull tightly.? You will have a long loose tassel.To make the braids, divide the yarn into three sections. Braid. Tie a knot at the bottom.Repeat on the other side of the hat.Now, place it on a tiny head and admire!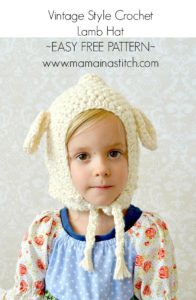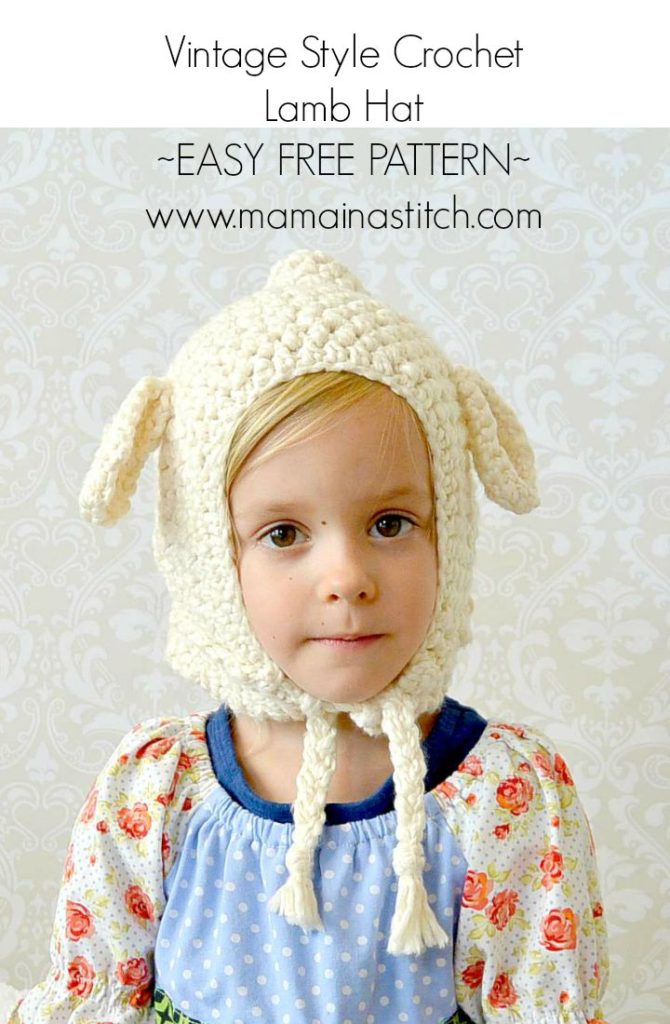 As always, let me know if there is anything I can do to improve the pattern and let me know if you have any questions. Feel free to subscribe to my free newsletter that includes my updates about new patterns. __If you liked this you might also like these knit hats: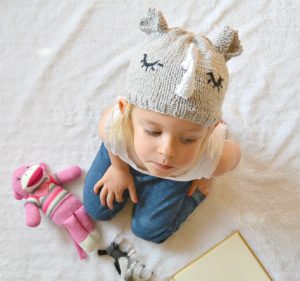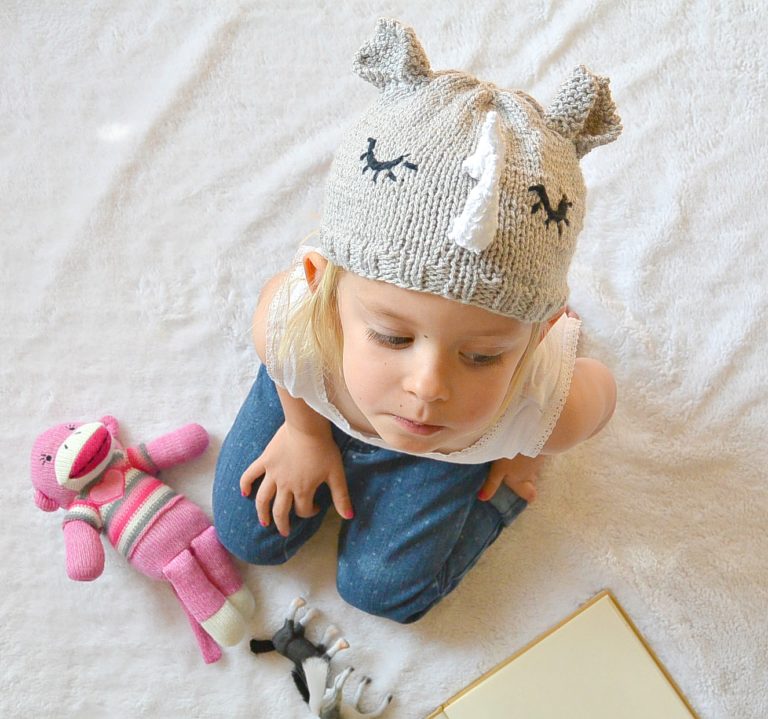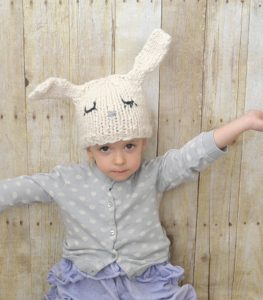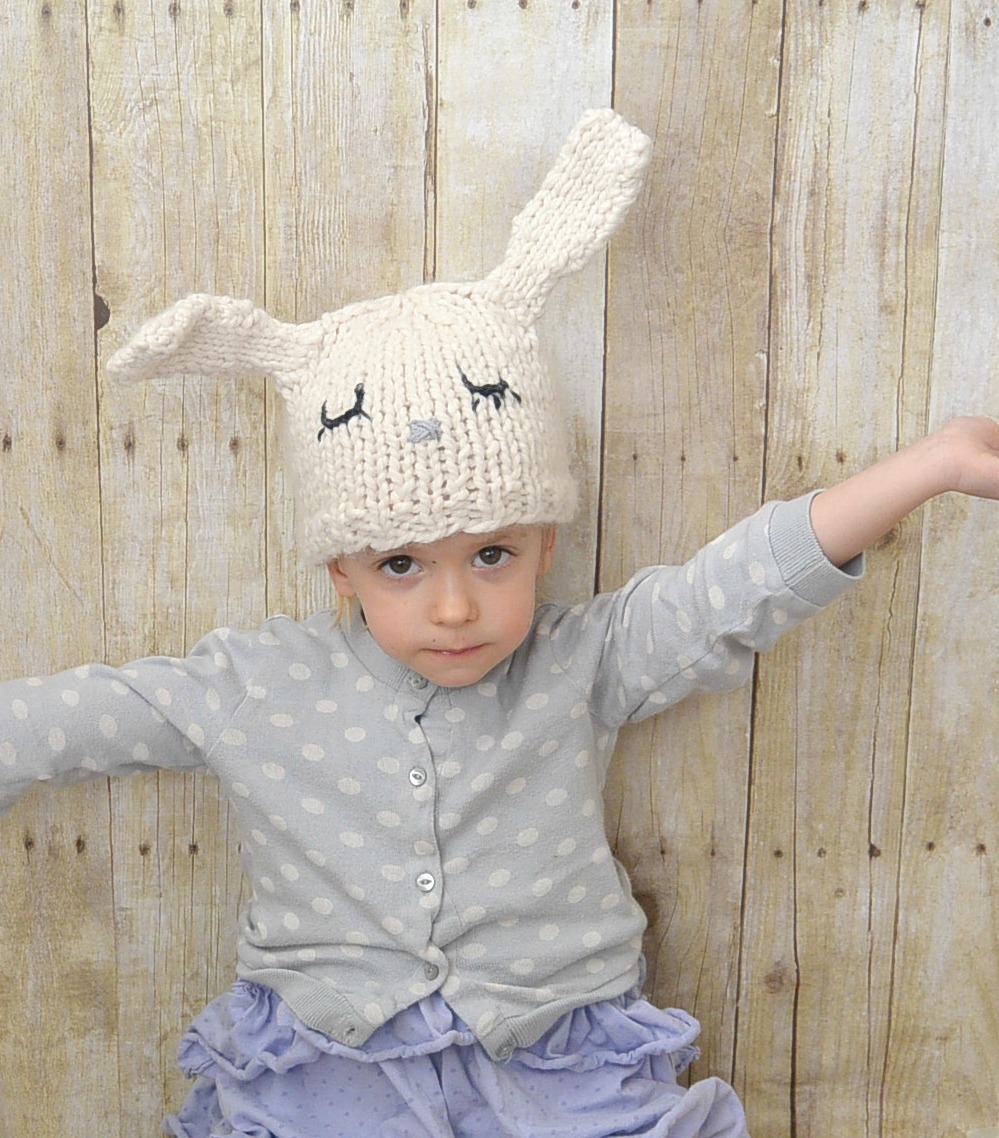 SharePinTweetShare