6K SharesWe are headed into the throes of winter, which means we are also headed into the season of crocheted throws. __? This super chunky crocheted blanket is easy to make and is wonderfully warm while having a timeless style.? It reminds me of a blanket that would be at Grandma's cabin, ready to drape over a bed in all it's woolly warmth for a cold winter's night.? And while it's cozy enough for grandma's cabin, it's also modern and gorgeous for any home. Yay! (And yes, I have an ongoing obsession with shade of white – see this blanket and this blanket)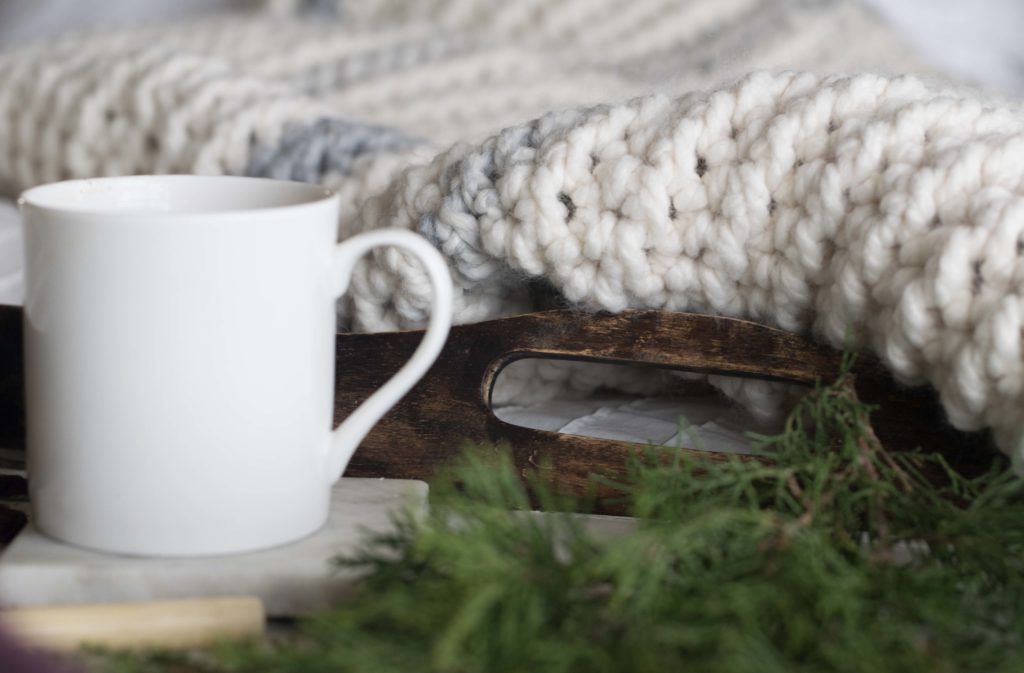 That texture…..mmmmmYou'll find that this afghan is easy to crochet as it's made with a half double crochet herringbone stitch (tutorial here from New Stitch A Day) .? However, I've put a twist on it by working the stitch through the back loop only which makes the ribbed look. Doesn't it create a cool texture? If you know how to half double crochet (one of the most basic stitches), then you can easily make this blanket. It uses super bulky yarn and a large crochet hook so it works up relatively quickly.??The stitches almost appear to be little arrows facing in different directions on each row which I really like.

MY LATEST VIDEOS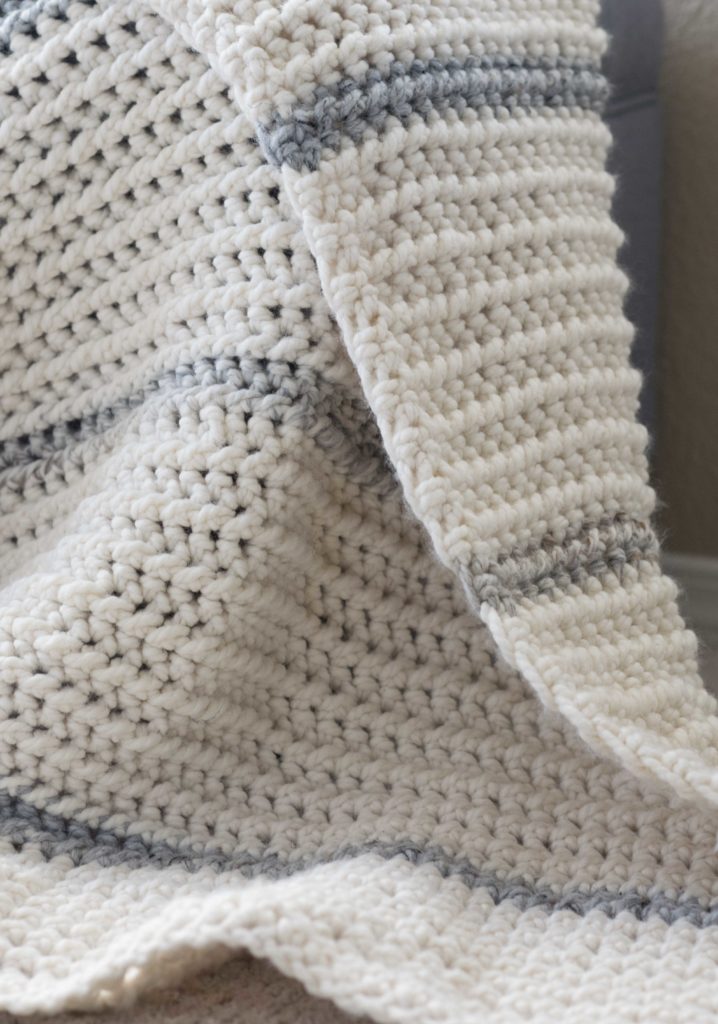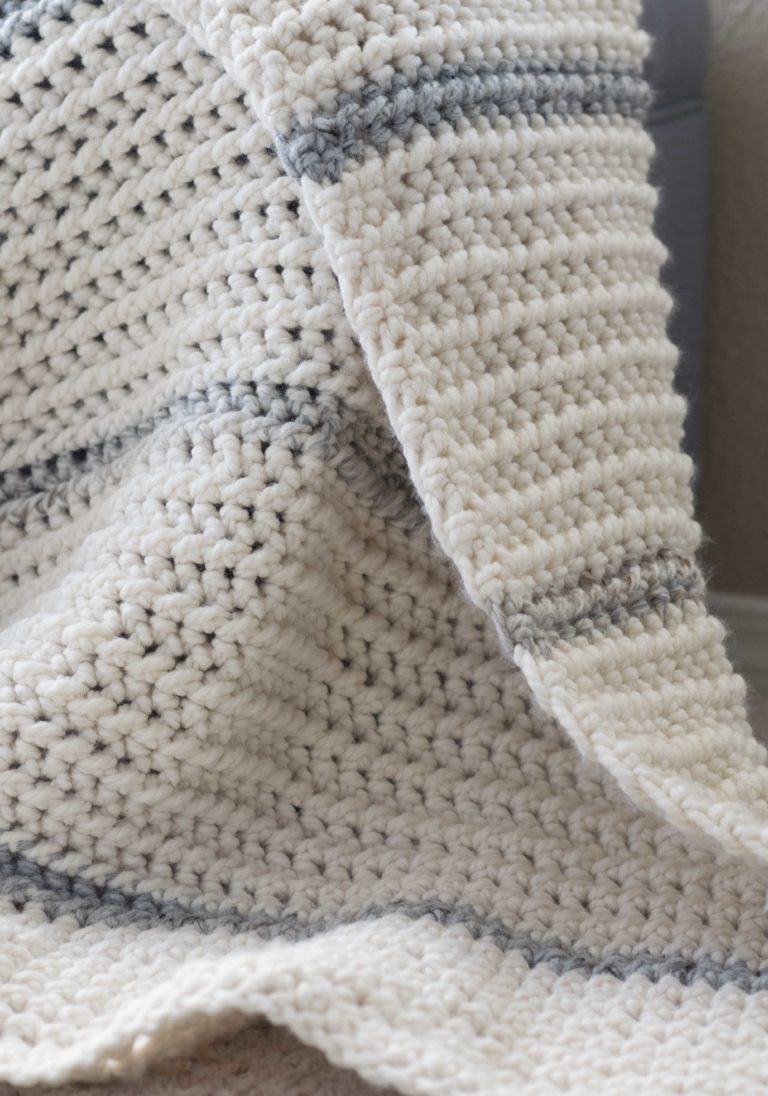 You can of course make this afghan with any colors that you like, but of course I went with white for a classic, neutral, "wintery" look.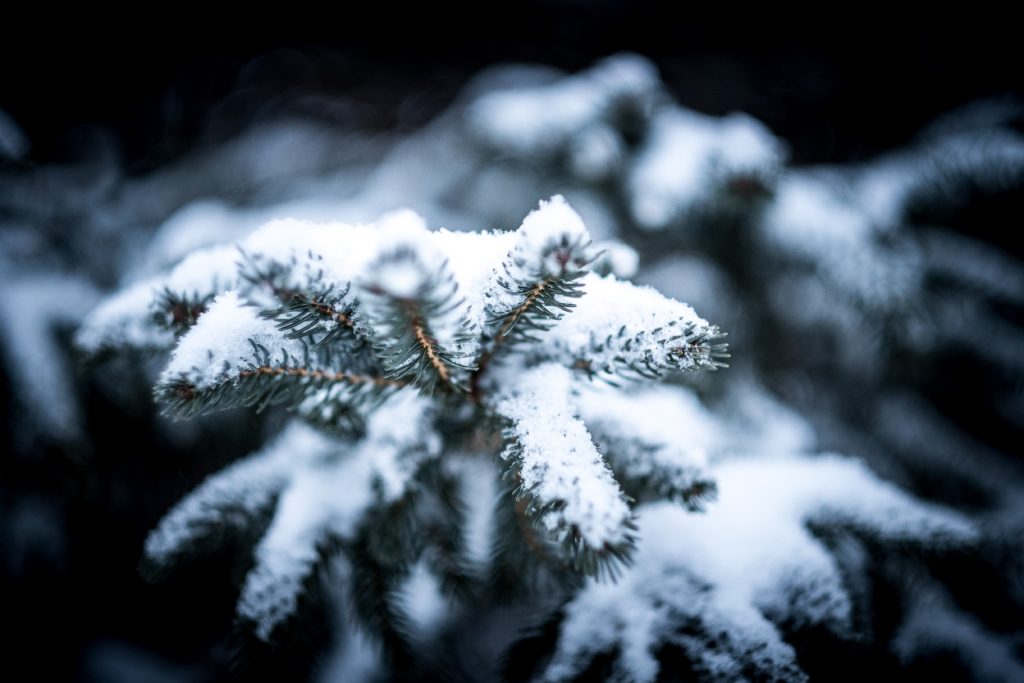 The weather outside is frightful, but our crocheted blankets are so delightful. __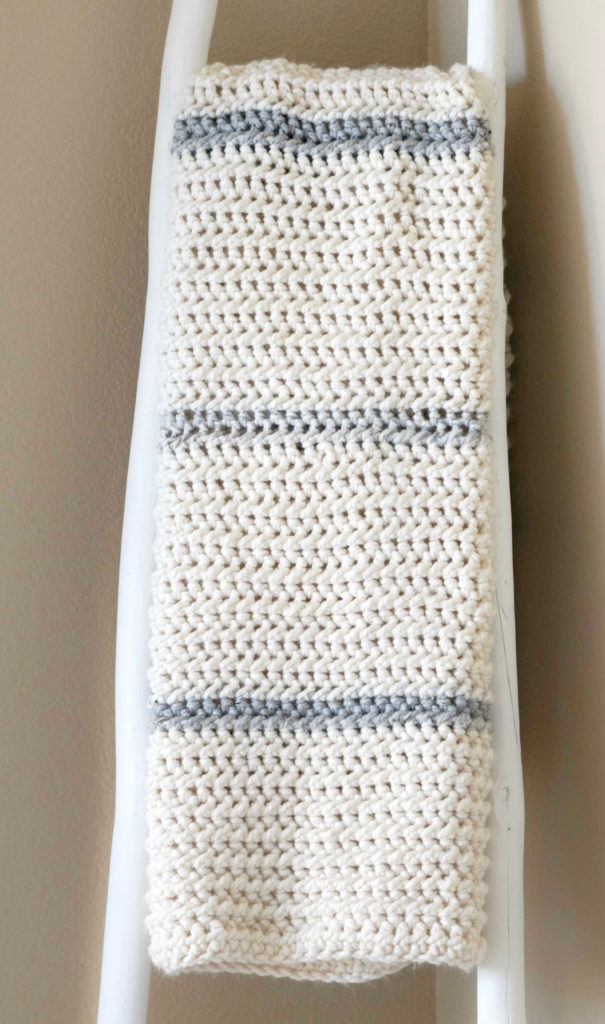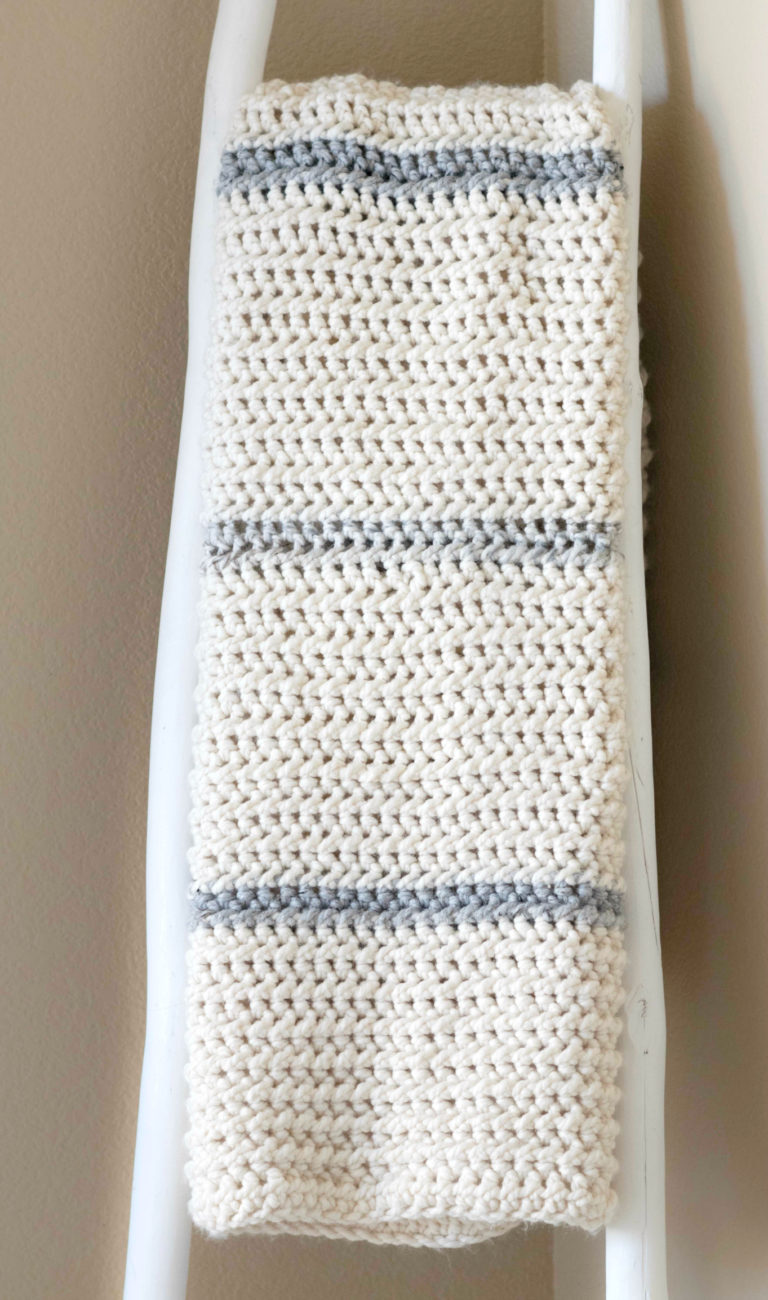 As I mentioned earlier, this blanket's made with a wool blend yarn. However, you can substitute it with any super bulky yarn that you like as I know some folks have allergies to wool.? Hometown USA (here) would make a good alternative and has a nice sheen.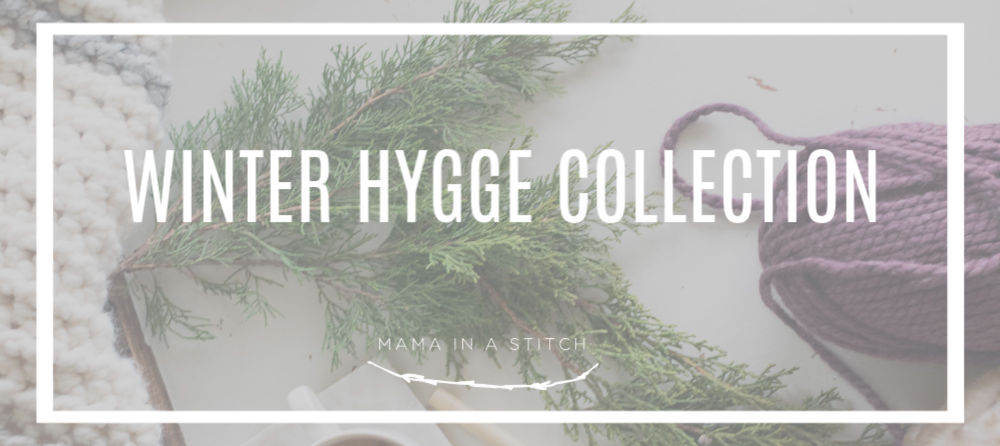 Oh! And if you get my newsletter, you already know that this is the first of several projects that I'll be sharing as part of my Winter Hygge Collection. Sign up for my newsletter to follow along if you want more cozies! __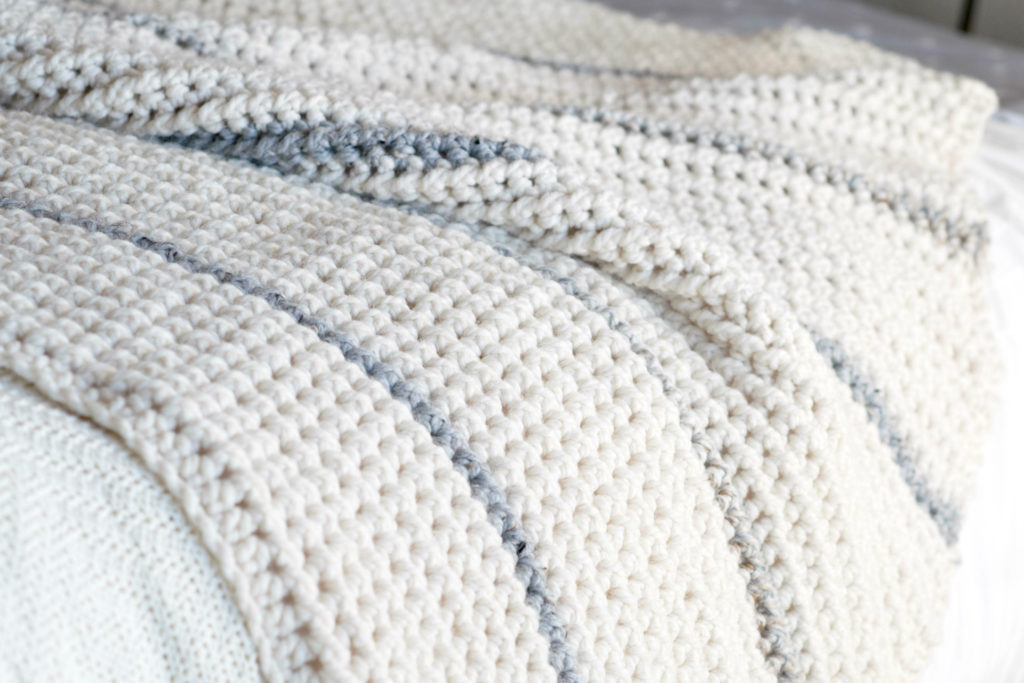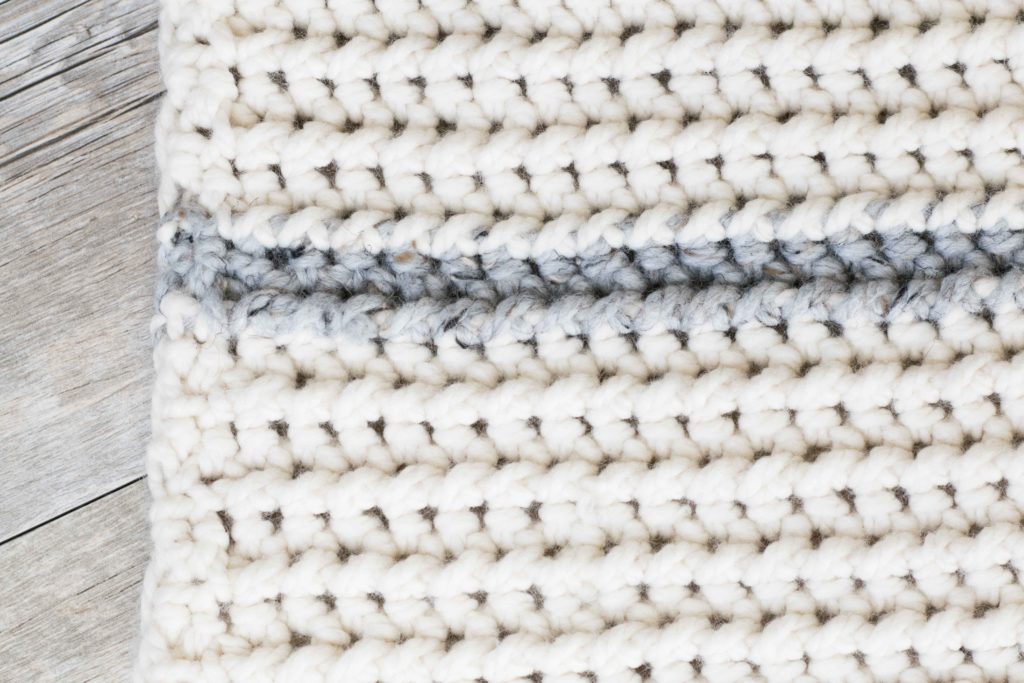 Let's get started on this afghan!You will need:US Size P 11.5 mm crochet hook9 skeins Wool Ease Thick & Quick Super Bulky Yarn HERE in Fisherman (170 g / skein)1 skein Wool Ease Thick & Quick Super Bulky Yarn HERE in Fossil (170 g / skein)1 skein Wool Ease Thick & Quick Super Bulky Yarn HERE in Grey Marble (140 g / skein)Pattern uses approximately 1,654 grams of yarnSize:36″ X 54″Gauge:Not important for this pattern, however this blanket's gauge is about 7 stitches in 4″Skills and Abbreviations:ch – chainst – stitchSpecial Stitches: hhdc – herringbone half double crochet? There is a terrific tutorial and video on the Herringbone Half Double Crochet Stitch from New Stitch A Day (HERE). For my pattern, you will be working this stitch through the back loop only.See how it looks to work stitches through the back loop only HERESteps for hhdc stitch:(and remember to see the tutorial here)1:?Yarn over.2:?Put hook into next stitch.3:?Yarn over and draw through the stitch and first loop on hook. (This is the part that varies from regular half double crochet)4:?Yarn over, pull through remaining loops on hook.hhdc blo– herringbone half double crochet through the back loop only (This is the stitch used for nearly the entire pattern)Notes:The fabric created in this pattern is reversible.? As with any crocheted wool sweater or blanket, I suggest only washing this in your machine when absolutely necessary. It does hold up to washing, but over time will have piling as any product of this nature would.? Tip: If you're not experienced (or even if you are but you'd like to practice a small swatch of this pattern before beginning) you may chain 9 and follow rows 1 – 3, repeating row 3 as long as you'd like, to make sure your piece isn't growing or shrinking.? Be sure to count your stitches each row as losing or gaining a stitch is usually the cause of this problem.
Winter Ribbed Chunky Crocheted AfghanWith FishermanCh 61Row 1 Hhdc in 3rd ch from hook (counts as 2 hdc) and in each ch across the row (60)Row 2 Ch 2 (counts as st), turn, hhdc blo in each st across the row (60)Rows 2 – 53 Repeat row 2 for the remainder of the pattern changing colors at the rows indicated below to create the contrasting stripes (Note: You will be working 8 rows of Fisherman, then one row of contrast color, then changing back to Fisherman for another 8 rows, etc)Change color to Grey Marble and work across the one row for each of rows 9, 27, 45Change color to Fossil and work across the one row for each of rows 18, 36Tie off and weave in ends.You may choose to add a border of single crochet or slip stitches (my personal favorite) around the blanket. Block to shape and size. Then cuddle up!That's all there is to this cozy winter blanket!As always, I love to hear your thoughts and comments below! Are you in blanket making mode?XOJessicaSharePinTweetShare