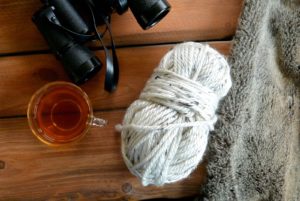 Yarn, tea, and cozy blanket. HEAVEN!! Taken at my parents home in Woodland Park, COHello dear friends! This is one of my "yarn break" posts where?sometimes I?write about other artsy projects that I'm working on. FEAR NOT! I've got?the?usual slew of yarn projects all?about the house, in nearly every room, which will be posted soon. __Today though, I'm simply taking a yarn break and want to kind of talk to ya. Yep!?I've been blogging about my little projects and patterns for 9 months now.?November is sort of the "thankful" month isn't it, so I?want to?thank you for your inspiration (really THANK YOU!)?and also share what else I'm thankful for in my life as well as a bit about the blog.??I'd love to hear more about you too if you're up for it. In fact, it would be fun to hear some of your stories on how you learned to knit and crochet.?__
Let me just say, I had no idea what I was getting into when I started this little blog, but it has been so fulfilling and a huge enrichment to my life. After teaching myself to knit and crochet through the internet and YouTube, I of course became addicted and never looked back. It was the perfect hobby for a busy mom – I could take it anywhere, make things while baby played at the park, and the list goes on.? I?had been?making up patterns mostly for Christmas gifts, and decided it might be nice to have them in one spot on the computer rather than on tiny?scraps of paper all over the house.?So the blog began even though I am not tech savvy in the least.? It took quite a bit of help from my brother and his techy friends to encourage me to get?this up?and running. Now it's gotten easier, but I still worry that I might blow up the computer sometime if I hit the wrong button. __So far my favorite projects have probably been the Knit Bunny Hat, Favorite Crochet Beanie and Native Stripes Knit Blanket, but all of the projects and posts have been fun!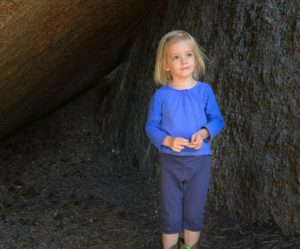 Besides yarn, we love being outside. Cave exploring always makes for a good adventure.You've most certainly seen my daughter several times on the blog (usually in a hat like this).?I guess?I'm that parent that will annoy?you with massive quantities of pictures!??Of course, she's my world. After wanting to have a child for a long time, and thinking it may never happen, she is a gift that I appreciate every minute of every day.? After I had her,?the hubby and I?knew we somehow wanted make it work for me to stay home. I ended up leaving my Special Education teaching position (which I completely and totally loved and am still passionate about) to stay home with her full time. I still am a part time tutor, but it allows me to be with my?baby most all of the time. She just turned FOUR, and is going to pre school now.? People tell me all the time to enjoy her because?children grow so fast. Is it bad that I'm already worried about my mental well being when she leaves for college someday?
Who said that quote about being a mom that goes something like "It's hard to have your heart walking around outside your body". Yep, that's me.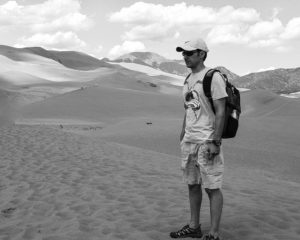 Here's the hubby that supports my yarn hobby. This was on our camping trip to Sand Dunes National Park, COI'm also married to a wonderful Polish man, and we do try to speak some Polish at home. Yes, I poke fun of him sometimes in the blog (thank goodness he doesn't read it – wait, how rude!). While he does give me eyerolls about my yarn purchases, he is incredibly supportive of my little hobby. I think he sees that I need something like this to stay sane being home all day with baby. Any of you other mamas with me on this? Anyway, we met while he was on an exchange program here in the States. I went to Poland to visit him, and we got engaged to?the shock and horror of my parents I'm sure. Ha!?I am so grateful to him for working hard which allows me to spend these precious years with our baby. He is a kind hearted soul.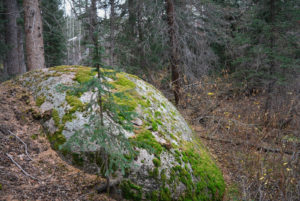 The forest just looking like a fairy tale.

MY LATEST VIDEOSWe spend a lot of time in the mountains during the summer, both camping (remember my camper make-over?)?and at my parents home. My daughter is very close with my parents and a lot of the pictures have been taken by my mom while we are visiting them.? Getting out in nature is important to us, and that's probably reflected in the photos on the blog.
Speaking of photos, I am trying to get better at taking pictures. All of my photos are taken by me, sometimes my mom, sometimes my husband, and believe it or not, I've got a couple up that my daughter took. ?The whole "photography" thing is fun to try and learn, but it's also very time consuming.? It's like a whole new hobby on top of a hobby (knitting and crochet) on top of another hobby (blogging). Weeeee!One of my favorite pics and projects this year. I was stunned when Homespun Magazine decided to publish it back in June.
So there's a bit about us.? It may look like I have everything together in the pictures, but the reality is, this is a happy life, but a messy, real, sometimes tough life! Overall, I remember how thankful I am that I am surrounded by people that I love and I get to enjoy hobbies with my bits of precious time.Thanks to each of you for the inspiration that you have given me!How did you get into this hobby that we love?SharePinTweetShare