4K SharesMy summer necessity….a big bag.? I'm constantly throwing snacks, towels, sunscreen and who knows what else into a tote and heading out the door for trips around town.? When I thought about making this crocheted summer bag, it made sense to stick with a good cotton in some bright colors.? It's rare for me to use colorful yarns, but if there is ever a time to use them, it's with a vacation-esque summer tote, right? The yellow, red and aqua tones in the tote remind me of the happy colors of the Caribbean, hence the name! It's crocheted with mercerized cotton making it light yet durable for summer use.??The simple crochet stitches are easy to work and it can easily be customized with your fave summer colors.? __? You can scroll down to see the free pattern below, or you may choose to purchase the full kit from Lion Brand Yarn here(currently on SALE), or you can find the printable version from my Etsy shop here.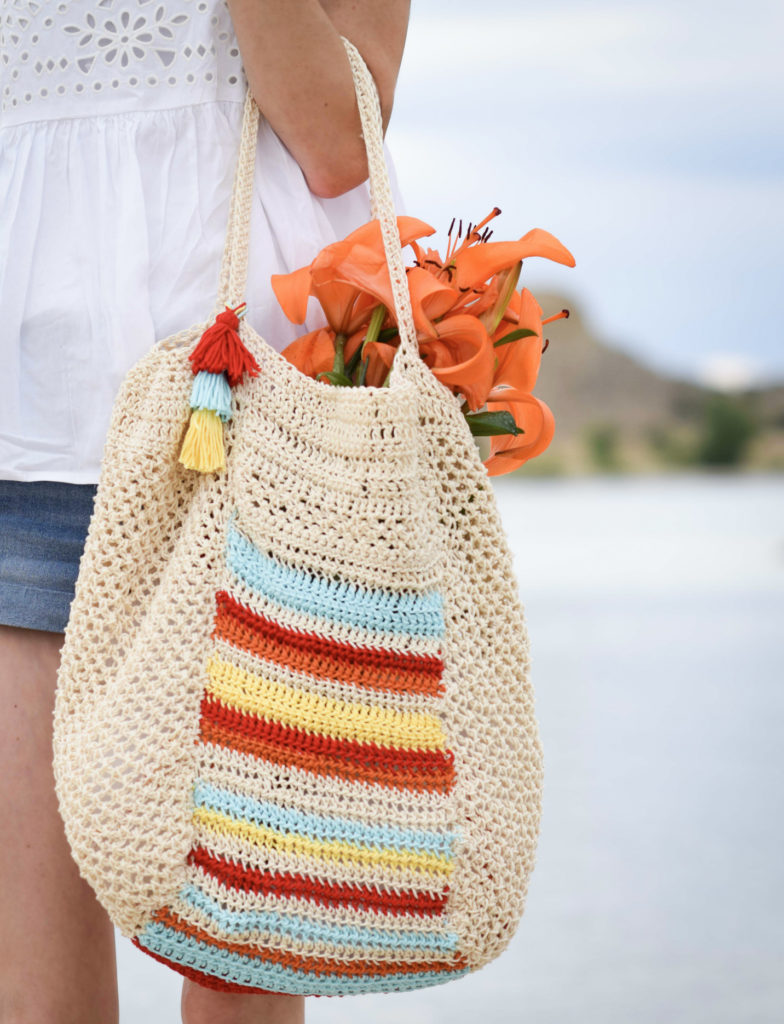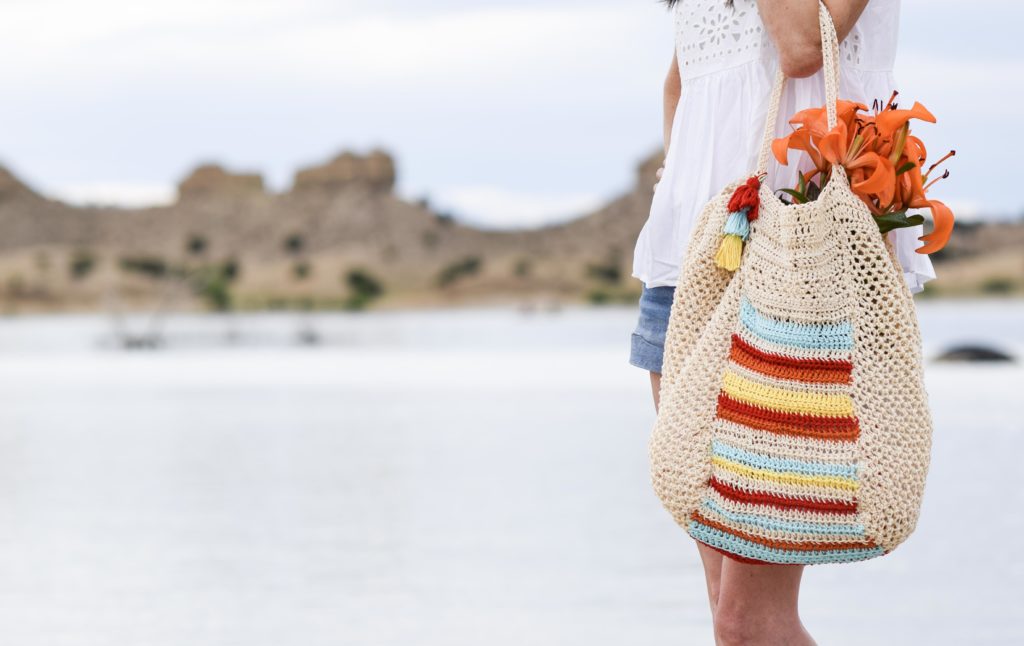 MY LATEST VIDEOSThe construction of the bag is different than you might think right off the bat as it's crocheted as three separate panels and then worked in the round to finish.? This method gives it the interesting center striping and contrasting stitch patterns.? Even though it's a small detail on my bag, I think the tassel adds so much! You can find a photo tutorial below on how I made this three colored tassel. I'm thinking that I'd like to add several more to give it more drama and color.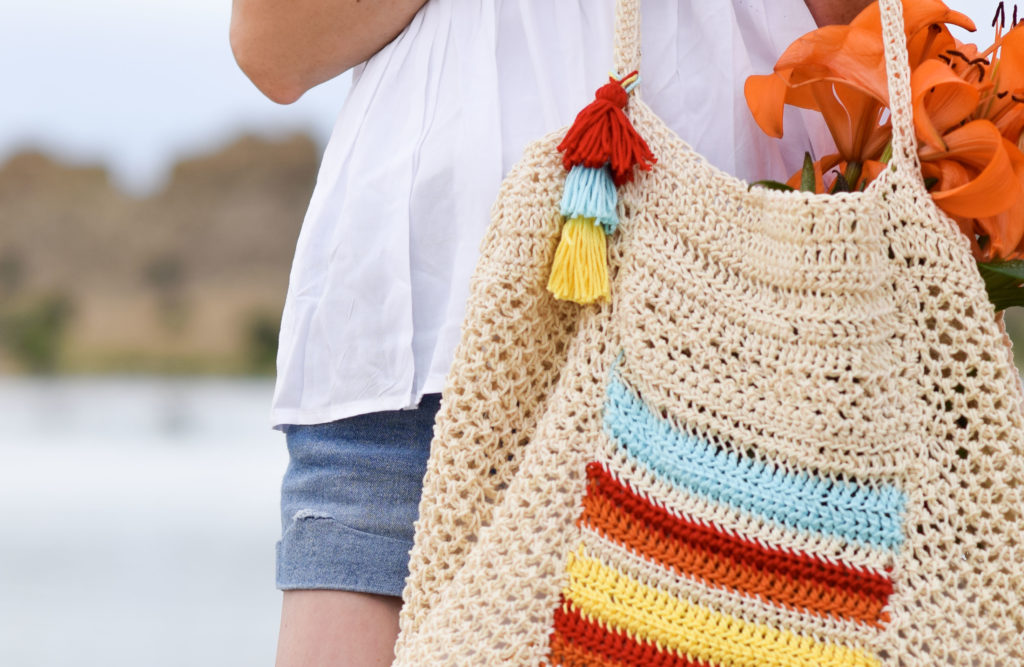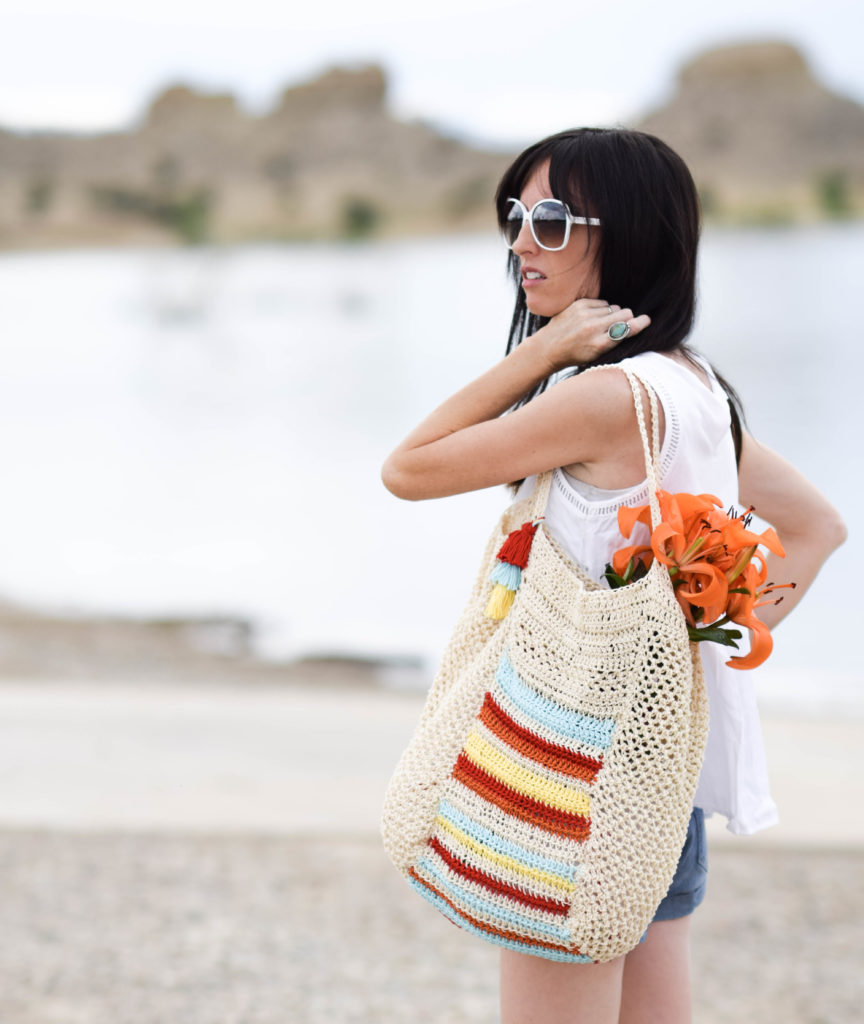 Below: We are pretty far away from the Caribbean here in Colorado, but some pretty boats and a lot of water can make it feel like vacation. (Photo taken on our trip to Lake Pueblo State Park)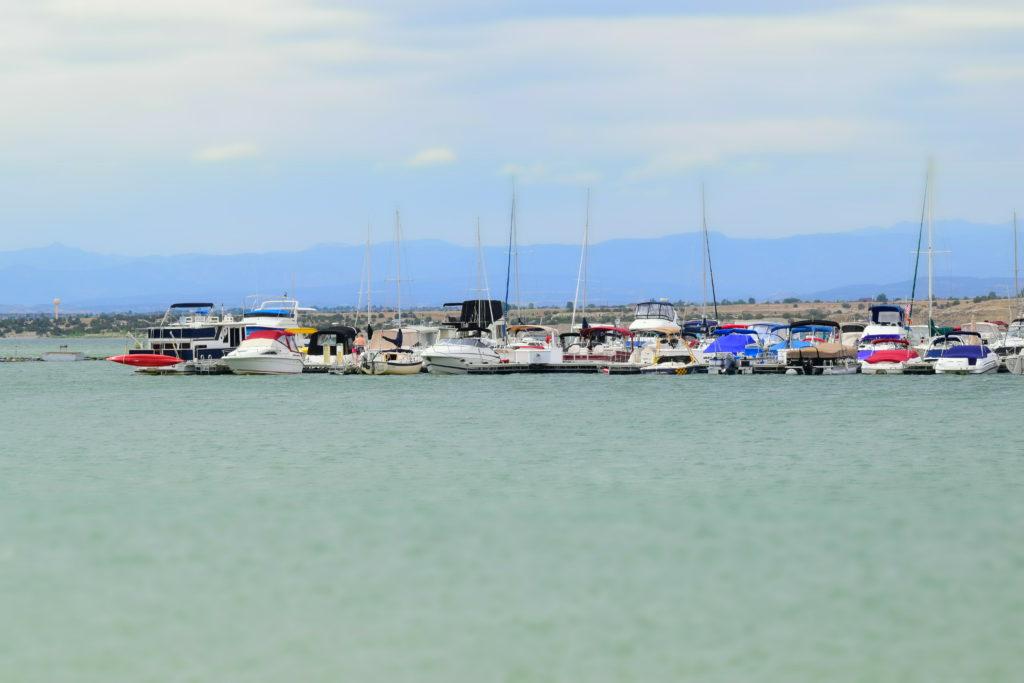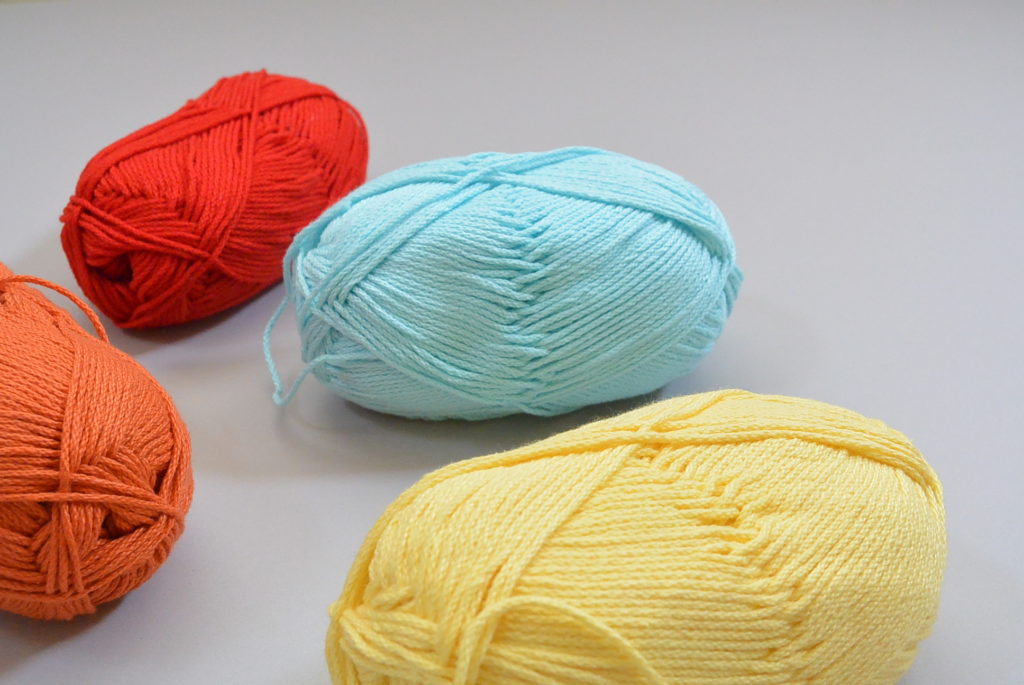 Above: I love the 24/7 cotton from Lion Brand. It holds it's shape really well and washes up nicely too. Since it's mercerized, it has a bit of a sheen to it and seems a bit more "sturdy" than other cottons.With this project, I think it's helpful to first see the step by step process in pictures, and then I'll get to the pattern. So let's get started!Step 1:Crochet two matching panels which will be the sides of the bag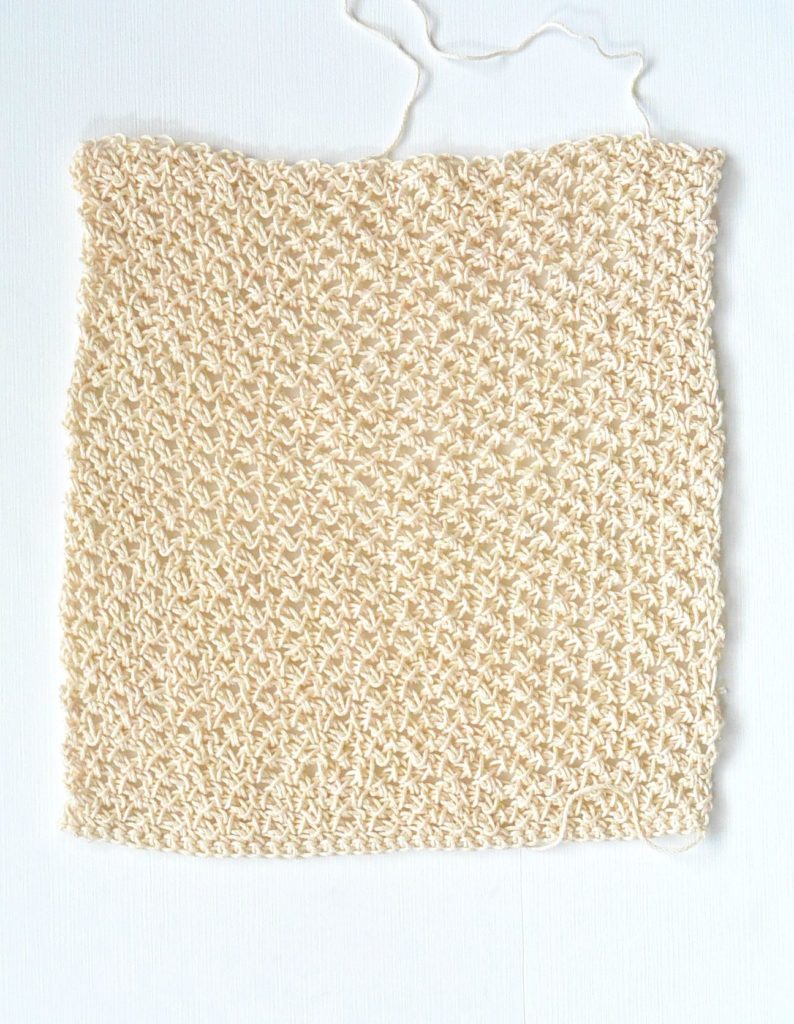 Step 2:Crochet a center panel which will act as the front, bottom and center of the bag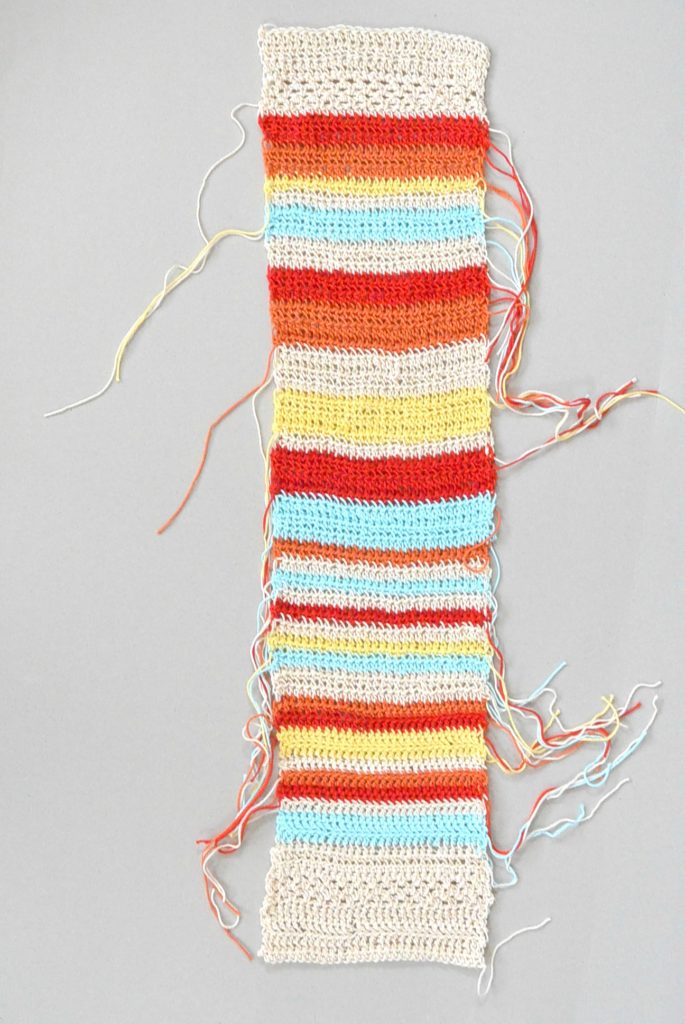 Step 3:Seam these three pieces together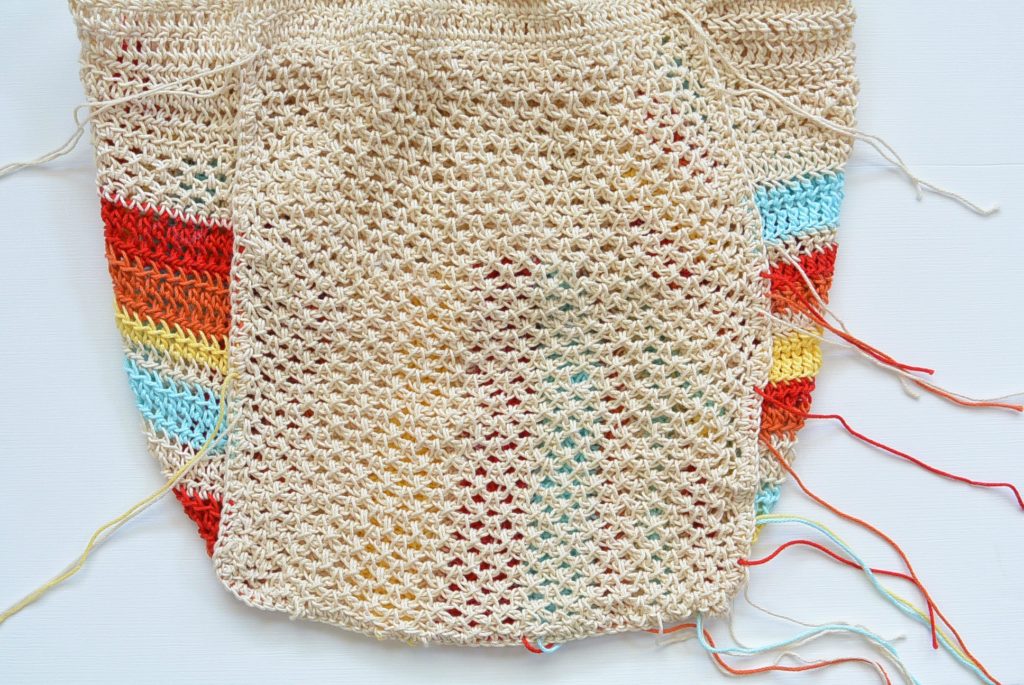 Step 4:Finish the bag by working in the round on the top.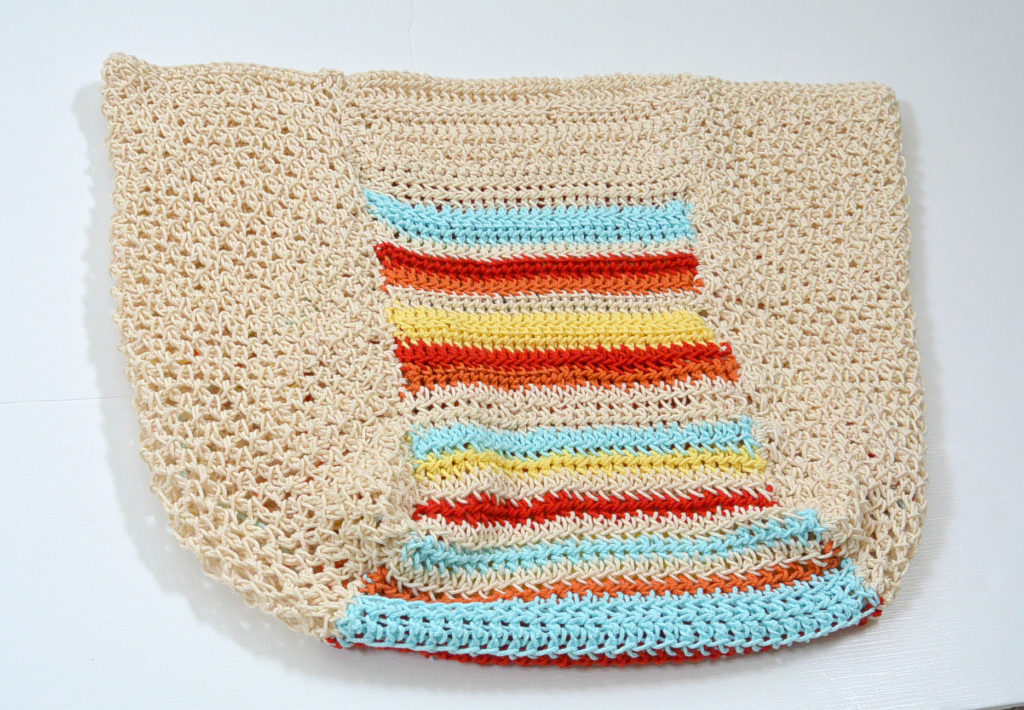 Step 5:Make a chain on each side and attach with a stitch to create the handles. Continue to work around.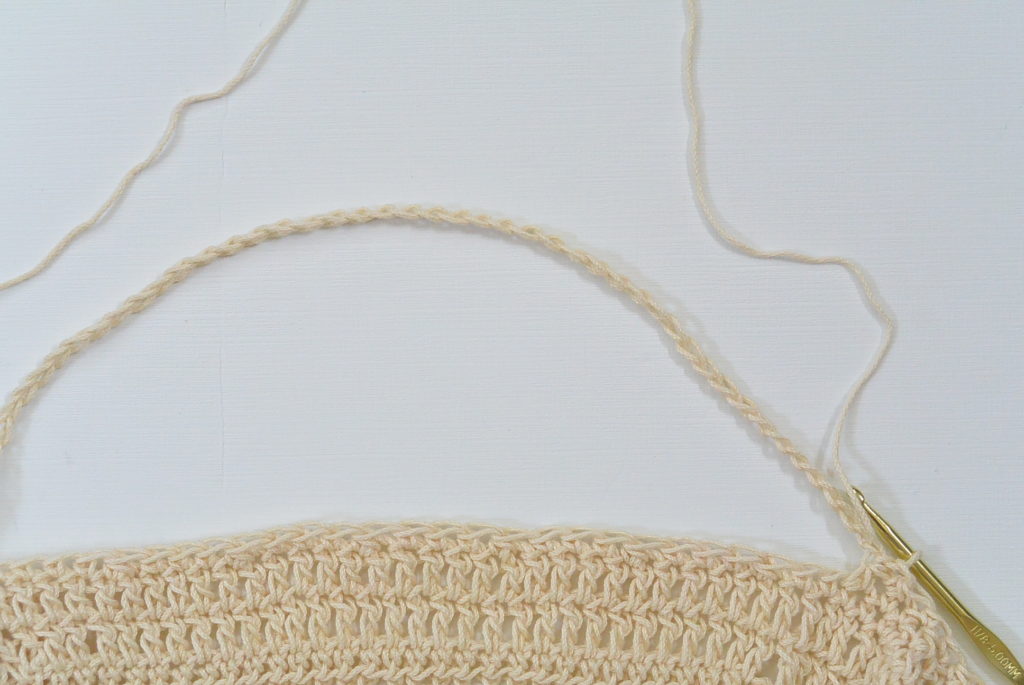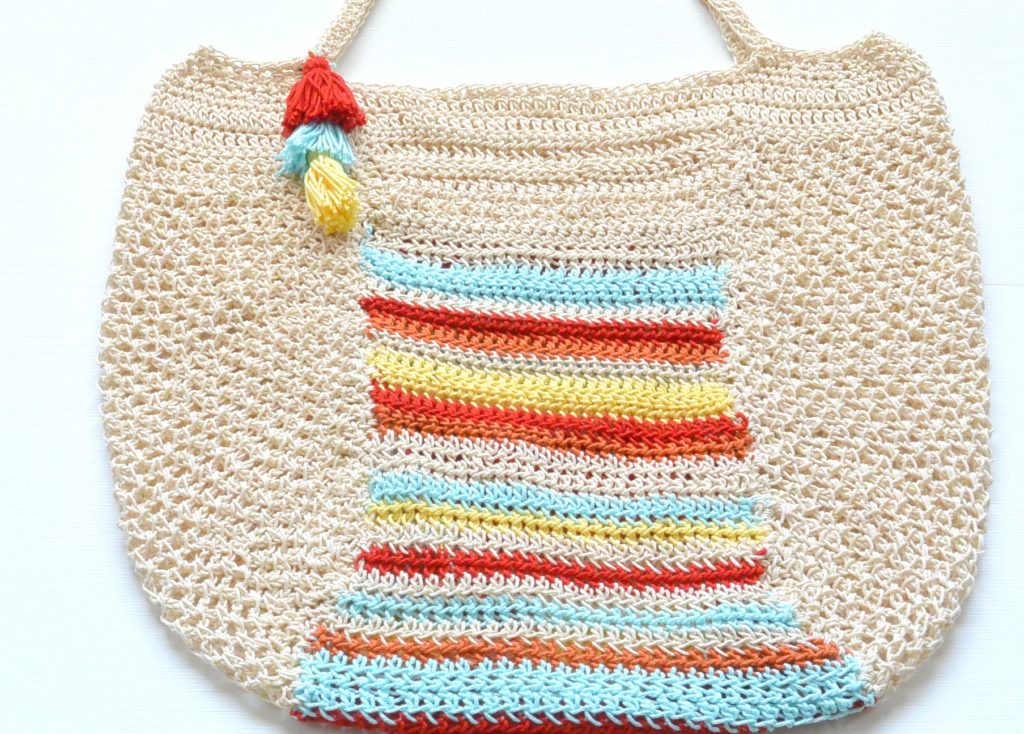 Step 6:Make as many or as few tassels as you'd like, attach and enjoy!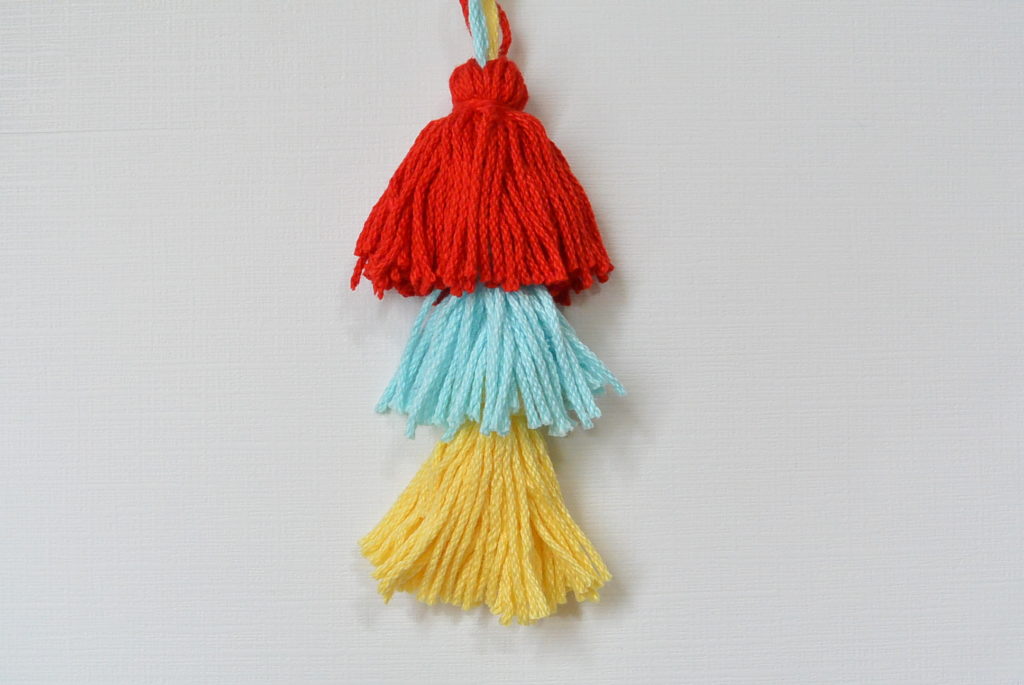 Okay, now for the official pattern! See it below, or like I mentioned earlier, you can find the printable version for purchase in my Etsy shop (here)Pattern Description: A large, summer bag inspired by the sandy shores of the Caribbean.? Playful stitches and striping make this a beautiful tote thats perfect for hauling around towels, your picnic lunches or your latest finds at the farmers market.Skill Level: Easy +Materials: US Size H 5.0 mm crochet hookUS Size J 6.0 mm crochet Hook3 skeins Lion Brand Yarn 24/7 Cotton in Ecru (100 g/skein)? (Find the full kit available on the Lion Brand Yarn Website HERE)1 skein Lion Brand Yarn 24/7 Cotton in Lemon (100 g/skein)1 skein Lion Brand Yarn 24/7 Cotton in Red (100 g/skein)1 skein Lion Brand Yarn 24/7 Cotton in Tangerine (100 g/skein)1 skein Lion Brand Yarn 24/7 Cotton in Aqua (100 g/skein)(Pattern uses approximately 250 g of Ecru & 100 g or more of contrast colors with additional tassels)Gauge: Not important for this patternDimensions (approximate): 19.5 wide and 16 longAbbreviations: ch chainhdc half double crochethdc flo half double crochet through the front loop onlysc single crochetsc2tog single crochet two together (decrease)sl st slip stitchch-2 sp chain two spaceCC _ change colorst – stitchNotes: This bag is crocheted by first making two side panels and then a center panel. Each panel is then seamed together.? To finish, the bag is worked in the round at the top and handles are added over the last few rounds. The side panels are made with a simple mesh stitch, and you can find a full tutorial online here: https://www.mamainastitch.com/how-to-crochet-an-easy-mesh-stitch/? This stitch is also used for a few rows in the center panel.? Feel free to make this your own by changing the colors and striping in the center panel to your taste!
Caribe Bag Crochet Pattern InstructionsSide Panel:With Ecru yarn and your size H crochet hookCh 41Row 1 Sc in each st across the row, turn (40)Row 2 Ch 2, sl st into 4th st from hook (this is also the 2nd to last st of previous row), *ch 2, sk st, sl st into next st, repeat from * across, turn. (40 ch stitches)Row 3 Ch 2, sl st into ch-2 sp, *ch 2, sl st into next ch-2 space, repeat from * across row. (40 ch stitches)Row 4 5 Repeat row 3Change to size J hookNext, repeat row 3 until entire piece measures 12 long, tie off and weave in ends.Repeat Side Panel pattern to make a second panel.Center Panel:With Ecru yarn and your size H crochet hookCh 34Row 1 Hdc in 3rd ch from hook and in each st across the row, turn (32)Row 2 Ch 2, hdc flo in each st across the row, turn (32)Row 3 Repeat row 2Row 4 Ch 2, sl st into 4th st from hook (this is the 2nd to last st of previous row), *ch 2, sk st, sl st into next st, repeat from * across, turn. (32 ch stitches)Row 5 Ch 2, sl st into ch-2 sp, *ch 2, sl st into next ch 2 space, repeat from * across row, turn. (32 ch stitches)Row 6-7 Repeat row 5Row 8 Ch 2, 2 hdc in each ch-2 sp across the row, turn. (32)Row 9 Ch 2, hdc flo in each st across row, turn. (32)For the remainder of this center panel pattern, until indicated, repeat row 9 for each row making color changes when instructed.CC (Change color) to AquaRow 10 11CC to EcruRow 12CC to RedRow 13CC to TangerineRow 14CC to EcruRow 15CC to LemonRow 16-17CC to RedRow 18CC to TangerineRow 19CC to EcruRow 20 _ 21CC to AquaRow 22CC to LemonRow 23CC to EcruRow 24CC to RedRow 25CC to EcruRow 26CC to AquaRow 27CC to EcruRow 28CC to TangerineRow 29CC to AquaRow 30-32CC to RedRow 33-35CC to EcruRow 36CC to LemonRow 37 _ 39CC to EcruRow 40-42CC to TangerineRow 43 _ 45CC to RedRow 46 _ 47CC to EcruRow 48-49CC to Aqua50 _ 51CC to EcruRow 52CC to LemonRow 53CC to TangerineRow 54-56CC to RedRow 57-58CC to EcruRow 59 Ch 1, sc in each st across the row, turnRow 60 Ch 2, turn, sl st into 4th st from hook (this is the 2nd to last st of previous row), *ch 2, sk st, sl st into next st, repeat from * across, turn. (32)Row 61 Ch 2, sl st into ch-2 sp, ?*ch 2, sl st into next ch-2 space, repeat from * across row, turn. (32)Row 62 _ 63 Repeat row 61Row 64 Ch 2, *2 hdc in each ch-2 sp, repeat from * across row, turn.Row 65-66 Ch 2, hdc in each hdc across the row. Tie off and weave in ends.The length of this center panel should equal the approximate measurement around one entire side panel, excluding the top of the side panel. Measure each side and bottom of one side panel and this total length should be close to the length of one side of the center panel. Adjust if needed by adding or removing rows.Tie off and weave in endsSeam With the Ecru yarn and size H crochet hook, single crochet seam the two side panels evenly to the center panel with the original chain of side panel on top. It might be helpful to attach the side panel and center panel with pins or other method to hold it in place as you seam.? Tie off and weave in ends. Note: Turn bag so that seams are inside of the bag before moving onto the Upper Portion of Bag. See photos below for additional assistance with seaming.Upper Portion of BagMark rounds as neededWith the size H crochet hook and the Ecru yarn, attach yarn to top of bag.Round 1 Dc evenly around bagRound 2 Dc in each dc aroundDecreaseRound 3 Sc in each of first 3 stitches, sc2tog, *sc in each of 3 next stitches, sc2tog, repeat from * around.Round 4 Sc in each of first 2 stitches, sc2tog, * sc in each of next 2 stitches, sc2tog, repeat from * around.Stitch counts arent important for this section as you decreaseHandleNext, when you reach the stitch that lines up with the location of the outer seam where you attached the Center Panel to the Side Panel (this is also where the color begins), chain 50, attach chain with a slip stitch to opposite side in the stitch that lines up with the center panel and side panel seam. See photos below. You will notice that the handles line up with where the colors begin and end on the bag.Repeat this for both sides.Continue working in rounds, crocheting 2 single crochet stitches followed by a decrease of sc2tog.? When you reach the handles, do not decrease, simply sc into each ch stitch on the handle.? Continue working around, following this stitch pattern until youve made two rows of single crochet stitches on the handles. Tie off and weave in ends.TasselsWhile optional, tassels give the bag a playful look and add texture and dimension! Add several for a dramatic look or just a few for more color. Make them as large or small as youd like. See tassel picture tutorial below. Hope you enjoy your new "Caribe" summer bag!XOJessicaIf you like this, you might also like:Palmetto Market Tote Crochet PatternBoho Purse PatternThank you to Lion Brand Yarn for sponsoring this post! All opinions are 100% my own.SharePinTweetShare