132K Shares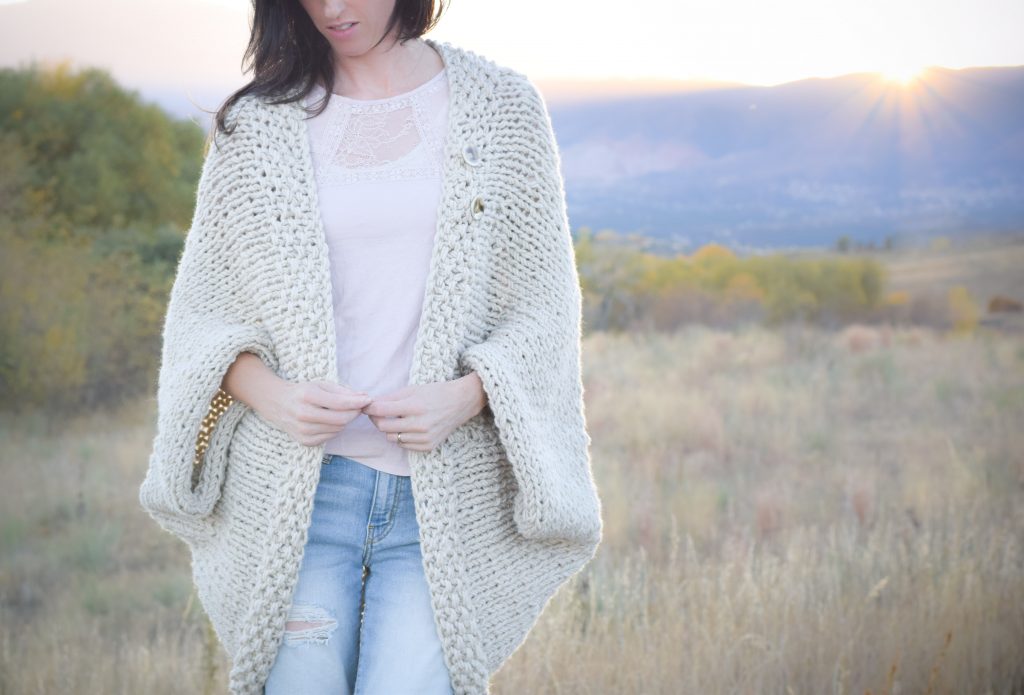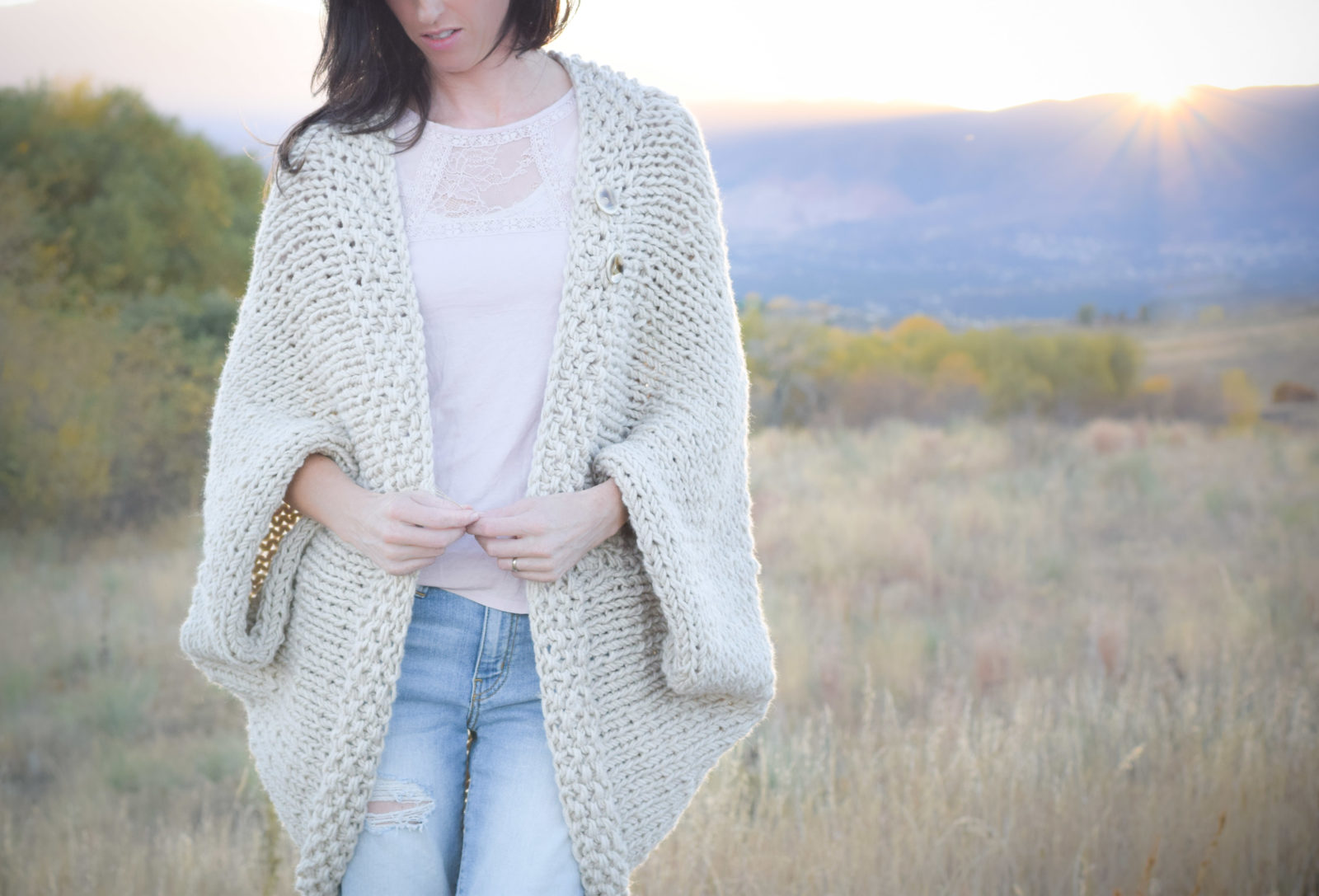 Hi friends! After I posted the crocheted "Easy Blanket Sweater" pattern, I received several requests?to make a knit version. ?I haven't made a lot of knit tops before and the ones that I have made were?smaller than this. My?Summer Vacation Knit Top, for instance, ?was much, MUCH smaller. ?Anyway, after some major trial and error (and late nights of knitting like a crazy), here's the knit blanket sweater! It is a HEAVY blanket like cacoon! In keeping this cacoon?easy and oversized, ?I went with stockinette stitch and made it quite?big. ?I also added the two buttons to the top just like the crocheted version. These buttons keep this top in it's place so I really like them. ?It's a loose, drapey knit?too which gives it a casual look?I think. ?This is definitely a statement piece and I can imagine wearing it during the winter, curled up by the fire?with a cup of tea. Ahhhh……After many requests, a printable, inexpensive ad-free version of this pattern is now available in my Etsy shop HERE or scroll down for the free pattern!? UPDATE: Though the original yarn was discontinued for this top, here is a perfectly comparable and amazing chunky yarn from Lion Brand HERE!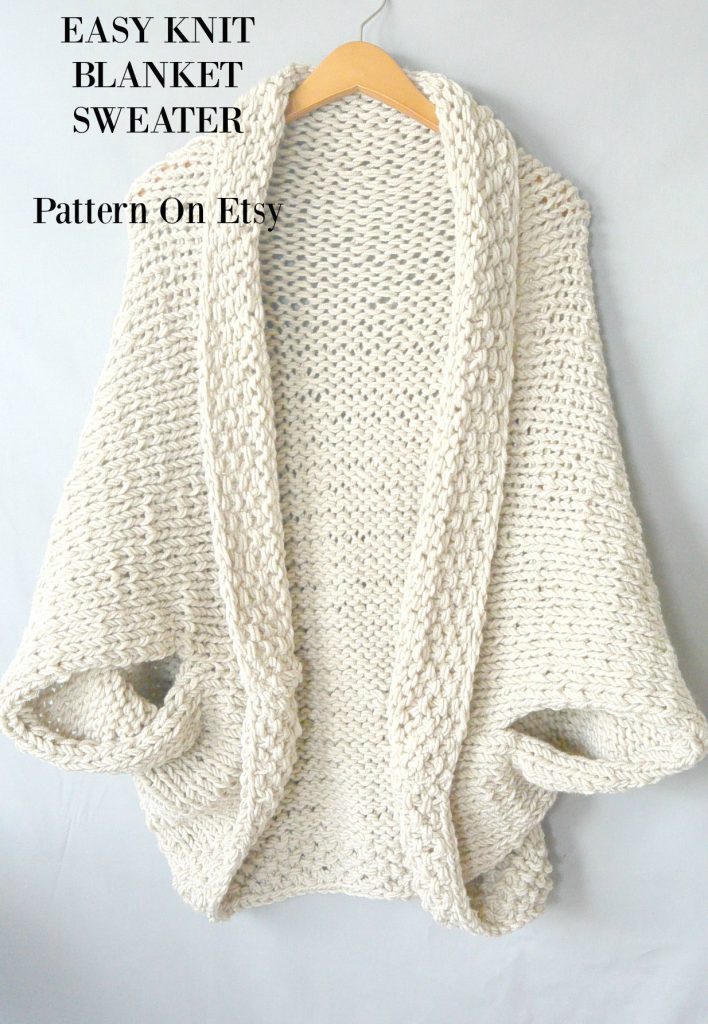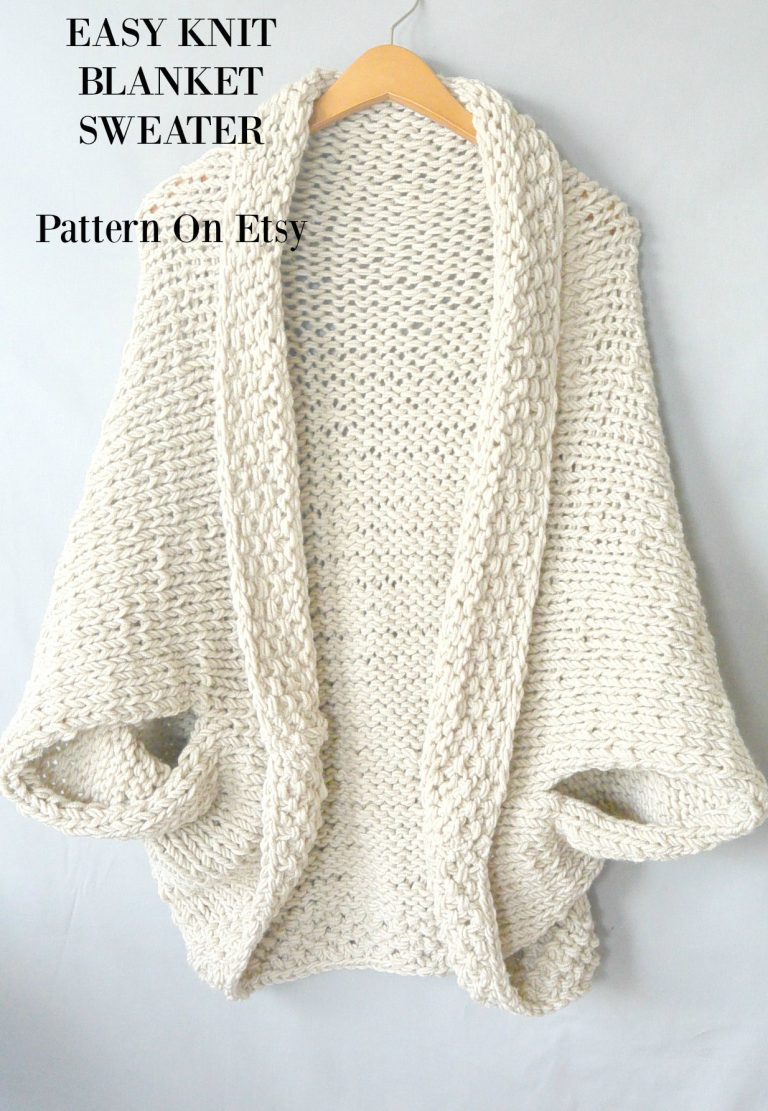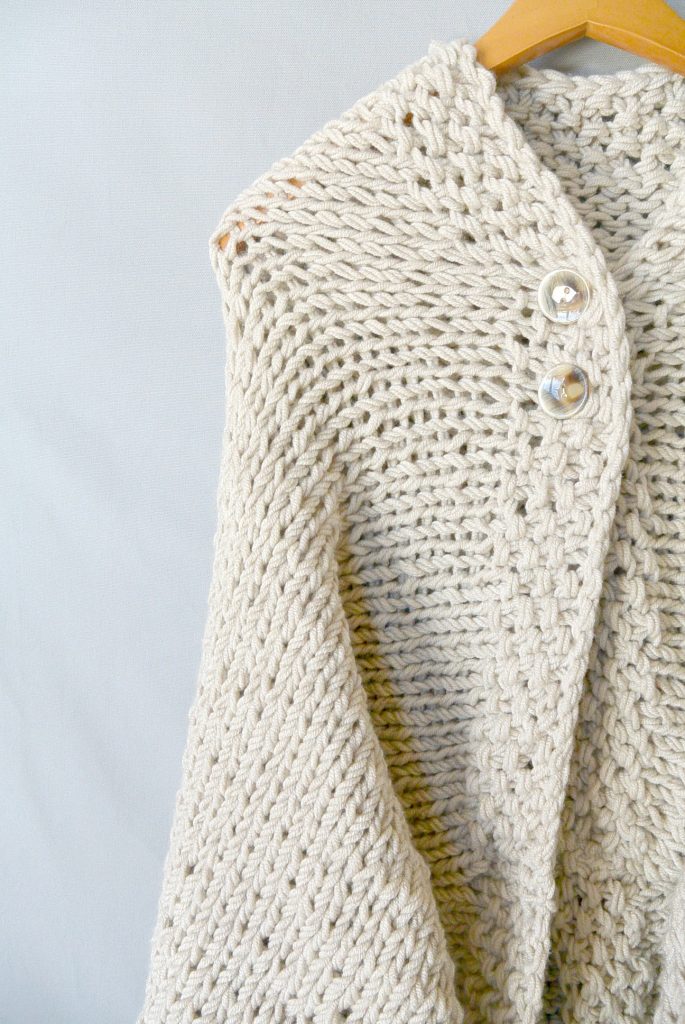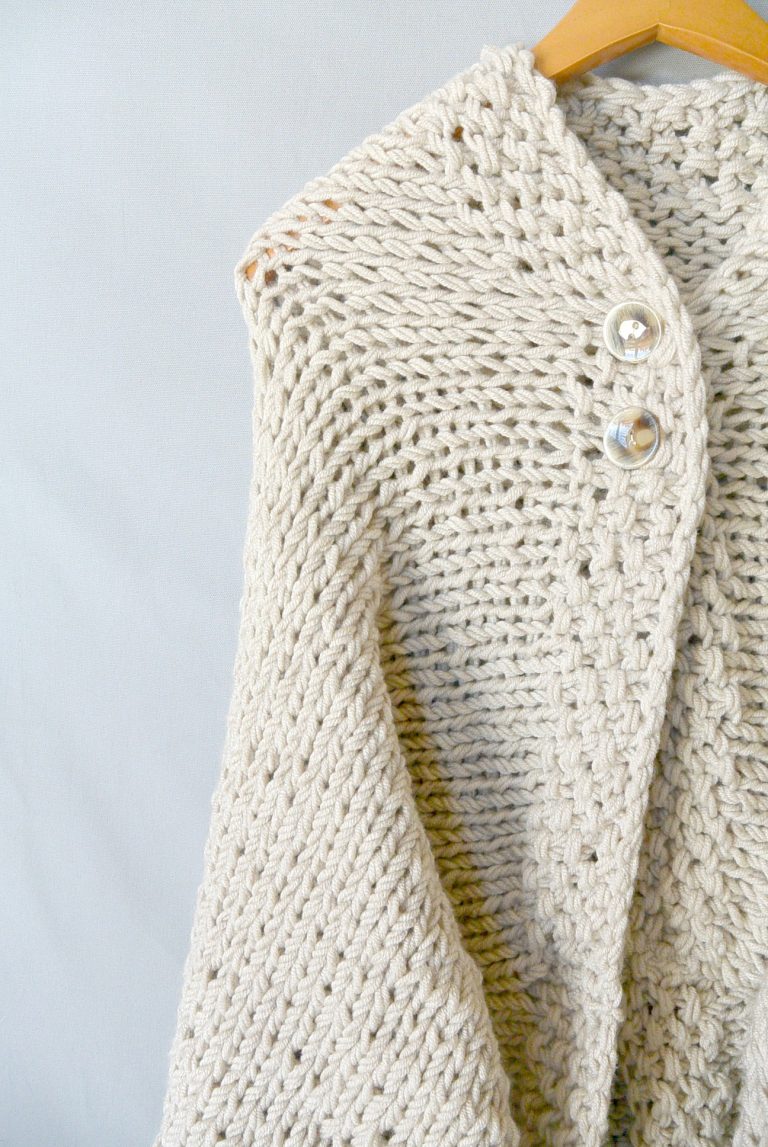 MY LATEST VIDEOS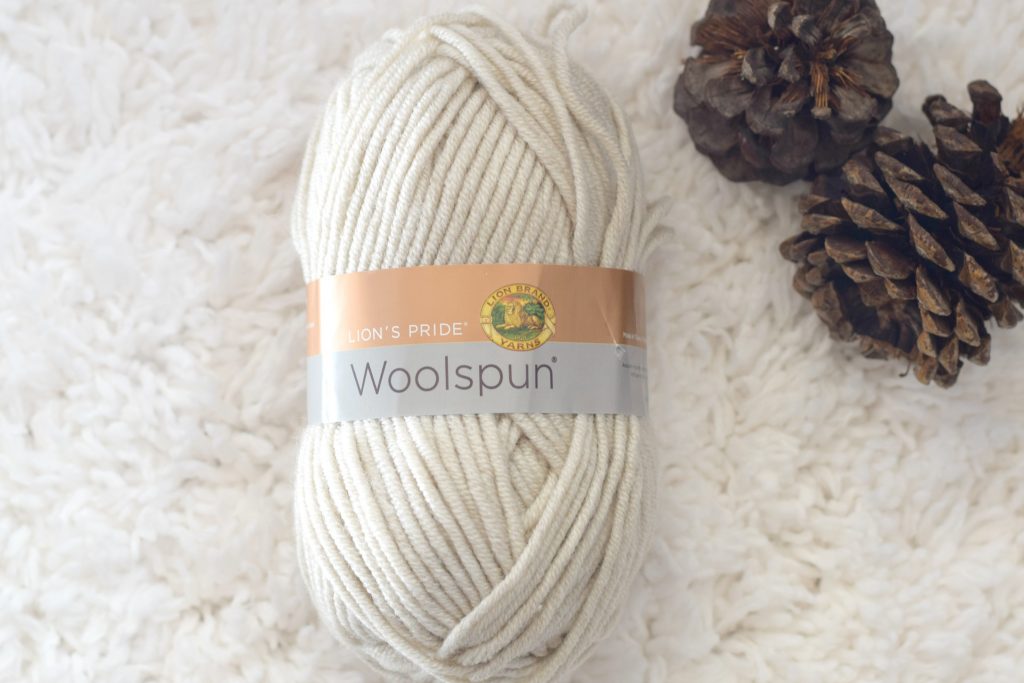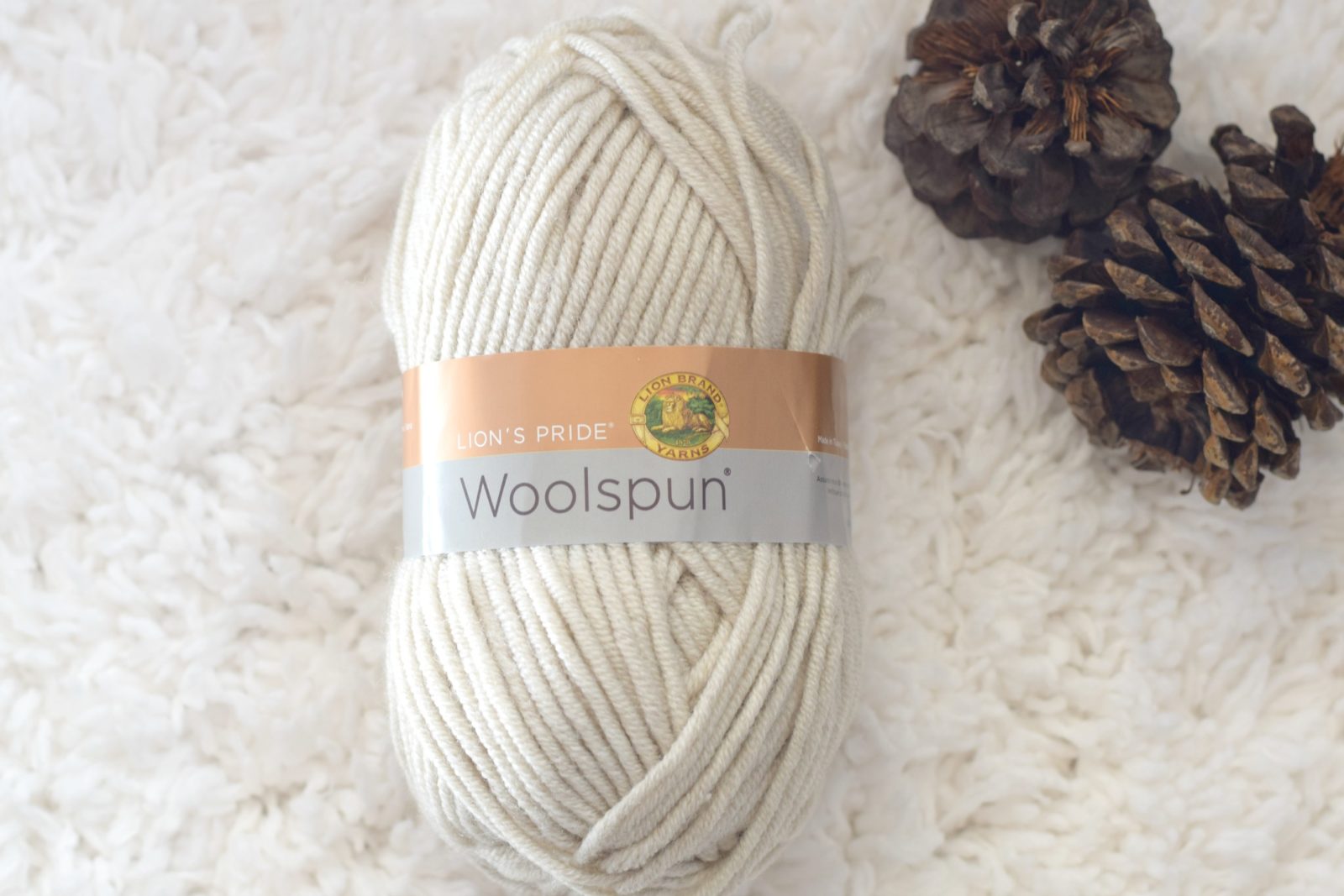 My latest yarn fave – Lion's Pride Woolspun YarnLike so many of my projects, if?you know how to knit and purl, you can certainly make this cozy wearable blanket.?The sweater is made by using large US Size 19 knitting needles and holding two strands of chunky yarn together. ?Because of this, it works up pretty quickly and the two strands of yarn lend a neat texture to the top. ?Have we noticed that I get on major yarn kicks? Do you do the same? ?For a while it was the Lion Brand Wool Ease Thick & Quick and now it's the Woolspun. What is my deal?! ?I love this Woolspun yarn because it's soft and it's chunky so it?looks cool and feels lovely. ?It also works up faster than teeny tiny yarn. Teeny tiny?yarn and I don't get along too well. I will?work on that. __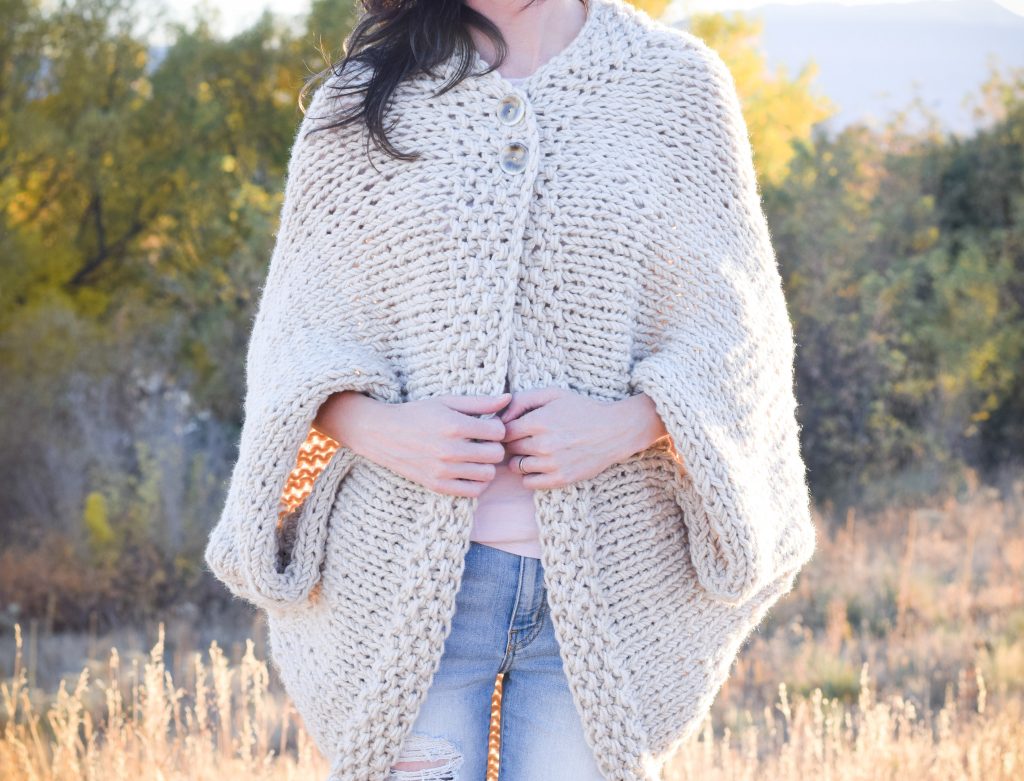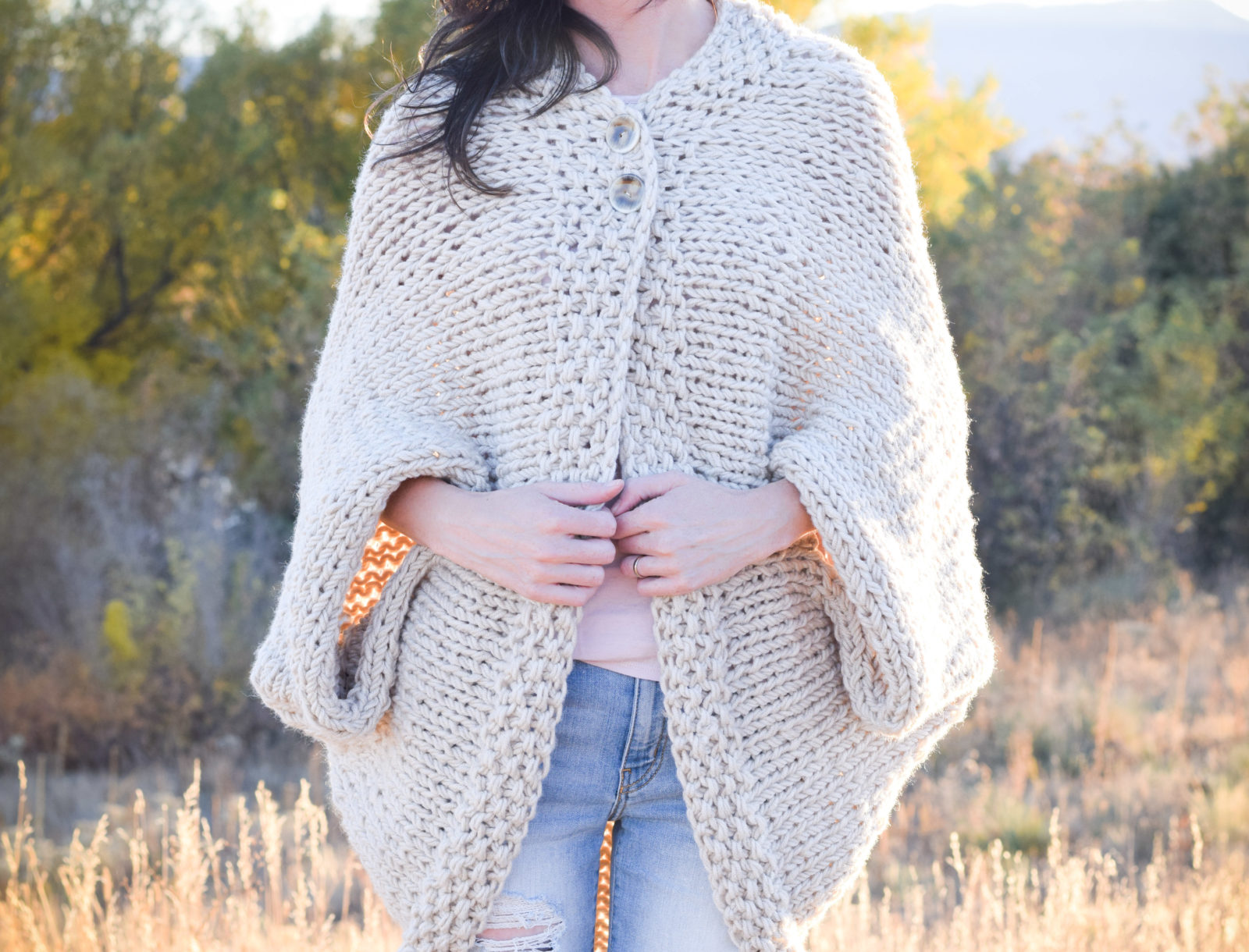 As you've seen on the blog, I've gotten to collaborate with Lion Brand Yarn for several months, and I am so honored and thrilled that they have put a knit kit together for?this pattern (here) which includes all of the?yarn for the project as well as a?copy of the pattern. ?Lion Brand has?been a huge help in making my blogging antics possible, and I'm so happy to be working with them monthly. ?I know many of you love their yarns too, so it's just perfection!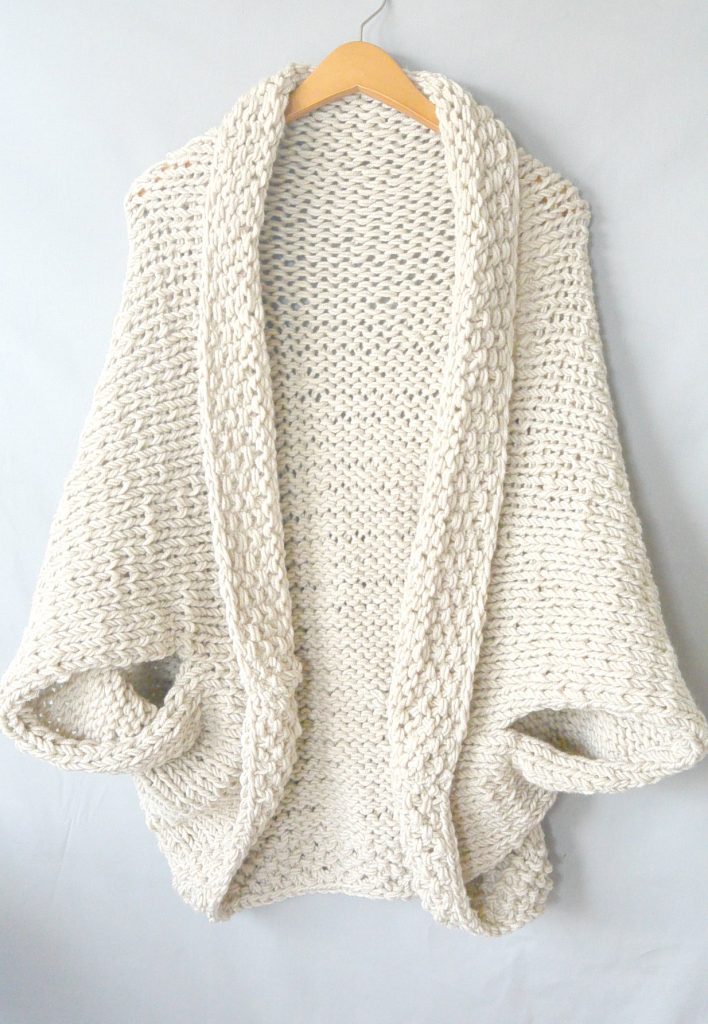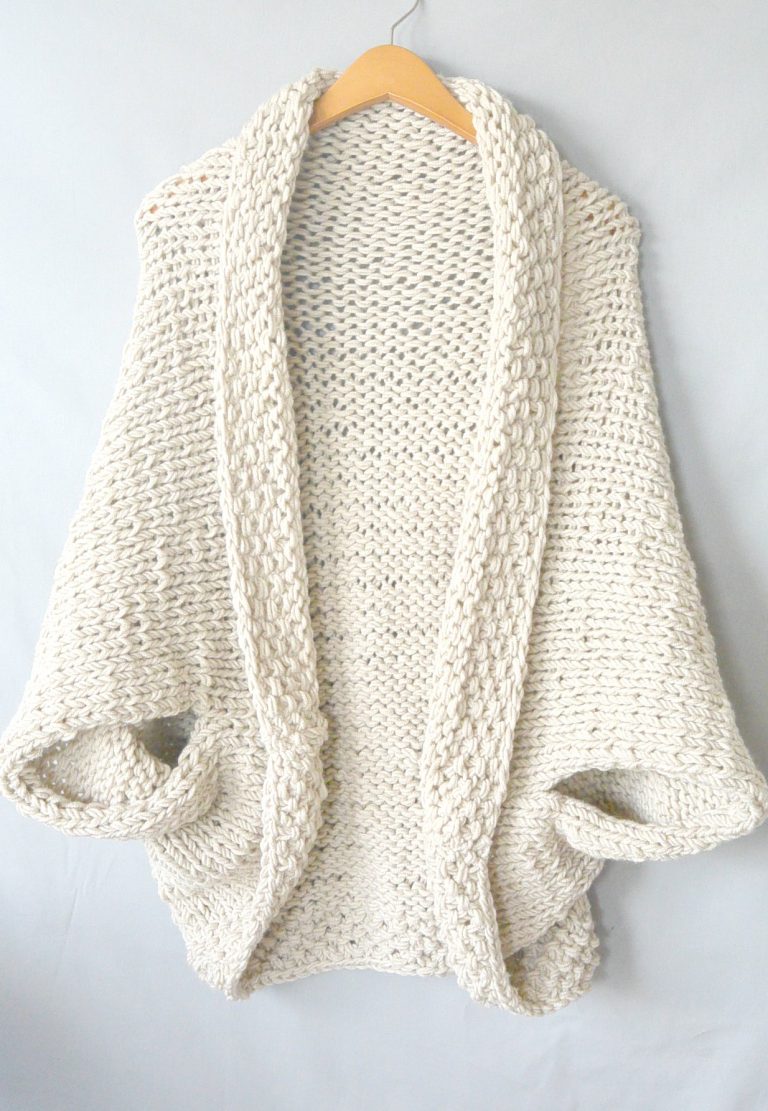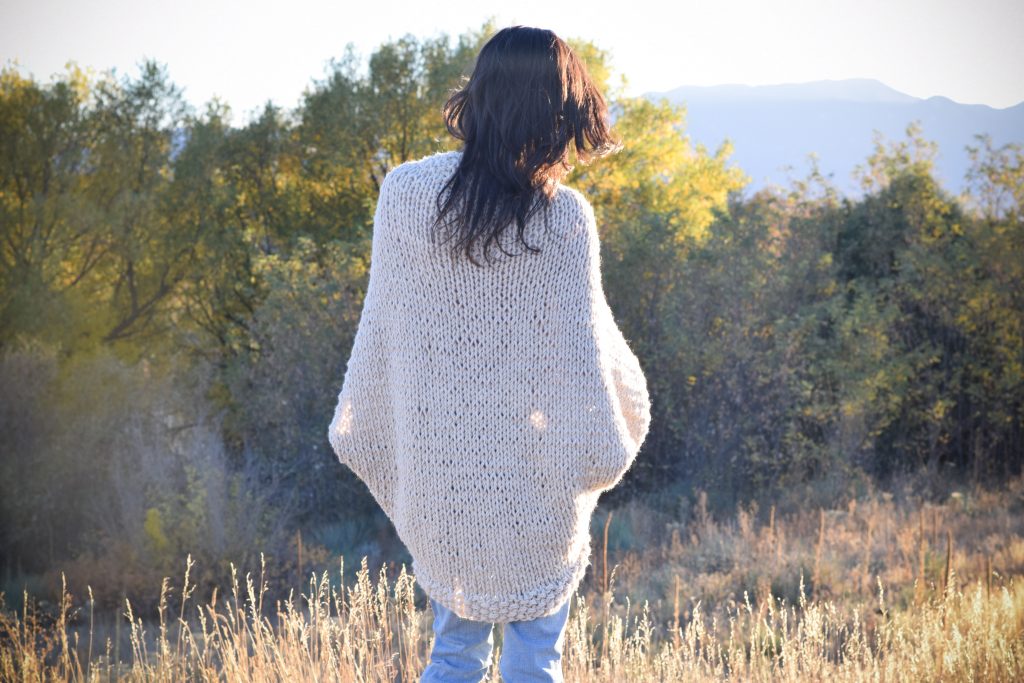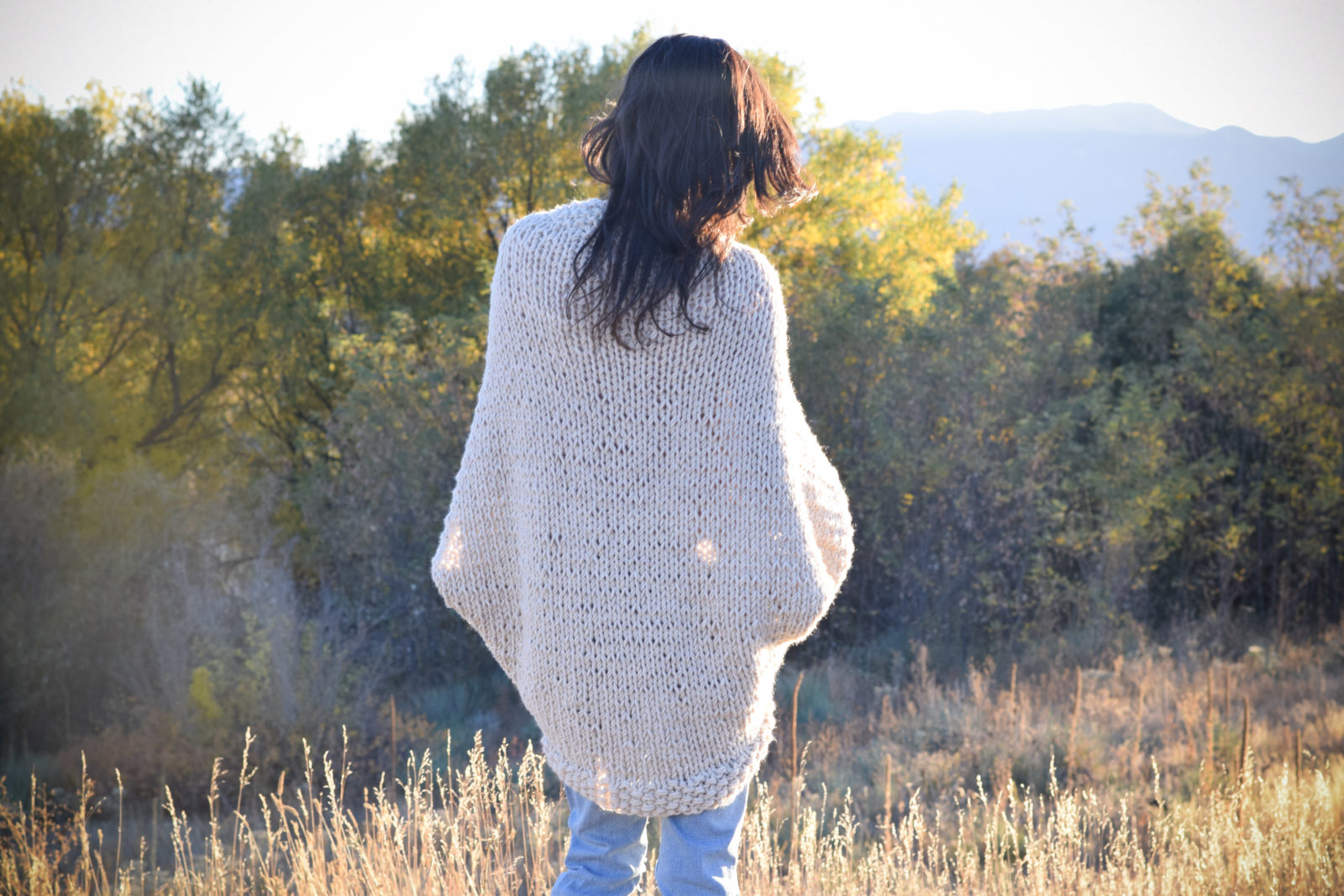 Props to my hub for getting some decent?pictures on a VERY windy day. I've spared you the shots of me with a hair tornado and my eyes and mouth closed tightly in fear of dust particles.Friends, you will find the written pattern below and be sure to scroll down to see the pictures which may help you along as well.Knit Blanket Sweater (Cacoon)?Pattern Explanation:This beginner friendly, over-sized blanket sweater is made by knitting a basic rectangle on large needles while holding two strands of chunky Lion Brand Woolspun yarn together.? It creates a squishy, loose, blanket like fabric using the stockinette stitch for the main portion and seed stitch for the edging.? Buttons are attached for ease of wearing as well as to add a trendy touch.? The stitches on the sweater are loose enough for the buttons to fit through, eliminating the need to knit button holes. A large, statement piece to cuddle up in all winter long!This is a one size fits most pattern. HOWEVER, depending on your size it will drape differently. ?I'm a size small (pictured). If you are a large it will fit, but will of course have a different drape and wear.Update: You can find a comparable yarn from Lion Brand HERE! (The original Woolspun has been discontinued, but the Color Made Easy is awesome!)You will need:US Size 19 (15mm) 29 Circular Knitting Needles8 skeins (127 yards/ skein – Total 1016 yards) of Lions Pride Woolspun Yarn in Linen2???? 1 ? inch buttons of your choiceSewing needle and thread to attach buttonsScissorsTapestry Needle to weave in endsSkills needed:Knit and purlGauge:Just under 2 stitches per inch in stockinette stitchJust over 2? ? rows per inchMeasurements:From end of arm to end of arm, measurement is approximately 40.5 inches *Note that the stockinette will curl in a bit at the arms. This measurement is when the stockinette is flat and uncurledFrom top of neck, to bottom of shrug, measurement is approximately 34 long Notes:This blanket sweater stretches downward when wornrn.? Bottom of sweater hits mid to lower thigh.? If you want to attempt to make it a bit shorter, you can eliminate a couple of inches from the stockinette portion of the pattern.Pattern:Holding two strands of yarn together, CO 73 stitchesRow 1 Knit across rowSeed Stitch Edge:Row 2 *K1, p1; Repeat from * to end ?(Alternate knit and purl stitches across row)Row 3 7 Repeat row 2(Because we have cast on an odd number of stitches, this repeat pattern will alternate knit and purl stitches for each row, creating the seed stitch)Stockinette Portion (Stockinette is made by creating a row of knit and then a row of purl stitches)Row 8 Knit across rowRow 9 Purl across rowRepeat rows 8 & 9, until you have completed 29 inches of stockinette stitch, or total length is approximately 31.5 inches (this is approximately 73 rows of stockinette stitch)Once your piece measures 31.5 inches, you will work another band of seed stitch.Final Seed Stitch PortionRepeat rows 2 7Knit cast offWeave in ends.Create your arm openings:Lay your piece out flat, lengthwise like a hot dog. Fold in each corner as pictured.You will now seam in the two sides to create your arm holes. With a length of yarn and your tapestry needle, work from the inside towards the outside of the sleeve using a simple whip stitch (or preferred stitch) to close the seed stitch portion. Once you reach the stockinette portion, use the mattress stitch to seam.? Using this type of seam will make the join nearly invisible.?? Once your seam is 7.5??inches long, tie off and weave in ends. (See pictures below)Repeat this for both arms.?Attach ButtonsWith your piece laid out in front of you just as it was while seaming the arm openings, place the lowest of the two buttons approximately 9?? inches from the top of the sweater.? Place the upper button approximately 7?? inches down from the top of the sweater, or 2?? inches above the lower button.? You may find that you like a different placement for your buttons. It might be cute to add three buttons!Pictures to help you along with the Knit Blanket Sweater: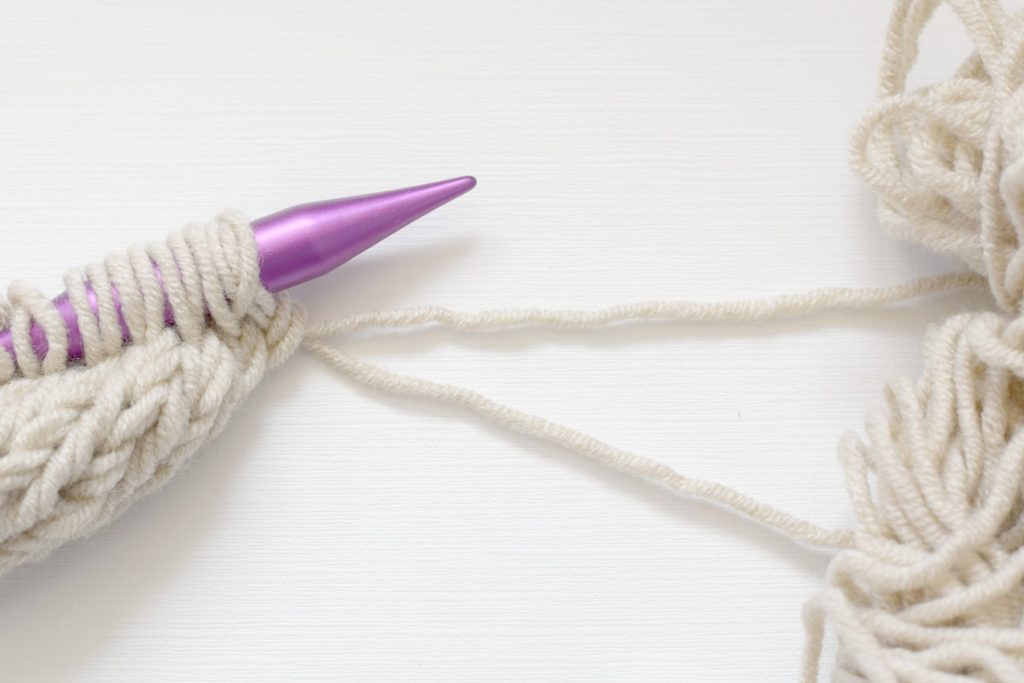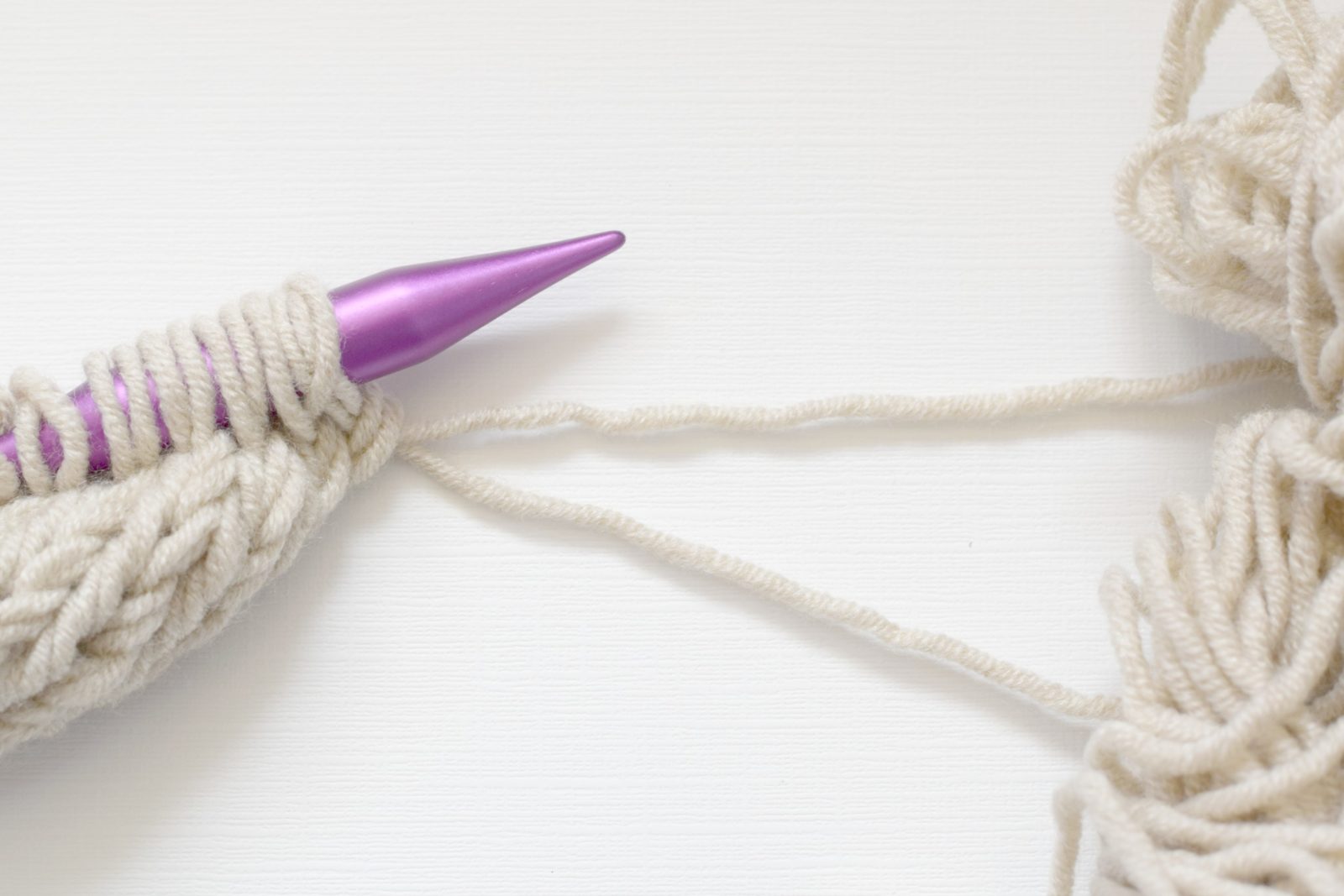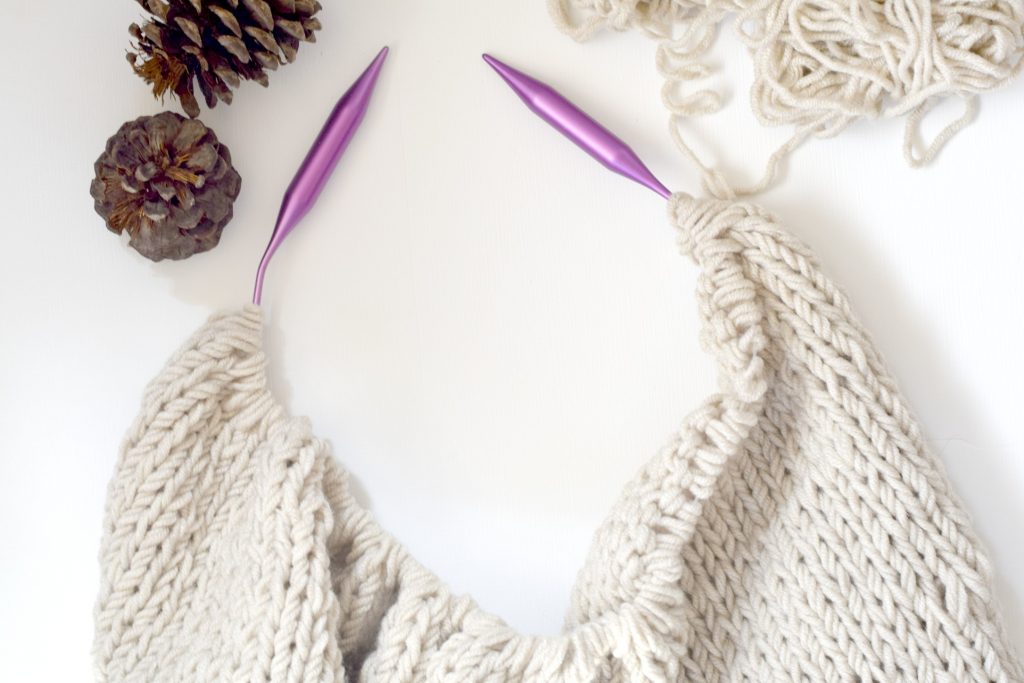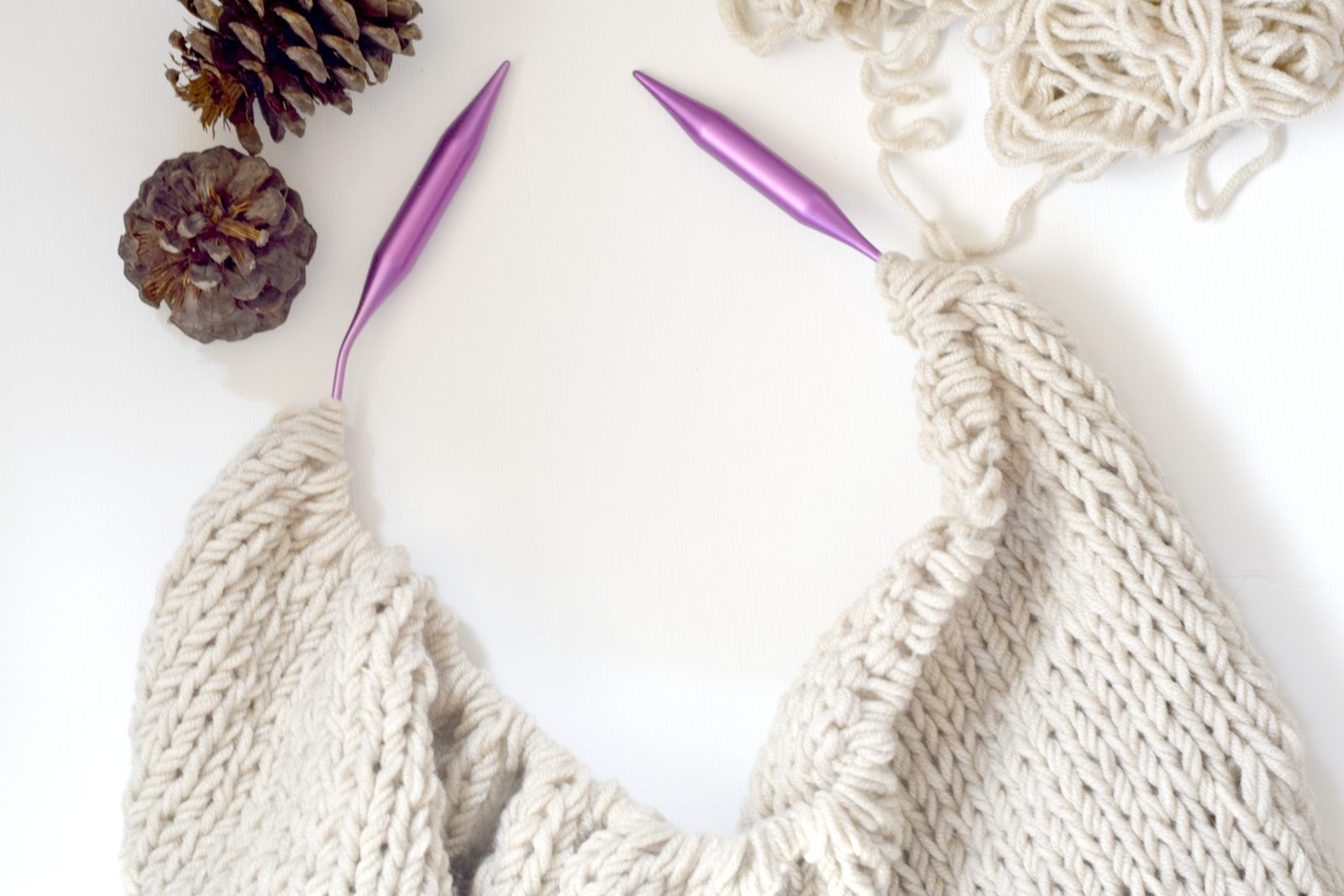 Knit holding two strands together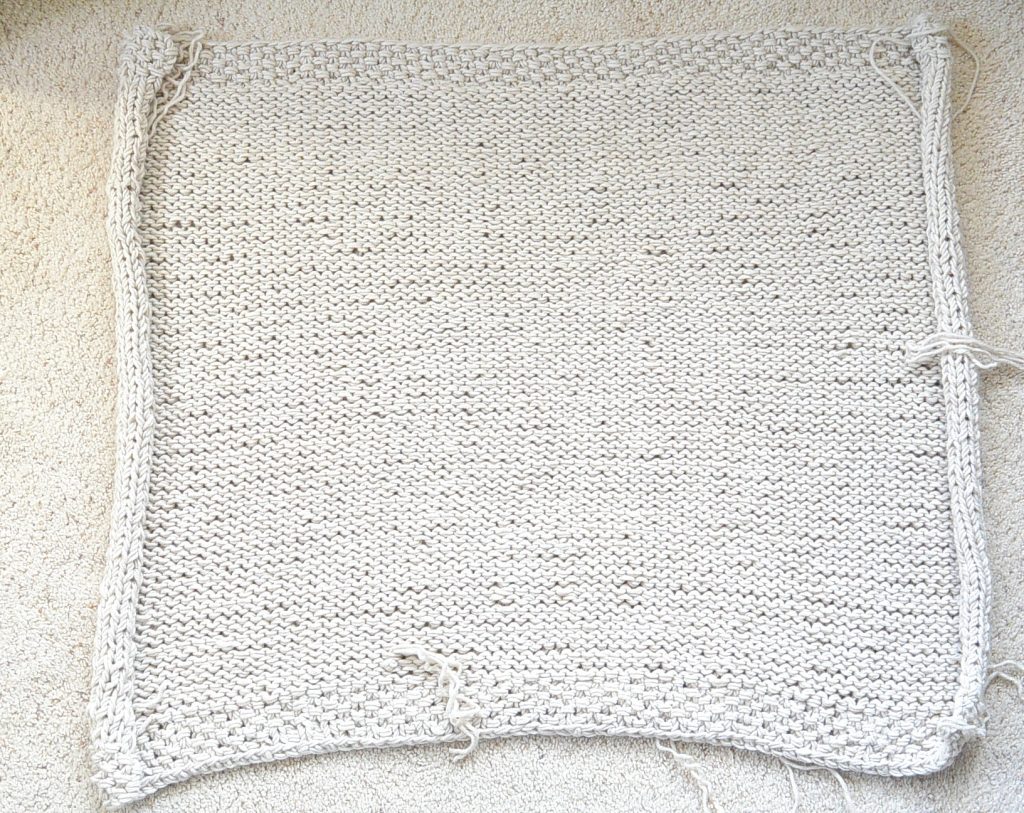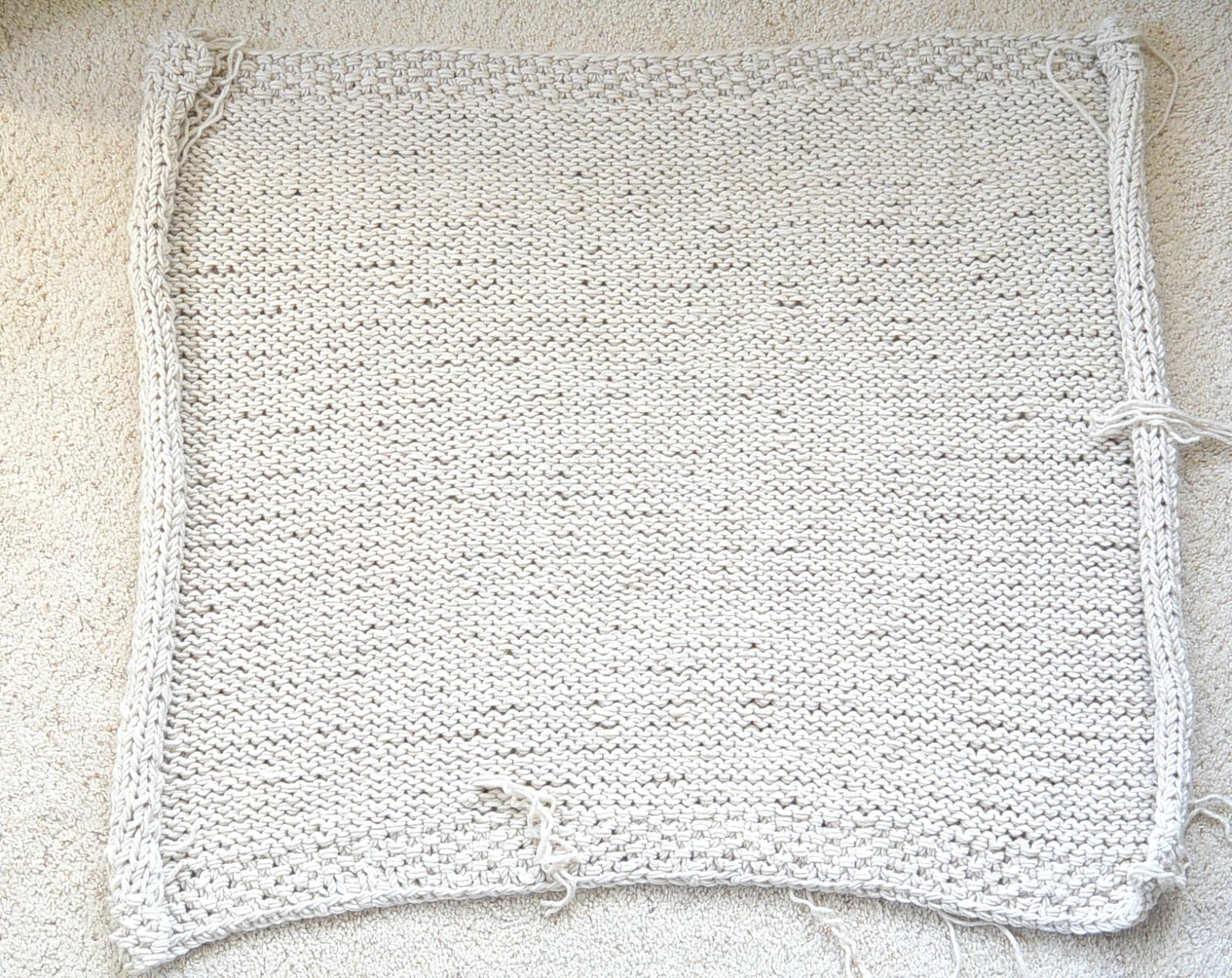 Here??s the knit rectangle (ends haven??t been woven in yet)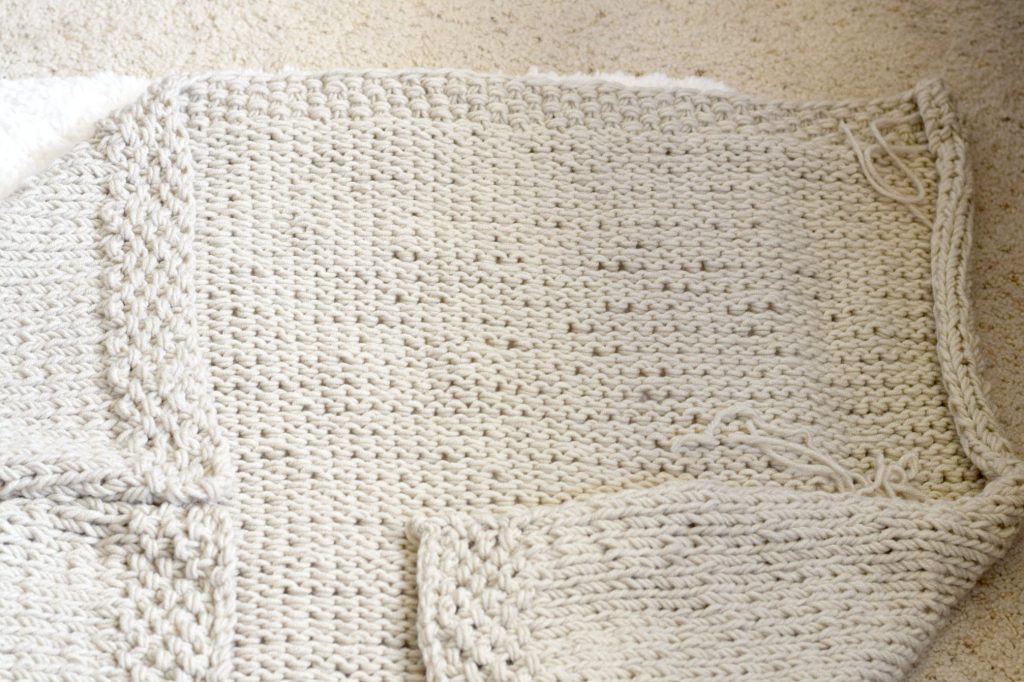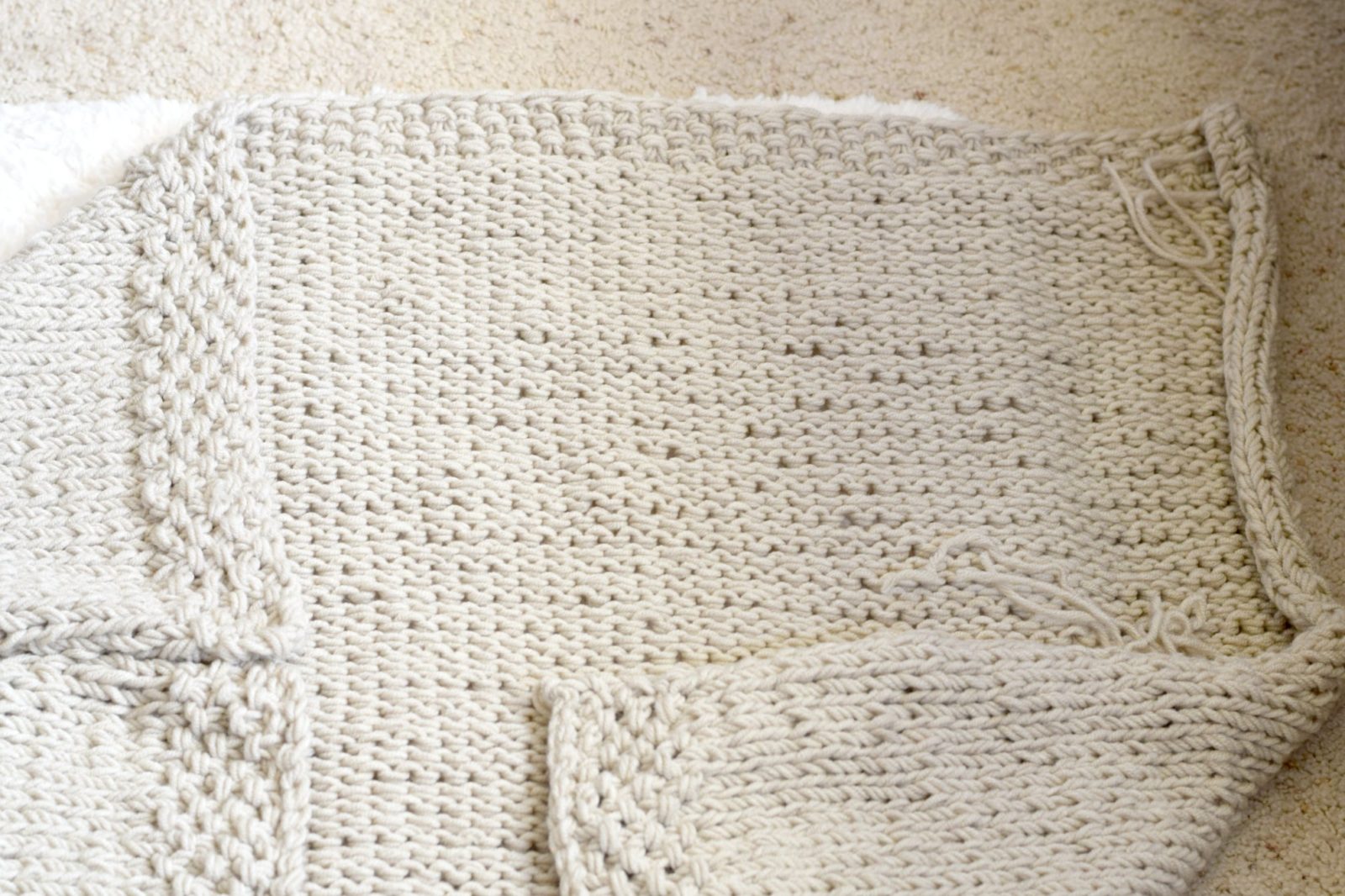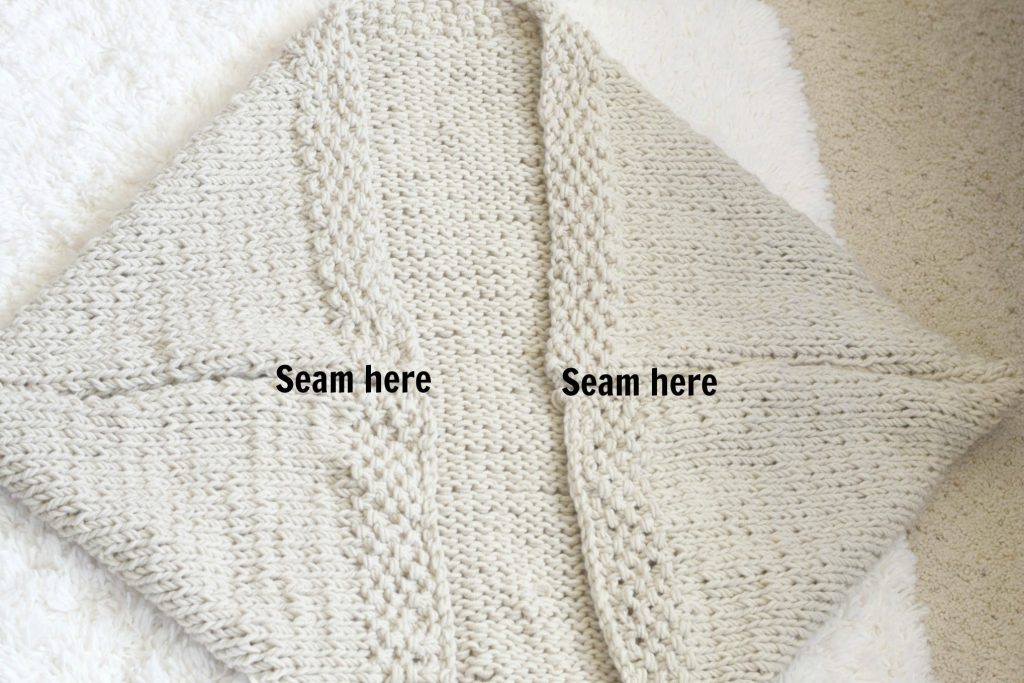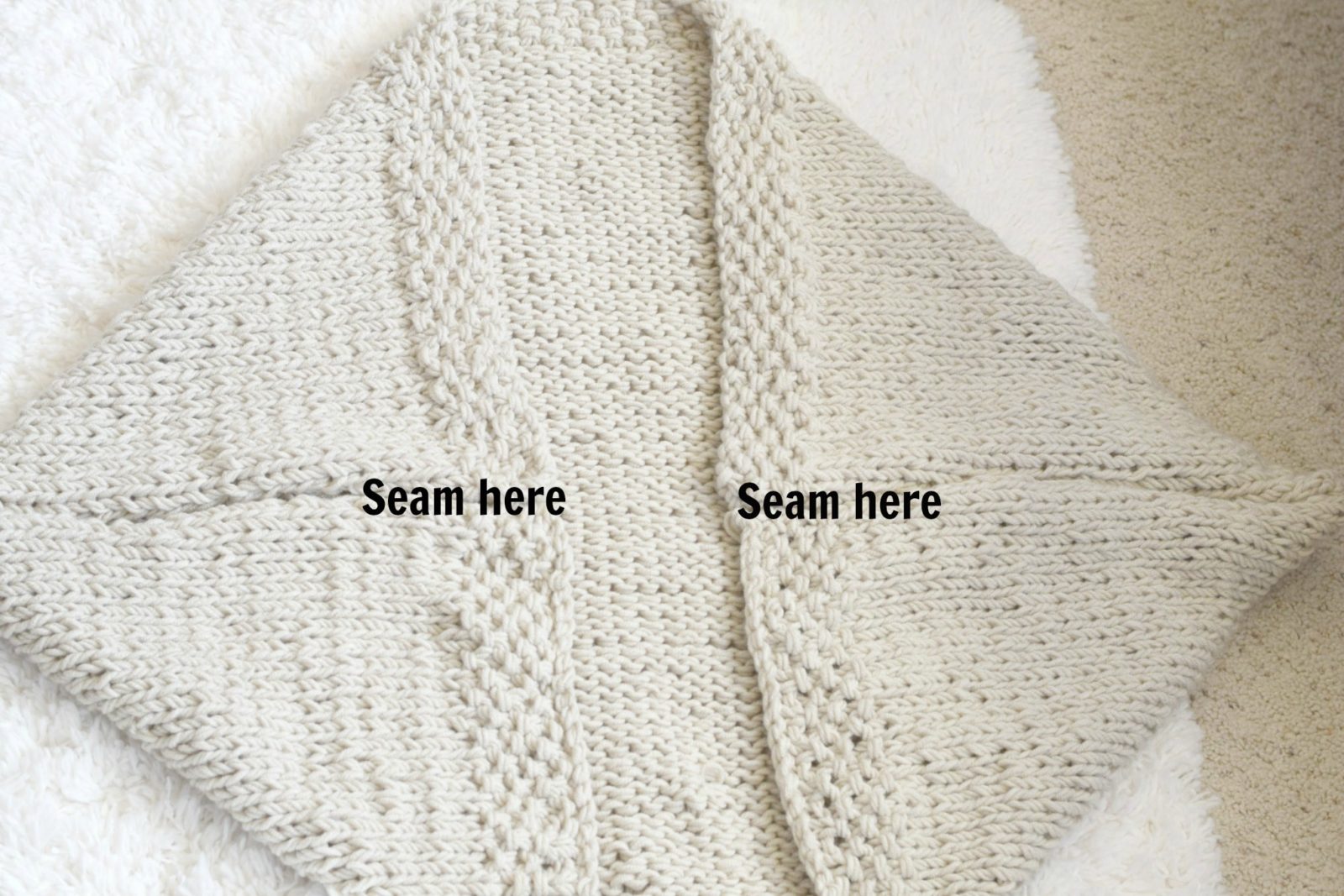 Fold in the corners in order to create the arm openingsAll corners are folded inward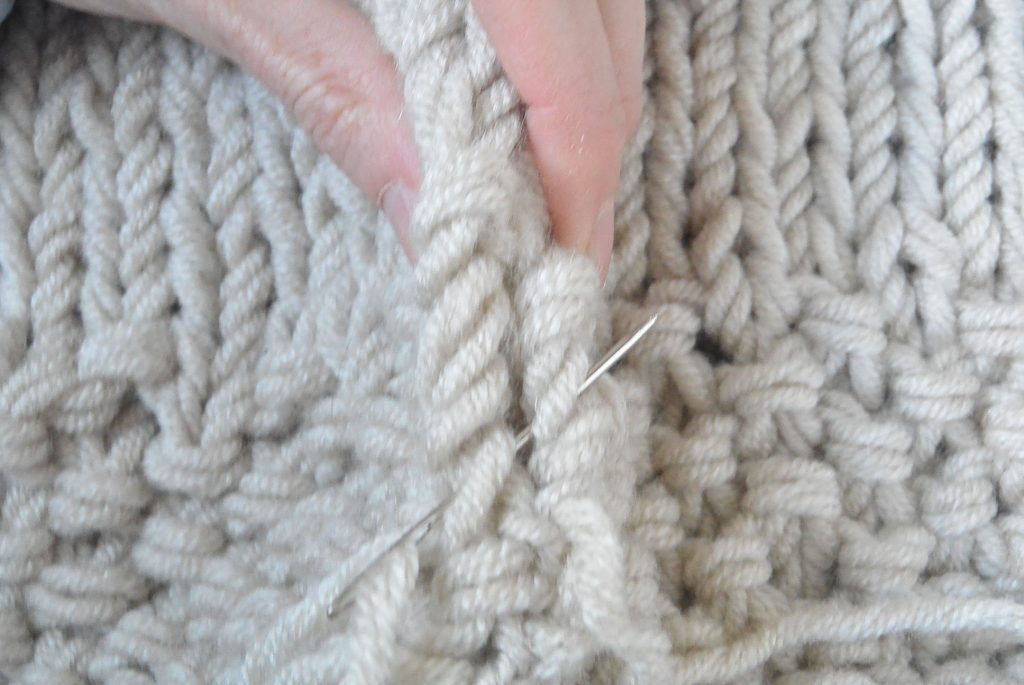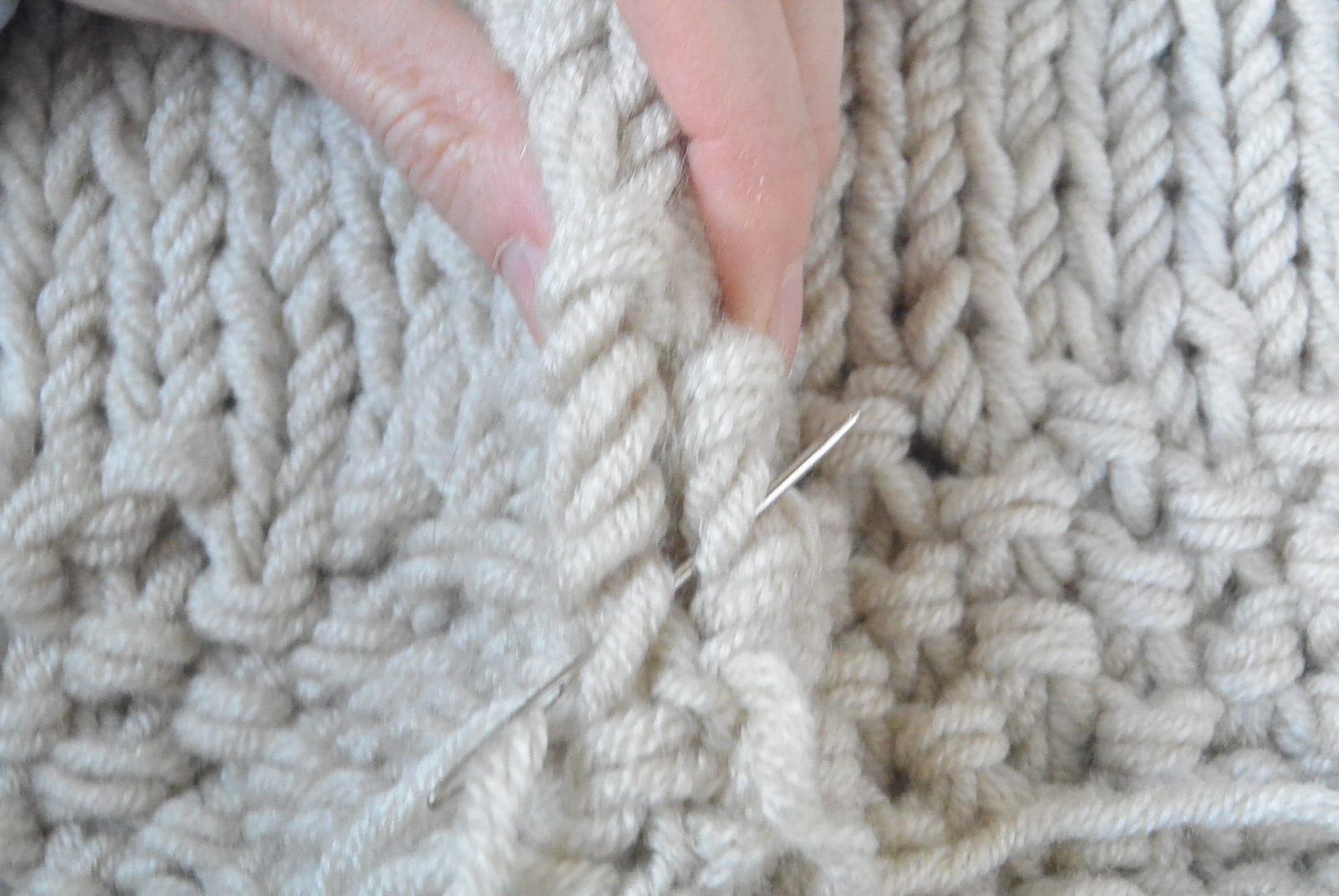 Start your seam at the edge of the seed stitch, and work through the seed stitch portion then through your stockinette for a total of 7.5?? inches.? Seam the seed stitch portion with a simple whip stitch, only picking up a single strand of yarn from either side. I found that this made my seam less bulky.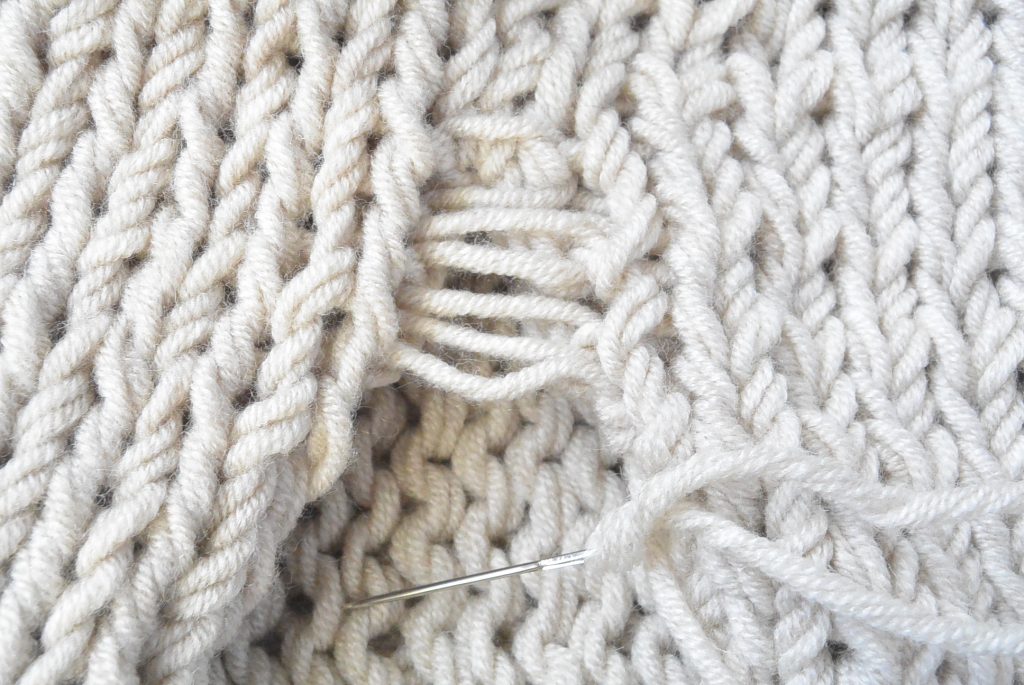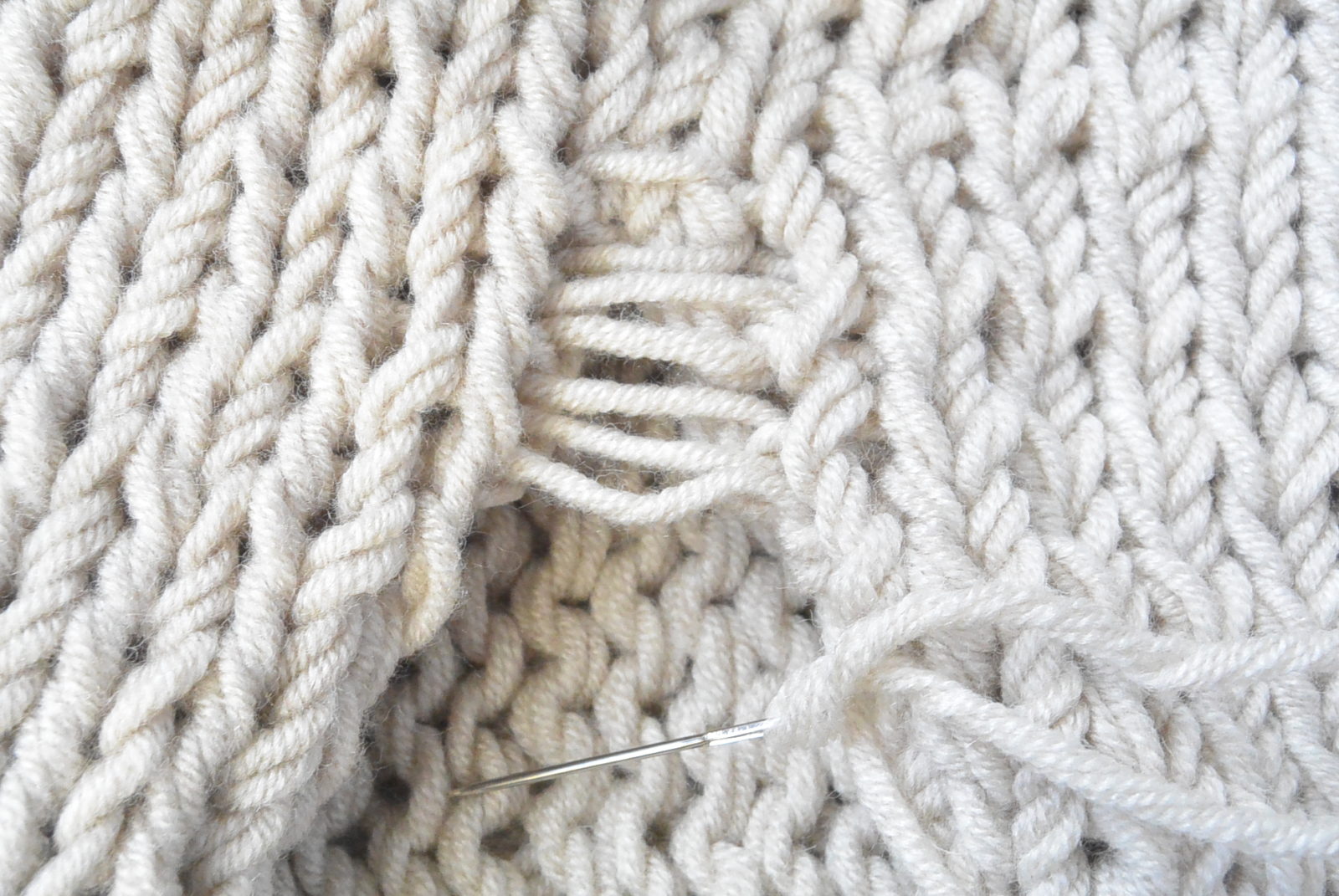 Seam using the mattress stitch on the stockinette portion. Above, you can see how it looks as you are stitching. If you've never done the mattress stitch, just do a quick google search or YouTube search. It's so simple! When pulled tightly, it closes and appears seamless as the picture below.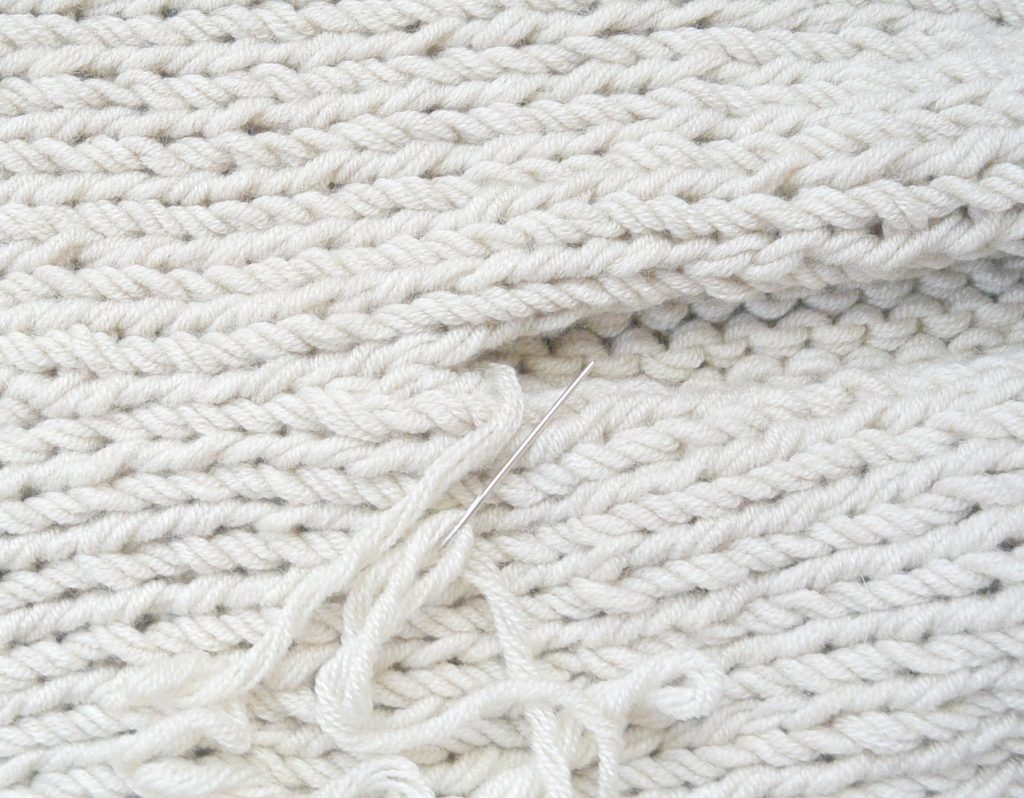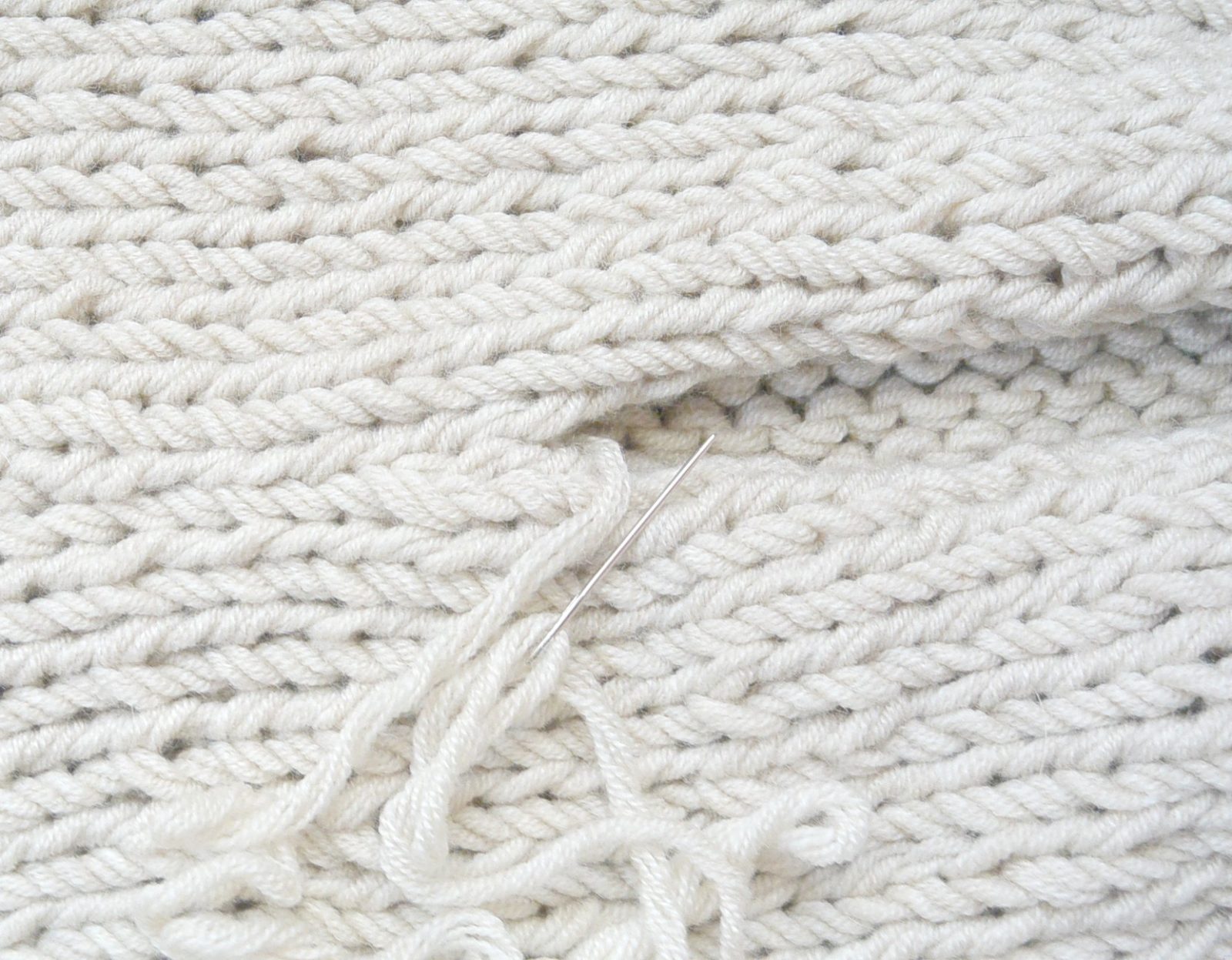 The?arm opening above.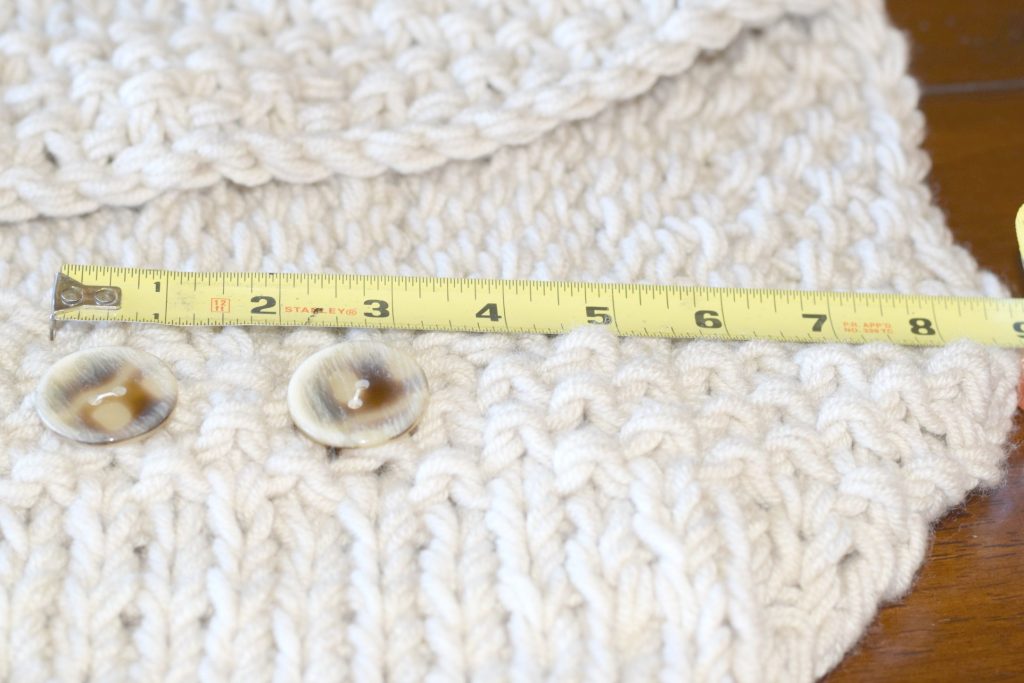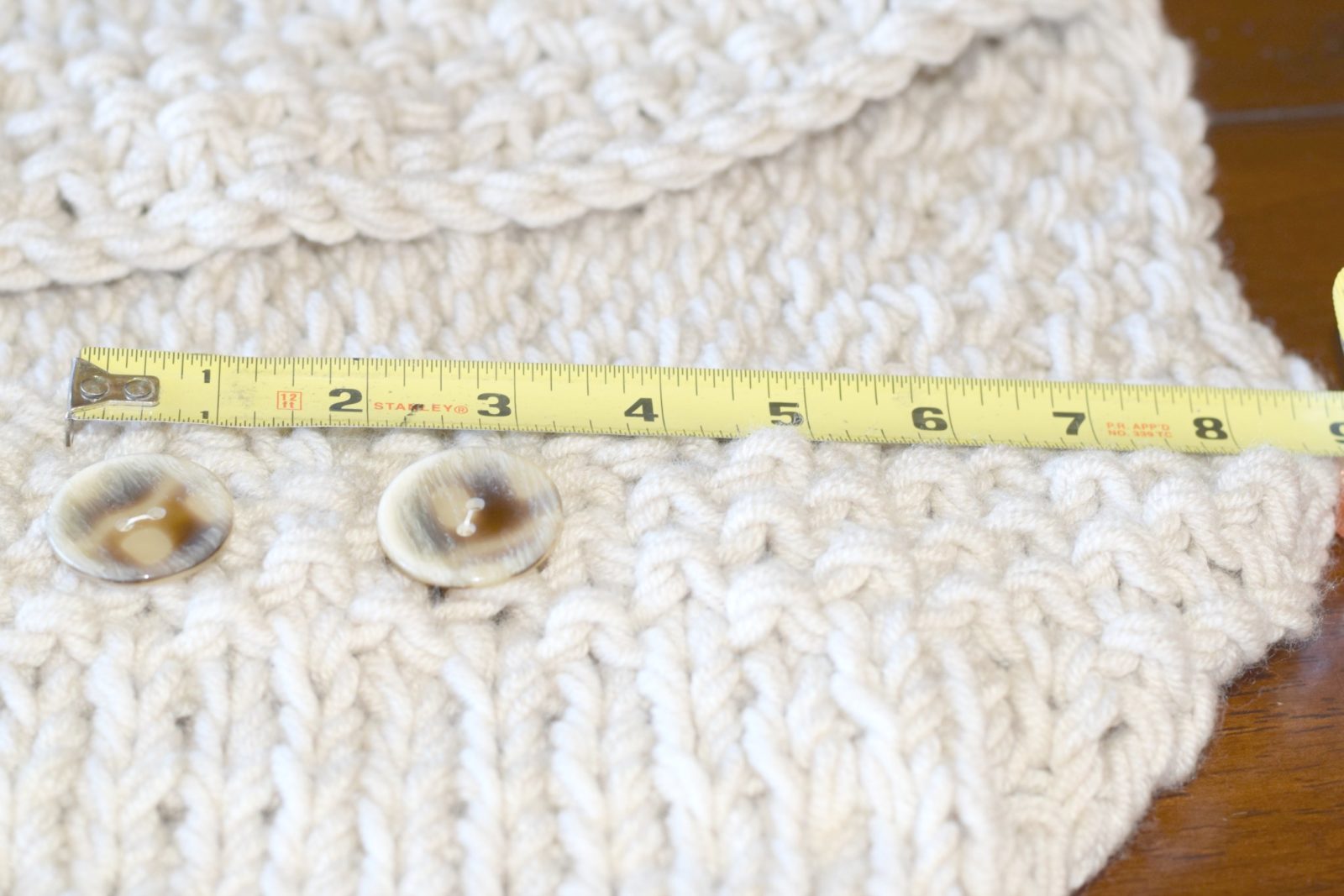 Place buttons on the edge of the seed stitch which is closest to the stockinette stitch portion.The loose stitching and two strands held together give it a natural look and neat texture.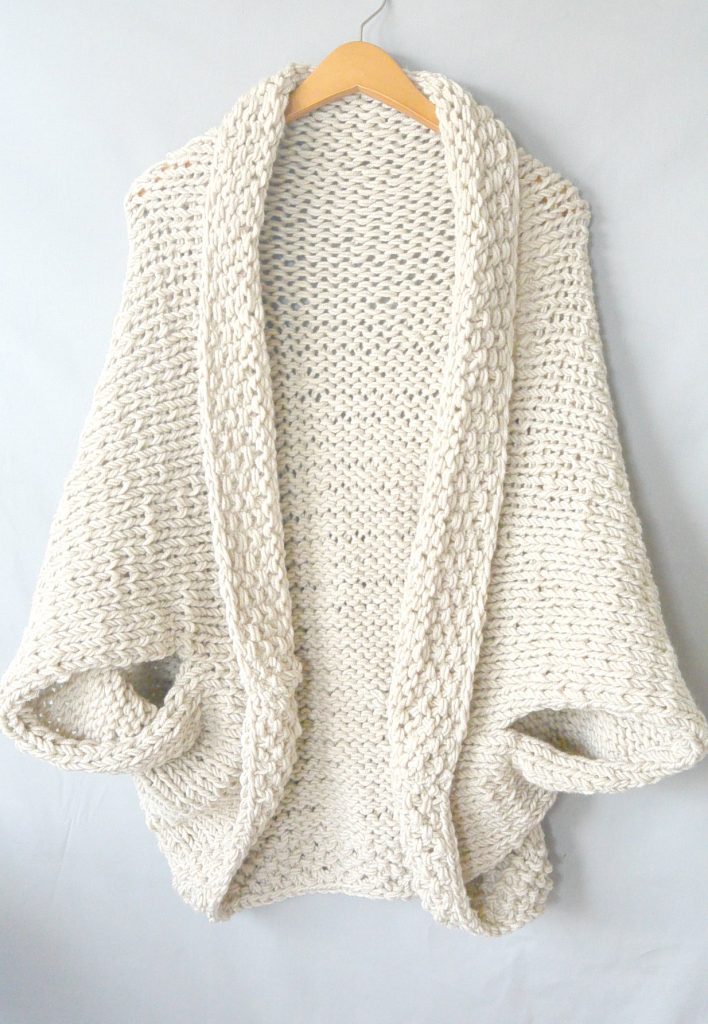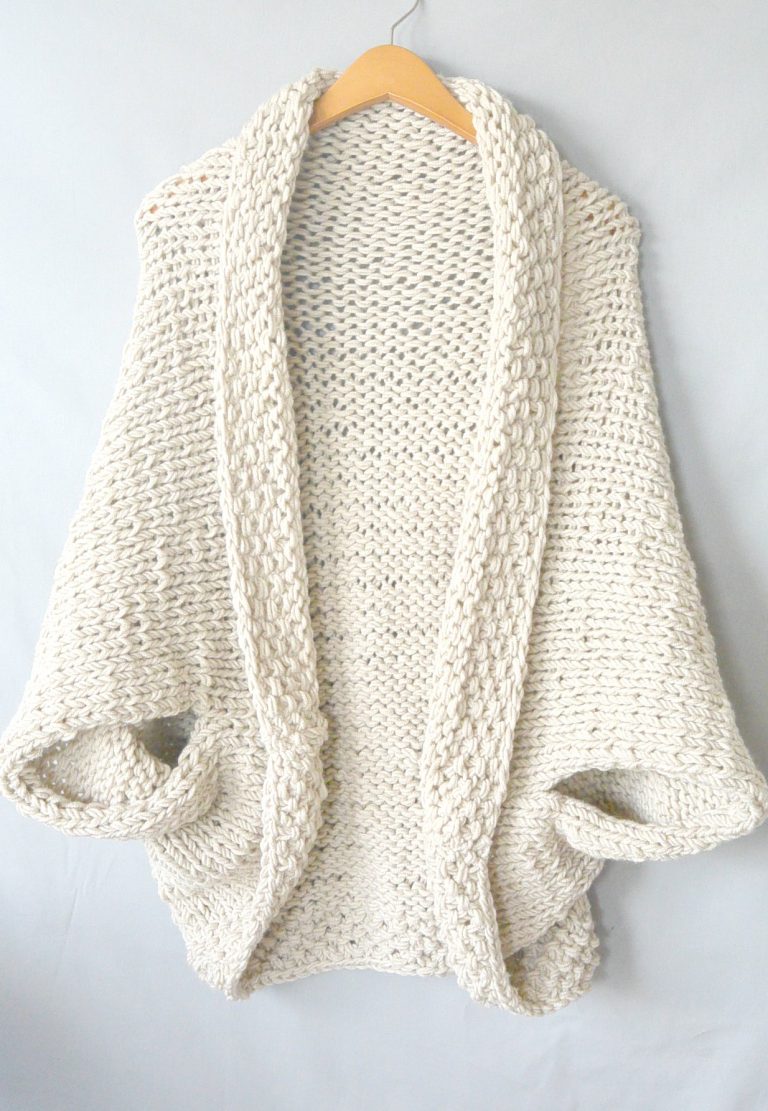 While I didn??t go with this style that you see above, here is what the sweater looks like when you fold the seed stitch portion outward.? I imagine you could tack down the collar with several straight stitches along the outer edge. This could?be a fun way to wear it also!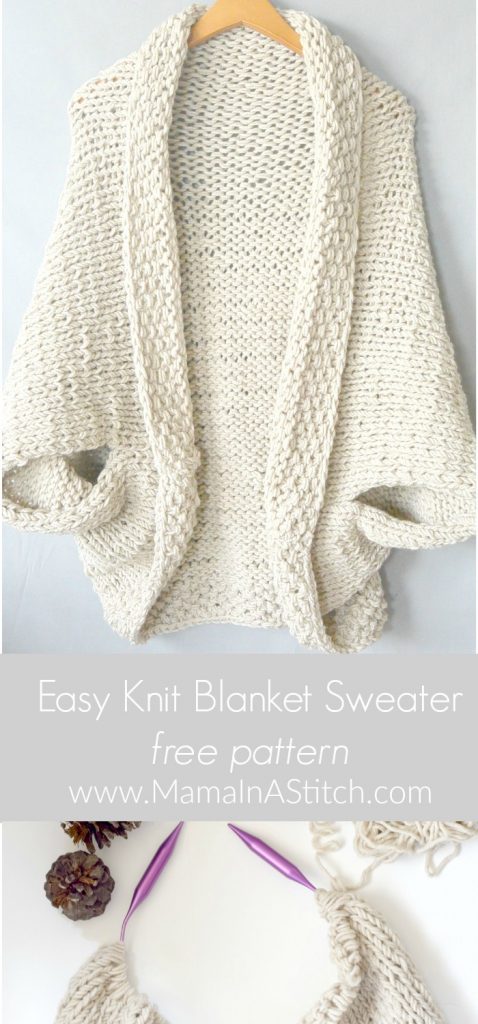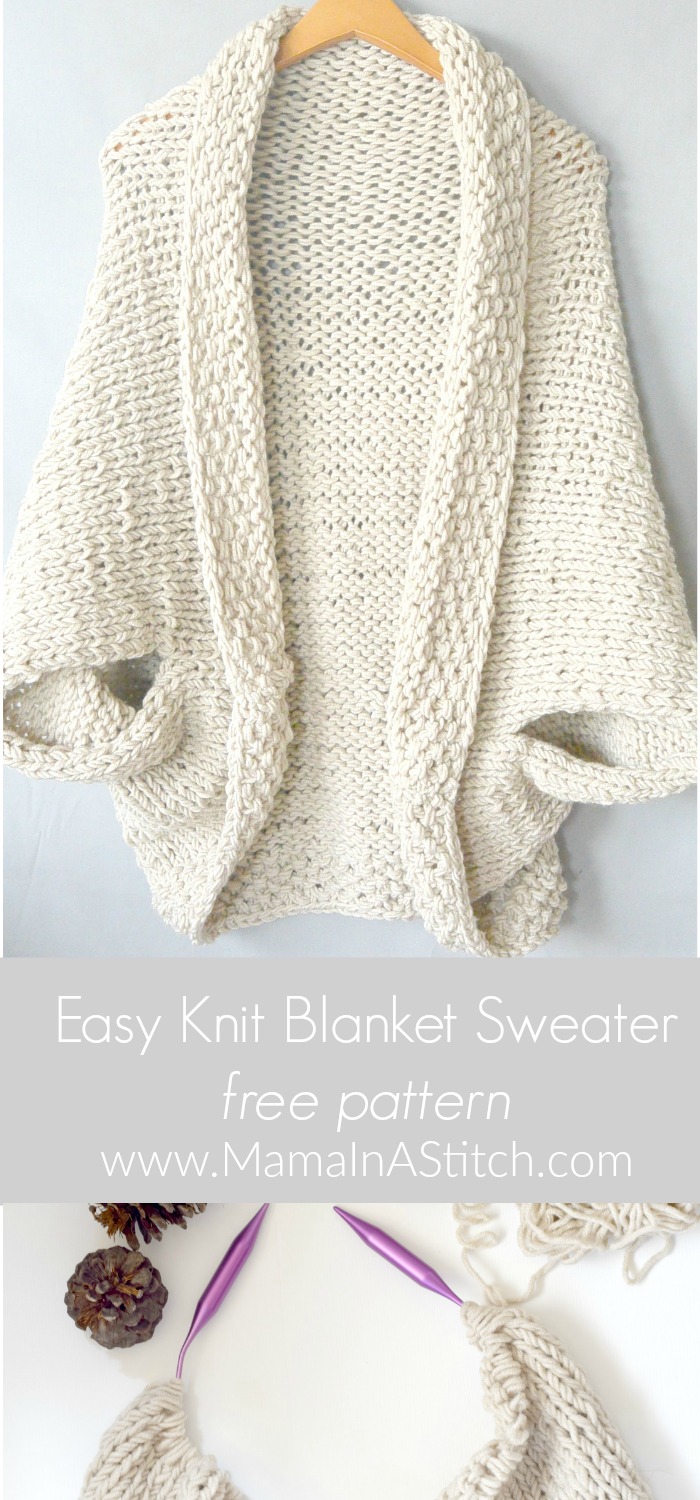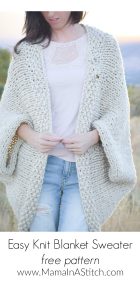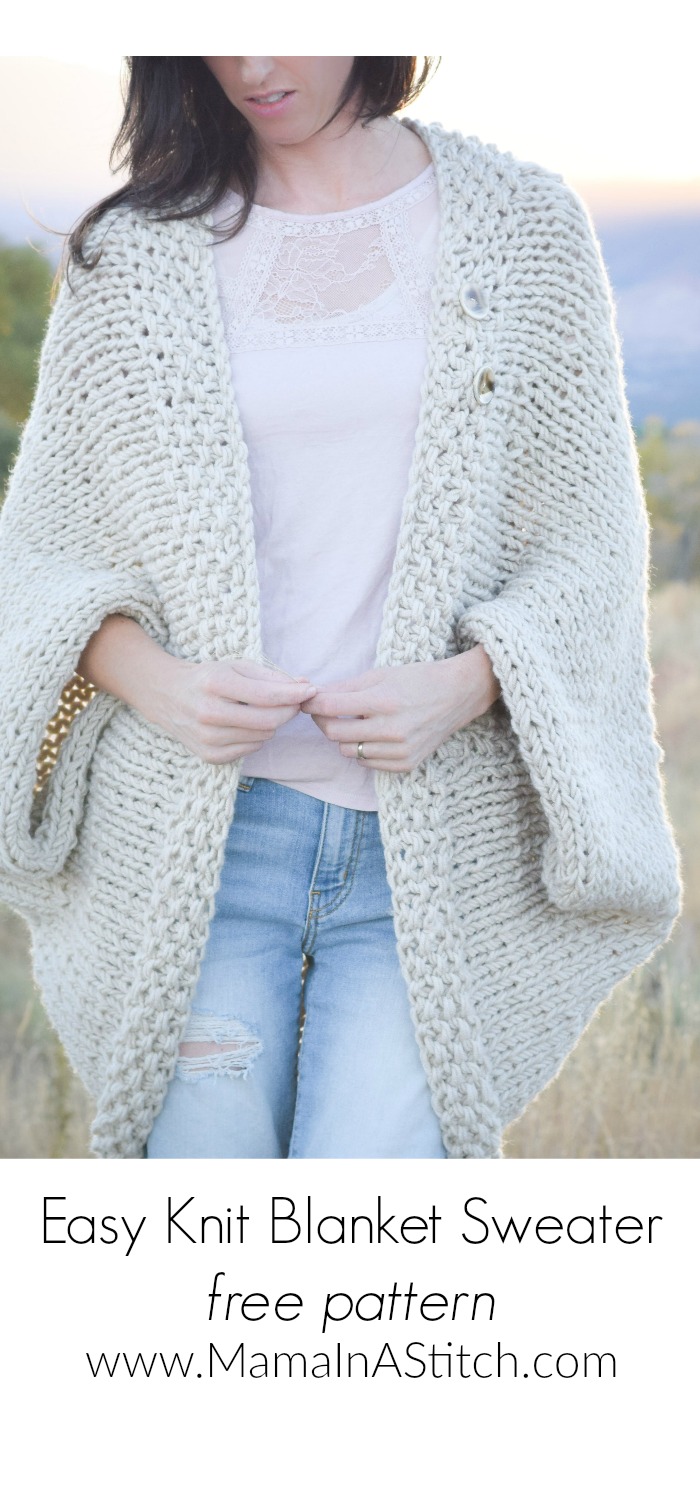 My crochet friends! ?Make sure to check out the Crocheted Easy Blanket Sweater pattern if you like this. ?Also, ?Chi Wei over at One Dog Woof just posted a shrug that looks so similar to this?knit version! We were laughing as we worked on these at the same time. ?It's done with tunisian crochet and you can check it out here!Happiest knitting and crocheting to you! I'd love to see you and your projects on my Facebook page or tag me on Instagram @mamainastitch.Thank you to Lion Brand Yarn for sponsoring this post! All opinions are 100% my own.What do you think of this big knit blanket sweater pattern? I'd love to hear in the comment section below.SharePinTweetShare