2K SharesThis Lil' Mountains Purse Pouch was created in hopes of me becoming better organized.? Hehe! My purse turns into a giant black hole full of makeup, wallets, change, applesauce pouches (you know what I'm talking about if you have a young child), receipts, hand sanitizer and unending other small items.? Enter the "Purse Pouch" to help me organize.? You might remember the knit "Anything Pouch" (here) which was also designed with this organization idea in mind.? The crocheted bag today is so much fun because it works up in no time, takes less than a skein of yarn and is a perfect instant gratification project.? I only did a couple of color changes to make the "little mountains" but you can get super creative with colors….read on!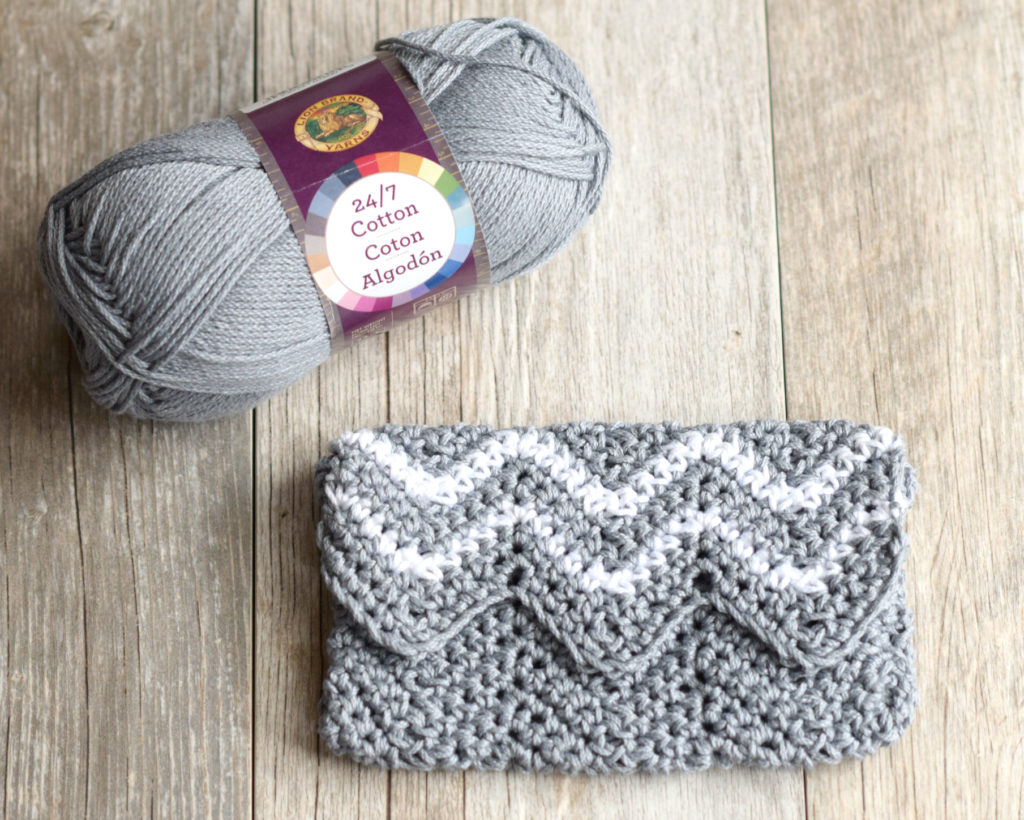 If you've never tried this chevron stitch, it is so much fun and SO easy once you get past the second row.? It's a pattern that you'll memorize after a few rows, which makes it a great mindless crochet project for watching a movie or watching your baby play at the park.? Most often with chevron crochet I see multiple colors used because it really shows off the shape of the chevron. With this pattern, you can do as many color changes as you like! However, I stuck with just a couple of contrast stripes on the closure flap as I think it keeps it pretty chic and simple.? (It also let me avoid weaving in a bunch of ends)? I love how it looks like a mod little mountain range.? This pouch would also look really cool in a color changing yarn as you wouldn't have ends to weave in and you'd really see the chevron stitch pattern take shape.? ANYWAY, let's get started with this easy pattern!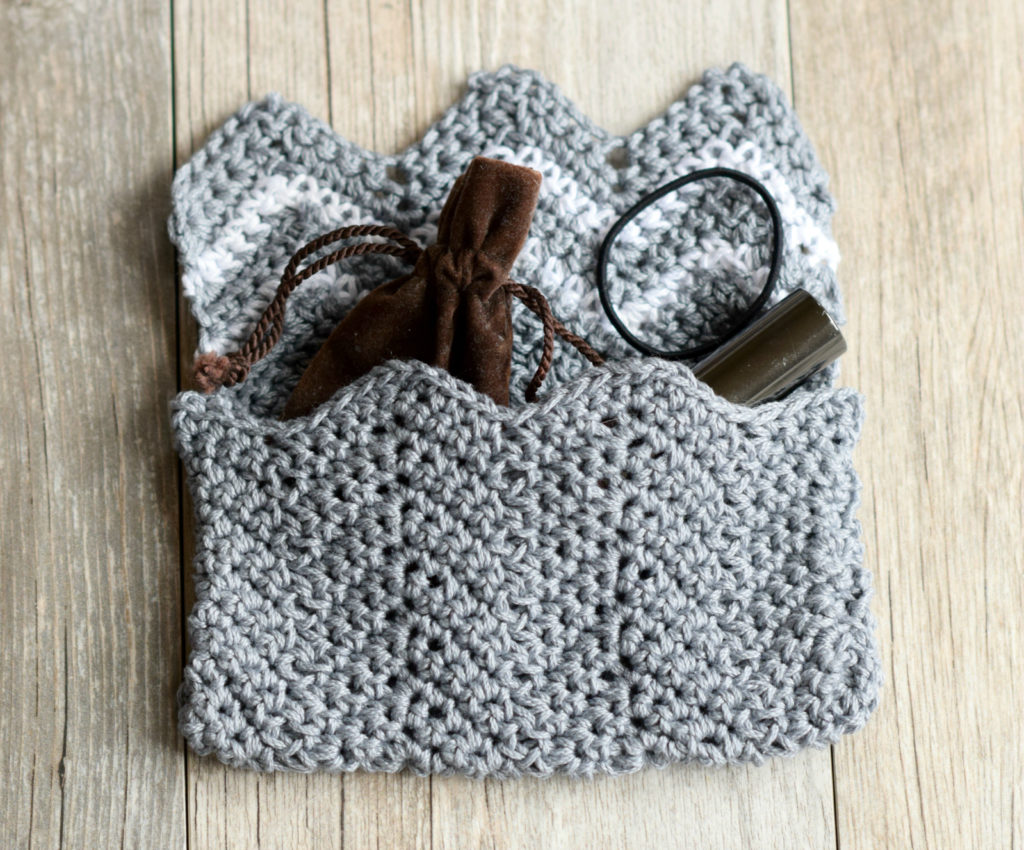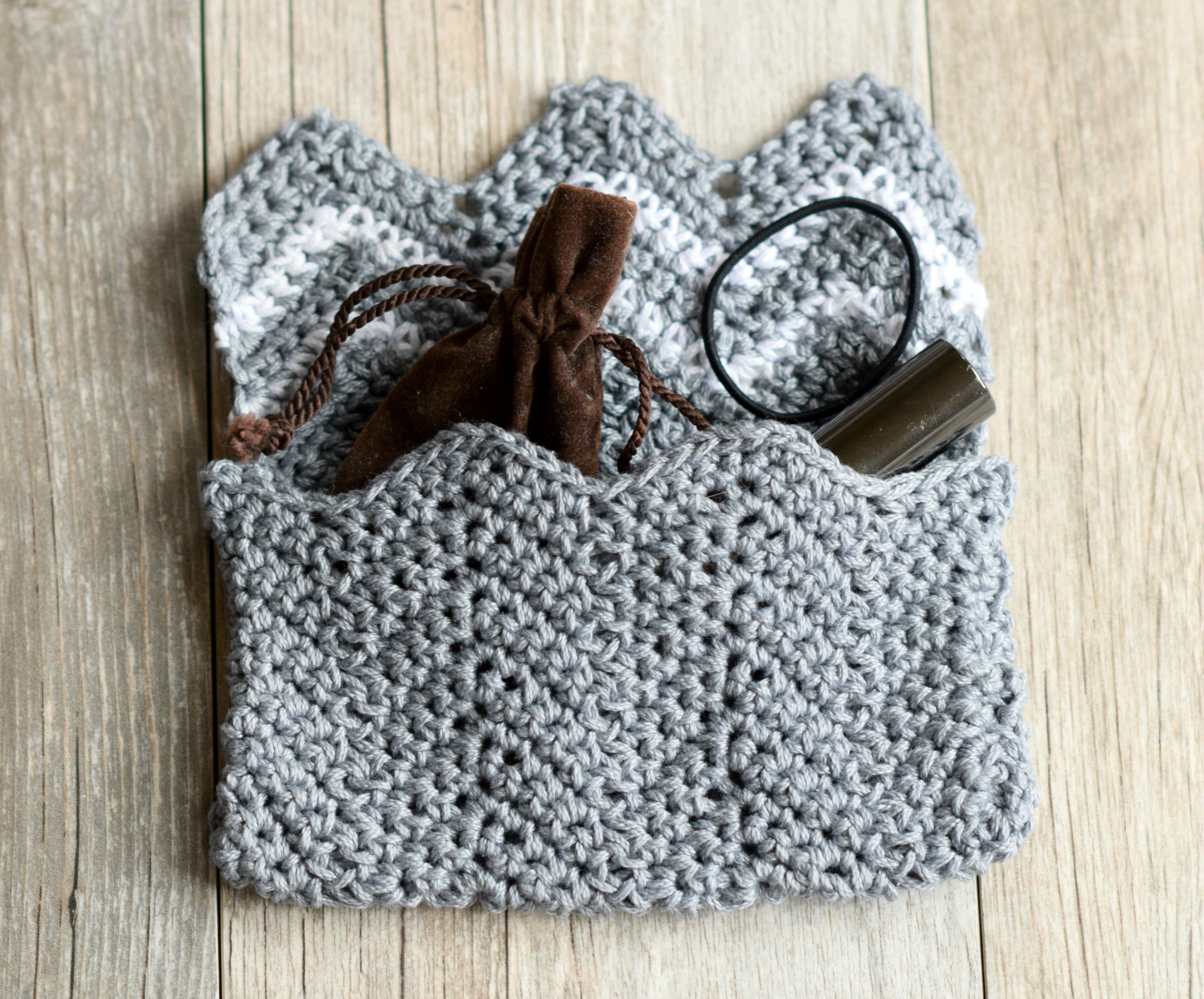 MY LATEST VIDEOSHave you seen blankets done with this chevron stitch? I've often noticed that they are a little "wavy" and realized the same thing was happening with my pouch. It was actually a fine situation since I was using the mercerized cotton – all I had to do was to put the steam iron on it and it laid completely flat. I'm so happy with how it turned out and it took no time.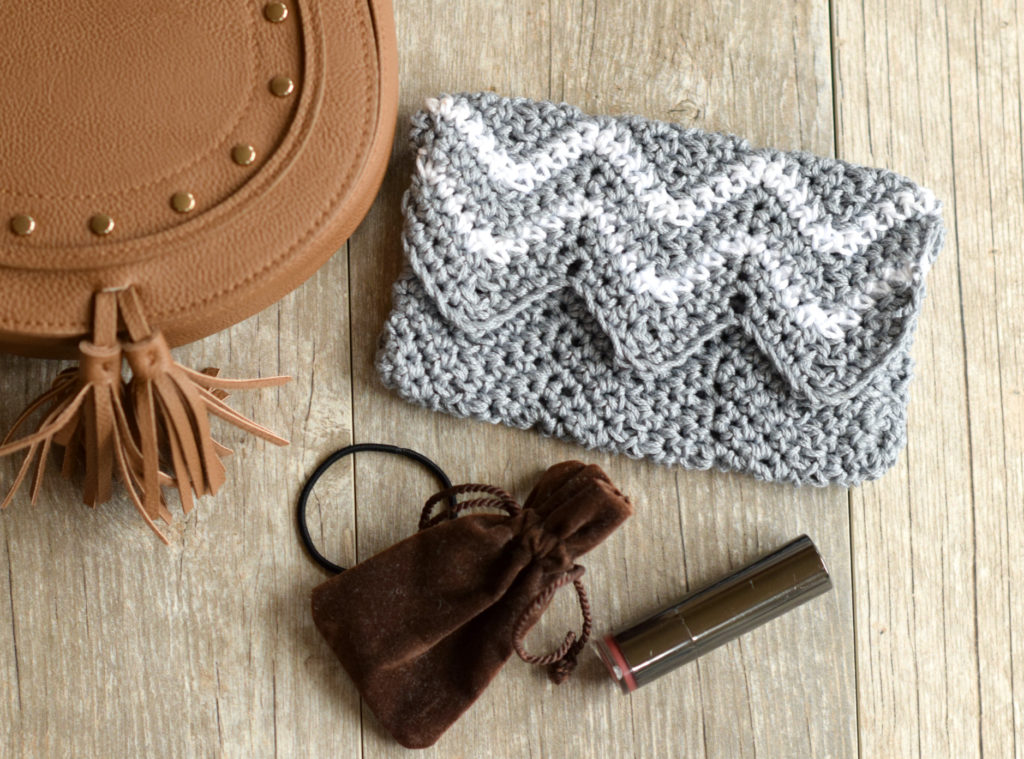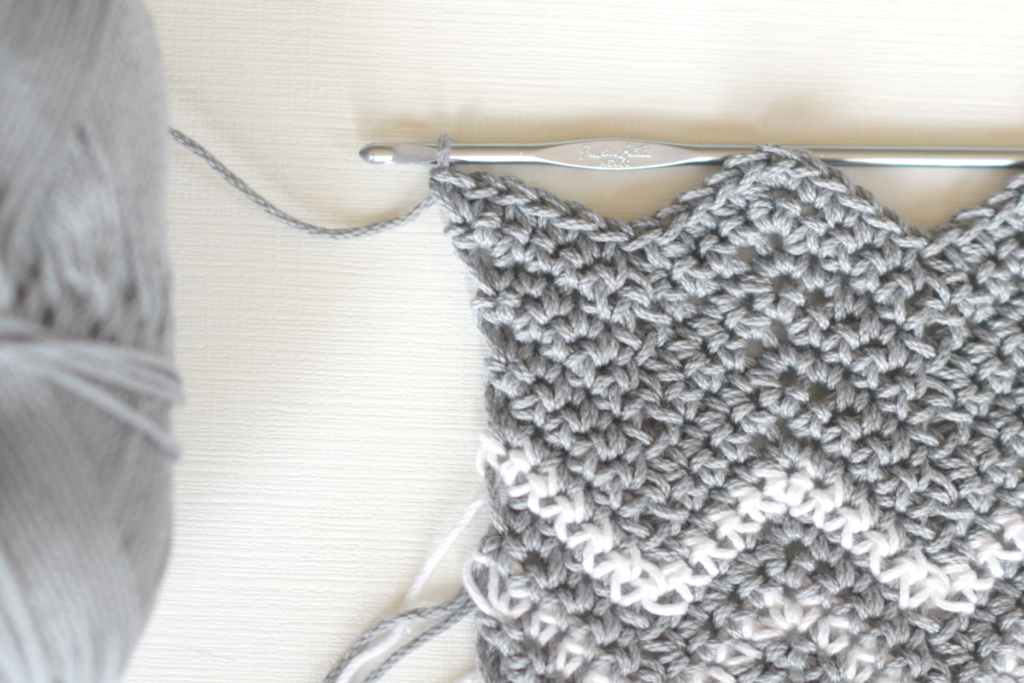 And some real mountains for you (taken on Independence Pass on the way to Aspen, CO) …..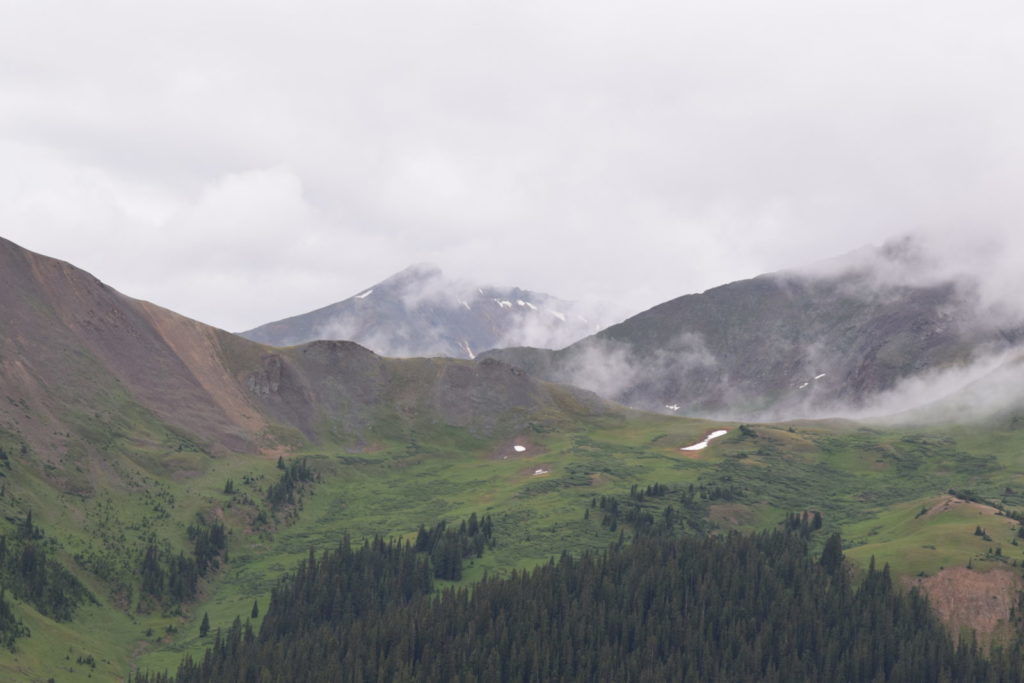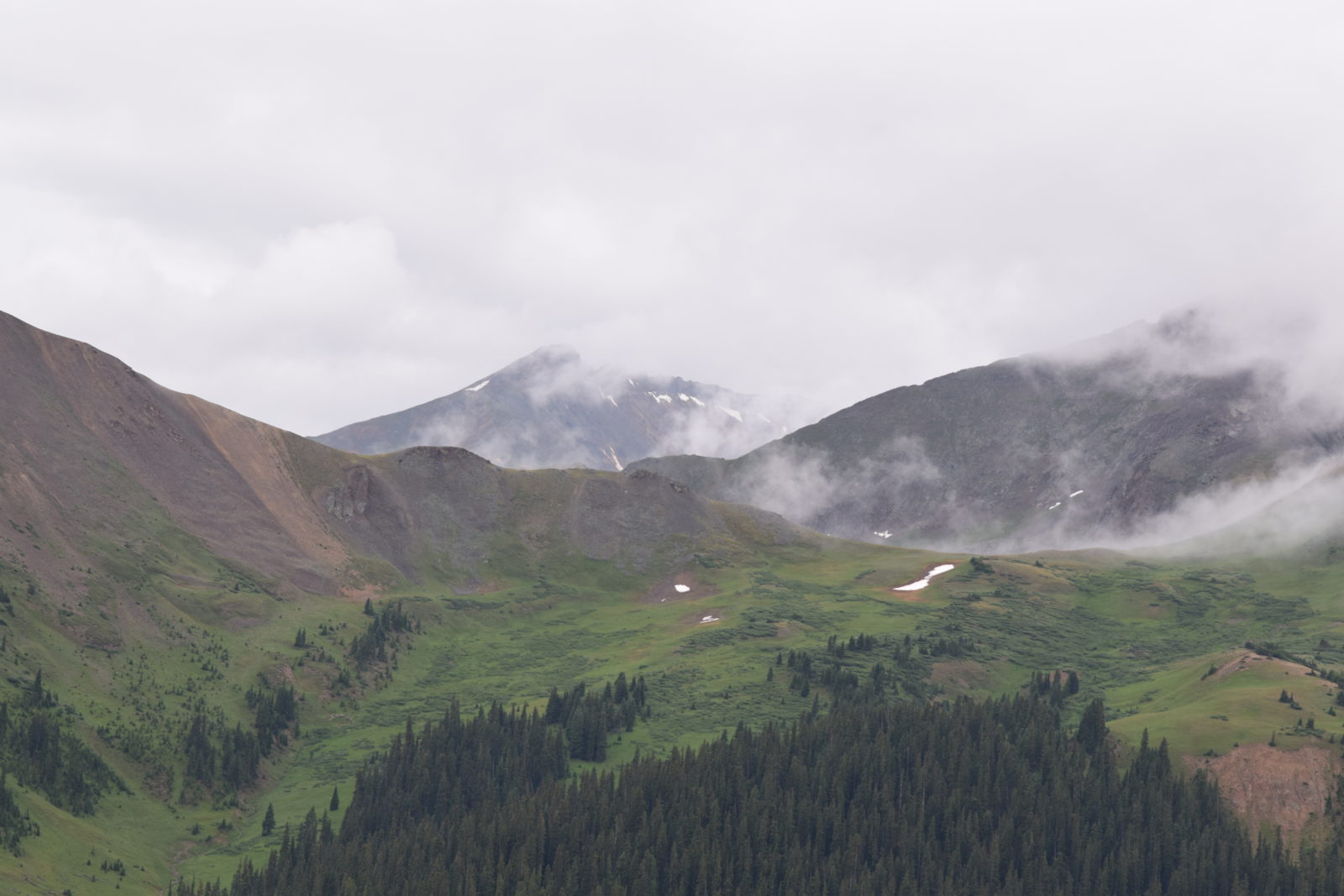 Measurements:Approximately – 4″ tall by 6″ wideYou can adjust the width very easily! I suggest increasing by groups of 10 stitches with your initial chain. The pattern needs to be worked in multiples of 5.You will need:Worsted weight yarn ( I used Lion Brand 24/7 Cotton in Silver (here) and contrasting White)? Pattern takes less than 1 skein of yarnUS Size F Crochet hookTapestry NeedleScissors
Lil Mountains Purse Pouch Crochet PatternWith Silver or preferred color, Ch 35Row 1 2 sc in 2nd ch from hook, *sc in each of next 4 ch stitches, sk 2 ch, 1 sc in each of next 4 ch stitches, 3 sc in next ch st*, repeat from * to * 2 times, sc in each of next 4 stitches, sk 2 ch, sc in each of next 4 ch stitches , 2 sc in last ch, turn.Row 2 Ch1, 2 sc in 2nd st from hook (this is at the base of the ch st) , *sc in each of next 4 stitches, sk 2 sts, sc in each of next 4 stitches, 3 sc in next st*, repeat from * to * 2 times, sc in each of next 4 stitches, sk 2 stitches, sc in each of next 4 stitches, 2 sc in final st (it's hard to see this stitch but it's there!).Now, simply repeat row 2 until your piece is approximately 10.5″ long or until desired length.? I made the contrasting color changes at row 3 and 6 only.Fold in threes and seam up each side to form pouch.You can get creative with closures by adding a couple of buttons, snaps or even a zipper to the inside. If you do want to add a zipper, be sure you plan what size and length so that you make your pouch accordingly!Again, you can do so much with this pattern. Make the pouch as wide as you'd like and as long as you'd like – I think it would make for a great IPad case with the mercerized cotton!Hope you enjoyed this my friends!XOJessicaOH! Do any of you remember this fun little mountain project from a couple of years ago?Mountains HangingSharePinTweetShare